Welcome to my Profit Genesis 2.0 review.
David Miller just held me a twenty minutes long presentation about a secret money-making system called Profit Genesis 2.0. According to the video, this system could help you make thousands starting this week or even today.
Allegedly, he's been using the system to generate thousands every single month. And today, he's sharing it with the rest of the world.
Pretty cool story, isn't it?
However, after watching the sales video, I got a question. Is Profit Genesis 2.0 a scam or could it maybe help you and me to make $5000 a week?
So I purchased the program and decided to help you to see the truth through my eyes.
In this Profit Genesis 2.0 review, I share everything you need to know David's program. I give you my honest opinion about this training, as well as a set of pros and cons, which I highly recommend you read before going any further.
And lastly, I'm going to help you to see whether it is a scam or legit.
Shall we begin with the truth?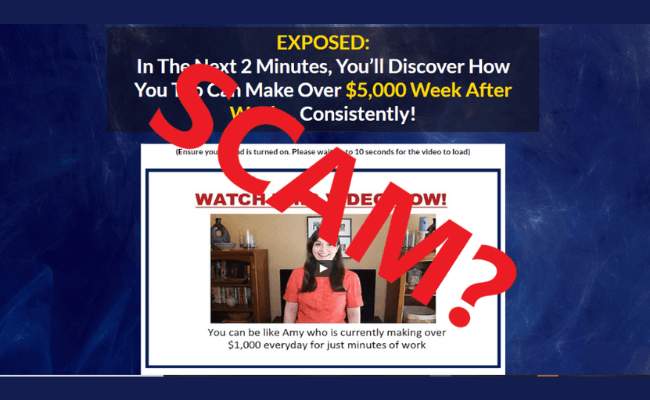 Profit Genesis 2.0 Review – Overview + UPDATE!
Product Name: Profit Genesis 2.0
Product Type: Dropshipping
Owner: David Miller (fake name?)
Price: $37 + UPSELLS
Rating: 2/5
Quick Summary: Although Profit Genesis 2.0 has many traits of a classic 'get-rich-quick' scam, it's a legitimate Shopify training course. It's not the best one out there, but the info is legit.
However, there are a few scam signals I MUST share with you.
For example, David can't be traced online. Meaning, he's most likely a pen name (fake character). Also, he is using fake testimonials, overhyped (and probably fake) earning examples, and many other tricks to convince you to buy this offer.
The hidden idea behind Profit Genesis 2.0 is to lead you inside of a sales funnel where you get a chance to buy three totally unrelated upsells.
That said, I don't like to see overhyped claims, fake testimonials, and pushy upsell, which is why I don't recommend this course. Moreover, the quality of the course is very bad as well.
The bottom line is, this program is not worth time and money. This is the best for the owner, whoever he is.
IMPORTANT UPDATE: Profit Genesis 2.0 has been removed from ClickBank due to a high refund rate. Moreover, I asked for a refund as well once I got to see what is inside of the training area.
Meaning, the course is not living up to claims and promises created by the owner. It's actually a very shallow content that you can find on YouTube for free if you want.
However, the course is still live. The real owner just moved it to another marketplace.
But I still don't recommend Profit Genesis 2.0 no matter where it sells from. It might not be a scam, in itself, but it's definitely not recommended course for making money online.
If you want to earn an income online, make sure to check out my PROVEN SYSTEM below!
THE BEST WAY TO MAKE MONEY ONLINE IN 2023 >>
What is Profit Genesis 2.0?
The sales presentation for Profit Genesis 2.0 sounds like many other scams that I've had a chance to review. Here's a summary.
Profit Genesis 2.0 is a system that allows ordinary people to start making $1000, $2000, or even $5000. According to David Miller, it has nothing to do with anything you've ever seen or heard before. David claims that his system is nothing like 'get-rich-quick' scam or 'push-button' money systems.
It helps to leverage little known loophole that allows anyone to generate cash legally and ethically. This loophole taps into hidden 7 billion dollar goldmine on the internet. It was discovered to David by the ex-Google employee.
Pretty much the usual crap. Have you heard it already, rings a bell?
David Miller continues the pitch by telling you that his system not only helps to build steady online cash flow, but it does most of the work for you. In other words, you don't need to have online experience or technical skills.
All you need is follow the three steps:
Watch Videos
Follow Simple Instructions
Start Generating Cash Online
After you follow these steps, it won't take you more than 15 minutes a day to work to keep it going. Once you set up the Profit Genesis 2.0, you'll start making cash on complete autopilot. You can set it up and start flipping your cash switch on right now, according to David Miller.
Huh! Pretty exciting presentation, right?
It makes you pull out your credit card and get your hands on it before it's gone.
Now, let's make things clear before we move on. Once again, this secret system is dropshipping. As I've said already in the introduction, it's not so secret at all. Many people have leveraged Shopify to make money online.
The Profit Genesis 2.0 sales video is only a marketing trick designed to make you buy this course. And I must say, it's a dirty one.
In addition to everything he's said and to prove to you that he's talking the truth, David plays a few student testimonials. These people all claim that David has helped them to change their lives. They promise that the system is legit and 100% working.
However, these testimonials, as well as the story about the secret system, are all fake! I'll prove it to you by the end of this Profit Genesis 2.0 review.
There are tons of these get-rich-quick schemes out there. Beware of those sales pitches where they tell you that you can make money in a few clicks.
Here are a few examples:
Who is David Miller?
David Miller is the owner and creator of the Profit Genesis 2.0 system. All we know about David comes from the sales video.
He is an ex-plumber who has been struggling to make ends meet. David was living with his daughter for years until he couldn't keep her anymore. He was barely able to pay for her school fees. So he had to let her live with her mother. That was the point of his life where he had it enough.
Fast forward to the present moment. David is an online millionaire all thanks to the discovery of this secret loophole.
But here is the problem.
David is not sharing anything except a 'rags to riches' story. There is no evidence that he is the real person with an actual address.
Therefore, it is another serious red flag and a clear sign that Profit Genesis 2.0 might be a scam.
Profit Genesis 2.0 Review – What's Inside? 
Despite exciting video and fake testimonials, I analyzed the program behind scammy marketing funnel.
Once I got access to the Profit Genesis 2.0 training dashboard, I found a set of instructions on how to start and set up a Shopify store.
The training explains how to choose your niche, find products to sell, add those products to your store. Furthermore, it teaches how to run Facebook Advertisement to get customers to your website.
Unfortunately, there is nothing here which can help you to make thousands as soon as you start. In a nutshell, It's a convenient dropshipping training course.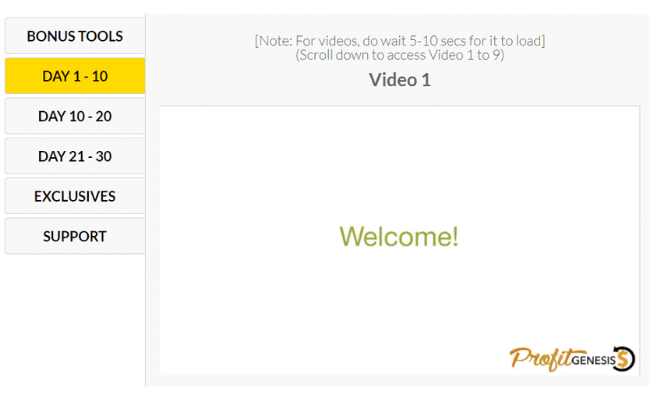 The Profit Genesis 2.0 training section is divided into three modules. There are twenty-three video lessons that explain the process in a step-by-step manner.
Day 1-10 (9 Video Lessons): 
Overview and Mindset
Niche Selection 1
Niche Selection 2
Niche Selection 3
Starting With Shopify 1
Starting With Shopify 2
Starting With Shopify 3
Starting With Shopify 4
Starting With Shopify 5
Day 10-20 (8 Video Lessons):
Shopify Apps 1
Shopify Apps 2
Shopify Apps 3
Product Outsourcing 1
Product Outsourcing 2
Product Outsourcing 3
Product Outsourcing 4
Product Outsourcing 5
Day 21-30 (6 Video Lessons):
Adding a Product to Your Store
Facebook Ads 1
Facebook Ads 2
Facebook Ads 3
Order Fulfilment
Conclusion
After reviewing the training, I have divided opinions.
I sat through the training and was able to see that information covered in Profit Genesis 2.0 is legit.
Videos are easy to follow and can help you to set up a Shopify store. If you give yourself enough time to process and apply the training, you could have a beginner dropshipping business in your hands.
On the other hand, you should take the Profit Genesis 2.0 promo video with a grain of salt.
David Miller did his best to convince you in stories about fast success and easy money.
However, I understand that it takes a lot of time and effort to launch a Shopify store successfully. And ultimately, make some cash. Many people fail to recognize this fact, so they end up quitting too early.
Also, David has failed to tell you that once you set up a Shopify store, you'll need a budget to run Facebook Ads. That is an additional cost for which they don't prepare you.
To test your ads, under a condition that your products have an excellent potential to get sales, you'll have to invest at least $5 to $10 daily for starters. $20 to $40 if you are serious and know what you're doing. It may take a few months for a new business to get off the ground. Those first few months can cost you a couple of grand.
Bonus Material
As a compliment for starting Profit Genesis 2.0 training, each customer will get bonus material.
Bonus 1: 11K a Day Autocash Live Demo System
Free AD Profit Account
Profit Genesis Masterclass
Top 10 High Demand Products
Speed Success Secrets
Who is Profit Genesis 2.0 for?
Dropshipping is a legit online business opportunity. Those of you who are interested in starting a Shopify store could use this training to understand the process. The Profit Genesis 2.0 training is of good quality and can help you to set up your first online store.
Although I'm of the opinion that you can find the same material, only free, all over the internet.
Profit Genesis 2.0 Price
The price of Profit Genesis 2.0 is $37 one time payment. However, once I reached the security checkout to complete my order, the price was only $9.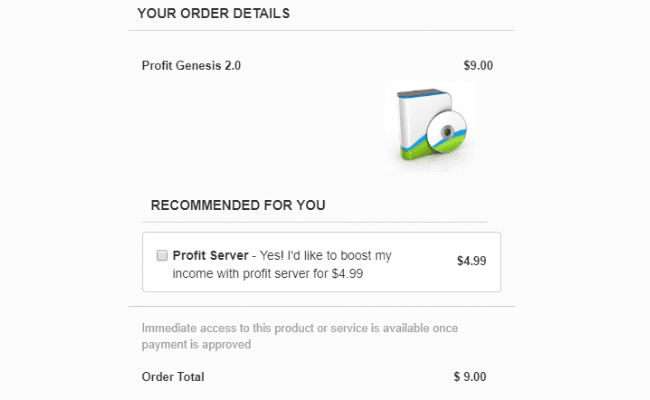 I'm not sure if it's only a one time deal or the new price. Anyway, if you want to get your hands on this material, it'll cost you measly nine bucks.
Plus, don't forget the money you'll need to put in the Facebook advertisement if you want to make it work.
Upsells Awaaay!
Marketing funnels like Profit Genesis 2.0 usually come with a set of expensive upsells.
Beware.
The upsells pop up as soon as you complete your order before you can access the main course. If you are not careful, you can end up spending a lot more than nine bucks.
Profit Genesis Turbo – $47
Multiple Passive Income Activator – $197
G.O.O.D Club – $97
I have refused all the upsells. To do so, you have to scroll to the bottom of the upsell page where the 'No Thanks' button is located. So, unfortunately, I can't give you more information about what's behind.
THE BEST WAY TO MAKE MONEY ONLINE IN 2023 >>
Profit Genesis 2.0 Pros
At first, I was sceptical that it might be a scam. However, if you can swallow the fake video presentation and all those unexpected upsells, you can find a few good things here.
1.) Decent Shopify Training
Though it's not the best dropshipping training on the market, Profit Genesis 2.0 neatly explains the process.
The lessons are not low-cut as it's usually the case with internet courses of similar calibre. The training might get newbies from zero to having an online store filled with products and ready for customers.
Compared to many scams that I've got a chance to review, this program is not leaving out information. They even include training on a Facebook advertisement, which is a rare thing to find.
2.) Low Entry Price
Most information on dropshipping and Shopify can be found all over YouTube and Google (if you give yourself enough time to do the research). Many people share video and textual guides free of charge.
Profit Genesis 2.0 is not an expensive investment. Considering that you'll get a legit course on dropshipping, nine bucks is more than a fair price.
3.) 60-Days Money-Back Guarantee
Profit Genesis 2.0 sells via ClickBetter online marketplace. This online retailer gives 60-days no questions asked money-back guarantee on all products.
If you don't like the material, for some reason, or don't achieve the promised outcome, you can contact ClickBetter customer support and ask your money back.
The refund is usually issued in the next 24 hours. They might try to keep you by changing the request to customer service, but if you are firm in your decision, you'll get your money back.
Profit Genesis 2.0 Cons
You see, people who are making these online funnels are going to say anything to persuade you in buying. The sales presentation for Profit Genesis 2.0 is jam-packed with tons of false information.
Let's reveal them one by one.
1.) There is No Secret System or Online Loophole
These guys will sell you a dream about a 'push-button' secret system based on some magical loophole which will solve all your financial worries in a few days. They usually use words like 'secret system' or 'online loopholes' only to mask the real deal.
Unfortunately, in real life, things are not even close to what's advertised.
Understand that there is no such thing as a secret system that you can exploit to start making money immediately. Dropshipping is an online business which, like every other, takes time and effort to make money.
2.) Income Potential is Overhyped and Unrealistic
The second most common misconception regarding these programs is earning potential. You see, the creator of Profit Genesis 2.0 shows you a few screenshots of alleged earnings. But the only purpose of these (probably fake) images is to fire you up even more.
Those numbers you see on the image above, are pro-level earnings. It takes years and years to get on that level.
The Profit Genesis 2.0 training course can help you to get started, but do not hope nor expect to earn thousands of dollars as soon as you build your store.
3.) Student Testimonials are Fake
As soon as I've seen some of those people, my mind flashed a few other programs for which they've already given a fake testimonial.
These people have nothing to do with Profit Genesis 2.0, nor they have ever earned a dime using the program. Fake testimonials are another marketing trick used to make you buy this training.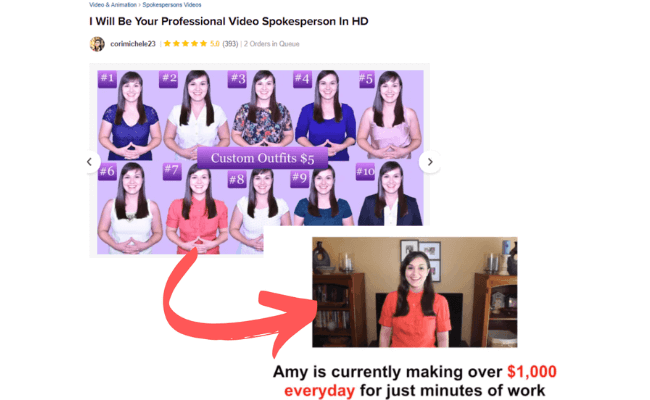 As shown in the image above, they are Fiverr actors. You can visit the site to convince yourself. Moreover, you can pay them to read anything you want and film it on video.
4.) Too Expensive Sales Funnel
This Profit Genesis 2.0 program sells for cheap, only nine bucks. And that's all you expect, right? Wrong!
To make even more money off your desire to learn the business, the owner of this funnel is forcing 10x more expensive upsells as soon as you buy the course. It's only my guess, but I hardly believe that there is anything valuable behind those upsells. Also, they are not previously announced and too pushy.
Profit Genesis 2.0 could cost you a lot more than you are lead to believe while watching the sales presentation.
5.) Some of the Bonuses are Affiliate Promotions
If you ever buy Profit Genesis 2.0, you'll get a few bonuses together with the main course. For example, one of them is a free AD Profit account. In the description says, a 'Compulsory Account to Make a Passive Income of $3K a Day.'
But in reality, it's an affiliate link to another funnel called AD Formula. It has nothing to do with this training. The owner is using it as another opportunity to make money.
Based on my research, AD Formula is a sales page that exists to funnel you to BannerBit, a site which is flagged as a scam.
Is Profit Genesis 2.0 a Scam?
No, the Profit Genesis 2.0 is not a scam. It's a legit training course that can help to understand how dropshipping works and to build a Shopify store from the ground.
I'm aware that there are many reviews out there that claim that this offer is a scam.
The sales presentation is full of false information and is hyped up. David Miller is not sharing anything about himself, nor he gives any proof that he is a real person.
Furthermore, they use fake testimonials. There are also expensive upsells, which can cost you a lot of money if you are not careful. The real owner of the funnel is using every chance to rip you off.
But in the end, the training course is legit.
The Profit Genesis 2.0 program contains a solid number of video lessons where more or less everything about starting a Shopify business is explained.
They even include training on FB ads, which is more than necessary to succeed with dropshipping.
However, this still does not mean that I recommend this offer.
In my opinion, you can get the same tutorials on YouTube for free. This course is not worthy of investment.
How to Start an Affiliate Marketing Business
Thanks for coming to the end of this Profit Genesis 2.0 review. It shows that you are a serious person who takes every step with the most attention.
If you are interested in learning how to build an affiliate marketing website and make money online, I have a great alternative to those money-sucking offers.
This process is proved by thousands of online marketers all over the globe. You are looking at the one right now. ?
Wealthy Affiliate is, in my experience, the best affiliate marketing training course on the internet. These guys are teaching people how to start an online business and super-successful affiliate marketer every single day! Traffic training included!
The best thing is, it entirely safe and free to join. Make sure to check it out!
THE BEST WAY TO MAKE MONEY ONLINE IN 2023 >>
If you need any help or you have a question, feel free to contact me.
All the best, Ivan.