Welcome to my Profiteer review.
According to Jason and Mosh, Profiteer is a system for earning effortless commissions in less than 24 hours. It's a fully automated software that requires no skills, experience, or effort.
What are your thoughts on this? Too good to be the truth, right?
Well, you're not far away from being right, my friend.
So Is Profiteer a scam or legit?
In this Profiteer review, I'll show you how this system works, and whether or not it works at all.
Also, you are going to get a full price breakdown, share some pros and cons, and a lot more!
By the way, congratulations on researching before giving away your hard-earned cash. If you are looking for a legitimate way to make money online, check out my #1 recommendation for making money online.
Let's go!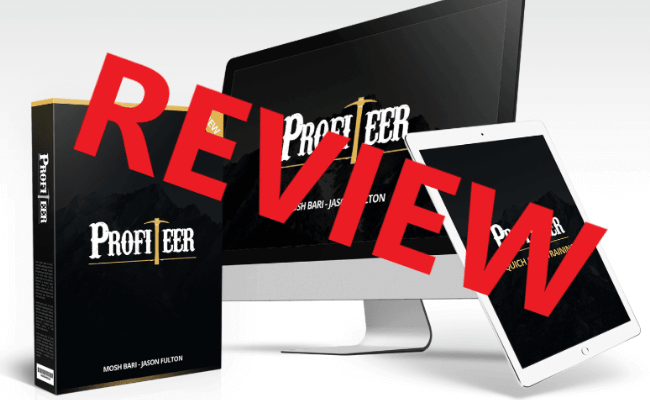 Profiteer Review – Overview
Product Name: Profiteer
Product Type: DFY System For Selling Websites
Owners: Jason Fulton & Mosh Bari
Price: $ 29 + $249 in OTO's
Rating: 1.5/5
Recommended: No
Quick Summary: Profiteer is supposed to be a simple and effortless system for banking $150 per day starting in the next 24 hours without any skill, paid traffic, or experience.
In other words, Profiteer is a get-rich-quick scam.
Although Fulton and Bari sometimes tend to push out something that could make you money, this is not the one.
The whole system relies on software for creating websites. Then, in theory, you could sell your websites on an auction site called Flippa.
However, the system is risky, and I don't believe that it could make serious money as they claim. Profiteer is way too overhyped compared to what's really going on.
Not recommended because of misleading information, lack of details, hidden upsells, and more.
If you are tired of scams, half-baked courses, and 'get rich quick schemes, check out the button below.
My #1 recommendation is a legitimate training that made me go from $0 to earning $100's per day with affiliate marketing.
THE BEST WAY TO MAKE MONEY ONLINE IN 2023 >>
What is Profiteer?
Profiter is an automated system for making $100's per day starting today using a method that requires no skills or experience and it works without paid ads.
Sounds like a scam, right?
While analyzing the sales page, it was hard to discover what Profiteer is all REALLY about. The only information available is the typical overhyped BS.
For example, it says that Profiteer is 100% fresh way to make profits in just a few minutes per day.
Good one, right?
The closest thing to an explanation on what this actually might be that it is software that creates 'Fast Profit Engines' in just 60 seconds.
And of course, you don't need to have any tech or marketing skills to make this system work since everything is done for you.
Isn't it a bit weird to see a sales page with very little information on how the whole system actually works?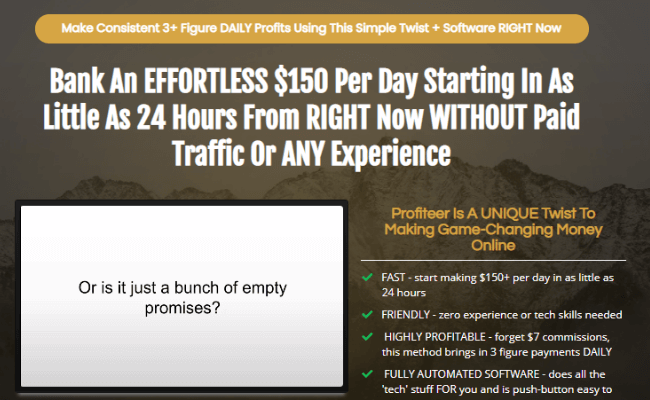 Now I don't even have to say that 99% of the sales page is misleading and confusing.
The whole point is to get you interested in clicking the Buy button.
I know that you haven't felt for it, that's why you are here reading this Profiteer review. Once again, congratulations on your decision to research the whole thing first.
You see, in reality, PRofiteer is a piece of software that helps to create websites.
The primary function of this system is to build sites and then sell them on the auction platforms like Flippa. Mosh Bari and Jason Fulton claim that you can make consistent $150 sales by doing so.
But the reality of things is a bit different.
Also, you can legally 'steal' other people's content and publish it on your site with the help of another software.
Then, you can add affiliate links, and if you know how to get traffic to your website, you can hope to make a sale or two.
It's called affiliate marketing, and in theory, it works as described but you don't need to copy other people's content to make it happen.
I explain more a bit later, let's take a look at what's inside Profiteer first, shall we?
Related: Partner With Anthony Review
What's Inside of Profiteer?
Once you get access to the Profiteer member's area, you'll get the software and the set o instructions on how to make it work.
Once again, making it work in 60 seconds and making money in as little as 24 hours is not going to happen. Like every other system, it takes time to set it up and to make some money down the road, if any.
Here's what you get with Profiteer:
Welcoming Section – Here is where the guys will welcome you to the system and explain how it works.
Profiteer Case Study – This is a short video where Mosh Bari shows how he's made $100 by using the system.
How Profiteer Works – Here is a set of five video modules where Mosh Bari explains how to buy a domain name for your site, and how to list your sites on Flippa.
Profiteer Software – This section is a set of eight videos where Mosh Bari explains the whole process in more detail. He's going to show how to use the software to add content to a site, and how to use text spinner to redo the content for search engines. This is not ethical and not recommended!
Profit Training – A set of three videos where Mosh talks about traffic generation. A bit too short for traffic training for my taste.
Troubleshooting – In this section, Mosh explains how to deal with problems that might occur down the road.
How Does Profiteer Work?
As you can see, the methodology behind Profiteer is simple, build a site, and sell it. But in reality, flipping sites is not as easy as they've made it look.
There's a whole science behind this business.
Those three steps down below are much more complicated than they sound.
You see, there are a few problems with Profiteer.
First of all, traffic worries.
They use text spinners to rewrite other people's content and then publish it on your site in the hope that it'll get ranked high in search engines.
While this method might work, Profiteer is not reliable. Duplicated content is something that Google and others hate and usually exclude sites that follow this practice.
Finding unique and fresh content is the primary goal of search engine algorithms.
Using content spinner software to get traffic to your site is like shooting yourself in the foot, at least in my mind.
Secondly, selling your site on Flippa or any other auction site is not a get-rich-quick scheme.
It's not enough to buy a domain name, install some beautifully looking theme, put some content, and sell it for a higher price.
That's wishful thinking.
You see, people who are looking to buy domains from auction sites are on a hunt for older domains that have established authority and that are already making money.
That's what is valued the most in the eyes of shoppers for domains.
Just put yourself in the mind of a domain shopper.
Why would you be looking to buy a site if not for its authority?
Although the flipping sites method sounds good at first glance and it could work, I wouldn't expect to make fast and easy cash with Profiteer.
In my opinion, Profiteer is more a scam than legit.
Can You Make Money With Profiteer?
Although the system has flaws and is highly risky, it sounds workable. There is a small chance that you could profit by selling sites on Flippa.
But good luck with it. Profiteer training is simply too short for anyone to make use of this method without skills or experience.
Also, before you make any rash decisions, take a look at the price and upsells. The following are telling a little bit different story than you can hear on the sales page.
THE BEST WAY TO MAKE MONEY ONLINE IN 2023 >>
What's the Full Price of Profiteer?
The price of Profiteer is $29 one-time payment. However, that's only the beginning of a spending cycle.
There's much more waiting for you once you get it.
For $29, you are going to get access to the system and a chance to make it on your own. It's reasonable to expect that this system won't work as it's advertised because it's just too damn risky and full of flaws.
So guys will jump in with a set of upsells to cheer you up.
Upsells Away!
After you pay $29 to get access to the Profiteer system, you are going to get four one-time offers right in your face.
Do you like upsells?
DFY Campaigns – $37
Advanced Tactics – $47
Autopilot – $67
Resell Rights – $97
OTO's are not mandatory. You can skip them.
OTO #1 – DFY campaigns
While on the sales page, Mosh and Jason say that you don't need any skills, experience and that most of the things inside of Profiteer are done for you, now, you get a different story.
Now, they say how it's hard to do it on your own and how you need this DFY system to make money.
What's up with that*
OTO #2 – Advanced tactics
As always, the second upsell inside the Profiteer sales funnel is some magic method that is going to turn this product into a money-making machine.
But what about those claims from the sales page about making tons of cash effortlessly?
I don't get it…
OTO #3 – Autopilot
This really makes no sense. Now, you should apparently buy this upsell to put everything on autopilot. How? I thought Profiteer is already automated?
OTO #4 – Resell license
IF you want to make money selling Profiteer, you will have to get this upsell.
Is There a Refund?
Profiteer is a product that sells through the WarriorPlus marketplace. So in case you are not satisfied, you can ask for a refund. Mosh Bari gives a 30-day window to do so.
However, these guys have a rigorous refund policy.
Some people have reported that it's almost impossible to get one. Anyway, you need to prove that you've tried the system and it has failed before you can get a refund — otherwise, no deal.
What I Like About Profiteer
Money-Back Guarantee
Although it might be tricky to get a refund with these guys, I count it like a pro. Don't expect to get one as fast as they took your money, but persistence pays off.
It's your money, and if you are not satisfied, you have a full right to use their refund policy.
Based on Legit Method
Fliping sites on auction websites like Flippa is a real business. And you can use Profiteer to give it a try.
You get a chance to speed things up with software and DFY sites and content. But don't think that it's going to be as easy as Jason and Mosh claim.
Flipping sites is a hard and risky business.
Profiteer Cons: 
Sales Page is Full of 'Get-Rich-Quick' BS
As you scan through the sales page, you won't find a single word about how Profiteer works. That's a huge red flag!
Who likes to buy stuff without even knowing what the hell is inside.
It's highly misleading and full of '-get-rich-quick' BS.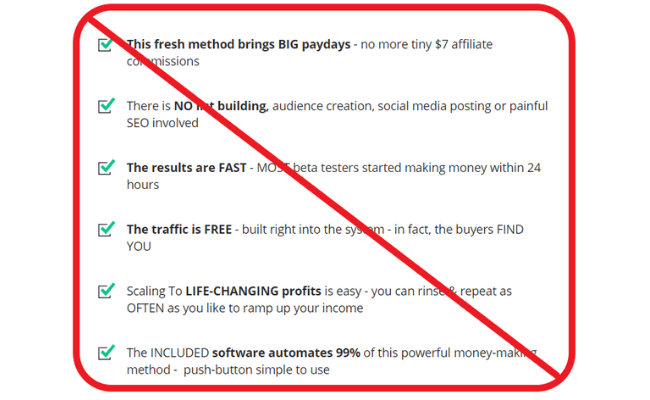 It's Not Easy to Make Money With Profiteer
Once you get the know the Profiteer system, you'll see that the sales page has nothing to do with the product itself.
Making money flipping sites is not a once-in-a-lifetime opportunity.
It could make you a few bucks here and there, but compared to other proven methods, this is not something that I would bother to do.
Expensive & Unexpected Upsells
They sell this system for 'only' $29. But as you know, it can cost you a lot more.
I personally don't like hidden upsells.
It tells me that the product alone has very little value.
Is Profiteer a Scam or Legit?
Profiteer is not a scam. It's a risky system for making money online, but not a scam.
I've seen a few creations from Fulton-Bari production like Re-Kaching or Rapid Profix Pro. These were not the best solutions for making money either, but some of them could work.
I have my differences with the way how Mosh Bari and Jason Fulton market their products. I don't like misleading sales pages that hide critical details about the product and the system behind it.
Profiteer is a school example of an overhyped sales funnel that is on a borderline between a legitimate product and a scam.
Also, if you ever try to buy this system, prepare yourself for those upsells. Each one comes with another overhyped sales page, which is hard to resist. Long story short, you could end up spending a lot more than $29.
Do you like to spend more than it's advertised?
I don't.
Do I Recommend Profiteer?
I don't recommend Profiteer.
I find it to be full of flaws. Making money with this system is not nearly as easy as you have had a chance to see and hear while being pitched to buy this product.
What do you think about the sales page? Is it a little bit too good to be the truth?
You see, I've been in the make-money-online industry for a few years now. I've seen a lot of crappy products, half-baked courses, and scams that are designed to aim at your desire to make money fast.
Just like Profiteer, these products had unbelievably good-looking sales pages, but the end product was not even close to what was advertised.
Once again, if it were that easy to make money online, would you agree that everyone would be doing it?
Now don't get me wrong, making money online is possible. I honestly believe that everyone can do it. Your background and skills are not relevant. Everything could be learned if you have the will to learn.
But don't trust people when they say they can do it for you in less than 60 seconds or 24 hours.
That's simply impossible!
How I Earn a Passive Income From Home
Thanks for reading my Profiteer review. I hope this post was useful.
If you have any questions about this website or maybe you can offer an experience, feel free to leave them in the comment box below.
Before I let you go, let me show you how I earn an income online from home, which has enabled me even to quit my lousy job.
I wouldn't have succeeded without help from the marketing platform that I recommend above all others.
Make sure to check it out!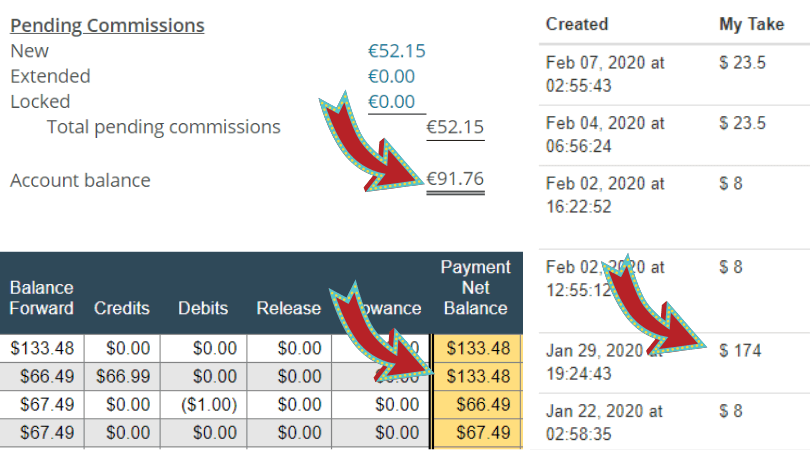 THE BEST WAY TO MAKE MONEY ONLINE IN 2023 >>
If you need any help or you have a question, feel free to contact me.
All the best, Ivan. Founder, and CEO @freeaffiliatemarketingbusiness.com