Welcome to my Profitz Today review.
You and I live in a world of fast expectations and instant results. We're conditioned to get results immediately, and if we don't get them right away, we move on to the next thing expecting the same thing over and over again.
However, have you heard that good things take time? It's true.
If you are thinking about starting an income online, you should understand that it is going to take you some time to understand the process and to achieve great results. There are no shortcuts to success.
So what is this product about? Is Profitz Today a scam or legit way to make $100's per day in 3 steps?
The very name of this WarriorPlus product suggests that you can earn a profit today. Maybe not literally, but the implication is on fast results that take only three steps to achieve, which quite honestly sounds like a scam.
However, there is a product/software on the back end, which looks legitimate.
But is this software any good? Is it going to work as they say? And should you buy it or not?
Follow me to find out everything you need to know about Profitz Today. My Profitz Today review is not associated with the owner, which means that I share my own opinion and not an affiliated one.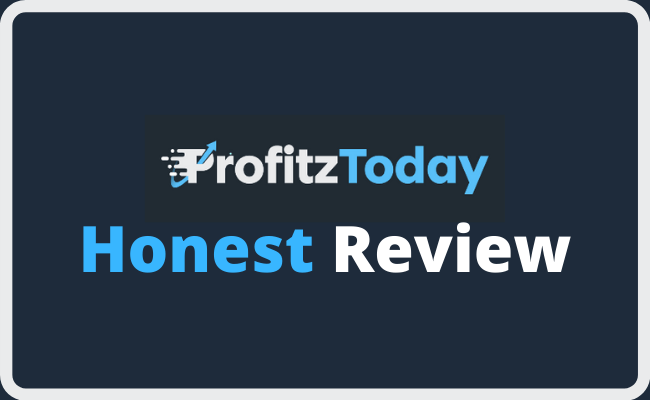 Profitz Today Review – Overview
Product Type: DFY Affiliate App
Product Owner: Firelaunchers and Luan Henrique
Product Price: $13 + Upsells
Money-Back Guarantee: 30 Days (questionable)
Recommended?: Not really…
Quick Summary: Profitz Today is basically a cloud-based app that allows users to leverage five DFY affiliate campaigns to earn profits with affiliate marketing.
You get access to five DFY Profitz Today campaigns, and the ability to create your own custom campaigns with a drag-and-drop campaign builder.
All you have to do is add your name and link to these campaigns and deploy them to earn an income online.
Well, I wish it could be that easy…
The truth is you're probably not going to make an income as soon as today, but the software does have potential.
Also, the software includes training on viral traffic generation and some bonuses as well.
That is a quick overview of the software. Now, let's continue with this Profitz Today review to discover what it is exactly, how does it work, whether Protz Today is a scam or legit, and more.
By the way, I personally don't recommend DFY apps to newbies because they will not teach you the PROPER SYSTEM for making money online. In other words, there's no long-term success in these apps.
The better option would be learning how to apply a PROVEN SYSTEM to make sure that you can achieve success in the long run. In other words, I recommend starting your own business instead.
To do so, check out my proven system below!
THE BEST WAY TO MAKE MONEY ONLINE IN 2023 >>
What is Profitz Today?
In a nutshell, Profitz Today is an automated software and video training that you can use to copy, paste and deploy DFY profitable campaigns that will make you profits online.
Does this sound a bit too good to be true? Sounds like a scam even, right?
Well, most of these DFY opportunities to earn an income online sounds too good to be true. And most of them are scams. They promise fast earnings with minimum effort on your side.
With Profitz Today, you're getting a set of five proven campaigns that have made its owners thousands so far. So it's fair to say it is not a scam, and it could work if you know what you're doing.
The owner of the software has also included a set of video training where he shows you how to use Profitz Today to create an income online. He is going to show you how to customize campaigns so the profits go to your affiliate account, how to get social media traffic, and more.
Profitz Today is also a cloud-based application, which means that you don't have to worry about hosting, buying a domain name, installing apps, or any of that technical stuff.
In my opinion, cloud apps are convenient because you don't have to download or install anything.
However, they are also a risky investment. See, if the owners of Profitz Today decide to shut down the system, which is very probable, you will lose all your progress. Moreover, you'll lose everything including your business.
My advice is always to buy whatever tools you must to build your own affiliate business instead of relying on cloud apps.
I personally don't want to wake up one day to realize that my business is gone.
Nonetheless, Profitz Today seems to have everything one needs to start profiting from affiliate campaigns so let's check out the next few sections of my Profitz Today review to see what you can expect from this app.
Who Owns Profitz Today?
Firelaunchers and Luan Henrique created Profitz Today. Firelaunchers is known as one of the most successful PLR creator/provider on the Internet. Their products have good quality and sold over 50000 sales on Jvzoo.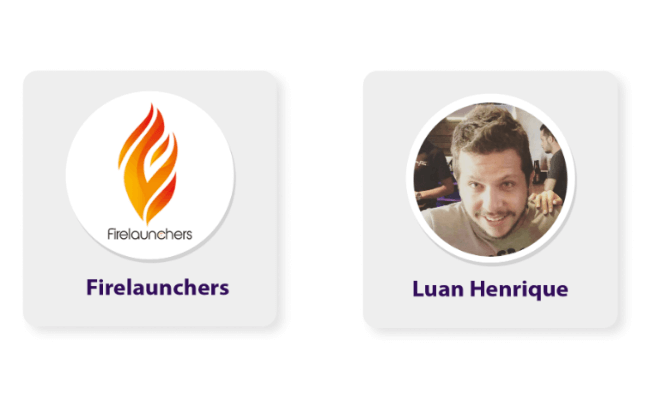 The second persona behind this software is Luan Henrique. Luan is a software guru in the IM space, who has released several products so far during his career.
Some of his work includes WP Click Viral, FB Auto, Scarcity Maximizer, VideoSync Elite, WP Video Genie, and more.
Now, the question is, is their latest creation any good? Will this product going to make you fast cash as Firelaunchers and Luan Henrique claim?
To discover the answers, you should keep reading my Profitz Today review.
Related: Profits Engine Review
What Do You Get With Profitz Today?
As I was saying earlier in this review, with Profitz Today, you get access to a set of DFY campaigns that you can use instantly to create profit online. The program also includes a set of video training modules where you can learn how to get traffic and more.
Let's take a closer look at each feature to see what it is that you're going to get with this offer.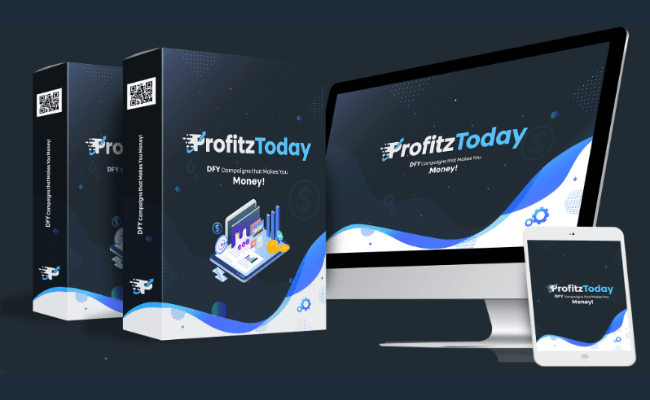 5 DFY Profitz Today Campaigns 
The first and most important feature of this program is DFY campaigns. These campaigns are tested by the owner to make sure they convert to profit.
All campaigns are cloud-based, which means that all you have to do is add your name and affiliate link to get paid if you manage to use this system successfully.
These are the names of campaigns that you can promote:
DFY Campaign #1 – Allure
DFY Campaign #2 – WP Fresh Start 5
DFY Campaign #3 – Traffic Trapper 2.0
DFY Campaign #4 – WP SpeedEZY
DFY Campaign #5 – LogoBiz
Viral Traffic Module
These DFY campaigns are practically worthless if you don't get some eyeballs in front of them. That is why you get a viral traffic module included so you can share your campaigns on social media.
All you have to do is copy your link and share it with your social media fans.
That is, of course, if you have any fans. You see, you need to create an audience BEFORE you can make money with ProfitZ Today.
Create Your Own Campaigns 
In addition to 5 DFY campaigns, you can also create your own campaigns within the app. This feature allows you to create unique campaigns for any product you want.
The app comes with a basic drag-and-drop builder as well as training on how to create your own campaigns easily.
Free Traffic Training
If you don't have social media following, you need alternative sources of traffic to make money with your campaigns.
That's why the owner has included free traffic training that will show you how to get traffic from some of the best places online.
Training & Support 
Everything inside is explained with video training. In addition to the training, you're getting access to a customer support team that is here to teach you everything you need to know about launching your own campaigns.
Unlimited Everything
Create & Deploy unlimited campaigns; there are no restrictions at all. Everything is included for you to crush it online from day one!
Profitz Today Bonus Features
Lastly, all buyers of Profitz Today are going to get a set of bonuses from the author. These bonuses are designed to complement the product and increase your chances for success.
Bonus #1 – Building Your Buyers List
Bonus #2 – 24 Traffic Sources You Can Use For The Campaigns
How To Use Profitz Today DFY Campaigns?
In this section of my Profitz Today review, I'm going to explain how the app works step-by-step. This information will help you to understand the work behind the app and to create your own profitable campaigns.
So without further ado, here are the steps you need to follow to deploy those DFY campaigns:
Log-In to Your Dashboard
Chose a DFY Campaign and Customize
Share Your Links on Social Media
Step 1. – Log-In to Your Dashboard
The first thing you need to do is log into your Profitz Today Dashboard. There, you'll have five DFY campaigns to choose from.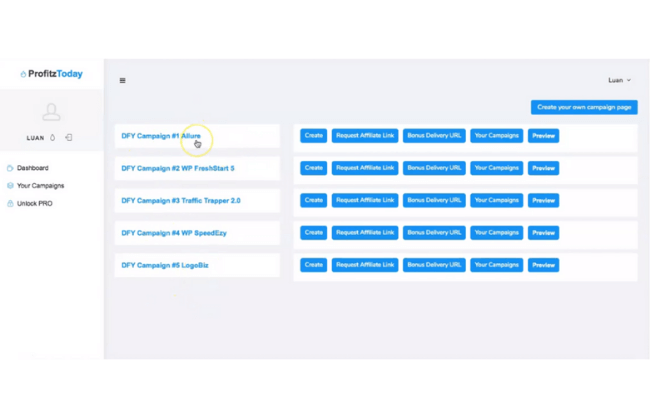 You can deploy just one or all five if you want.
Step 2. – Chose a DFY Campaign and Customize
Once you have chosen the campaign, you need to customize it.
This means that you need to add your name and your affiliate link that you're going to request from the owner of the product that you're going to promote to make money online.
Step 3. – Share Your Links on Social Media
The last step is straightforward, also. You have to take the link to your campaign and share it on all social media channels that you own. This step is explained during the training as well.
Important note! If you don't own a vast social media following, you'll have problems with getting traffic to your campaigns. In other words, you need to build your audience, which may take years to accomplish!
Profitz Today Custom Campaigns Walkthrough
In addition to using DFY campaigns to earn profits online, you can also create your own custom campaigns with Profitz Today app. This feature allows you to create your pages, add the bonuses you want, and more.
Here are the steps you need to take to create custom campaigns:
Create Your Own Campaign Page
Customize Your Campaign
Share Your Links to Get Traffic
Step 1. – Create Your Own Campaign Page
Once you're inside the dashboard, you'll see a button that says "Create your own custom campaign page." You need to click on the button to open a new page for your own campaign.
Step 2. – Customize Your Campaign
Once you click the button, you'll be taken to the next page where you'll get a fully customizable template page.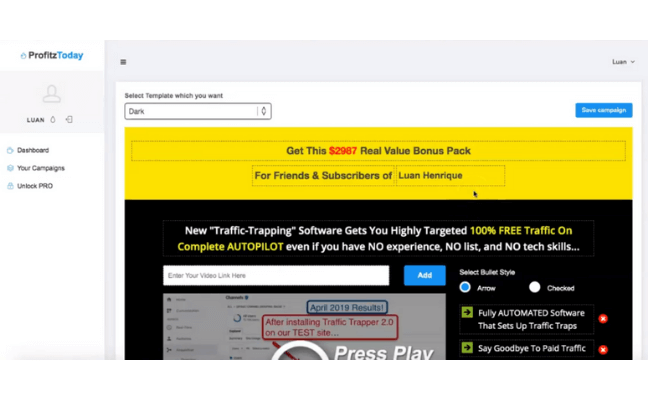 You can drag and drop elements, delete the ones you don't want, and add new ones if you wish. Also, you can play with colors, text, and other features of the page.
Step 3. – Share Your Links to Get Traffic
Just like with the DFY campaigns, you have to share this one on your social media channels to get traffic and sales. You can leverage Facebook, Twitter, Pinterest, LinkedIn, and Tumblr for free traffic.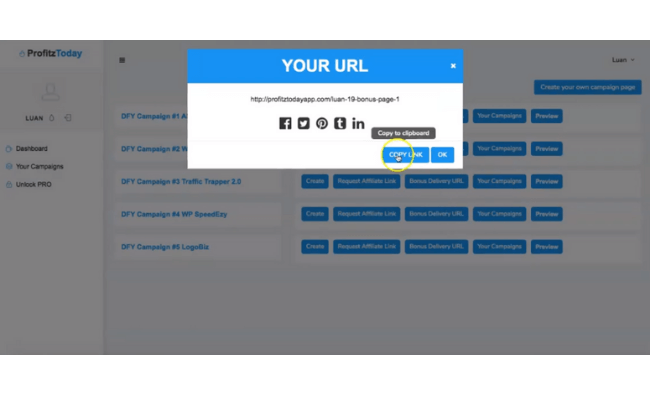 But once again, you need a vast following on these channels to profit from your campaigns.
If you're still not sure how Profitz Today works, feel free to watch the demo below:
Profitz Today Price and OTOs
You can get Profitz Today for a discounted price of only $12,95 one time. This purchase gives you access to 5 DFY campaigns, video training, support, and custom page builder.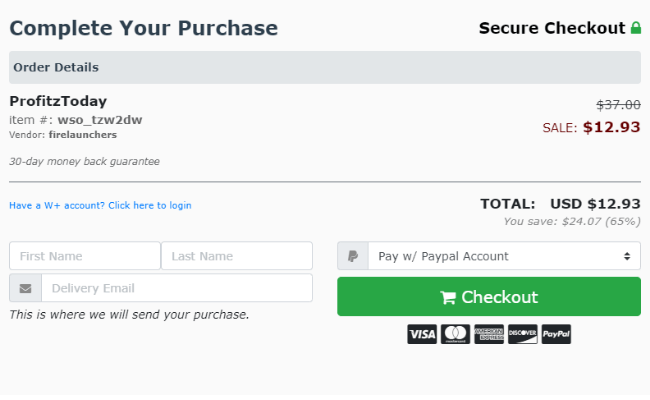 Also, you are going to be offered a few OTOs (one-time-offers).
OTO 1 – Elite Edition ($37)
With this OTO, you get 10 Extra DFY Campaigns, Commercial Rights & unlock the ability to create five front-end accounts that you can give to clients, team members, outsourcers, etc.
OTO 2 – DFY Traffic Edition ($37)
This OTO includes a complete package of reviews and videos that you can use to promote the 15 campaigns you have on the front end + PRO, making sure you get traffic from day one.
OTO 3 – Resellers License ($47)
The last OTO allows you to resell ProfitzToday and keep 100% of the profits.
Is Profitz Today a Scam?
At first glance, I thought that Profitz Today could be just another internet scam. I mean, they say that you can make money in just a few simple steps as of today.
Yes, they literally say that you just have to log in to your app, deploy DFY campaigns and watch your profits grow.
My friend, if making money was that easy, the whole world would be using this app. But it's not.
Those are highly misleading claims that I REALLY don't like to see when writing reviews for Profitz Today and other such products.
You see, no matter how good a DFY system is, there's no way to start earning immediately, especially if you are a beginner. If you are a newbie, you'll probably just get lost with Profitz Today and squander your time and money.
The reason why I'm saying so is that, if you are a newbie, you probably don't have social media following or any skills in SEO or email marketing and lead generation, right?
And if you don't know how to generate traffic, you can't make money.
And unfortunately, the training inside Profitz Today is not good enough to teach you how to master traffic generation. All they do is show you how to share links on social media.
That's not good enough to help you to make money with those DFY campaigns.
Sorry, but that's the truth. As I said at the top of this review, I'm not associated with the creators of Profitz Today, so I'm not going to sugar-coat the truth for you.
However, as you can see in the above section of my Profitz Today review, the owner does offer an OTO called DFY Traffic Package.
This means that you can pay them extra to help you get traffic to your campaigns.
So, if you are willing to take this risk and pay more money, you could eventually earn some profits. But you shouldn't be taking my opinion as a guarantee or anything like that.
Also, I like those two bonus features of Profitz Today. The author is giving away two resources to help you to get traffic from 23 different resources and build your own list of email subscribers and buyers.
Related: AffiliSites PRO Review
Profitz Today Review – Conclusion
DFY campaigns could be a faster way to profits if you know how to get traffic or you already own a list of buyers or targeted followers on social media.
That said,  Profitz Today could be worth a shot for those of you that are advanced marketers.
If you are just taking a plunge into the world of making money on the internet, my advice is to skip this product. In my opinion, this is not suitable for beginners and requires at least 3-5 years of experience.
The reasons for saying so are mentioned in the above section of my review.
Thanks for reading my Profitz Today review. I hope my article was helpful enough for you to make a well-informed decision on whether you should buy it or not.
Related: What Is Affiliate Marketing?
How To Make Money With Affiliate Marketing?
My best recommendation for all newbies is to start your own online business to learn how it works, acquire necessary skills regarding traffic generation, conversions, and everything else related to making money online.
And the best way for newbies to get started is not apps like Profitz Today, but training courses where you can learn all those things that I've just mentioned in the paragraph above.
Here's the thing.
You can buy a DFY app, follow the instructions and pay for traffic. As 99.99% of newbies, you'll most likely lose money because let's face it, what do you know about paid ads.
And if you're lucky and hit the jackpot from the first try, you will not be able to maintain it because you didn't learn the science behind making money online that you MUST have in order to maintain and grow your business.
So DFY apps like Profitz Today are not recommended by people who believe in long-term business (profits).
On the other hand, if you spend, let's say a few months to a year in learning all the skills and building your own online business, you'll have much higher chances to succeed online.
Even more, you'll be well equipped to maintain and grow your business in the future.
That is how real online entrepreneurs start a business. They don't buy DFY apps that seem like a good idea, while in reality, it's just a huge waste of time and money if you're a newbie.
And if you are a newbie, I would suggest building your own online business step-by-step.
To do so, I invite you to click the button below and discover the best way to earn an income online…
THE BEST WAY TO MAKE MONEY ONLINE IN 2023 >>
If you need any help or you have a question, feel free to contact me.
And don't forget to share this Profitz Today review with your friends and family!
All the best, Ivan. Founder, and CEO @freeaffiliatemarketingbusiness.com