Welcome to my Project Restart review.
With this post, I will answer your questions such as What is Project Restart? Is Project Restart a scam or legit? So make sure to keep reading this unbiased review.
Are there any magic tricks or secret buttons that you can use and push to make money online?
How many of these tricks have you tried so far?
And if your answer is a lot, how many of them have made you any money?
And how many of them felt like an outright scam to you?
You see, I'm sure in your answers because I've been in your position. Starting an online business is not something that goes as smoothly as it sounds on sales pages for different courses.
Success online is nothing more or less but a product of hours and hours of hard work.
How do I know this?
Hi, I'm Ivan! I'm a successful affiliate marketer. I went from waiting tables to earning a five-figure income online with my affiliate marketing business!
Moreover, I have also reviewed 600+ schemes and scams to find the best way to make money online. In other words, I'm passionate about affiliate marketing and helping you to follow in my footsteps!
That said, let's start the review of a brand new training program called Project Restart that is designed to help you build a sustainable online business in the shortest time possible.
Does Project Restart sound like another scam? To get an answer to that question, I invite you to keep reading my Project Restart review.
Project Restart Review – Overview
Product Type: Affiliate Marketing Course
Product Owner: Kevin Fahey
Product Price: $19 one time + 4 Upsells
Recommended?: Yes, but not for beginners. See the summary below…
Quick Summary: Project Restart is a step-by-step system for making money online where Kevin Fahey shares some of his top methods.
So is Project Restart a scam or legit?
The course comes with a set of training videos, PDFs, case studies, and helpful bonus features as well as a 60-days money-back guarantee.
In other words, this program is legitimate. However, I'm not going to be recommending this course to beginners.
In my opinion, Kevin's course needs more information to be 100% recommended. I believe that beginners will have a hard time understanding the essence of the Project Restart program.
Also, it's important to know that Project Restart comes with hidden upsells that contain some critical parts of the whole system, which is in my opinion, a bit unethical.
I would have given this course a much better review if those red flags didn't appear.
Alternative: If this course is not your cup of tea, make sure to check out my top recommended system below that enabled me to go from $0 to earning $100's per day with affiliate marketing!
THE BEST WAY TO MAKE MONEY ONLINE IN 2023 >>
What Is Project Restart?
Project Restart is a brand new system for starting and scaling an online business. The program comes with step-by-step training that anyone can understand and follow to get results almost immediately, according to Kevin Fahey.
I personally don't like to recommend courses that promise fast and easy results.
In 99% of the cases, those offers turn out to be a scam.
Don't get me wrong. I'm not trying to say that Project Restart is a scam. All that I'm saying is that fast and easy results are practically impossible to achieve because affiliate marketing is, first and foremost, a business.
Claims like those below are, in my opinion, a bit overhyped compared to reality.
Just like with every other business, some time and effort are needed to achieve success.
That said, the Project Restart review didn't start very well. However, there are a few good things about Kevin's affiliate training course, so let's give it a benefit of the doubt.
So how did this course come together?
A few months ago, a friend of Kevin Fahey, the owner, and creator of this program contacted him to ask him if he could share some advice on how to start an online business as fast as possible.
Since the world is in the middle of a crisis, many people are looking for the same solutions.
Therefore, Kevin Fahey got the idea to share everything he can about making money online ASAP.
The end product was Project Restart. It's a set of training videos and PDFs where you can learn all Kevin's secrets, grab his lists, websites, and product to start making money as fast as possible.
In a nutshell, Project Restart is all about starting an affiliate marketing business based on Kevin's experience in this business. You get a chance to follow the exact system he uses to earn income online promoting products.
In other words, Kevin is going to lead you step-by-step through the same process he's been using over the last few years to earn six figures online. And if you want to learn more, keep reading my Project Restart review…
About Kevin Fahey – The Author of Project Restart
Kevin Fahey is the owner and creator of Project Restart and a successful online marketer.
Almost a decade ago, Kevin Fahey was working on a job, just like most people all around the world. Then one day, he started dabbling in the online marketing world.
Step by step, day by day, Kevin grew into a super-successful online marketer that has a few training courses behind him.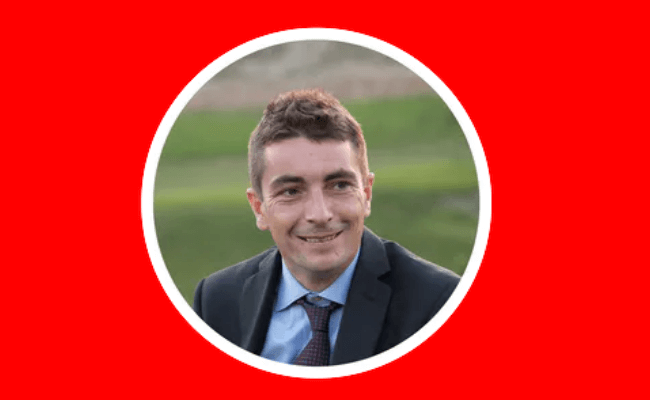 You may know Kevin from products such as Lazy Affiliate Method, Commission Five, or 20K Extra.
The latest creation is called Project Restart, and in the rest of my review, we're going to know more about the features of Kevin's brand new solution for making money online.
What You Get With Project Restart
Kevin's main objective with Project Restart is to help you to stop wasting time on systems that don't work and learn how to start a five-figure per month online income in the shortest time and space possible.
That is why inside of this program, you'll find video training, hours of case studies, PDF guides, and more.
I personally like courses that come with a lot of features. It usually means that you're getting good value for your money. However, that doesn't free Project Restart from the suspicion that it might be a scam.
How many times have you bought a course that sounded good but turned out to be a scam?
On the bright side, the resources such as training, PDFs, tools, and more are legitimate and actually contain real workable instructions for starting a successful affiliate marketing business.
Take a look at what is included with this program below.
Project Restart Video Training
The main feature of Project Restart is a step-by-step training program that includes an extensive 1 hour 40 minutes bonus session.
Kevin is going to walk you through a blueprint and show you every single detail you need to know about this method that makes him consistent passive income online.
The training covers topics such as:
Create, develop, and sell software
Create, develop, and sell training products
Coach and consult with others to help them achieve their goals
Create licensing for products and content (PLR)
Create and sell services (like SEO, ad management, etc.)
All of these methods come from Kevin's personal experience and are responsible for his seven-figure online business.
The only problem is that these videos and practices are not as comprehensive as they should be, but that is just my opinion.
This does not mean that Project Restart is a scam. I would like to see more training, nothing else.
Perfect Execution Playbook
A detailed 32 page PDF report where the author shares with you EXACTLY how he thinks, what he does, and the steps he takes to build a wildly profitable business in half the time.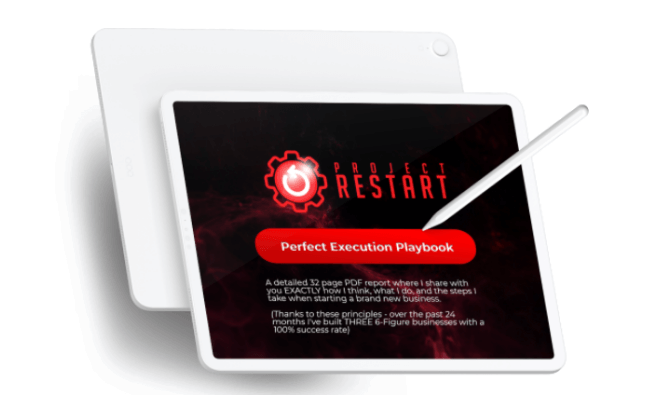 According to Kevin Fahey, this feature of Project Restart contains the exact information and principles he used over the past 24 months to build three six-figure businesses with a 100% success rate.
Additional Tools and Resources
In addition to video training and a 32-page PDF book, Kevin Fahey includes additional tools and resources.
These resources contain Kevns personal tips, hows, and whys, as well as business strategies to create a successful online business.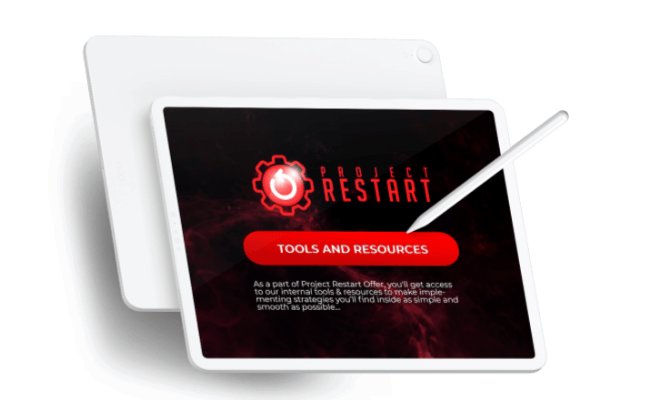 Project Restart Bonuses
With everyone who decides to purchase a Project Restart training program, Kevin shares a few bonus resources as well. The one that I like the most is the Private Mastermind Group.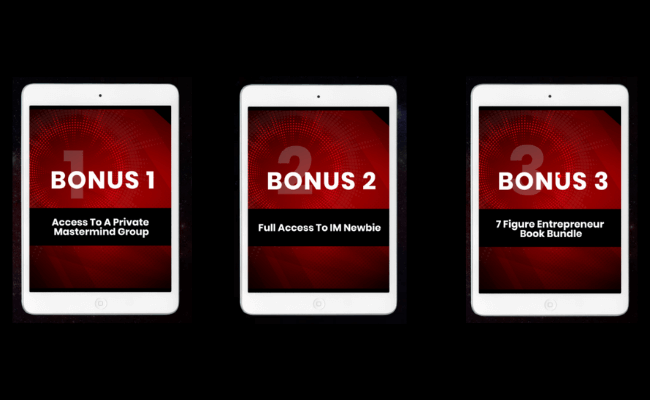 Bonus #1 – Access to a Private Mastermind Group
With this mastermind access, you'll get to meet and connect with top marketers in the industry who will push you towards success.
Hang out with other 'IM Checklist' members, and share ideas to move all parts of your business forward. Ask questions and get immediate help whenever you need it.
Bonus #2 – Full Access to IM Newbie
Inside Kevin's IM Newbie Complete Training Series, you'll get access to 32 Part Video Training Series showing you all the vital steps to set up your business correctly from the start.
It's a course upon which Project Restart was based.
It includes a complete step-by-step process to growing your subscriber lists, training on how you can copy proven methods to thousands of dollars each month, and access to 5 hours of Brand New Training Presentions delivered in webinar format.
Bonus #3 – 7-Figure Entrepreneur Book Bundle
With this bundle access, you'll get to discover the tested and proven processes you can follow daily to quickly scale your business to $20,000 per month in the fastest way possible.
Also, you can find out how you can explode your email open rates with a few simple techniques that take just minutes to implement.
Moreover, you get to learn 11 questions that will help you figure out where you are in your business, where you want to be, and what you need to do to achieve your desired results.
Lastly, see This one "fatal" mistake Kevin Fahey made in his business. And discover how avoiding it will set you on the path to extreme & effortless growth.
All in all, Kevin's offer comes with a lot of useful features and training. I just wish the core training contains more information.
However, there's a good reason why it doesn't, which is the next topic in the Project Restart review.
Related: 24 Hour Commission Academy Review
What Is The Price of Project Restart?
Before I share my verdict about whether Project Restart is a scam or legit, let's go over the price section of my review. As you're about to see, this product is relatively inexpensive, but it comes with hidden upsells.
Front-End Price
You can purchase Project Restart's front-end products via the official sales page or ClickBank marketplace for $19.95.
And since the program is sold via ClickBank, your purchase is backed up with a 60-days money-back guarantee.
You get:
Project Restart Video Training
Perfect Execution Playbook
Additional Tools & Resources
Bonus #1: Access To A Private Mastermind Group
Bonus #2: Full Access To IM Newbie
Bonus #3: 7 Figure Entrepreneur Book Bundle
OTO #1 – Interviews & Bonus ($37)
With this upgrade, you get:
10 Text-based Interviews With Top Marketers.
New $16K Case Study.
Plus 3 Exclusive Match Made Bonus Products.
IM Newbie – 34 videos and 5 webinars covering all the basics to getting started online.
Consistent Sales System – 25 different methods covered inside. PDF Training – Award-winning product.
20K Extra – Another KEvins Course that usually sells for $20.
OTO #2 – IM VIP Training ($97)  
The second upgrade gives you:
Access To Hours Of Up To Date Video Content, Case Studies, Guides, Cheat Sheets, Work Sheets & Even "Done For You" Resources!
Inside this training, you'll get access to the most prized lessons of business growth Kevin acquired over a decade as an entrepreneur.
See behind the scenes of real-world, big-money campaigns, so you're in the know on how the savviest marketers are building monster lists of buyers.
Proven & Advanced Business-Growth Strategies That are Working now.
OTO #3 – IM Checklist Trial ($3 then $17.95 month)
Here's what you get with IM Checklist:
MEMBERSHIP SITES
LEAD SOURCES
DAILY TASKS, PLANNING & STAYING ORGANISED
FUNNELS
eCommerce
INSTAGRAM MARKETING
LOCAL MARKETING
FACEBOOK ADS
OTO #4 – IM Checklists 460 Checklist Package ($197)
This upgrade gives you access to an additional 460 checklists covering 18 topics. Full Whitelabel Rebranding Rights & Private Label Rights Included.
PRODUCT CREATION
EMAIL MARKETING
SOCIAL MEDIA MARKETING
AFFILIATE MARKETING
VIDEO MARKETING
CANVA DESIGN
NEWBIE MARKETER
MESSENGER MARKETING
OUTSOURCING
SELF PUBLISHING
BUILDING A BUSINESS ON WORDPRESS
OFFLINE BUSINESS STARTUP
MAKE MONEY ONLINE WITH YOUR SKILLS – CRISIS MANAGEMENT
SEARCH ENGINE OPTIMIZATION
YOUTUBE ADVERTISING
COPYWRITING
CLICKBANK MARKETING
LINKEDIN MARKETING
SELLING ON WEBINARS
PLR KICKSTART
GOOGLE ANALYTICS
MINDSET
GOOGLE ADS
INFLUENCER MARKETING
THE BEST WAY TO MAKE MONEY ONLINE IN 2023 >>
What I Like About Project Restart
In this section of the review, you can take a look at some things I feel Kevin is doing good with the Project Restart training course.
Kevin Fahey Is Legitimate Online Entrepreneur
The first thing I like about this offer is the fact that Kevin Fahey is a real online entrepreneur. I'm used to seeing a lot of fake gurus, and I'm happy to see that Kevin is not one of them.
Step-By-Step Video Lessons
Project Restart comes with step-by-step video lessons where Kevin teaches how to use the same formula he used while building his own successful online business.
As I said, the training could use more depth in some areas, but ultimately, it's legitimate.
Bonus Resources, Tools, Playbook, etc.
In addition to the video lessons, all users of Project Restart get access to bonuses, tools, PDFs, private FB groups, and more.
Affordable Price
If you neglect the upsells, $20 for a training course is not a lot of money, which makes this offer extremely affordable to everyone interested in learning from Kevin.
60-Day Money-Back Guarantee
Since Project Restart is selling via ClickBank, you can get your money back during the first 60 days of your purchase. The good news is, ClickBank always respects their refund policy so no worries.
What I Don't Like About Project Restart
Everyone who reads my reviews knows that I'm always doing my best to bring you both good and bad. So in this section of the Project Restart review, you can read about what I didn't like about Kevin's course.
Hidden Upsells (Additional product promotion)
The thing that I don't like the most about this offer is the fact that it comes with hidden upsells. Even worse, Kevin uses this opportunity to market another product from his workshop.
What does it tell you?
It tells me that Project Restart is not a serious training course. If it was, Kevin would not use it to promote some of his previous creations.
Project Restart Is Not Beginner-Friendly
As much as I believe that affiliate marketing is a beginner-friendly method, I don't feel like this course is the perfect solution for beginners.
Project Restart is based on a legitimate method, but it's not going to show you how to start with affiliate marketing properly. Instead, you'll be learning about how Kevin made a fortune so far with his own affiliate methods.
Hyped Up Sales Page
Another thing I didn't like about Project Restart is the sales page. Kevin openly claims that this system will get you almost immediate results and could make you $1000's.
As much as I believe in success, I don't believe in get-rich-quick schemes, and this offer sounds exactly like one, which is the reason some might say it is a scam.
So is it a scam or a legitimate deal?
Is Project Restart a Scam or Legit?
At the end of my Project restart review, I want to share my opinion about whether this program is a scam or a legitimate resource for making money online.
My opinion is based solely on my observations and information available in the public domain.
That said, in my opinion, Project Restart is a legitimate training course. I haven't managed to detect any signs of a scam in this product.
To me, it seems like Kevin Fahey shares a fair amount of the information for the price given. You get access to a set of training videos, PDFs, and other resources that could help to achieve success online.
The good thing about this training program is that Kevin Fahey shares his own experience. In other words, all the information from this course has been tested and proven, which gives you an equal opportunity to do the same.
Kevin Fahey is actively involved in digital marketing for almost a decade. And in the last eight years, he's managed to earn a lot of money.
He's started a few successful projects that have left him with rich experience. I've reviewed a few of his products so far, and my experience was almost always positive.
Also, I like the fact that you can take the Project Restart program for a 60-day test drive.
And if you, after 60 days, don't get any significant results or don't want to continue following Kevin's leadership, you can contact the ClickBank customer support and receive a full refund with no questions asked.
On the flip side of the coin, I hate to see hidden upsells and hyped up sales page that promotes the getting rich quickly mentality, which is exactly what I see when I look at this course.
It usually means that the owner has a tough time "moving" the course and is willing to use scammy tactics to attract customers and make more sales by promoting additional content.
That is never a good sign.
However, the bottom line is, Project Restart is not a scam, but honestly, it is not the best program out there either. However, if you're curious about it, it's worth giving a shoot.
I consider Kevin to be a legitimate marketer and mentor.
Alternative: If you are seeking the best way (tools and coaching included) to earn an income online, you might want to check the offer below.
My #1 rated program helped me to go from earning $0 to $1000's a month!
THE BEST WAY TO MAKE MONEY ONLINE IN 2023 >>
Project Restart Review – Conclusion
With all this information covered, I hope my Project Restart review has helped you to make a well-informed decision.
The bottom line is, Kevin Fahey is legit and so is his course.
All users get a lot of resources, training, community, and even a guarantee in a form of a money-back guarantee.
If you're still on the fence, feel free to contact me using the comments section below so we can talk some more.
And if you decide to follow Kevin Fahey's Project Restart training program, I wish you the best of luck!
Also, while you're here, I want to give you another HONEST recommendation…
How I Make Money Online
If Project Restart is a bit too much or you simply don't like the idea, make sure to click the button below…
My #1 recommendation is a step-by-step beginner-friendly affiliate marketing course that has helped me to go from $0 to earning $100's per day with affiliate marketing.
The reason why I recommend it over other courses is that my #1 recommendation is the leader in the affiliate marketing training industry.
Also, my #1 recommendation comes with all the tools like hosting, websites, keyword tool, etc., included with the course!
Moreover, my #1 recommendation is proven by 1000's from all over the world.
On top of it, my top-rated course is the largest online community of marketers of all levels.
This means that you can get help 24/7 and get answers from 1000's of expert coaches, including me!
Best of all, I used this exact system to go from $0 to $1000's per month in passive income!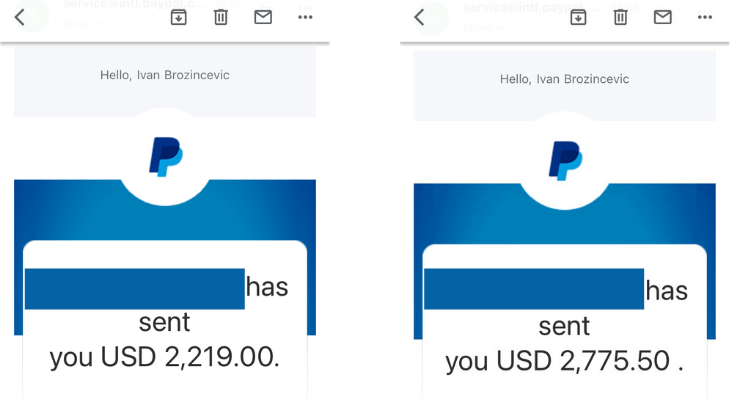 Among the best features of my # 1 ranked course is that you can take it for a test drive (just a $49 Premium subscription).
You will get one complimentary site and access to the very first ten lessons from the course to try things out.
After evaluating over 500 programs on the web, my conclusion is easy. This is the best course to learn about ins and outs of affiliate marketing.
And if you're looking for the very same, click the button below!
THE BEST WAY TO MAKE MONEY ONLINE IN 2023 >>
If you need any help or you have a question, feel free to contact me.
And don't forget to share this Project Restart review with your friends and family!
All the best, Ivan. Founder, and CEO @freeaffiliatemarketingbusiness.com
Related: Ministry of Freedom Review