Welcome to my Prosperity Income Network review.
Right off the bat, we have a claim that Prosperity Income Network is a brand new online opportunity to earn $1000's in commissions.
The owners of the platform claim their system is "the first-ever 100% automated system" that could make you money from the literally first day.
Sounds awesome, right? But what is it really about? How does it work? Is Prosperity Income a scam? Who owns the platform? What others are saying?
First of all, I don't like companies that do not disclose the identity of people that own the company.
It's never a good sign to have troubles finding this info when looking for a legitimate way to earn an income online.
When someone is asking a few K's and promises high-income returns like Prosperity Income Network does, I would like to know and even get in contact with the owners.
How about you?
The lack of transparency is not the only scam sign that I'm about to show you in this review.
Before we even begin, I have to say that Prosperity Income Network is not my cup of tea, and I don't want to recommend this to you, my reader, as well.
This opportunity is on the borderline of a pyramid scheme, which is an illegal activity.
So is it a scam or legit? Let's take a closer look.
Prosperity Income Network Review – Overview
Product Type: MLM/Pyramid Scheme
Product Owner: Unknown
Product Price: $500 to $25,000
Money-Back Guarantee: Unavailable
Recommended?: No. Scam alert!
Quick Summary: Prosperity Income Network also known as P.I.N. is a high-ticket online opportunity to earn an income that offers high returns (70%-80%).
But like every other scheme, Prosperity Income Network does not guarantee any income at all (stated in the FAQ section), which puts it in a hat of highly risky systems too.
Basically, it is a high-ticket MLM/Pyramid scheme where you're required to buy and promote expensive memberships to other people using the power of the internet.
However, these schemes almost never turn out good, which means I'm not a big fan of MLMs because they are usually the best for those who run them.
And as I said, there's no information about the group of people behind it, which could point to a scam or a fraudulent activity. Would you give your money just like that to an unknown group of people?
I wouldn't. In other words, I'm not recommending Prosperit Income Network to my readers, and the reasons are lined up in this review.
If you want to start an income online through PROVEN SYSTEM based on 100% legitimate methods, make sure to check out my top recommended training platform below!
THE BEST WAY TO MAKE MONEY ONLINE IN 2023 >>
What is Prosperity Income Network?
The only reason why we can't say that PIN is a pyramid scheme (and a scam) is that because you get a set of tools and resources which you can use to promote this opportunity online.
And that is what Prosperity Income Network is all about.
It's an opportunity to get engaged in a network of people who are promoting the same joining fees to other interested individuals.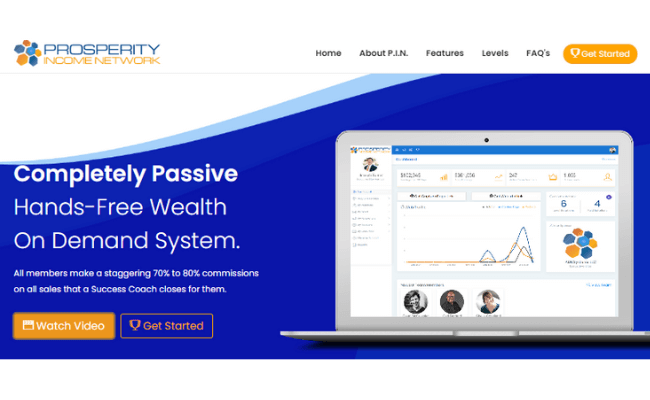 Just try to remember how you found the page. Some unknown person had referred you to the PIN site. And if you decide to join PIN, he or she is going to earn a commission.
I don't like these schemes because first of all, they have a meager success rate, and secondly because they often cost too much money.
It's basically a high-ticket cash gifting scheme (although they say it's not). It does not make it a scam, but this is not a smart investment, in my opinion.
Another problem is that you don't get an opportunity to create your own business under your terms and condition, which I'll discuss more by the end of the Prosperity Income Network review.
Related: OPM Wealth Review
Who Owns the Company?
If you were to invest a few $ 1000's into a scheme online, you would want to know a thing or two about the people that run the whole thing, right?
I know I would want to certainly.
Unfortunately, I couldn't detect who owns the Prosperity Income Network, which is a sort of a scam signal and a RED FLAG.
They don't even offer an address and are not listed on sites like BBB.
So far, not so good when it comes to trust.
But for the sake of this review, let's see how it works if you were ever to join the Prosperity Income Network scheme.
How Does Prosperity Income Network Work?
The first step you need to take to join the Prosperity Income Network scheme is to fill in your details on the official site and then call your prosperity coach.
This "coach" is going to be a person who is specially trained to talk you into becoming a member. He or she will lead you through the process of investing in each time more expensive membership packages.
Once you start investing, you're going to get a set of tools and features that you can use to promote the Prosperity Income Network online.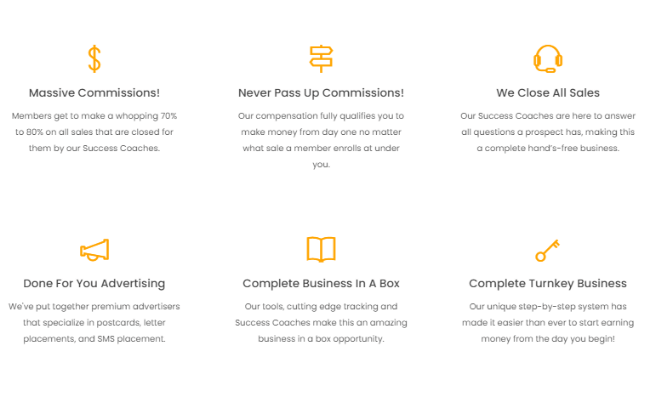 If you become successful in getting people to join P.I.N., you will earn a commission based on your current plan (more about this in the next part of the review).
In addition to the cash gifting scheme, the platform includes a set of features and training videos where you can learn more about lead generation, digital market techniques, and traffic generation.
And that's rounds up the way this company works. Let's talk about the expenses and the compensation plans.
P.I.N. Price and Compensation Plan
Even though Prosperity Income Network creators say that it is not an MLM or anything like that, we find some traits of it while doing this review.
In any case, they offer a set of membership levels you can join.
Starter – $500 + $97 admin fee
Deluxe – $2000 + $197 admin fee
Premium – $3,000 + $297 admin fee
Master – $6,000 + $497 admin fee
Diamond Elite – $12,000 + $697 admin fee
Executive Elite – $25,000 + $997 admin fee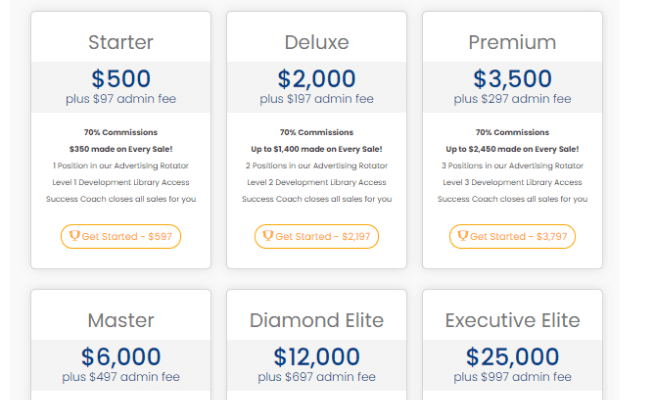 A compensation plan allows you to earn 70% to 80% on each sale you make, and here's how the math looks like.
Starter – ays $350 commission
Deluxe – pays $1,400 commission
Premium – $2,450 commission
Master – pays $4,200 commission
Diamond Elite – pays $8,400 commission
Executive Elite – pays $17,500 commission
Is Prosperity Income Network a Scam?
I can't say that Prosperity Income Network is a scam because there are no real signs of something fishy going on.
Although the opportunity that promotes no work on your part, no selling, no prospecting, or anything like that, and where all things are done for you, does sound fishy from the start.
It turns out that all you have to do is pay the fee, and watch the money roll in.
Sounds too good to be true? It does, really.
The lack of transparency is what troubles me the most. I mean, the company doesn't disclose a single detail about the origin of the network, there are no names, no addresses, or anything that should be there by default.
In my opinion, this does not make Prosperity Income Network a scam, but I don't trust them at all because of this behavior.
I was involved with a company like this already, and before you know it, they disappeared from the map in a flash!
One day the website was there, the agents were accessible, the number was working fine, and the other day, it was like they have never existed.
Scary stuff…
Related: Too Damn Easy Review
What I Like About Prosperity Income Network
Realistically speaking, I don't like a single thing about Prosperity Income Network. In my mind, this high-ticket scheme pyramid scheme/MLM that benefits those who own it the most.
A lot of people will get excited by those misleading claims from the official site and invest $500 to try it out.
The end result, in 99.9% of the cases will be loss of investment because the scheme is constructed in a way that you must invest in expensive membership levels to profit.
And even then, success with Prosperity Income Network is not guaranteed.
What I Don't Like About Prosperity Income Network
I have started this topic in the previous section of the Prosperity Income Network review, so I will continue it in this section as well. Basically, P.I.N. is not recommended, and here are my reasons.
P.I.N. Is A Pay To Play System
As I said in the previous section, most people will join because they were lead by those misleading claims about making 100% passive income on autopilot and they will invest in the smallest level ($500) thinking this is it!
But since 99% of recruits can't afford those high-ticket levels, which you must buy to advance and make money with this scheme, most people will give up.
So the only ones who will make money with Prosperity Income Network are owners and those few affiliates on the top of the pyramid.
P.I.N Is Not DFY Passive System
A DFY passive system means that all you have to do is plug into the scheme and start profiting. However, this is not going to happen with Prosperity Income Network because of the way it is constructed.
Basically, you're allowed access to a traffic rotator. However, to get the most traffic from this system, you will have to invest in the most expensive membership.
If you're on a lower level, you will probably not going to get enough traffic, which means no commissions for you.
This means that you will have to outsource traffic in for of paid ads, or do your own diligence and learn free traffic methods like SEO and social media marketing.
So to conclude, this will require work, and if you have to work for it and invest constantly to keep your income flowing, then it is not a passive system.
Prosperity Income Network Is Extremely Expensive Scheme
The third reason why I don't recommend Prosperity Income Network is that it requires a HUGE investment. I'm not talking about $1000 or $2000 one time. I'm talking about tens of thousands of dollars!
If you're not prepared to invest this kind of money into an MLM scheme like this, you're wasting your time and resources.
And even if you have this money, is it a reasonable investment? Not really.
Think about it. Prosperity Income Network is just a fancy cash-gifting scheme. Not a smart investment at all.
Pyramid Schemes Are Not Sustainable In the Long-Run
By the design, Prosperity Income Network must collapse at one point because there are not enough people on Earth to keep the scheme going forever.
Therefore, it is not sustainable. And this is the reason why we keep seeing schemes like this shutdown and starting all over again just under a different name.
For example, the same will happen to schemes like OPM Wealth or Power Lead System.
P.I.N. Is In Danger Of Being Shut Down By FTC
You have probably heard about MOBE or Digital Altitude, right? If you haven't heard of these two names, here's an update. They were doing the same things as Prosperity Income Network and were, therefore, shut down by FTC.
See, pyramid schemes are illegal!
The worst thing is, poor people who have joined the scheme have lost the entire investment literally overnight.
Final Words and Honest Recommendation
In conclusion, Prosperity Income Network is an online platform that offers its users a chance to become a part of a system with which they allow you to earn an income online.
They have organized everything on your behalf and prepared resources such as landing pages, content, traffic, and all that is needed for success.
All you have to do is join the platform by paying a fee, and you're set to go.
The company pays between 70% and 80% in commissions to its paying members, and your income level depends on your membership status.
If you are, for example, only on Deluxe Plan, you get paid commissions only for Deluxe and Starter plans. The rest of the commission is out of your reach until you decide to upgrade.
The system sounds like a great deal, but it also looks too good to be real.
And that is what concerns me the most as well as the fact that it is a pyramid scheme.
I can't trust my money to a platform that will eventually collapse or be shut down by FTC.
That said, I don't recommend Prosperity Income Network to my readers, to you.
In my opinion, this is not a safe investment. Once you're in with your money, that's it. It's gone, and you have no guarantees of any kind!
The bottom line is, Prosperity Income Network is not a scam, nor do I have any evidence to say so, but I don't trust them and above all, I DON'T recommend it.
Thanks for reading my Prosperity Income Network review. I hope my review was helpful.
How To Make Money Online Legally With Affiliate Marketing
In my opinion, the best way to make money online is to start your own business such as affiliate marketing. This way you're in control of your money and that's what you really want.
Affiliate marketing allows you to promote ANY physical or digital product or service out there and earn commissions for doing so!
The system requires work and effort, but it is 100% legitimate and PROVEN to work!
To learn how to start your own affiliate marketing business, make sure to click the button below to learn more from my PROVEN SYSTEM that I use to make money online!
THE BEST WAY TO MAKE MONEY ONLINE IN 2023 >>
If you need any help or you have a question, feel free to contact me.
And don't forget to share this review with your friends and family!
All the best, Ivan. Founder, and CEO @freeaffiliatemarketingbusiness.com