Welcome to my Push Money App review.
Just a few moments ago, I finished watching the promo video for Push Money App and I want to share these warning signs with you before you fall for this scam!
The promo video is mighty convincing, right?
However, the truth is precisely the opposite of what you've heard.
I've got to tell you that this is the worst thing I've ever seen in my entire life. I saw a lot of scams, but this one is outrageous!
Dennis Moreland and his partners claim that you can start making money literally with a push of a button!
A push of a button!
Allegedly Push Money App is some software that will make you money on demand, but in reality, it's something that you want to avoid at all costs.
I have concrete evidence that Push Money App is a scam designed to rip you off.
By the way, congratulations on being a smart person and doing the research yourself. Quick research saves you time and money.
If you want to make money online, check out the affiliate training that helped me to go from $0 to earning $100's per day in passive income with affiliate marketing.
This way, you'll avoid a scam and get a chance to start a legitimate business.
In this Push Money App review, I show you what this program is all about, how it works, how much could it cost you to if you join.
Also, I'll show you some of the shocking discoveries that prove my claims from the above.
Shall we?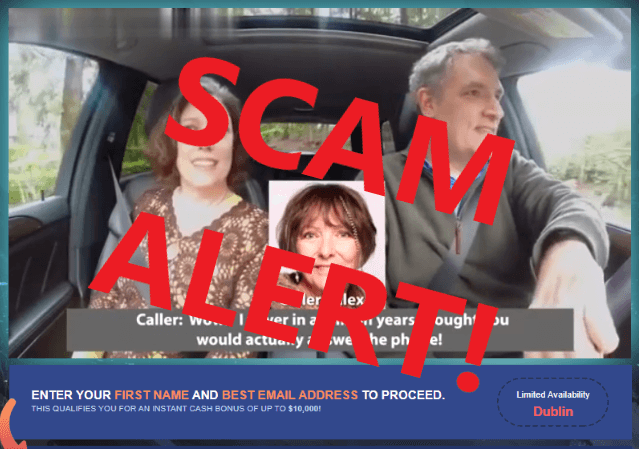 Push Money App Review – Overview
Product Name: Push Money App
Product Type: Binary Auto-Trader
Owner: Dennis Moreland (fake name!)
Price: Free to Join + $250 Deposit + Risk of Losing Thousands
Recommended?: No! SCAM ALERT!
Quick Summary: Push Money App is allegedly some system that allows you to use some secret app that is going to literally print money on demand.
Dennis Moreland and his friends from the sales video claim that you use this app to make money overnight with a push of a button.
That's clearly a fake and ridiculous claim.
Upon further research, I discovered that Push Money App is actually a sales funnel designed to get you to sign up for a binary broker that is supposed to trade for you on autopilot.
You just have to deposit your hard-earned money, push a button and you'll wake up rich by tomorrow.
The problem is that the binary broker is not licensed and therefore it is 100% a scam.
Also, I have evidence that Dennis Moreland is not who he claims to be. The whole scheme is rigged to rip you off.
The Push Money App is a scam 100%. See the evidence in the rest of my review.
If you are looking to make money online, make sure to join my PROVEN SYSTEM for making money with affiliate marketing that enabled me to quit my job and go full-time online!
Click the button below to learn more!
THE BEST WAY TO MAKE MONEY ONLINE IN 2023 >>
What is Push Money App?
Once you land on the sales page of this program, you have no idea what Push Money App is.
All you know about it comes from a video where Dennis Moreland and his partners talk about making money with some exclusive app.
They claim that this app will generate you cash on demand. Literally, on freaking demand!
By the way, the Push Money app makes money by trading binary options on autopilot. All you need to do is deposit your hard-earned cash to these crooks, and the app will do everything for you.
As you could've seen in the video, Dennis refreshes the screen of his phone, and the money magically multiplies. WOW!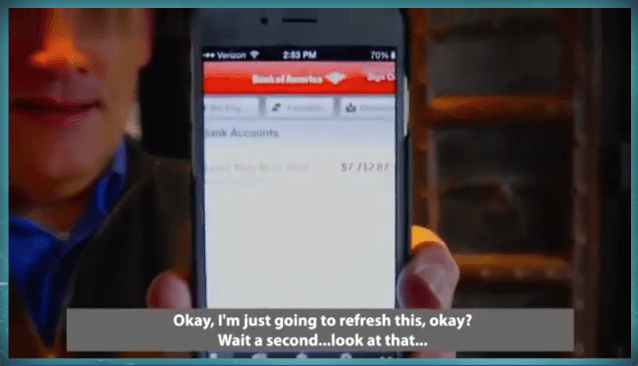 As the video continues to play, Dennis even shows you a "real" cheque for $1000 that he's going to send to you if you join.
Together with alleged earnings from members, they show a few testimonials of random people who have been making money with this app.
However, I was not able to find any other proof that this is a real deal. On the other hand, I have plenty of evidence that the Push Money App is a scam designed to steal your hard-earned cash.
Keep reading!
Who is Dennis Moreland? 
Dennis Moreland claims to be the co-founder and co-owner of the Push Money App. He's been secretly making millions with this app together with his partner Mike Callaghan.
These two guys claim that they've had enough money, and they want to share the system with the rest of the world.
But if you take a look at the image below, you'll see that Dennis Moreland's real name is David Williams.
He's an actor and has nothing to do with the Push Money App, except, of course, acting like the fake owner and creator.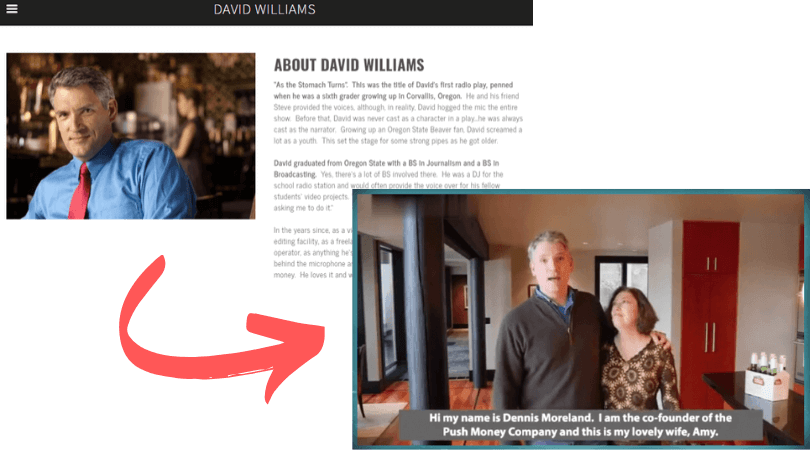 This is just one of the pieces of evidence in my review that the Push Money App is a dirty scam.
Of course, the real owner of this system does not want to be found, so he hired actors to run this charade.
How Does Push Money App Scam Work?
Like many other auto-trading scams, Push Money App is professionally done.
You probably got this offer into your email inbox. At least that's how I got my hands on it.
It came with a tempting email inviting me to claim some software that's been making people filthy rich.
Once I clicked the link, I landed on the Push Money App sales video.
The video is, as you can see, fake and designed to steal your confidence. They want you to believe that this is a solution to all your financial troubles.
The first step is to fill in the form with your details such as name, email address, and phone number.
However, you don't want to do that! They will spam your mailbox, sending you more scams.
Also, their "agents" might call you to encourage you to deposit more money.

Dennis and his partners claim that the app works on auto-pilot. All you need to do is deposit some cash, and the app will start trading binary options for you.
The whole system is automated, hence the name.
But trust me, you don't want to give them your money.
How Much Could Push Money App Cost You?
Once you complete the registration with one of their brokers, you'll be asked to deposit $250 to your account.
Once again, don't do it. As soon as your account gets verified, you'll be able to start trading.
Also, inside the Push Money App, they promise to match your deposit of $10,000 if you agree to do so.
They'll even tell you that you can withdraw your money at any time.
Up to this point, the whole thing is designed to steal your confidence.
Because of that, you might start thinking that you're going to make tons of cash with this app, but that's simply not true.
You see, the binary software will start trading for you. In the end, it will lose your money.
According to my research, all binary trading apps are practically illegal. Push Money App is not registered and does not hold a trading license.
Also, I tried to find some proof that it might be a real thing, but it was a failed search.
All I've got were FAKE REVIEWS created by the affiliates who are going to bank a commission if you apply through their link.
The only people who are going to make money with Push Money App are the creators and affiliates that promote this scam.
You and your bank account are, unfortunately, just a means to an end.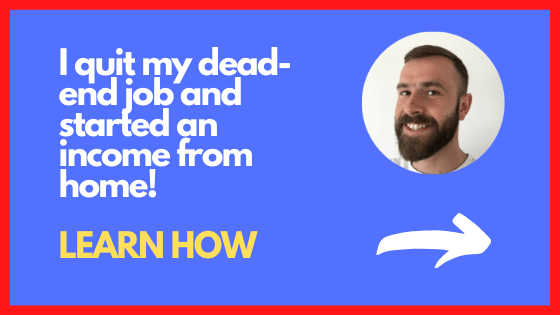 Push Money App Scam Warning Signs
Now without beating around the bush, let me show you a set of warning signs that just prove the point that Push Money App is a scam designed to rob you blindly!
Dennis Moreland (David) is an ACTOR!
This is a common trick used by internet scams. If this were something real, the creators and owners of the system would be proud to show their real identities.
So instead, they've hired David to play and to convince you that this is something that'll make you wich overnight.
You can see David in this commercial for Oil Can Henry's dealership too.
Fake ownership is just the tip of the iceberg. Take a look at other signs as well.
Others That Appear Are Fake Actors Too
As you keep watching the video, you can hear and see more and more people appear. We have David's wife, and his partner and his wife. Then, there's a girl on a phone too.
However, all those other people that you've had a chance to see and hear during the sales pitch are paid to say whatever they were saying.
The girl on the phone is a fake call, Davids's wife is an actress, and the rest of the people that appear are actors.
Take a look at the rest!
Testimonials are Fake as Well
As you take a closer look at the image below, you can see that the person is holding something else. The cheque has been clearly photoshopped.
The video testimonials are probably fake, as well.
I've seen a lot of fake cheques and payment proofs, but this one must be the worst one I've ever seen.
Also, the other "proof" they've shown you is fake as well. David did not send money to a person over the phone, and all those other claims are designed to make you believe Push Money App is real.
But to convince you further, they've used a few more dirty tricks.
They Play On Your Emotions
Images of sports cars, villas, and yachts were used to get your attention and trigger your greed. We're all greedy, and these guys are using every little dirty trick to use that against you.
Those things are all fake as the rest of the app.
Now the last scam sign is the most dangerous. This could cost you a lot!
Push Money App is Not FREE!
Dennis (David) claims that the Push Money app is free to use. Now, why would he say so? Well, to get you inside without thinking it through obviously.
However, if you do so and want to start trading using the third-party software they provide, you'll need to deposit at least $250!
So basically, they scammed you into depositing your money so that they could make commissions off each person that follows through.
Also, once you are inside, the "agents" will try to convince you to deposit even more since it's a "sure shot."
But you are smarter than that!
Is Push Money App a Scam? – Final Verdict
Yes, Push Money App is a scam!
I do not recommend this. There's nothing here that will make you money on tap as it's been FALSELY advertised.
You won't make money with a push of a button with this.
All they want you to do is to deposit your hard-earned savings so that people behind the Push Money App scam could make a commission. Every time a person accepts the invitation and makes a deposit, they will earn money.
You and every other person that might fall into this will end up with zeros on your account.
They are not here to help you to make money. This app is nothing but dirty marketing and scam.
I reviewed a lot of scams that you want to avoid. Some of them might have been removed in the meantime for apparent reasons.
For example, AD Formula or The Bitcoin Code are the ones you want to avoid big time!
Here's a 100% Legit Way To Make Money!
Thanks for reading my Push Money App review. I hope you'll listen and stay away from it! If you have any questions, feel free to ask them in the comment box below.
Before I let you go, let me tell you how I make money online with affiliate marketing with help from a REAL program.
The program that I recommend over others has nothing to do with getting rich quickly. That's not how making money works.
However, the point that I want to stress out is that it could work if you know how and where to start.
Wealthy Affiliate has been and still is the best online platform for making money online. These guys can teach anyone how to become a successful affiliate marketer.
The best thing is, it entirely safe and free to join and only $49 per month to go full time. No BS, no upsells.
These guys have helped thousands of regular people like you and me to make money online.
Make sure to check it out!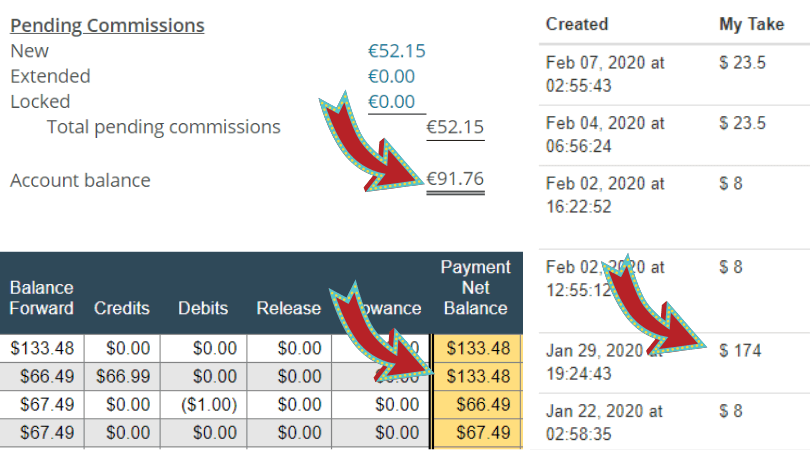 THE BEST WAY TO MAKE MONEY ONLINE IN 2023 >>
If you need any help or you have a question, feel free to contact me.
Also, make sure to share your Push Money App reviews, thoughts, and comments on this scam in the comment box below!
All the best, Ivan. Founder, and CEO @freeaffiliatemarketingbusiness.com