Welcome to my Push Quick review.
You've seen the sales page and probably watched a crazy sales video where Jamie is delivering 'money babies' to this world.
Naturally, you find it funny even stupid, so you need to know whether it is a scam or legit?
The reality of online marketing is this. A lot of people fail as soon as they give it a try.
Then, they start searching for push-button solutions and DFY systems that are created to make everyone who touches them rich overnight.
But soon enough, those systems turn belly up as well, and unfortunately, good people give up the idea.
Jamie Lewis might be a successful marketer, but he's also a serial product creator.
Those systems he pushes out every few days are primarily designed to fill his pockets, which he does successfully.
But oddly enough, I rarely see anyone running around with his system in his hands and yelling, 'I'm rich, I'm rich!'
So the question is. Is this software going to make you $278 a day on autopilot, or Push Quick is a scam?
By the way, congratulations on researching yourself! Quick research saves you time and your hard-earned money. It shows that you are serious about finding a legitimate way to make money online.
Speaking of which, check out the PROVEN affiliate training that enabled me to earn a four-figure income with affiliate marketing in one year!
Within this Push Quick review, I'll show you what it is about. I'm not associated with this offer, so you don't need to worry, I'm not promoting it.
I'll show you what to expect from the software and give my honest opinion about whether Push Quick is a scam or a legitimate way of making money.
Shall we begin?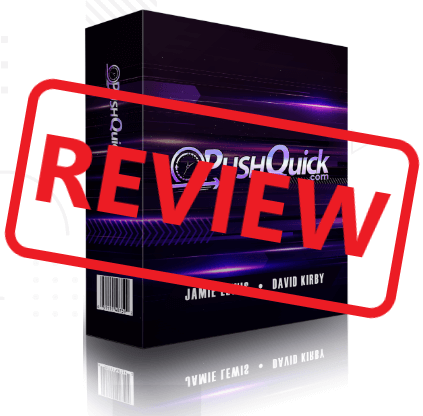 Push Quick Review – Product Overview
Product Name: Push Quick
Product Type: Online Marketing Software
Owner: Jamie Lewis & David Kirby
Price: $18,11 + UPSELLS
Rating: 1/5
Recommended?: No
Quick Summary: Push Quick is advertised as a 'get-rich-quick' solution. Jamie Lewis claims that you can make $278 a day on autopilot with some traffic siphon software.
The rest of the sales page is confusing and never reveals the true nature of the program.
Therefore, the lack of transparency is a severe scam warning sign.
In reality, Push Quick is a piece of software that finds lucrative keywords and related YouTube videos.
Then, Jamie shows how to contact the owners of those YouTube videos and convince them to put your affiliate link so that you can get a piece of traffic.
However, Push Quick is an overhyped and not-profitable method.
The flashy sales page is just an excuse for expensive upsells. As always, once you get inside Jamie's product, you will bombarded with expensive upsells.
In my opinion, the whole thing is a joke. I've seen a lot of products from the workshop of Jamie Lewis, but this Push Quick software is one of the worst.
I do not recommend this to anyone.
For a legitimate way to make money online, click the button below!
My #1 recommendation is a legitimate training that made me go from $0 to earning $100's per day with affiliate marketing!
THE BEST WAY TO MAKE MONEY ONLINE IN 2023 >>
What is Push Quick?
Push Quick is allegedly some traffic siphon software. They say that you can use it to give birth to multiple 'profit babies' and make as much money as you want.
Instead of wasting hours and hours in labor, they say that you can use this software to make money every single minute.
Just like many other 'push-button' software, such as VViral, 1st Page Ranker, or Tube Profit Sniper, this one is designed to leverage some secret YouTube loophole that prints money on demand.
It's so powerful that it has to be secret, and you can't know about it before you get inside.
Of course, Push Quick is going to work, as its name suggests, with a push of a button. Once you push the button, it finds fertile 'Money Seeds,' which then, you impregnate with your affiliate link and create 'Profit Baby.'
You can use it to make money whenever you want it. LOL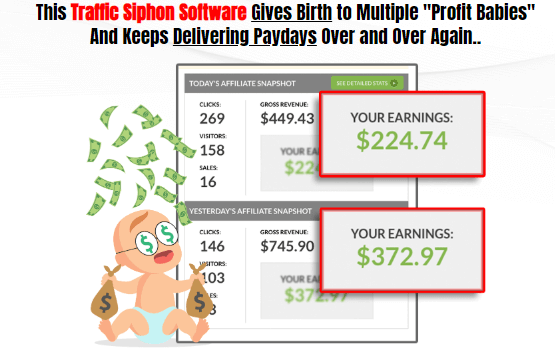 If Push Quick does not sound and looks like a scam, then I don't know what does.
Anyway, the software is nothing miraculous. It helps you to use YouTube for questionable quality traffic using keywords, videos, and comments.
Who is Jamie Lewis?
Jamie Lewis is an online marketer with a lot of background.
He's, first of all, very successful at what he does. Secondly, Jamie is, like many vendors from WarriorPlus, a serial product creator.
As I've said at the top of this review, Push Quick software is just one of many 'get-rich-quick' systems that are coming from his collaboration with David Kirby.

I reviewed a few of his creations so far. A few examples are Commission Map and Easy Arbitrage.
Below you can see the screenshot of his WarriorPlus vendor profile and how these systems got a meagre rating. Meaning, the customers were not delighted with them at all, neither am I.
Think about it, if these products were actually making money as Jamie advertised them, then they would have gotten a lot better reviews and ratings than this!
These low ratings just prove the point that this app is just another shiny object from Jamie's workshop.
If you are looking to make money online, you should really try this proven affiliate training where you can learn how to start with affiliate marketing step-by-step. It's free to start and only $49 to go full time.
Before I give my final opinion about Push Quick and decide whether or not it is a scam, let me show you what's the primary purpose of this offer.
Push Quick Funnel Revealed
A flashy sales page is just a beginning. Jamie has told you that you can use Push Quick software to make tons of money and many other things to get you inside of an expensive funnel.
At first glance, the price seems like a bargain, just $18,95.
However, that's just an entrance fee.
Upsells Galore
VIP Done-For-You Campaigns ($47) – Since the software inside is confusing and generally not going to work for the majority of its customers, the owners offer you to do the work for you. Of course, they will promise you $995 per day if you accept this offer today.
Adoption ($67) – This is an upgrade, which, if you purchase, gives you the right to use Push Quick as your personal agency. You get outsourcing tools and promotional material included. They even tell you that you can start making money with it even before you use it!
Nurse ($97) – Just like with every other of his offers, Jamie throws into the deal a Weekly Webinars upgrade. This is going to give you access to 1 webinar per week where he talks about his 'secrets' of making money online and other things.
Use Ours ($197) – Since it'll take million years for an average person to figure out this system, to save you from trouble, you can buy another DFY package. This time, they'll let you add your pixel to their campaigns and 'legally hijack' their traffic and customers.
Resellers Licence ($167) – Lastly, they'll offer you to purchase the whole thing and earn the right to resell the system as your own. They'll include the sales page with the crazy video, upsells, software, resources, videos, and all.
The good thing about Push Quick sales funnel is that you don't need to take these upsells.
Naturally, every single one of them comes with another flashy sales page where they try to convince you that you can't live without this. But if you don't want it, there's a tiny button on the bottom of every page.
This is, in my opinion, a clear sign that the owner is not honest with his offer and another severe scam sign.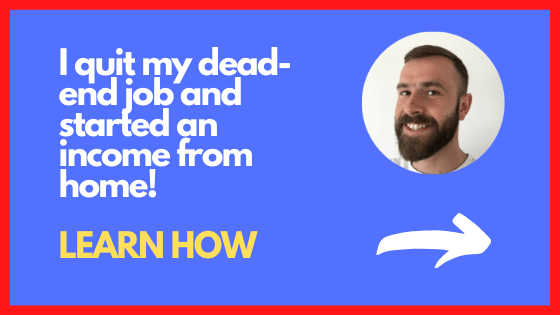 What's Inside Of Push Quick?
Once you go around those upsells, you'll finally get access to the software. Together with the software, you'll get a set of training videos. These videos explain the basics of the system. They aren't in-depth, and they are there to justify the price.
Here's a list of tools and resources:
Push Quick Software
Step-by-Step Video Training
Complimentary Live Session With Jamie
How Does Push Quick Work?
Finally, let's explain how the money-making software works. This is the part of my Push Quick review, where I'm about to spill the beans and reveal the whole magic behind it.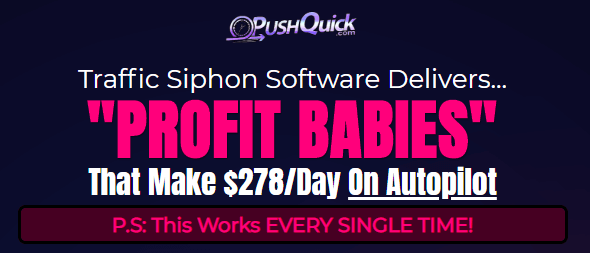 So after you log in to your account, you'll get access to the software. Then, to start using it, you need to enter a keyword. You press a button and lo and behold. The money starts coming to your bank account.
All jokes on the side, once you enter the keyword, the software shows you a list of videos that you can use. The Push Quick software helps you to find videos that have a lot of views, but the owner does not yet monetize them.
They show you how to do it by contacting the owner and giving him offers.
But think about it, please. If you have a video that rakes in a lot of free traffic, why would you accept an offer from a random affiliate from the internet when you can put your own affiliate links and keep 100% of the profit?
On the sales page, Jamie says Push Quick method is going to work every time (nothing works 100%!!!) and will earn you $278 per "profit baby" or in other words, per video you help the owner to monetize. But if this is such a lucrative method, why more people are not using it to make money?
In my opinion, Jamie has done a terrific job making you believe you will make tons of cash. The sales pitch is funny, I admit. But it's not going to be funny when you try this and realize that it is not even close to what's been promised.
In other words, I don't believe that this is going to work as they claim.
The method sounds kind of legitimate.
However, Push Quick not even close to what Jamie has told you while he was pitching you this software. This method includes a lot of work, and it's highly questionable.
I wouldn't say it is 100% a scam, but it's getting close.
Will You Make Money With Push Quick?
Jamie and his partners promise that you could be making money with Push Quick in hours if you access the software as soon as you get in. Also, they promise to show you how to scale to several thousand per week and then scale it up as big as you want.
At some point, they even say that you could be making money in a matter of minutes.
Now that's amazing! It would be even better if it's true.
However, to make it even more convincing, the sales page is full of screenshots of their WarriorPlus accounts. But you need to understand that those earnings come from the sales of this and many other offers they own.
Therefore, those claims are not proof of anything.
What I Like About Push Quick
Honestly, I don't like anything about this offer. Push Quick looks like a classic 'get-rich-quick' scam designed to rip off gullible newbies. Don't get me wrong. I'm not saying that it couldn't work.
It's just too good to be true.
Refund Policy is in Place
The only thing that I like and appreciate about this offer is the 30-days money-back guarantee.
If you don't make money as they say or you change your mind for any reason, just let them know, and they'll get you a no-questions-asked refund.
What I Don't Like About Push Quick
In my opinion, the whole thing from top to bottom is one big joke.
It starts with a crazy video where this guy is sleeping with a woman, then he's a doctor that delivers 'Money Babies,' then he sells you a crazy story about making tons of cash in minutes and whatnot.
It's Not For Newbies
The software is confusing, and the method is not for newbies. I'm an experienced marketer, and I had trouble understanding how it works.
Honestly, I still don't know what the hell it's all about.
The only reason why they swear that this is for newbies is to get as many to buy this thing.
Overhyped Earning Claims
Many people are drawn to online marketing once they see that it's a lucrative industry to be a part of.
Jamie and his guys are doing a good job spreading the word, but they do it in the wrong way. They say that even without any experience, you could be making the same profits it took them years to achieve.
In other words, those earning claims are overhyped and misleading.
Making Money In Minutes
Not only that they claim that you could be making tons of cash without any experience, but they also claim that it'll work with a push of a button and that you'll be making money within hours and even minutes with Push Quick software.
That's a clear sign of a 'get-rich-quick' scam.
Turbo Expensive Upsells
Another severe warning sign is unexpected and expensive upsells.
They lead you to believe that you can make 100's and 1000′ in minutes with a push of a button only to get you inside of expensive sales funnel.
Once you fall for it, they'll force ten times more expensive upsells to squeeze as much money as possible from you.
No Real-User Testimonials
The last thing I don't like is the lack of user testimonials.
Every good product that really works for people has tons of real testimonials. Push Quick has some as well.
However, those testimonials are coming from other WarriorPlus vendors that are working closely with Jamie. In other words, we can't trust them.
Is Push Quick a Scam or Legit?
Technically speaking, Push Quick is not a scam. Despite many warning signs, it's a legitimate offer.
The only reason why I say this is that you'll get software in return for your money.
The quality of the software is questionable. But in the end, it's a legitimate thing.
This statement, however, does not mean anything. You should understand that these systems last as long as the summer on the Nort Pole.
In other words, they come and go quickly.
The reason?
Well, people start to notice that there's something wrong with those get-rich-quick push-button systems. Then, they begin to write negative reviews, ask for refunds and leave negative comments.
And then, as soon as the truth comes out, the owners will close the page and pull out the offer.
In the meantime, they've made a lot of cash by selling empty dreams to people.
Will it be the same case here? I'm sure this app is going to end up like some other products from Jamie's workshop such as Marketing Reward and a few other get-rich-quick schemes.
Do I Recommend Push Quick?
No, I never recommend any push-button software to my readers.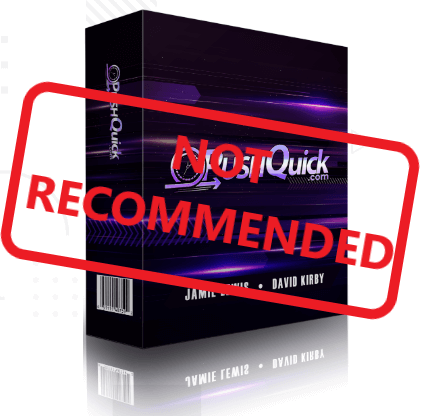 In my opinion, your money is safer elsewhere.
How I Make Money Online
Thanks for reading my Push Quick review. I hope I have helped you to learn more about what it is and how does it work and to answer your question, whether it is a scam or legit.
If you have any questions about the program or maybe you can offer an experience, feel free to leave them in the comment box below.
Before I let you go, let me show you how I make money online by helping people just like you to find legitimate ways to make money online.
The training program that I recommend has everything you need to get started online and nothing to do with getting rich by tomorrow.
The best thing is, it's entirely safe to join. No BS, no upsells, no push-button software, no scams. It's free to get started and only $49 per month to go full time!
I have used this system myself to create four-figure income online and even quit my dead-end job!