Can Jake help you to start making $1000 per day starting today? Is there a live account waiting for you?
This Quick Home Websites review reveals the truth about whether or not Quick Home Websites is a scam or legitimate opportunity.
You need to see these scam signs!
You see, a couple of weeks ago I reviewed precisely the same offer just under a different name. Everything is the same. The owner is the same.
The story about the live account as well as payouts to the same people is matching too.
Well, almost everything. As I've said, only the names are changed!
One offer is called Instant Profit Sites, and this one is named Quick Home Websites.
They are one and the same scam.
Here's the truth. The live account is not existing.
It's a bait for those who are looking to make money fast. Jake, or whoever the owner of this offer is, is aware that people will believe everything to make some online cash.
What's your first thought when you see something like this?
I believe that Quick Home Websites might be a scam or at least a very unethical funnel that is designed to make money for the owner only.
I'm going to show you why I think so in this Quick Home Website review.
Quick Home Websites Review – Overview
Product Name: Quick Home Websites
Product Type: Affiliate Marketing
Owner: Jake (Fake Name!)
Price: $37 + Tools
Rating: 1/5
Recommended?: No
Quick Summary: Quick Home Websites is a sales funnel for Instant Profit Sites. So technically speaking, it's not even a real thing and 100% marketing scam.
They use fake testimonials, overhyped earning claims, and many other dirty tricks to convince you into this scam.
My best advice is, run from this like from the plague.
I've seen this scam changing names and URLs, but in essence, Quick Home Website is a scam just like every other clone site created by some man that calls himself Jake.
If you're sick of scams, make sure to check out my 100% legitimate and PROVEN SYSTEM that has enabled me to go from $0 to earning $100's per day with affiliate marketing!
THE BEST WAY TO MAKE MONEY ONLINE IN 2023 >>
What is Quick Home Websites? 
It's almost unnecessary to repeat everything you've been told by Jake, or whoever is the real owner of Quick Home Websites.
However, for the sake of this review, I'm going to repeat his words so you can hear the BS one more time.
Jake is telling you that this is an offer you can't miss. According to him, all you need is to pay a small price to get in, and copy-paste his websites to start making $1000 per day.
To make you even more excited about this once in a lifetime offer, he's made a live account.
Moreover, the account is already generating you money while you sit there in your chair!
As I've said at the top of this Quick Home Website review, the account is not real. I've once purchased this product and got disappointed by the fact that there isn't an account or money waiting for me inside.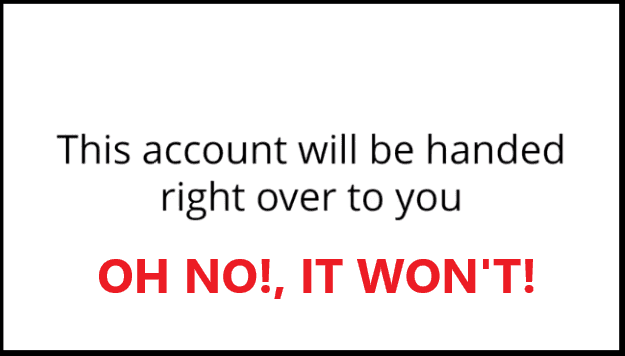 What are your first thoughts so far?
In my opinion, Quick Home Websites is nothing more than a marketing funnel, which is very close to being called a scam.
You see, I review make-money-online courses daily. And do you know how I know that something is wrong?
Well, refer to the sales presentation for this offer, and you'll get your answer. People who are proud of their systems and training courses do not sell them this way.
This is, in my opinion, dirty marketing and it's mudding online marketing business.
What's Inside Quick Home Websites?
Now, I want to show you what's behind the Quick Home Websites sales funnel before you decide to take action.
As I've said, the funnel is highly unethical. Jake promises you wonders after you join in. However, things are a bit different on the inside.
Once/if you ever buy this, you'll be redirected to a site that I've mentioned earlier, Instant Profit Sites. You'll notice that there is some training course inside.
The second thing you'll see is that there is no money waiting for you. What a shocker, ha?
Here's how it looks from the members' area.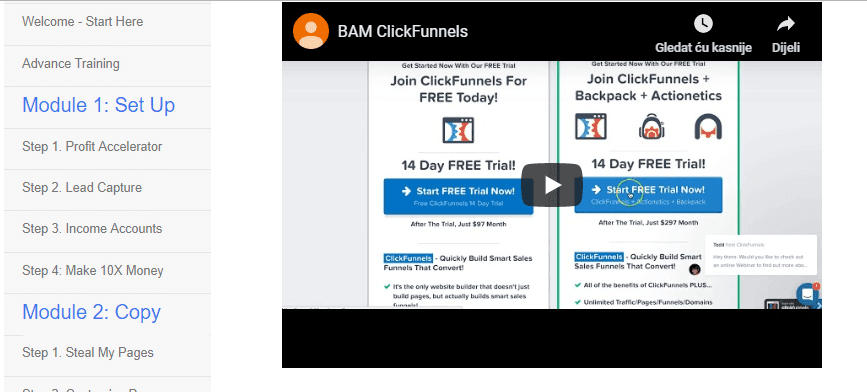 The content of the training is teaching how to create marketing funnels with ClickFunnels. The purpose of these funnels is to sell various ClickBank and ClickBetter digital products.
You can see the example of one by looking back at Quick Home Websites funnel.
As you can see in the image below, there are two training modules, each containing four steps or lessons.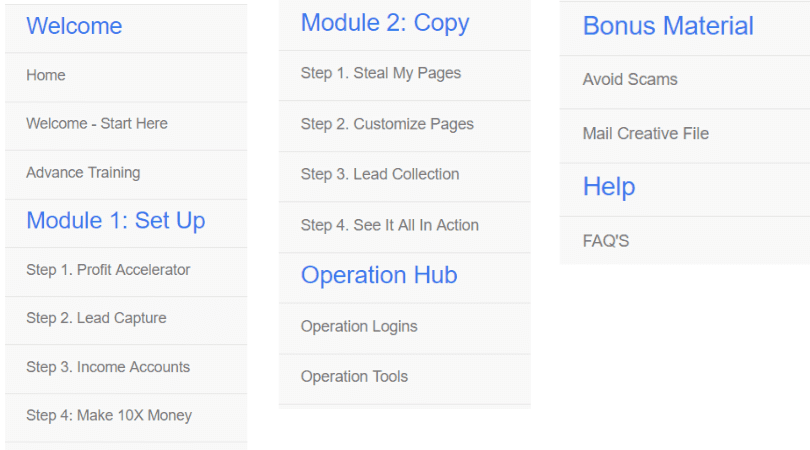 The videos are short and designed to sell you three more products, ClickFunnels, GVO (hosting and email marketing autoresponder), and Click (link tracking software).
By the way, these will cost you a couple of hundreds.
Isn't that nice? More expense.
You see, I remember Jake saying during the Quick Home Websites sales pitch that it's going to cost you only $37 to get in and claim your money and the account.
How about that lie, ha?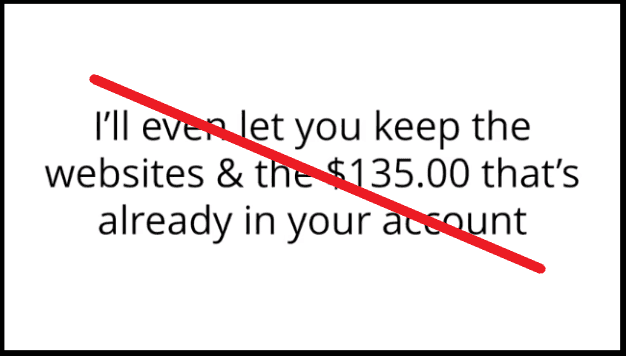 Anyway, Module 1 shows how to buy ClickFunnels, GVO, and Click. Also, how to sign up with ClickBank and ClickBetter networks.
Those two marketplaces host tons of digital products. The point is to sell those products through funnels.
Guess what? They are free to join. At least something is free.
Module 2 is designed to sell you ClickFunnells and GVO autoresponder in every lesson one more time. Repetition is a key to learning, right? Hmmm…
In the last lessons of the second module, the guy will show you how it all works finally!
However, there's one big problem with Quick Home Websites and all others included.
You see, there's no traffic generation training included here. Although, you can see in the image below that there is Module 3 showing in the training video.
But there's noting on the left side of the dashboard.
That's strange…
In any case, during the last video of the training, the guy has mentioned three different websites where you can purchase Solo Ads and get traffic to your funnels. The keyword is 'mentioned.'
You see, he's not giving any details on how to do so nor there's a training lesson included on the most critical part of every business!
By the way, even if there is a lesson on Solo Ads, the procedure would've cost you a few more hundreds.
Oddly enough, there's a number available to call you coach. I haven't called him/her. But I'm guessing that he's supposed to show you how to get traffic.
Or in other words, he's going to sell you traffic. That's only my guess, so don't hold me for my word.
So that's what's inside of Quick Home Websites. In my opinion, just a short ClickFunnels training coupled with a few done-for-you funnels.
Let's discuss some other things now.
Who is Quick Home Websites for?
Technically speaking, Quick Home Websites is not even a real product. So, it's for no one!
However, there is some online marketing training included. So, it could be for people who want to learn how to buy ClickFunnels, GVO, and Click.
Also, you can learn how to put it all together and connect with ClickBank and ClickBetter offers.
Quick Home Websites Price
I've mentioned the price already. Jake tells you that all he asks is a $37 one time fee.
However, once you get inside of Quick Home Websites, as you know, you'll have to pay a lot more to get things together.
Yeah, a real no brainer.
Let's do quick math to paint you a better picture.
ClickFunnels comes with a 14-day free trial, but then it's $97 per month. GVO, hosting, and email responder is priced at $66.72 for the one domain, one year plan.
The guy in the video recommends Click Pro or even Extreme, which are priced at $470 or $950 per year.
I'll let you put it all together if you want to.
Is There a Refund?
Yes, you get a 60-day money-back guarantee on Quick Home Websites. This product sells in the ClickBetter marketplace.
So if you buy it, but you don't like the system, you can ask for your money back.
I'm not sure if there is a refund available for other tools and software.
You'll have to visit the official websites of each service to check whether they offer one or not.
THE BEST WAY TO MAKE MONEY ONLINE IN 2023 >>
Can You Make Money With Quick Home Websites?
Hopefully, if everything is done right, you get some traffic to your funnels, and the owner is not having any more secrets down the road, you can make some cash with Quick Home Websites.
But that's only theory. You see, I sometimes believe too much into these schemes, so take this with a grain of salt!
Sales funnels are a great way to make money online, but this training is not the best one to show you how to do so.
Quick Home Websites Scam Signs
Before I give my final verdict whether Quick Home Websites is a scam or not and whether I recommend it or not, let me show you a few warning signs which highlit a highly unethical funnel.
1.) Money-Making Account is Fake!
I've said it a few times during this Quick Home Websites review, but I'll repeat it one more time, so there's no confusion. Jake, or whoever the real owner is, is lying about the account and money.
The money doesn't exist! It's only an illusion.
In my book, to tell customers that there's a money-generating account waiting for them to get them to buy your service is a severe fault.
2.) Payouts are Fake Too!
Another thing that bothers me is those payout checks that Jake is flashing in front of your eyes.
As you can see in the image, the lady that's used for the proof is actually a stock photo.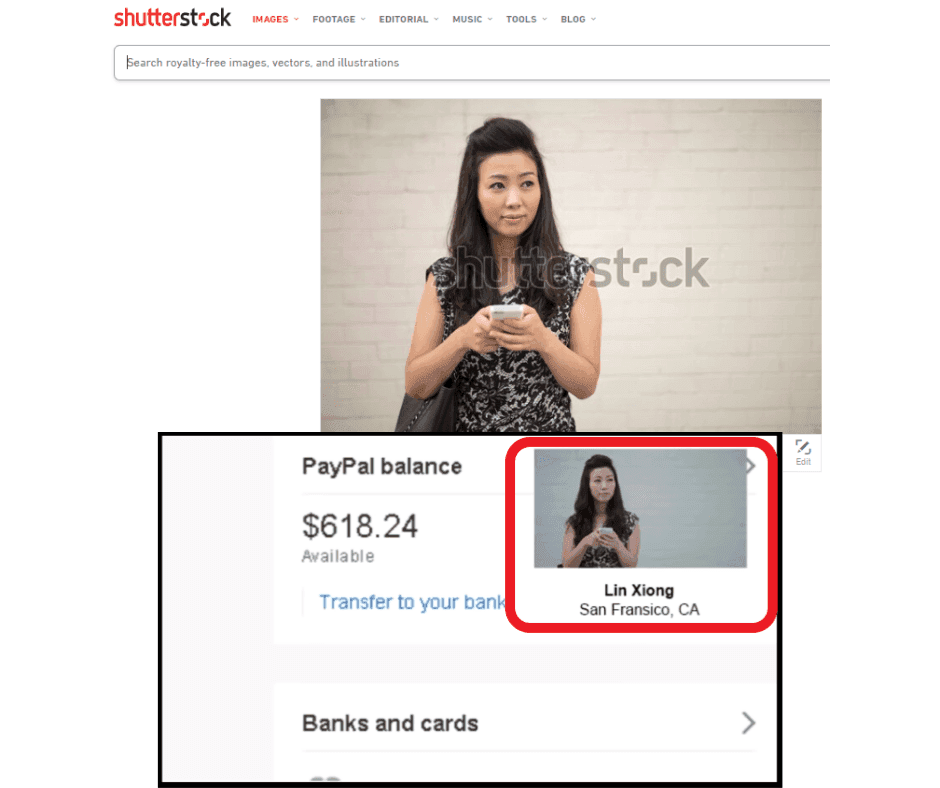 Don't you agree that if there were real people making money with Quick Home Websites, they would've shot some real testimonials?
3.) No Info About Jake
We cannot tell if Jake is a real person or just a fake character for sure. However, he's not sharing anything about himself.
There's no about me page or anything that offers a real-life proof that he's a legit internet marketer who wants to help you make money online.
I consider this to be a red flag about Quick Home Websites.
Moreover, I would've never bought something from a person who isn't willing to connect with his customers. You see, many legit coaches are proud to stand behind their courses and system.
That's how we know they are legit.
4.) Video is Full of Get-Rich-Quick BS
During the first three seconds of the Quick Home Websites video, you already have an online business. That's the quickest get-rich-quick BS I've ever had a chance to witness.
As you know, the transaction is not real, nor the account is as well.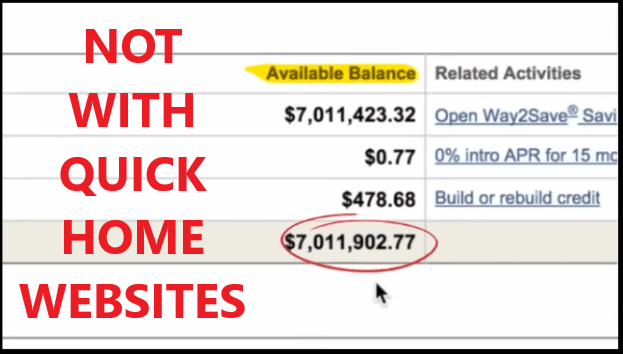 However, that's not all. As you go through the sales presentation, the spokesperson is throwing thousands and even millions in your face.
Moreover, he tells you that you don't have to do a thing! He's going to take care of everything for you.
That's all one big pile of BS. Moreover, it's misleading advertising.
5.) They Pressure You Into Buying
Along with a vast amount of the get-rich-quick BS, the Quick Home Websites video is full of fake scarcity.
The spokesperson is trying to convince you into taking this once in a lifetime opportunity before it's gone.
He literally tells you that someone is going to steal your account if you don't hurry.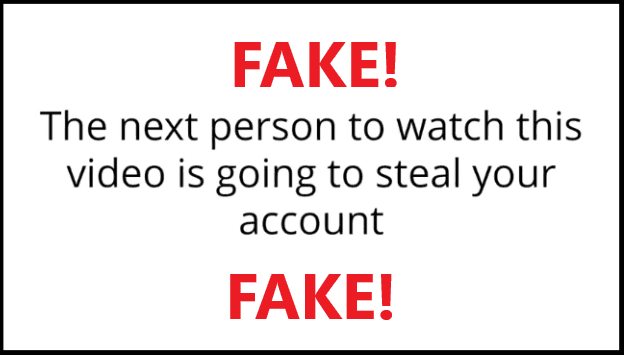 In my experience, this marketing tactic is designed for people who haven't got a clue about business.
I was a newbie once so I know how pressure can easily trick you into buying. Do not fall for it because it's fake.
6.) Half-Baked Training Course
I've scrutinized the Quick Home Websites training course. All I can say that it's not worth $37.
Everything you can learn in this concise training course is available all over the internet for free.
Moreover, they don't teach how to get traffic to your offer.
The core part of making money online is left out. I wonder why?
7.) It's Copy-Paste Funnel of Instant Profit Sites
The last thing I'll show strictly with images. I want to show you how messy this offer is.
I hope you can see clearly that Quick Home Websites is nothing but a rebranded version of Instant Profit Sites.
Is Quick Home Websites a Scam?
Quick Home Websites is a scam. The entire offer is based on a bunch of overhyped and misleading claims, lies, fake payouts, fake customers, fake owners, etc.
If you pay $37, you'll get a ClickFunnels training course in a video format. The training is not the best thing you'll get for 37 bucks, but it could work.
However, since Quick Home Websites is not even real training, but only a sales funnel, which is highly deceptive, misleading, and overhyped, it's as I said a scam.
You see, the funnel is designed to trick you into buying this offer without a second thought.
Moreover, the creator guides you from sale to sale like a pro. He banks commissions every time someone purchases the products he recommends.
Not to mention, these costs are not advertised openly.
Also, the training itself is not complete, which is enough for me to conclude this story.
Do I Recommend Quick Home Websites?
I do not recommend shady offers and scams like Quick Home Websites to my visitors because I know that it's possible to do all of this by yourself if you give yourself enough time to execute the process.
Here are a few to watch out for:
How to Start an Affiliate Marketing Business for Free?
Thanks for coming to the end of this Quick Home Websites review. It shows that you are a serious person who takes every step with the most attention.
If you are interested in learning how to start an affiliate marketing business for free and make money online, I got here a great alternative to those money-sucking offers.
This process is proved by thousands of online marketers all over the globe. You are looking at the one right now. ?
Wealthy Affiliate is, in my experience, the best affiliate marketing training course on the internet. These guys are teaching people how to start an online business and super-successful affiliate marketer every single day! Traffic training included!
If you're sick of scams, make sure to check out my 100% legitimate and PROVEN SYSTEM that has enabled me to go from $0 to earning $100's per day with affiliate marketing!
THE BEST WAY TO MAKE MONEY ONLINE IN 2023 >>