Welcome to my Rapid Profix Pro review.
100% done-for-you commissions indeed sound tempting, but does it work as described?
I mean, they promise commission in less than 60 seconds!
See, I reviewed a few systems from Fulton-Bari production so far.
Honestly, they were not the best solutions for making money online.
Can Rapid Profix Pro help you to get your piece of $300 billion in the e-learning industry, or is it another scam?
The answer is here, no worries.
By the way, congratulations on researching yourself! Quick research saves you time and your hard-earned money. It shows that you are serious about finding a legitimate way to make money online.
In this Rapid Profix Pro review, you'll learn whether or not it is a scam, how much could it cost you, how it works, and more!
Shall we?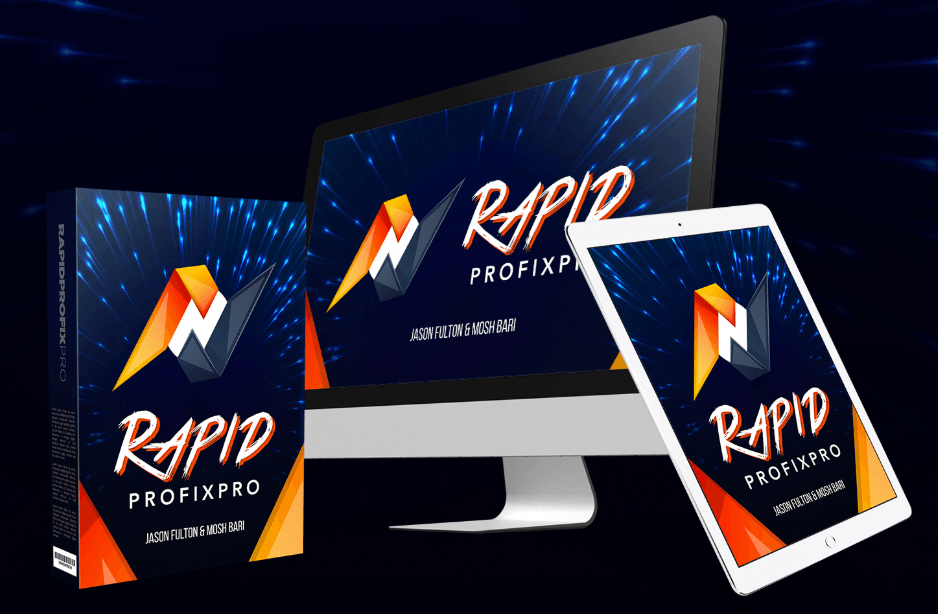 Rapid Profix PRO Review – Overview
Product Name: Rapid Profix PRO
Product Type: DFY System For Selling E-Courses
Product Owners: Jason Fulton & Mosh Bari
Price: $31+ $782 in OTO's
Money-Back Guarantee: 30 Days
Rating: 2/5
Recommended?: Absolutely not!
Quick Summary: Creators of the Rapid Profix Pro system promise quick commissions in less than 60 seconds.
Allegedly, Rapid Profix Pro creates automated DFY learning sites like Udemy preloaded with content, courses, funnels, and everything that you need to profit from day one!
It takes one click to create these sites, one click to get traffic, and sixty seconds to make money – according to Mosh Bari and Jason Fulton.
Those overhyped claims alone should be enough to call Rapid Profix Pro a scam.
However, there's something behind that BS.
In a nutshell, you get 20 done-for-you sites that are connected to e-courses.
The idea is to drive paid traffic to these sites and earn commissions from affiliate marketing.
But the system relies on traffic methods that I find to be 'shaky' and unreliable.
Moreover, Rapid Profix PRO is incomplete without upsells, which is something I'm used to seeing when reviewing Fulton/Bari products.
The bottom line is, this is just another overhyped product that is pretty much worthless and I'm sure it is not going to live up to those "make money in 60 seconds" promises and claims.
That said, I don't recommend these push-button systems. Rapid Profix PRO is the best for its owners.
If you are serious about making money online, you should find a PROVEN SYSTEM for making money and dig into it as your life depends upon it.
My recommendation below has helped me and 1000's of students to earn a passive income with affiliate marketing so far. 
Click the button below to learn more.
THE BEST WAY TO MAKE MONEY ONLINE IN 2023 >>
What is Rapid Profix Pro?
Rapid Profit Pro is, according to the sales page, a beginner-friendly, done-for-you income system. The system is actually software that creates fully automated E-learning sites like Udemy.
These are pre-loaded with courses, funnels and content, and ready to sell.
Software is cloud-based so there is no need to buy a hosting and domain name.
It's entirely web-based and allows you to create and sell any number of courses and to keep 100% of the profits from sales.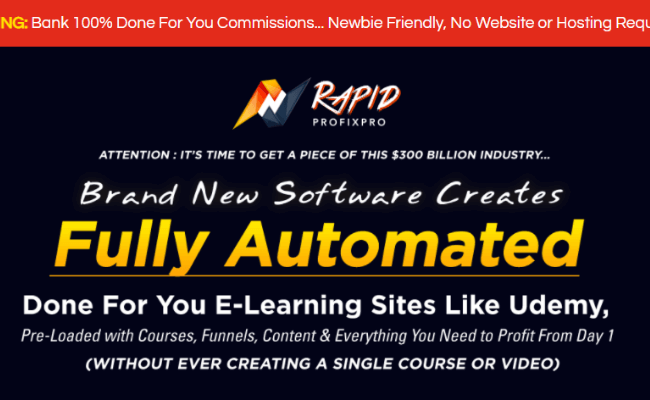 But funny enough, it's hard to tell how it works and will it work.
All you can hear are sweet promises about earning fast commissions, hence the name, Rapid Profix PRO.
In simple words, it's a funnel (site) builder that you can use to sell online courses.
Guys give 20 pre-loaded courses, or you can sell courses of your own choice, if you have a PLR license, from various marketplaces like ClickBank, WarriorPlus, JVZoo, etc.
Mosh Bari and Jason Fulton are creators and owners of the Rapid Profix Pro system. I already reviewed a few of their done-for-you systems
Some of them could work, but they are all the same in the core.
In other words, they create a lot of hype to sell as many copies as possible of an unreliable and questionable program.
Profit in 60 seconds?!
That's something that you shouldn't take too seriously.
Also, don't expect that everything will be 100% done for you.
To make any system work, you'll need to work on it.
Rapid Profix Pro sounds a bit like a 'push-button' scam that I see all over the net, so take the whole thing with a grain of salt.
How Does Rapid Profix Pro Work?
As I said, Rapid Profix Pro is a funnel builder that works on the principle of affiliate marketing. According to Fulton and Bari, the system works in three simple steps.
However, these steps are false. The system is more complex than that.
Also, there is a fourth step that's critical to make it work, yet they don't give it too much attention on the sales page.
I wonder why?
But I got you covered.
So as shown in the image below, the steps are:
Select a Course to Sell as Your Own
Enter Your Payment Details
Profit From Day One in 60 Seconds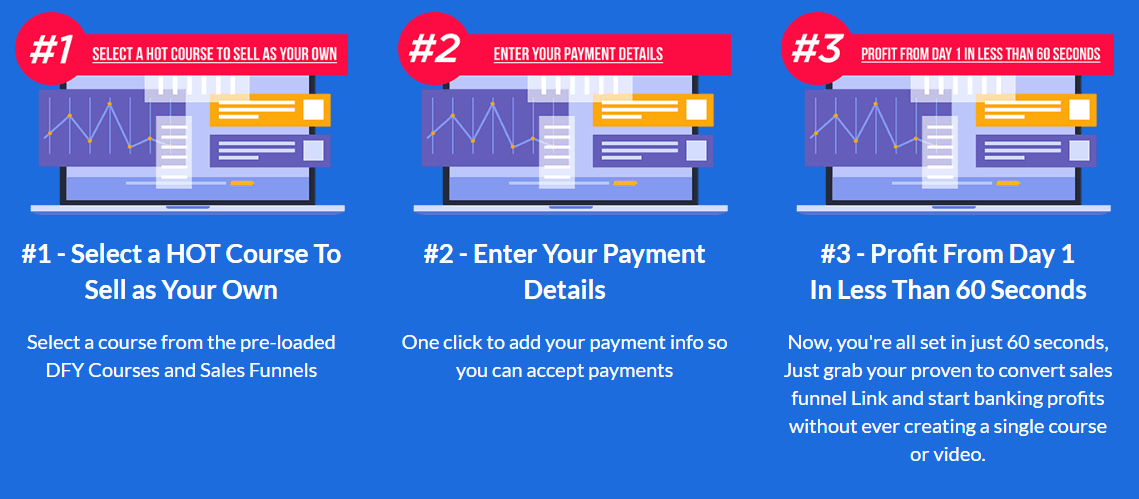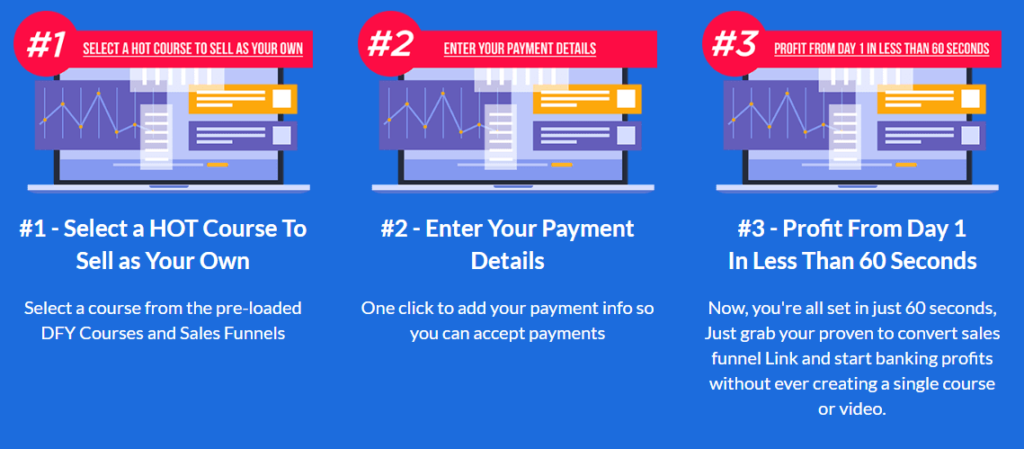 I don't think that you can profit as fast as in 60 seconds.
To me, that's just an overhyped claim, nothing else.
As I said, there's a hidden fourth step. It's called TRAFFIC!
You see, Rapid Profix Pro can help to build funnels and sell various courses for E-Learning.
There are 20 done-for-you courses ready to be launched.
According to Fulton and Bari, you don't have to do anything. All you need to do is choose the course you like, and start the campaign.
Once it's launched, you can view the sales page, if you want you can even customize it, etc.
Then all you need to do is enter your payment details and drive traffic to your site.
Sounds easy. But…
You see, it's easy to build a webpage today. Sales funnel builders like ClickFunnels are available to everyone all over the world.
However, it's not easy to generate targeted traffic to a funnel.
If you don't get traffic, and by that, I mean the right traffic, you could have problems.
Anyway, Fulton and Bari do mention that you can get free automated viral traffic from 32 social networks.
But the problem is if you don't have the following on those channels, your efforts will be wasted.
In other words, you won't get traffic and make sales in 60 seconds.
Also, they say all sites are fully SEO optimized for higher rankings and organic traffic from search engines.
But the problem is, if everyone is going to get the same SEO material, there is a danger of being flagged by Google and other search engines for duplicated content.
The bottom line is, I have a few doubts about their traffic methods, and these methods are not even close to real way to get traffic such as paid ads and SEO.
To recapitulate, here's how Rapid Profix Pro works.
You can choose any course that you want to sell, enter your payment details, drive targeted traffic to your offer, and, hopefully, make money.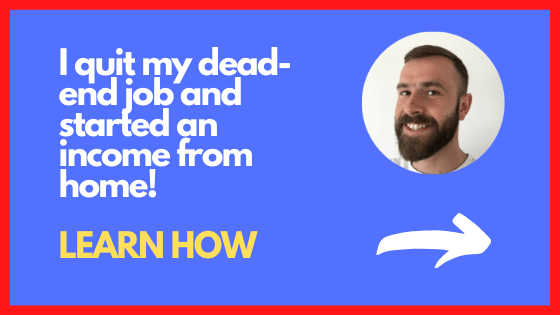 Rapid Profix Pro Price & Upsells
There are two packages available, Personal Licence and Commercial Licence.
However, both kits are available for only $22. This is an early bird price that will soon go up.
UPDATE: Rapid Profix Pro now costs #31.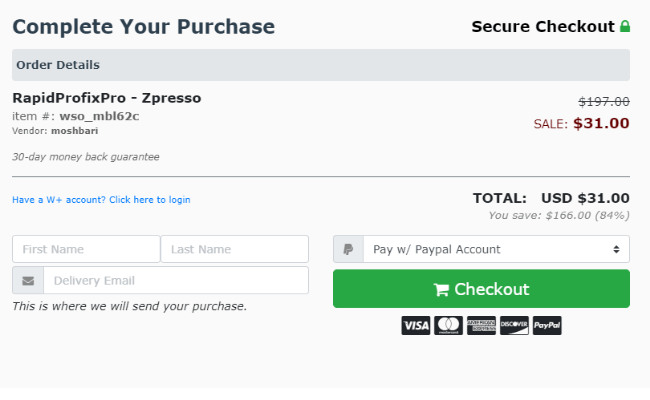 One Time Offers (OTO's)
Once you purchase this system, you'll get to go through a few one-time offers before you can get your hands on the system.
You can decline them if you don't want them.
DFY Money Courses – $197
100X Conversion Booster – $77
Super Traffic Machine – $97
Automated Passive Income System – $97
Auto Chat Profit – $97
Rapid Profix Pro Licence Rights – $197
As you can see, the main intention of Rapid Profix PRO is to lead you to think that you'll make tons of cash.
But once you fall for it, the fun begins.
They sell you magic software or a few bucks only to pull you into an expensive sales funnel where you could end up spending your entire monthly rent!
Is There a Refund?
Yes, Rapid Profix Pro comes with an option to get a refund, though it might be tricky to get one. Mosh and Fulton give you 30 days to ask for your money back.
Here is a link to WarriorPlus website from where you can initiate a refund.
However, you can get a refund only if, for some reason, you have technical problems with the product.
Also, you need to prove that you have used the system and that it didn't work for you.
Otherwise, there is no money back. The price is final.
Who is Rapid Profix Pro for?
The best thing to say would be, this is the best for owners.
They promise to fast cash using the DFY system in 60 seconds. But all you get is a questionable system for marketing some eBooks and courses which have little to no value, plus the chance to spend 100's on hidden upsells.
If making money were as easy as owners of Rapid Profix PRO claim to be, then everyone on Earth would join their system to become rich overnight.
But unfortunately, that is not how affiliate marketing works!
Affiliate marketing is a business that takes time and effort. Moreover, you need to find a PROVEN SYSTEM that has been working for people before you.
If you want to start an income with affiliate marketing, make sure to check out this free affiliate training where you can get access to a proven system that has helped me to go full-time online!
What I Like About Rapid Profix PRO
DFY e-Books – The E-learning industry is enormous. Sites like Udemy make massive amounts of money daily. Folks buy cheap courses from thousands of categories every day.
What I Don't Like About Rapid Profix PRO
Overhyped Sales Page – As I reviewer, I hate to see overhyped sales pages. Rapid Profix Pro sales page is full of hype. It's easy to get an impression of a 'get-rich-quick scheme, while in reality, things are far away from that. I wouldn't take those earning claims seriously. It's impossible to profit immediately and in the first 60 as these guys claim.
Expensive One-Time Offers – Another thing that's extremely repulsive are six one-time-offers. The product is selling for only $22. However, before you can get your hands on this system, you'll have to go through an expensive funnel.
Unreliable Traffic Methods – The owner recommends sharing your sites on social media. But this won't work unless you have a huge social following. They say sites are SEO optimized, which means that you can get free traffic. But that's also not going to work because of duplicated content.
Is Rapid Profix Pro a Scam?
Technically speaking, Rapid Profix Pro is not a scam.
In a nutshell, you get 20 DFY websites. Those sites are connected to DFY E-courses that you can sell and get to keep 100% commission.
Alternatively, you can use those templates and market courses of your choice if you have a PLR license to distribute the material.
On the other hand, there are plenty of reasons why you could call it a scam.
First of all, the owners promise profits and traffic in 60 seconds!
That's an absurd claim and is simply not going to happen. The traffic methods they recommend are weak, very weak.
Secondly, the whole thing has been overhyped to a measure that you can't escape the thought that it's a scam. The reason for this hype?
Well, it's simple. They want you in so that you can spend more cash on upsells.
Lastly, you'll get useless 20 sites that replicate courses from Udemy. It's extremely hard to sell these sites to people.
Even worse, if Mosh and Jason decide to pull the plug, your sites and your business are gone!
How? Why?
Well, it's cloud-based software. Meaning, you won't have control over your sites, which is something you really want to have!
After all, it's your business in question, not theirs.
The truth is guys, Rapid Profix PRO is, in my opinion, an overhyped and unreliable system and I wouldn't recommend this if you are serious about making money online.
Here is 10x Better Alternative!
Thanks for reading my Rapid Profix PRO review. I hope I have helped you to learn more. If you have any questions about this program or maybe you can offer an experience, feel free to leave them in the comment box below.
Before I let you go, let me tell you how you can start an online income for REAL!
The program that I recommend has everything you need to get started online with zero costs and nothing with getting rich by tomorrow.
Wealthy Affiliate has been and still is the best online platform for making money online.
These guys are helping thousands of regular people like you and me to make money online every day.
Make sure to check it out. It's free to join and only $49 per month to go full time!
THE BEST WAY TO MAKE MONEY ONLINE IN 2023 >>
If you need any help or you have a question, feel free to contact me.
All the best, Ivan. Founder, and CEO @freeaffiliatemarketingbusiness.com