Hi, and welcome to my RebatesMe review.
What is RebatesMe? It says that once you become a member of this website, you can earn up to 40% cashback when you shop at any of their stores.
There are a lot of cashback sites out there, and RebatesMe is one of them.
But the question is, is RebatesMe a legit cashback website or a straight-out fraud?
Let's find out!
Throughout my RebatesMe review, you can rest assured that you will get an honest and unbiased review from me.
In this review, we will try to answer all your questions. It should give you a clear understanding of RebatesMe and see if this website is worth it.
RebatesMe – Overview
Product Type: RebatesMe
Owner: Daniel Dai
Price: Free
Recommended?: Read my review and find out
Overview: RebatesMe is a cashback shopping website that offers deals, discounts, and cashback services to people who shop with the over 4000 stores that they are partnered with.
And like I mentioned earlier, when you join this website, you can earn up to 40% cashback when you shop at any of the partner stores of RebatesMe.
If you are into online shopping, signing up for cashback sites like RebatesMe may be a good idea.
You can save those cashback which you can save or spend the next time you go shopping online.
However, the question is, is this worth it?
Let's find out!
My #1 recommendation is a top affiliate marketing course that helps to build a successful online business from scratch! I used this exact system to go from $0 to earning $100's per day! Learn more below!
THE BEST WAY TO MAKE MONEY ONLINE IN 2022 >>
What is RebatesMe?
RebatesMe is an online shopping cashback website that was founded in 2013 by Daniel Dai.
The company is based in Portland, Oregon, and they also have an Asian headquarters in Shanghai, China.
RebatesMe is well-known for its high-paying cashback, and they claim to have provided more than $30M worth of cashback to over 300k users to date.
It says that RebatesMe is among the top cashback services online that offer attractive discounts and deals on certain brands.
It also says that they have more than thousands of partners around the globe includes the US, UK, Japan, Australia, Germany, and China.
The company is also partnered with several merchants such as Amazon, eBay, Walmart, Tory Burch, etc.
If you're into online shopping, signing up with RebatesMe may be a good idea.
It is up to you to accumulate those cashback which you can save or spend the coupon code next time you go shopping online.
How RebatesMe Works
As you can see, RebatesMe is like other shopping portals out there, as they establish themself an affiliated relationship with other stores that are featured on their site.
The way how RebatesMe is simple:
Sign Up 
Joining with RebatesMe is free, and all you have to do is put your email address and your password.
RebatesMe is available in countries like Japan, Germany, the US, the UK, and China.
Browsing
Once you are in, you can start browsing and shopping on selected items that you like, such as clothing, accessories, home essentials, and more.
Also, make sure that the items that you choose have a cashback option.
Certain items don't have this option, and some examples are toys.
With RebatesMe, you can also choose which merchant you want for your online shopping.
Earn Cashback 
After the transaction, the merchant pays RebatesMe a commission, and then they will provide a commission to the buyer in cashback.
To transfer your earnings to PayPal, you need to contain at least $20.
As you can see, cashback is easy to use, which only involves selecting the brand you like and paying for it.
Like the cashback you get from your credit card or any other purchases, RebatesMe works in the same way.
You buy something on the site, and you receive a cashback. That's it!
However, there are things that you need to keep in mind before using RebatesMe.
The first thing you need to do is always make sure that the product you purchase has cashback options.
The second thing you need to do is enable your cookies while browsing for the website to function. You have to do this for your cashback to work because if you block the cookies, they won't reward you a rebate.
Lastly, you can use discounts on selected brands using coupons to save you more money. However, you can't use the gift cards if you're aiming to get a cashback, but if you want to use it, you can proceed with the transaction as you normally do.
Always keep this in mind so that you won't miss any cashback.
It is very helpful, especially when you are too focused on shopping online, and then a little pop-up appears that will remind you not to miss out on cashback.
In addition to this feature, you also don't have to log in anytime that it pops up.
All you have to do is click the Activate icon, and you're done.
Bonuses
When you sign up with RebatesMe, you'll get $5 as a signup bonus.
However, new members are only eligible for this bonus.
Also, if you plan to signup with this platform, you need to be at least 18 years of age.
You'll also earn a referral bonus of $10 anytime someone signs up using your referral link.
This bonus has no ceiling, which means you can refer as many people as you want.
How Much Can You Make On RebatesMe?
RebatesMe stated that it offers up to 40% in cash back, but that depends on the deals offered when you shop.
You see, cashback deals can change at any time. For example, double deals mean twice the cashback that a store would regularly offer.
Meanwhile, the top ten stores offer between 4% to 8% in cashback.
Not just that, your RebatesMe income is affected by your referrals.
You won't lose anything if you don't refer RebatesMe to others.
However, your income could increase if you managed to signup those in your referral link and meet the minimum cashout amount.
Once your referrals reach $10 in cashback, RebatesMe will award your $10 referral incentive.
Take note that your cashback will be wasted if you become inactive.
Also, RebatesMe would require an account maintenance fee of $4.99 if you didn't get any cashback for the past 12 months.
How Does RebatesMe Pay?
There are 4 different ways that RebatesMe pays, and you can choose which one is convenient for you:
Gift Cards
Check
Visa Or Credit Cards
Paypal
As for the cashout, the minimum amount is $10.
However, the question is will you get the exact amount? Well, the answer is Yes.
They will not charge you anything to process the payment, so you will get the exact amount when you withdraw.
Your withdrawal process will take 2 business days, and within 48 hours, you can expect your payment in your PayPal account and one week for the credit card.
RebatesMe Cashback Button
The Cashback button is a browser extension of RebatesMe.
The Cashback Button will help you shop quicker in your favorite stores and not miss out on any deals.
Also, the cashback button alerts you if the store offers a cashback deal.
Not just that, it will also show you how much cashback the store offers.
If you like to continue shopping, you can activate the cashback button and finish your purchase there.
So, installing the Cashback button is a good choice if you want to earn as much cashback as you like and get the best cashback deals.
Does RebatesMe Have An App?
Yes, RebatesMe has an app where you can install it on Google play store and App store.
This app offers users a more accessible and smooth way to shop.
It is a great way to enjoy shopping and accumulate more cashback while on the go.
Is RebatesMe A Scam?
No, RebatesMe is not a scam. It is a legit online shopping site that provides cashback.
Also, they are partnered with many tops and legitimate retailers that offer the best popular deals and cashback.
To check out the legitimacy of this company, I found 2 review websites where people share their experience with RebatesMe, and those websites are BBB and Trustpilot.
The first review that we will take a look at is BBB, and here as you can see, they rate the company A+ and have been accredited since 2019.
If you check the review section, you can see positive and negative reviews about the company.
As you can see, there are some complaints that some of them are not receiving the advertised cashback, but most of the RebatesMe user reviews I've found have been positive.
The next review website is Trustpilot, and here you can see that they gave the company a 4.2 out of 5 stars which is good, and just like with BBB, it is also the same as there are mixed reviews about the company.
There are also some complaints here, but most of them the reviews here are positive.
However, the question is, is RebatesMe a reliable source of income? My answer is No.
Yes, you can earn some money here by earning commission, refer someone to join to earn a bonus.
Also, the function of RebatesMe as it acts as a middleman between the merchant and the customer.
You see, RebatesMe earns a commission every time a customer buys a product from the merchant, and the customer will get a small amount of percentage of the commission called cashback.
The money you will earn here is pretty small as it won't help you with your monthly expenses.
RebatesMe is a good source for you to earn some extra money.
If you are looking for a full-time income, I recommend you to check my number 1 recommendation below.
What I Like About RebatesMe
Free to join
It has over 4,000 retailers to choose from.
Different payout options.
It has an app
Positive reviews
A+ with BBB
What I Don't Like About RebatesMe
The minimum withdrawal amount is still higher compared to other cashback apps.
RebatesMe requires a fee of $4.99 if your account is inactive.
Common complaints about cashback not getting paid or pulled out from members' accounts.
Low paying
It doesn't accept coupons from other sites
Final Words and HONEST Recommendation
Now you know about RebatesMe and why this company is a legit cashback website.
RebatesMe does not have the best deals when it comes to signup and referral bonuses.
Even the minimum payout is still higher compared to other cashback websites.
But despite all of that, RebatesMe is still worth checking out, even if you are using other cashback websites or apps.
You can always compare the deals or offers between apps and see which one has the best offer.
But again, RebatesMe is not a good reliable source of income.
But, if you want to earn some extra money, there are a lot of them out there.
All you have to do is search for it, and you'll find it.
However, let me remind you not all of them are legit, so you have to look at them first before you join and always do your research first to see if it is legit or not, just like what you did right now.
Thank you for taking the time to read my RebatesMe review.
If you have any questions? Feel free to leave a comment in the comment section below!
How To Start A Legitimate Affiliate Marketing Business?
If you're looking for ways and means to start a legitimate affiliate marketing business to earn an income online, you should check out my top-rated program first.
This program has nothing to do with spamming and using shady techniques for making money online.
On the other hand, it has everything to do with the best way to make money online that I personally use every day to make passive income from my sites.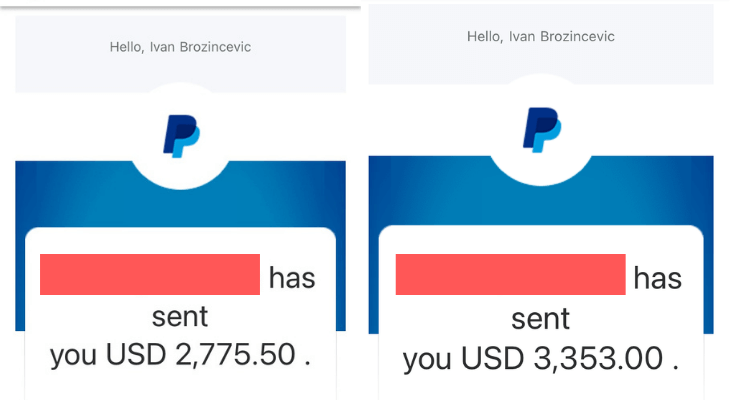 I've been doing this for a few years, and I highly recommend you give it a try.
To learn more, click the button below!
THE BEST WAY TO MAKE MONEY ONLINE IN 2022 >>
And don't forget to share this review with your friends and family!
All the best, Alex. contributor @freeaffiliatemarketingbusiness.com