Welcome to my Recurring Profit Machine review. Can you make recurring profits under one platform with an automated app? What if it's a scam or something? I'm not associated with this offer so my answers might surprise you. 
Product Name: Recurring Profit Machine
Product Type: DFY Sales Funnels
Price: $27 + UPSELLS
Owner: Glynn Kosky
Rating: 2/5
Quick Summary: Recurring Profit Machine is a cloud-based app that creates sales funnels. According to the owner, who has tons of these apps behind him, this one works in three easy steps and makes 100's and 1000's on autopilot. But in reality, it's not even near that. Yes, the app creates affiliate funnels. But free traffic is not going to work unless you are a social media influencer. An alternative to free traffic is paid ads, which require cash, of course. A lot of cash! In my opinion, it's an overhyped app, but it has the potential.
CLICK HERE TO DISCOVER THE BEST WAY TO EARN AN INCOME ONLINE >>
Glynn Kosky says that you can make recurring commissions using his app. First of all, I like the idea of recurring commissions. I'm a member of an affiliate program where I earn them all the time.
However, when I hear that you'll be using the app to do so, well, I get suspicious.
If you are wondering whether or not Recurring Profit Machine is a scam like I did, your answers are here.
You see, apps are cool. Some of them work. In other words, they do their job and make DFY affiliate funnels. But then what? How to get customers to your offer? Having a sales funnel is not going to make you those recurring commissions like Glynn's.
I'm accustomed to reviewing these DFY apps from guys like Glynn. Trust me, there are tons of them! All looking like the one before them.
Within this Recurring Profit Machine review, I'll explain what this app is about. I'll show you what to expect from the program without any BS and, finally, give my honest opinion about whether it's a scam or legit way to earn recurring income.
Let's begin! Shall we?
What is Recurring Profit Machine?
I don't know about you, but I don't believe the word from the sales page. It's all full of BS about getting rich quick in three steps and other things that have nothing to do with how things really work.
So what is Recurring Profit Machine then?
Well, according to the info from the sales page, it's an app. This special app is newbie-friendly and it automates passive and high ticket profits under one platform while building your list and social media following.

This app is supposed to do the following:
Bank daily & monthly multiple passive income streams with this DFY method
Built-in list building for even bigger long-term profits
Set & forget simple: everything's DFY – customize your details ONCE and profit for years
Effortlessly make passive, recurring and high ticket commissions without doing any selling yourself!
100% cloud-based – nothing to install
Built-in social following to explode your online audiences
Completely beginner-friendly – no list or paid traffic needed
and so on and so on…
So what do you think? How much of this info is real?
I understand that a sales page has to be convincing. Otherwise, people won't buy. However, there a difference between convincing, and misleading and overhyped. And that's what I think the Recurring Profit Machine really is.
A magnet for newbies who have zero ideas about making money online. No worries, I'll explain everything as we go.
You see, the owner of the Recurring Profit Machine is a guy who has tons of these apps on WarriorPlus. I think that he releases a new one every month or two. All those apps are very similar to one another and they all share the same benefits as well as the same flaws.
Here are a few examples:
There are at least 20 more of them on WarriorPlus!
So, what makes the Recurring Profit Machine any different than others? Nothing much trust me. They are all designed to make you rich by tomorrow without lifting a finger…
Now, don't get me wrong, I'm not saying that they don't work. It's just that all those offers are overhyped, misleading and unethical, that's all. Glynn is a legitimate marketer who knows how to make money online. Some of these apps work, but they don't work as you've been told.
Recurring Profit Machine Funnel Revealed!
I'll start with the price of the Recurring Profit Machine because it's the best way to paint you a picture. You see after you get mesmerized by the sales page, and pay $27, you're being dragged into a sales funnel that has a lot to offer!
Those $27 is going to cover the app only. To make it work, you'll have to consider one of the following upsells. I'll explain in more detail later. For now, here's the list of upsells.
Upsells Galore!
As like with every other product from Glynn, the Recurring Profit Machine comes with six upsells.
Unlimited Version – $97 (downsell $47) – as its name suggests, this upgrade gives you unlimited access to the app.
Done-For-You Funnels $97 (downsell $67) – if you are a newbie and the software gets you confused, you can pay Glynn to do it for you.
Automated Traffic Flow $97 (downsell $67) – if you don't know how to get traffic to your sites, you can pay for it.
Conversion Boosting Tools $67 (downsell $47) – the name says it all.
Bonus Page Builder $67 (downsell $47) – some addons for better bonus pages
License Rights $197 (downsell $97) – if you are interested in reselling the Recurring Profit Machine and keep 100% of profits.
I would advise you to take a look at the whole thing for a few moments. It's easy to see that the app is limited and it won't work as it's been advertised if you, of course, don't take those expensive upsells. In my opinion, this should be disclosed somewhere on the sales page. But it's not!
The Recurring Profit Machine app won't work properly unless you can't drive traffic to your offers. The owner promises free traffic from social media. However, I'm going to show you soon why this traffic probably won't work for newbies. That said, it's evident that you'll have to purchase a few upgrades to make it work.
Once again, I think that you should really take a good look at the price structure before going for it. Besides, you need to understand that the alternative traffic method is going to cost more money. The real price of the Recurring Profit Machine is somewhere between $500-$15000.
What's Inside of Recurring Profit Machine?
I haven't purchased any of those upsells. They are optional and my decision was to decline them. Now, once you pass by them too, you'll obtain access to the app itself.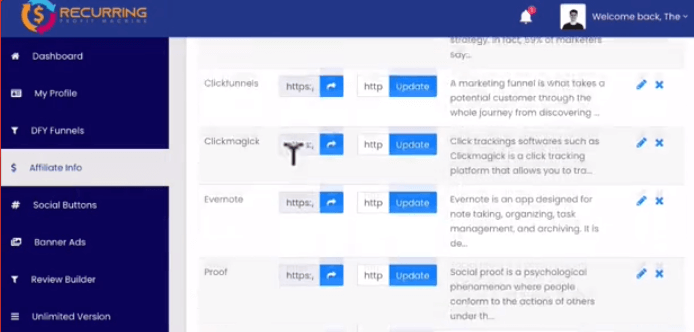 Together with the Recurring Machine Software, you'll find a few other things inside of the member's area.
My Profile
DFY Funnels
Affiliate Info
Social Buttons
Banner Ads
Review Builder
Unlimited Version
Auto Traffic Flow
Bonus Builder App
Conversion Tools
Reseller Info
Training
Help
How Does Recurring Profit Machine Work?
The core of the app is the DFY Funnels section. The Recurring Profit Machine works on a model called affiliate marketing. Using the app, you can build funnels in less time than usual, customize them with your affiliate links, and use to market various digital products from WarriorPlus, ClickBank, and JVZoo.
According to the info from the sales page, this process takes only three steps:
Log In to Your App and Activate the DFY Site
Customize Your Links, Bio, and Banner Ads
Use the Included Free Traffic to Crank Out Recurring Commissions

Now, it's important to understand a few things. First of all, the sites are not completely DFY. You still need to build them using the software, which is not so beginner-friendly as they say it is. Then, if you manage to do so successfully, you need to drive traffic to your offers to make money.
And the latter is something that I want to discuss in more detail now. They recommend free traffic from social media.
Free Traffic Promises – True or Fales?
According to the info from the sales material, all you need to do is push a few buttons and you're set to receive free viral traffic. However, that's only half of the truth. The other half is something that they won't tell you before you get inside.
You see, the Recurring Profit Machine is going to help you build affiliate funnels. After taking a closer look at it myself, I concluded that it's a-ok and those funnels are actually really good looking. Almost as good as my site here. However, I also noticed that traffic is not going to work the same way.
There are two ways to get free traffic. One is via search engines, and it's something that this training won't teach you. The second way is to share your links on social media and drive free viral traffic. Now, the latter is not going to work for us common people, at least not from the beginning.
To info from the Recurring Profit Machine, the sales pitch is false! You're not going to get traffic that easily with this app. You'll have to spend a lot of time creating a social media presence before you can get any free traffic that will make you a consistent income.
That's the truth!
They offer an alternative source of traffic. Banner ads. Now, this is a paid traffic method. In other words, you need to be willing to invest at least a few 100's into paid ads to get something in return, if any.
Can You Make Money With It?
With a Basic version of the Recurring Profit Machine, I don't think so. Maybe you could make some money with it if you are established online and can get traffic using your own efforts. But if you are a complete newbie, the truth is that you won't make money with this app right away.
There is, however,  a possibility to earn those recurring commissions with this software even if you are a newbie. But to do so, you'll have to do purchase upgrades, spend money on paid ads, and pray that everything goes well and you don't get scammed.
CLICK HERE TO DISCOVER THE BEST WAY TO EARN AN INCOME ONLINE >>
What I Like About Recurring Profit Machine
1.) It's Based on Legit Methods
The method behind the Recurring Profit Machine is called affiliate marketing and it's a perfectly legitimate method for making money online. It comes down to finding products for promotion, building sales funnels, and getting traffic so that you can make those commissions.
This app helps to speed up the process, especially the middle part, which is the most confusing for all new affiliate marketers. I like the final look of the sites it creates. You can use the software to create funnels for selected products from already mentioned marketplaces.
2.) 30-Money Back Guarantee
Another great thing about the Recurring Profit Machine is it's 30-day 100% money-back guarantee. If you have trouble with the software or you don't fancy it, you can ask Glynn Kosky and his customer support for a refund.
All payments and refunds are processed via WarriorPlus, which is a 100% legitimate online marketplace. However, it's important to say that sometimes it's tricky to get your money back and you may have to prove that the app didn't work for you before they grant your request.
3.) Real Owner & Help
Despite his impressive track record of scammy products and apps like the Recurring Profit Machine, Glynn Kosky is a legitimate marketer. He has years of experience in affiliate marketing and there is some quality in his products that reflect that experience.
Also, within the main dashboard, you'll have an option to ask for help if you ever get stuck or have any questions. This is a good thing, especially if you are a newbie. I just hope that their support is active and helpful.
What I Don't Like About This App
1.) Overhyped Sales Material
What bothers me the most about this offer is the sales page. The owner has done a good job overhyping the product so that he can bank more sales. The truth is, however, quite different. In my opinion, this is not going to work as advertised, at least not for the majority of the customer.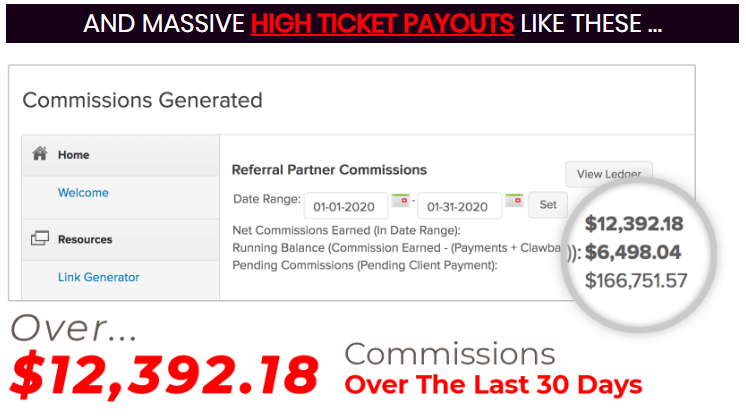 They say that the Recurring Profit Machine works in simple three steps, that you can make money fast, that you don't need any skills and many other exciting things. However, if you go for it, you'll discover that it's not even close to what you've been told.
2.) It's Not Completely DFY
Speaking of which, the first roadblock that awaits those who get into this is going to be the app itself. They say that everything is 100% done-for-you, which is not correct. This app is only a tool that helps to create affiliate funnels faster.
The truth is, there is no 100% DFY system. It's only a marketing trick used by many product creators to attract a bunch of newbies who have a hard time understanding the technical part of the business. Don't get me wrong, the Recurring Profit Machine is a neat tool, and it works. But it's not going to work on its own.
3.) They Don't Teach Free Traffic
Once you manage to create a sales funnel, the natural step in the process is going to be getting some traffic to your offer. Now, that is going to be a problem. The training inside does not explain traffic generation. They only touch the surface and show you how to share links on social media.
The Recurring Profit Machine is not going to help you get unlimited free traffic from social media as you are lead to believe. It has a built-in system for sharing your funnels, but that's all there is. You need to create some following by posting regularly and attracting people to your business. And that's not an overnight process.
4.) Too Many Upsells
One of the things that I really don't like about the Recurring Profit Machine is the lack of transparency. In other words, you are lead to think that $27 will give you affiliate superpowers and make you 1000's without any effort. But there's a reason for it.
This offer is, first and foremost, one pretty expensive sales funnel.
Knowing that the system will not work for the majority, the owner has thrown in a ton of expensive upsells that solve problems you may face with this app. The most significant problem is going to be the already mentioned traffic. And as you can see, there an upsell that solves it. At least I hope it does.
5.) It's a Cloud-Based App
Cloud-based apps could be a good and bad thing. But in my opinion, they are more bad than good. The good thing is that you can log in easily and form anywhere in the world. However, the bad thing is that apps are not reliable and are not the best way to start an online business.
Your business is begin hosted on who-knows-where, and if something goes wrong with the Recurring Profit Machine app, or the owner shuts it down, your business is gone, completely evaporated. And there's nothing you can do about it. In other words, you won't have control over it.
Is Recurring Profit Machine a Scam?
The truth is that the Recurring Profit Machine is not a scam. In my unbiased opinion, it's a useful software for creating affiliate funnels. It helps to get the job done correctly, and it could work under perfect circumstances.
But I have to be a bit biased as well. I think that the marketing material is not telling you the truth. They say that you can start making profits in as little as a few hours after logging in. The biggest lie is free traffic overnight. I think that the system could help you build social media following, but you'll have to bust your but to make it happen.
Also, they don't tell you those ads are not free. It's an alternative method for getting traffic, but it costs a lot to get started. Since free traffic is not going to happen for some time, it would be fair to say that you need more than just $27 to earn with the Recurring Profit Machine system.
It's not a scam. But in my opinion, it's an unethical sales funnel. The product is ok, but the marketing methods they use are wrong.
Do I Recommend Recurring Profit Machine?
There are many reviews out there created by affiliates who are connected with the owner. In other words, they are writing only about the benefits of the system and recommend it to everyone to make commissions. They are not honest with you.
This review is a bit different. Although I don't consider the Recurring Profit Machine a scam, I don't recommend it to my readers. However, the choice is always yours. If you think that this is something you could handle, then go for it.
But remember that making money online is never an overnight process. Even the best systems fail sometimes. Keep in mind that you will have to hustle and grind a lot to become a successful affiliate marketer. All those apps and software are nothing but tools. Without putting enough personal action into the system, you could fail easily.
How I Make Money Online!
Thanks for reading my Recurring Profit Machine review. I hope I've helped you to learn more about what it is and how does it work and to answer your question, whether it is a scam or legit. If you have any questions about the program or maybe you can offer an experience, feel free to leave them in the comment box below.
Before I let you go, let me show you a legitimate training course for making money online. This is proven to work by thousands of marketers all over the world, including me. ?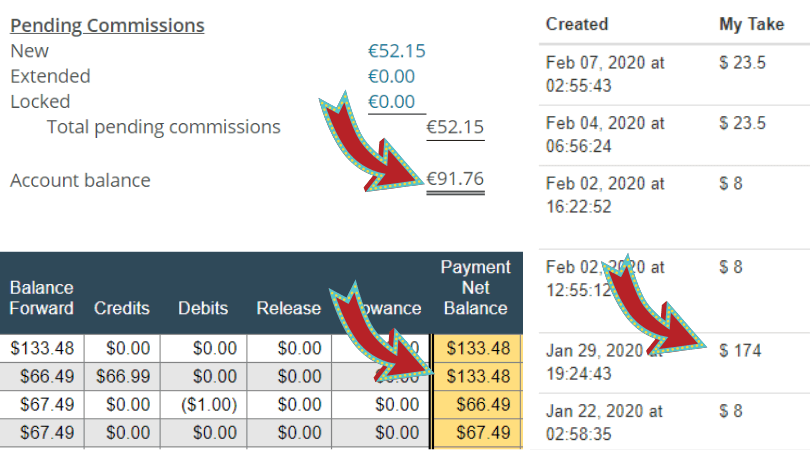 These guys are teaching people how to start a successful online business every single day! The best thing is, it's entirely safe and free to join. Make sure to check it out!
CLICK HERE TO DISCOVER THE BEST WAY TO EARN AN INCOME ONLINE >>
If you need any help or you have a question, feel free to contact me.
All the best, Ivan.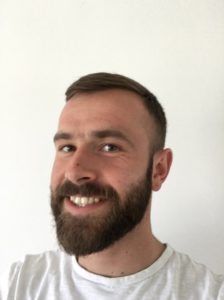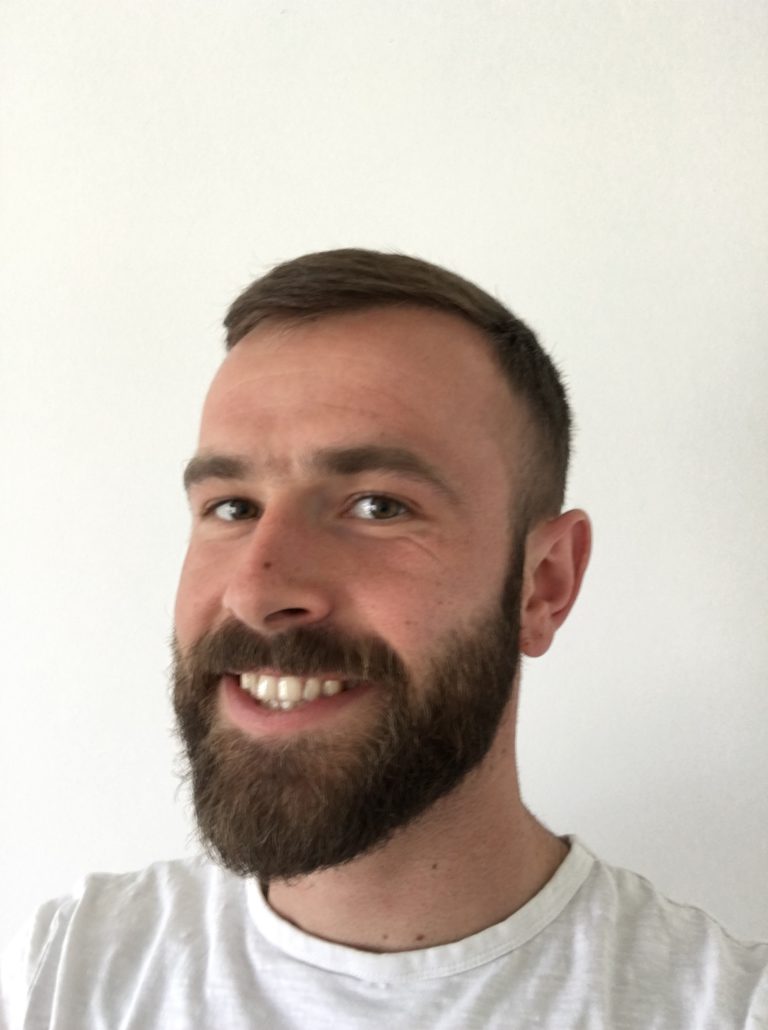 Founder, and CEO @freeaffiliatemarketingbusiness.com