Welcome fellow online entrepreneur.
Today, I'm going to compare Savage Affiliates with Wealthy Affiliate to see who's the top dog.
I've meant to compare these two TOP affiliate marketing course for some time now.
Savage Affiliates has been growing in popularity ever since it has been launched.
Wealthy Affiliate, on the other hand, is the leader in the industry for ages.
Both courses are focused on affiliate marketing.
In other words, both courses are specialized in teaching the secrets of creating a passive income online by selling products online.
But who's better?
Let's go and find out!
Savage Affiliates Vs. Wealthy Affiliate
Before we begin, you can read full Wealthy Affiliate review here.
Or if you wanna learn more about Franklin's course, read full Savage Affiliates review here.
With this post, I'm going to compare these two in a few categories:
Support
Training
Tools
Price
Support
In my opinion, support is one of the most critical aspects of success. Having mentors and easy access to help is going to skyrocket your career.
That's why every top-notch training course should consider this as the number one priority. Let's see how these two compare here.
Savage Affiliates 3.5/5
Savage Affiliate support system is in place, which is awesome. All members get access to a private Facebook community where you can chat and interact with other members.
In other words, if you ever need a hand, you can reach out and someone is going to be there.
However, Savage Affiliate can't fit in the same sentence with Wealthy Affiliate when we talk about support (I just did it LOL).
Wealthy Affiliate 5/5
WA has the BEST support system on the planet! WA in itself is the synonym for support and help. The platform counts 1.4 MILLION members and the community is active 24/7 365.
Wealthy Affiliate has integrated features such as Live Chat, Questions rooms, and such. You can even contact Kyle and Carson directly if you need their help.
There's no doubt that Wealthy Affiliate is the winner in this category.
Training 
Both courses are the most comprehensive affiliate marketing programs on the internet.
The quality and quantity of information are impressive. Let's take a look at both.
Savage Affiliates 4.5/5
Franklin Hatchett has proved himself over and over to be one of the rare people that can talk the talk and walk the walk. He's been around for five years, and frankly, he's going to stay there for a long time to come.
His Savage Affiliates is top quality training service, without a doubt.
Franklin covers all essential aspects of starting an affiliate marketing business. I feel like nothing has been left out of the course. Franklin takes care to explain every single detail.
Savage Affiliate is actually one of the best courses I reviewed so far, that's why high rating in this category.
Wealthy Affiliate 4.5/5
On the other hand, Wealthy Affiliate has a little bit more experience in this area which makes it the authority. When I say a little bit more experienced, I mean ten years more.
Kyle and Carson, are the pioneers of the business. They've been doing this for ages and their course is extremely beginner-friendly and in a step-by-step manner.
In any case, if you want the top-quality training service, you'll find that both Savage Affiliates and Wealthy Affiliate can do the job correctly.
This category is a draw.
Tools 
If you want to succeed in affiliate marketing, you'll have to have the best tools and resources for the job. Affiliate marketing requires a specific set that will make everything much more manageable.
Savage Affiliates 3.5/5
Savage Affiliates can offer you access to easy tools such a website hosting, email responders, WordPress themes, and live community.
Even though you will get all you need to start an affiliate marketing business successfully, there is a big downside. You'll have to pay for everything individually which adds a couple of hundreds to the price of the training.
This is not the worst thing in the world and it's quite normal actually.
Wealthy Affiliate 5/5
Wealthy Affiliate is a complete service.
With WA you get a free website to try things out. Moreover, Kyle and Carson have integrated the best tools directly to the Wealthy Affiliate platform. The students don't have to jump around to buy tools and resources individually.
The guys will provide you with a domain hosting, website builder, keyword research tool, and the largest affiliate marketing community there is.
If you want the best tools and resources to skyrocket your affiliate marketing business, Wealthy Affiliate is the place to go.
Price
The price is not so much important as the first two categories, but still, it's worth to compare both programs.
Savage Affiliates 4.5/5
Savage Affiliates sells at $197 one time payment. You get lifetime access to training platforms and updates. As I've said already, the tools and resources will cost you additionally.
However, $197 is a great price either way! Most people charge ridiculous sums to let you in. Here is not the case, Franklin has put a fair price and I think it's affordable.
Unfortunately, there is no free trial offered; just a money-back guarantee which is only thirty days. After that, you have to take the course.
Wealthy Affiliate 4/5
Wealthy Affiliate offers a fixed monthly membership after an unlimited free trial! It means that you can join the network for free, claim your free site, start working on your business, and if you like it, you can upgrade your account to Premium membership ($49/monthly).
You can stay free (Starter) member as long as you want, there is no time limit.
Kyle and Carson did a great job too. But in this category, I'm giving Savage Affiliate advantage because of the fixed price tag.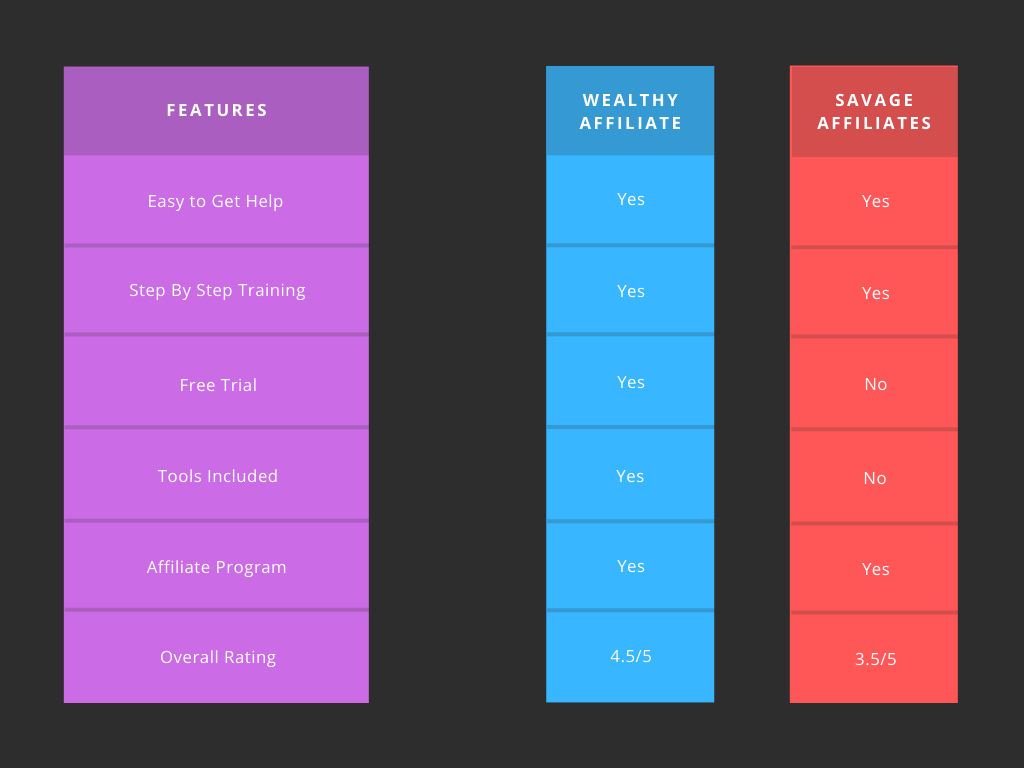 The Winner Is…
It takes one year to build a successful affiliate marketing business and start earning money online. Both courses will get you there if you follow through the training diligently.
Savage Affiliates is one of the best courses that I have reviewed so far, but it still must grow to beat the Wealthy Affiliate.
In my opinion, WA is the WINNER here.
You see, WA has been an authority for the last fifteen years. The guys can offer the best service for the best price. You can get the full package like nowhere else.
I hope this article was useful.
And I hope your decision is much easier now.
If you need any help or you have a question, feel free to contact me.
All the best, Ivan. Founder, and CEO @freeaffiliatemarketingbusiness.com