Is Scentsy a pyramid scheme? Is it a scam or a legit business opportunity? Welcome to my Scentsy MLM review, where I going to reveal everything you need to know about this company.
Scentsy is an American multi-level marketing company based in Meridian, Idaho that sells scented products including wax warmers and other home and body products.
They also offer regular people like you and me to join their MLM program and earn income by selling their products and recruiting other people into the business.
And that's why some people say that Scentsy might be a pyramid scheme. Is it true?
Before we get into this review, let me introduce myself…
Hi, I'm Ivan and I'm an online marketer who went from losing my time waiting tables to running a thriving online affiliate marketing business.
In the meantime, I have actually tried and reviewed 600+ courses, scams, MLMs, and even pyramid schemes to find the very best way to generate income online.
Keep reading my Scentsy MLM review where I'm going to show you what this company is about.
Also, I show you how it works, and I share my opinion about whether Scentsy is a pyramid scheme or a legit MLM opportunity.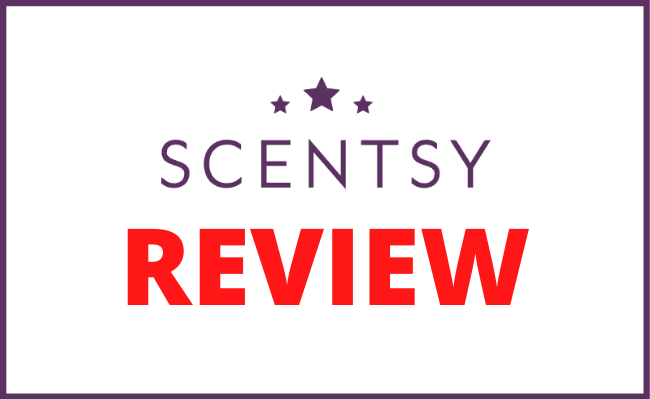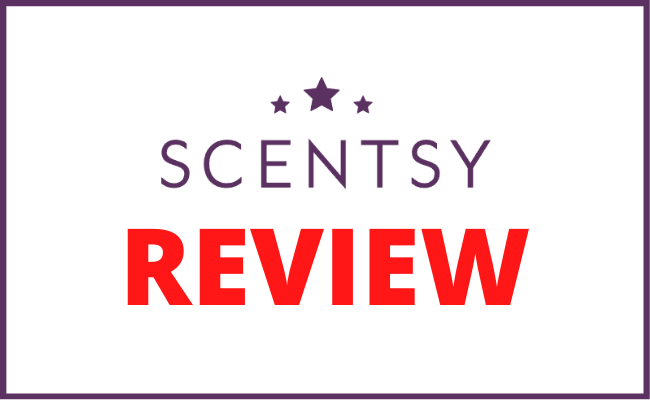 Scentsy MLM Review – Overview
Product Type: Home and Personal care MLM
Owner: Heidi & Orville Thompson
Price: $99 to start + monthly costs
Money-Back Guarantee: Yes
Recommended?: No
Quick Summary:  Scentsy is a company that you can join and become a part of their direct selling team. In other words, it is an MLM business model. And because of this, many people call Scentsy a pyramid scheme.
So is it a pyramid scheme? That question has been answered in detail in my Scentsy review. but if you're in a hurry, I can save you time and say that Scentsy is a legit MLM.
By joining this MLM, you get a chance to sell their products and (or) construct a team of salespeople through which you can earn additional compensation from their sales.
Due to this reality, Scentsy has been accused to be a pyramid scheme. Is it true? Well, technically, Scentsy is not a pyramid scheme.
However, I personally don't recommend this type of business because it's risky and very few make it. Keep reading my Scentsy MLM review to learn more before you make your very own choice.
Alternative: If you're a newbie who is looking to earn passive income online, there are other, more beginner-friendly, and cost-effective alternatives. My top-rated affiliate marketing course has helped me to go from earning $0 to $100's per day!
THE BEST WAY TO MAKE MONEY ONLINE IN 2023 >>
What Is Scentsy? 
Scentsy is a Multi-Level-Marketing firm that markets fragrance items to make your home smell scrumptious. Their primary product is the Scentsy wax bars and warmers.
Electric candle warmers are a much safer choice than typical candles as there is no nude fire involved. They likewise don't release hazardous toxins right into the atmosphere. We'll go into these a bit much more later on in this Scentsy review.
The component you are most likely curious about is the possibility to generate income with this MLM. The 1-minute marketing video clip listed below explains a little bit extra regarding this possibility from Scentsy experts.
Who Founded Scentsy?
Scentsy was founded by Kara Egan and Colette Gunnell in Salt Lake City, Utah in 2003. Kara had a desire to create fragrant items that were both risk-free as well as lasting, and so the front runner Scentsy item was born – an electrical candle warmer.
In 2004, a having a hard time entrepreneur with a number of fell short company attempts under his belt bought Scentsy. His name was Orville Thompson, and today Scentsy is owned by Orville as well as his other half, Heidi.
Related MLM Review: It Works!
Is Scentsy an MLM?
Scentsy is an MLM business, yes. You will find greater than 100,000 consultants operating in Scentsy networking. Business creates more than $450 million in income yearly.
In 2018, Scentsy made it right into the Forbes list at # 35 for ideal mid-size employers in America.
A lot of MLM companies are likely to have a "unique marketing point" as they often provide items which are fairly popular and very similar to items you are able to find in other places easily.
Scentsy isn't any different. Here's their product line…
Scentsy Product Line
Scentsy offers a variety of home and personal fragrance products, including scented wickless candles, oil Diffusers and decorative ceramic warmers, which together provide a safer alternative to burning wicked candles.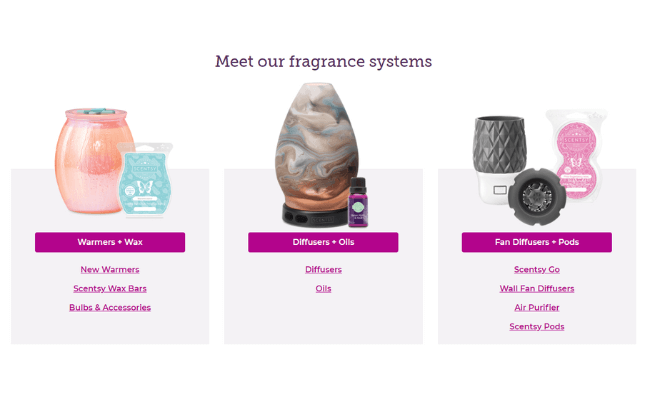 Scentsy's warmers house a low-watt light bulb that slowly melts the Scentsy candle bar, filling your home with one of more than 80 distinctive and long-lasting scents.
Their flagship warmer and wax apparently stand out compared to candles because:
They do not release carcinogens (which can result in cancer).
They are not really a flame hazard.
The warmers are generally safe and load up the room with scent.
But there is a whole range of other smelly products such as:
Laundry – Laundry liquid, scented softener, dryer disk, washer whiff, etc…
Cleaning – Kitchen soap, freshener, multipurpose kitchen cleaning spray, etc…
Personal Care – Bath bomb, body cream, body wash, hand cream, hand soap, lotion, etc…
Other accessories – Car bars, room spray, diffuser, essential oils
Here is an official video talking about the product quality…
Scentsy MLM Business Opportunity
Instead of investing tons of cash in marketing and advertising, Scentsy advertises their items differently.
They have countless "professionals" promoting the items for them. In return, these consultants (day-to-day people) can earn money from compensation and bonus offers.
It's like a win-win … Scentsy saves a lot of dough on advertising and marketing expenses, and everyday individuals, can generate income from home.
Let's focus on the next part of the Scentsy MLM review to learn more about how you can make money and why some people say that Scentsy is a pyramid scheme in disguise…
Making Money With Scentsy MLM
There are 2 ways you can make money from Scentsy as a consultant:
Sell their products and receive a commission
Recruit more consultants into the company and get bonuses for their sales
This is pretty standard for most MLM and Scentsy is no different. But keep in mind that the focus is on recruiting new members in your downline that looks like this…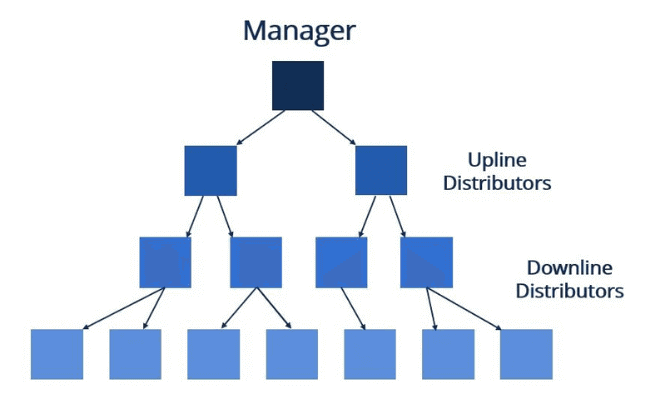 Can you see now why Scentsy resembles a pyramid scheme?
However, as I said, since you can make money in two ways, this is a questionable claim. Let's take a look at how much you could earn through their compensation plan…
Scentsy Compensation Plan
I took a look at the Scentsy compensation plan to see how to generate income as a Scentsy Consultant. Just like the majority of multi-level marketing settlement strategies, it was pretty challenging to comprehend.
Anyway, there are 10 ways that you can generate income with Scentsy, in the forms of compensations and benefits:
Commission (20-25% for each sale)
Bonus from wholesale volume
Frontline bonus TWV
Frontline consultant bonus TWV
Frontline star consultant bonus TWV
Frontline superstar consultant bonus TWV
Frontline director bonus TWV
First generation direction TWV bonus
Second generation direction TWV bonus
Third generation direction TWV bonus
Now honestly, this all simply looks ludicrous to me, and in spite of a lot of long-winded titles, there aren't a lot of details below.
However, what we can collect is that the vast bulk of means to make money with Scentsy (9 out of 10) include employment.
This is usually in the form of 'rewards' for how much your group markets, in addition to how large your group grows etc.
While not explicitly giving out benefits for hiring individuals, 9 out of 10 methods to earn money with Scentsy involve having a 'group' below you, therefore there is a clear motivation to grow your team.
To get more information about the Scents compensation plan, see the video below…
Scentsy Price 
It costs $99 to sign up with Scentsy as a professional. Compared to the majority of bricks-and-mortar businesses this is pretty impressive.
Once you sign up, you will receive your starter kit and a license to resell the brand and recruit others into the Scentsy MLM scheme. The kit includes products, catalogues, and even a website.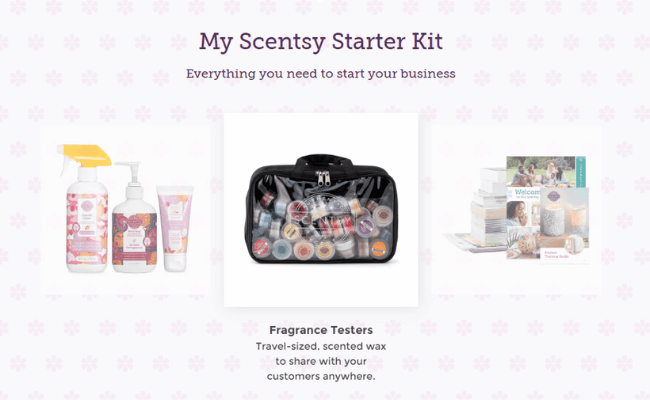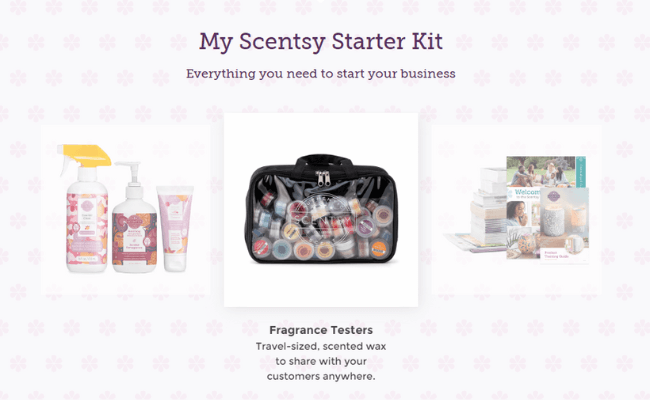 Extra Costs
You have to pay $10 a month to maintain your "website site" up and running. But this is nothing compared to what's coming.
It's quite common for online marketing programs to make their experts need to reach a "regular monthly sales quota". If you don't strike this quota then you won't be paid.
So it feels like there used to be this demand to offer $150 well worth of products every 3 months. If you do not market this amount, you will be "suspended" and can not get any compensation.
This normally indicates specialists will have to get these items themselves and therefore, wind up with lots of added products to store and extra cost.
But there is very little information on this which is a red flag.
See, numerous multi-level marketing firms like Scentsy make it super confusing and challenging to understand EXACTLY what you need to do to start and also what the monthly expenses will be.
Related MLM Review: Team National
Can You Make Money With Scentsy MLM?
It's been found in numerous studies that between 73% to 99% of all MLM representatives, lose money.
Nonetheless, not every network marketing business is the same. But as you will soon figure out, from Scentsy's previous income disclosures, they fall under the typical (negative) multi-level marketing statistics.
How Much Money Can You Make as Scentsy Consultant?
To see whether it is likely that you will ever make money as a Scentsy Specialist, I took a look at their UK 2020 Income Disclosure Statement (IDS).
An Income Disclosure statement is a file which lays out exactly how many individuals are registered as Scentsy Professionals as well as how much cash they are making.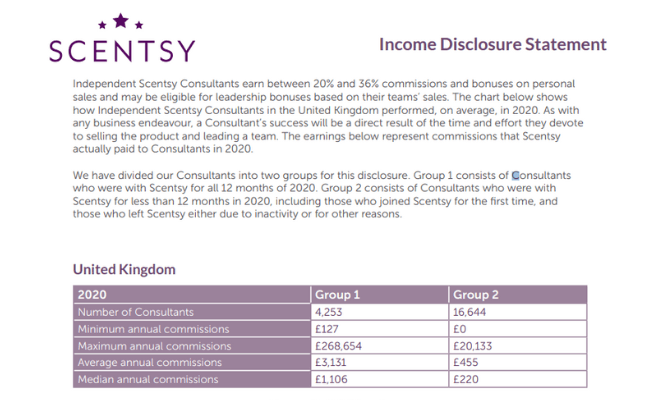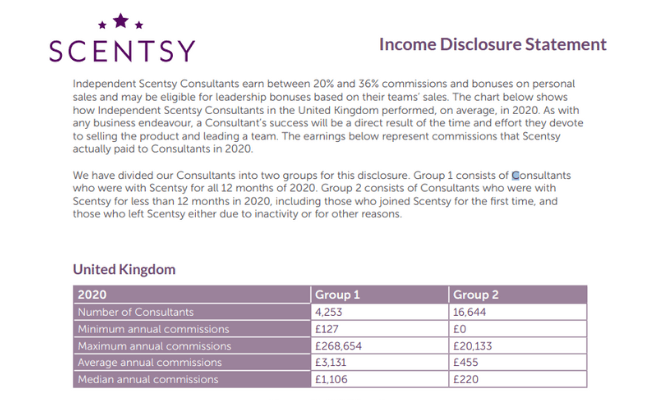 Scentsy's Earnings Disclosure Declaration is split into two columns.
The very first column shows the average earnings of Scentsy Professionals that were dealing with Scentsy for the entire year. And the second column, reveals the revenues of those that did not remain in the business for the complete 12 months.
Of all Scentsy Professionals, only about 25% were marketing Scentsy for the whole year. This is because multi-level advertising, in general, has a high failure rate.
Related MLM Review: Juice Plus
Is Scentsy a Pyramid Scheme?
Scentsy isn't a pyramid scheme. Certainly, Scentsy specialists can market Scentsy items as well as get a commission for doing so.
Nevertheless, is it viable to make enough money just by selling Scentsy items? The response is no. For that reason, Scentsy could be easily thought about as a "pyramid scheme in disguise."
What Is a Pyramid Scheme?
According to Wikipedia, "A pyramid scheme is a business model that recruits members by promising payments or services in exchange for enrolling new members into the scheme, rather than providing investments or product sales".
You can check out a short video below to learn more…
So why do so lots of people assume that Scentsy is a pyramid scheme?
It's because you can make cash by hiring a lot of individuals right into the multi-level marketing plan. That's the most significant reason some individuals call it a pyramid scheme in disguise …
Is Scentsy a Pyramid Scheme in Disguise?
As I said in my review so far, Scentsy is not a scam pyramid scheme. They promise you commissions based on the sales made by you and others you register.
And since there are no straight repayments just for getting them to sign up, there is no shady activity. That said, Scentsy, once more, is not a pyramid scheme.
To put it simply, the company sells real items for people to consume.
The bottom line is that in pyramid systems you are forced to hire others in order to generate income from that firm. While in a multi-level advertising firm, you can earn money by hiring or marketing some physical items to prospects.
This is why Scentsy is not a pyramid scheme. But is it legit?
Related MLM Review: Isagenix
Is Scentsy a Scam?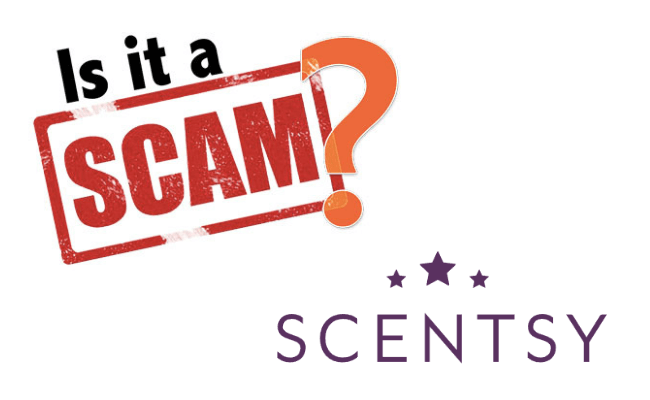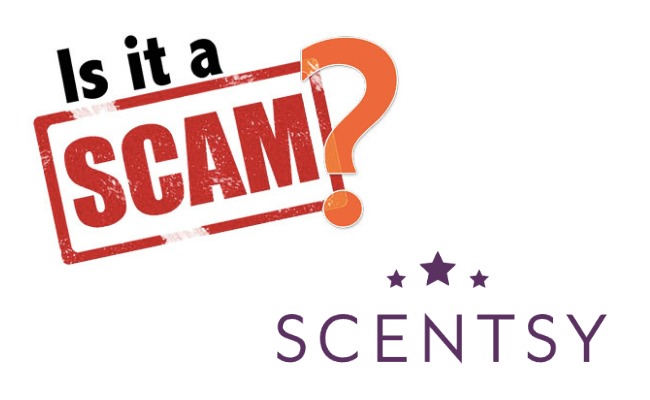 Scentsy is not a scam in my review. They sell legitimate products as well as pay their professionals for selling items like they claim they will.
Nonetheless, even if it's legitimate does not imply it's the best chance for you to make money. There is a lot of work to be done ahead of time, no genuine assurance of success, and most notably, the actual commissions are tiny.
Now, there's nothing incorrect with front-loading the work, recruiting a team and making the cash later from their effort. But if you're grinding it out for 3 months and then your reward is a $50 payment, it's not really worth it.
The bottom line is that Scentsy MLM is not a scam. But I have a hard time recommending this business to anyone. There are much better ways to make money from home.
THE BEST WAY TO MAKE MONEY ONLINE IN 2023 >>
Is Scentsy a Legit MLM?
Yes, Scentsy is legit and they have real products. And the products are great! Yet, when it comes to building a business, you have plenty of better options.
And even if you're dead set on becoming a networker, you've can find much better choices than Scentsy.
Related MLM Review: 7k Metals
Scentsy MLM Review – Pros
Specialists Get Support
Multi-level marketing is pretty negative for this. The idea behind MLM is wonderful. Help individuals build their "very own company" and create a group of people to help them.
The problem is that most MLMs never offer the support you need to actually start your own successful home-based business.
Here is what Scentsy offers you as a specialist though …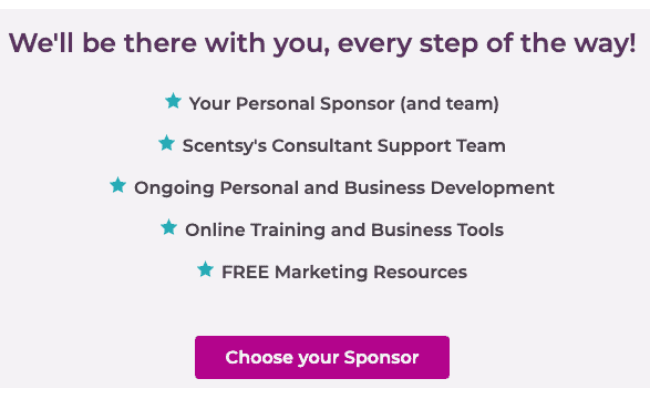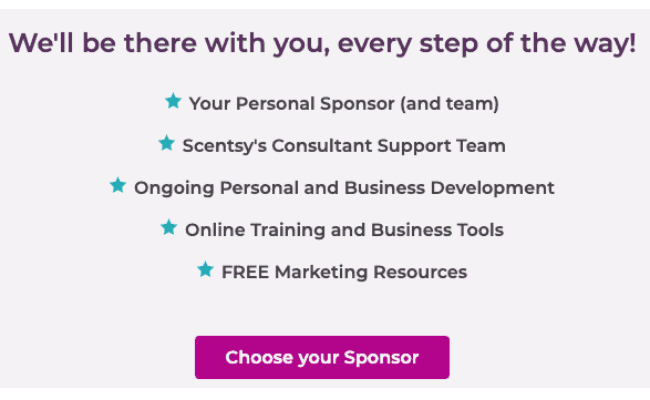 Seems like there is a lot of what you need to become successful here. But still, it may appear a bit far better than it actually is.
You're still quite depending on who your "personal enroller" is. If you get a good one that understands internet marketing, great! If not, you will probably go to the negative MLM statistic.
Money-back Guarantee
Some MLMs simply create items that individuals don't really like. They make a fast dollar and then hide and use "poor customer service" as their justification not to reimburse them.
Scentsy uses a 30-day money-back guarantee. This shows that Scentsy is not a scam.
Member of the DSA
This is also an excellent sign that Scentsy is not a scam or a pyramid scheme.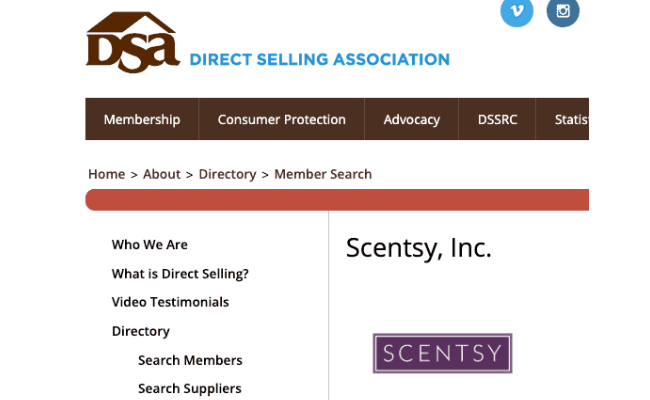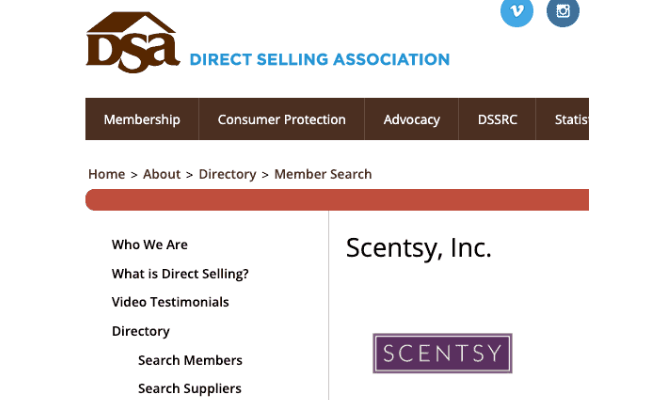 The Direct Selling Association is a company that checks up on different "direct selling" (aka multi-level marketing/ MLM) firms and makes certain they are not breaking the law.
If an MLM firm is not registered with them, maybe a signal that it is a rip-off.
Related MLM Review: ACN
Scentsy MLM Review – Cons
Their Products are Not All-Natural
So Scentsy makes a huge noise regarding their "all-natural products". This seems their distinct selling point is to make them stick out from the group.
However, they do not make it clear when something isn't natural. Such as the front runner Scentsy bars.
However, when you go into the active ingredients in other Scentsy items you will read that synthetic oils are being utilized and also a "secret mix of ingredients".
Expensive items
This is always the first thing I look for in any type of MLM. It's a red flag for me that the items are greatly overpriced compared to comparable items on Amazon, for example (see image below).
Scentsy wax = $2.08 per oz
Amazon = $0.75- $0.85 per oz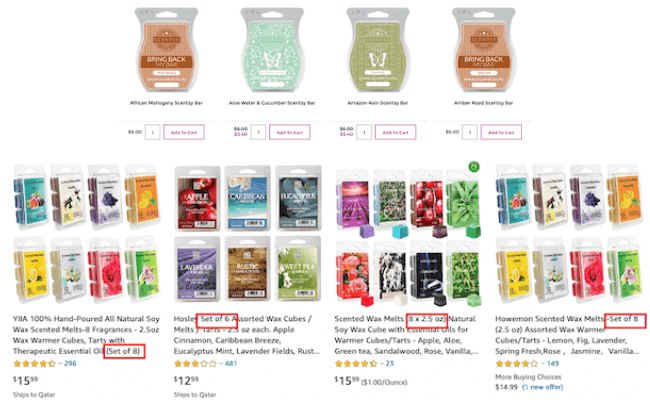 Why would anyone choose to pay 150%+ for the same product?
And that's for a banal thing such as candles! I'm sure their "all-natural" formula is the reason for the difference in the price. Once again, it's a great selling point.
But still, head over to Amazon and you can find equally good products for far less money.
Scentsy Seems Like a Pyramid Scheme in Disguise
As with all MLMs, the focus is not on marketing items but on hiring individuals. This is the greatest reason that Scentsy imitates a pyramid scheme in disguise.
The number of means you can get paid by marketing products as a consultant is 1. The number of ways can you earn money by recruiting people is 9!
Seriously leap back to the payment strategy. The ONLY method you can make great cash is by RECRUITING INDIVIDUALS. Hence the reason why Scentsy seems like a pyramid scheme.
Only 1 out of 200 people make more than $15k a year
You need to sell $100,000 well worth of Scentsy items in a year to earn $16,667. Can you live off that amount of money?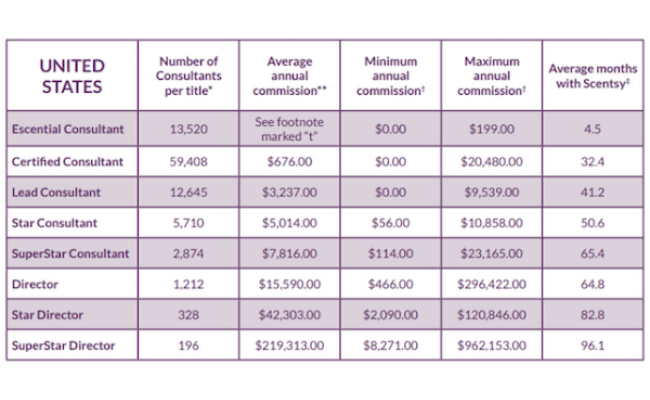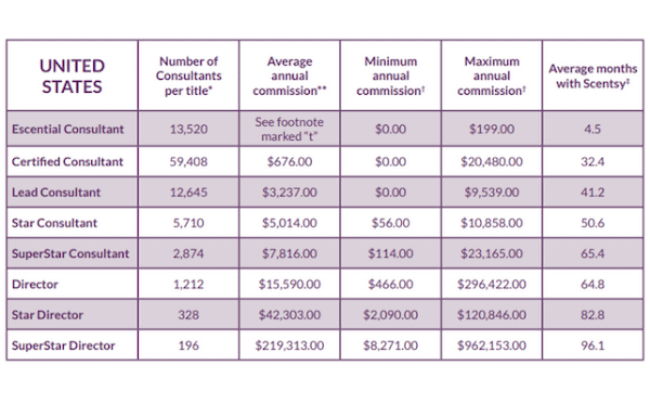 And take a guess at just how easy it is to sell 6 figures of $5 items. Yeah difficult, it's around 20,000 wax products you would need to sell in one year!
You can see from the income disclosure that only 1 out of 200 experts makes over $15k a year from Scentsy!
It's Not Your Business at the End 
If all of this had not been sufficient did you know that you won't even have the business? If you don't hit your sales allocation, or don't follow Scentsy's policies, you can have your whole "organization" closed down overnight.
Your website is a replica that you do not regulate. You don't actually own anything by becoming a Scentsy professional.
Related MLM Review: Pampered Chef
Scentsy MLM Review – Conclusion
As stated in this review, Scentsy is not a scam or a pyramid scheme. You can join their program, and get compensation for re-selling their products in more than one way.
Yet do I promote Scentsy MLM to you as a genuine business possibility. You see, the only means you can make REAL cash from this is by recruiting a lot of individuals right into the exact same service.
As well as you need to do that understanding that 93% of them will definitely lose money.
In my point of view, this is not ethical. But on the other hand, individuals understand what they are entering, as well as it's their obligation to make ANY service chance work for them.
The bottom line is that I personally don't recommend multi-level marketing in general.
Instead, I like and recommend affiliate marketing due to the fact that you do not need to get the items, pay to play, work with others or build a downline, and so on. You don't also need to sell!
To learn more, read the rest of this page…
Thanks for reading my Scentsy MLM review. What is your opinion? Is Scentsy a pyramid scheme/scam? Were you a part or maybe still are a member of this business?
Feel free to leave your reviews at the end of this page!
Related MLM Review: USANA
Is There a Better Way To Make Money Online?
I know how hard it is to trust websites these days. There are too many scams out there, especially in the make-money-online world. I know, because I reviewed over 600+ sites so far!
See, Scentsy is just one of the many MLM companies I have reviewed…
While searching for the best ways to make money online myself, I bumped into a program that helps you to start making money online in the best way possible.
It is a 100% legit course that helps people to create a successful affiliate marketing business.
Keep reading for more info…
How I Make Money With Affiliate Marketing
The program that I recommend as my #1 solution for making money online with affiliate marketing is based on a 100% proven and tested system.
The best thing about this method is that it is passive in terms of results and income.
In other words, you could be earning an income from your site for years and years to come because this method is so POWERFUL and overlooked by many marketers.
Just take a look at commissions that I earn passively all thanks to affiliate marketing.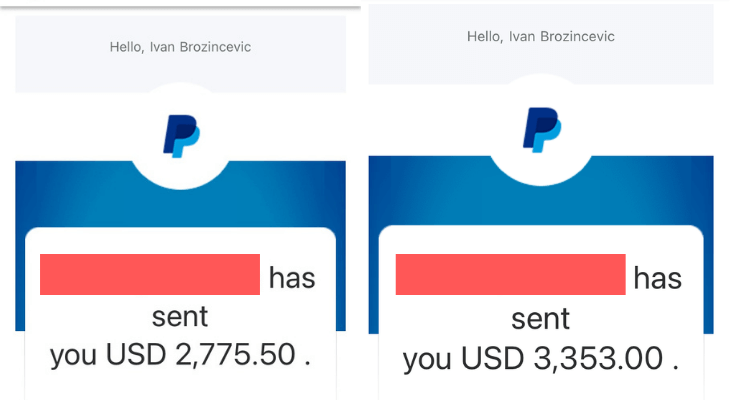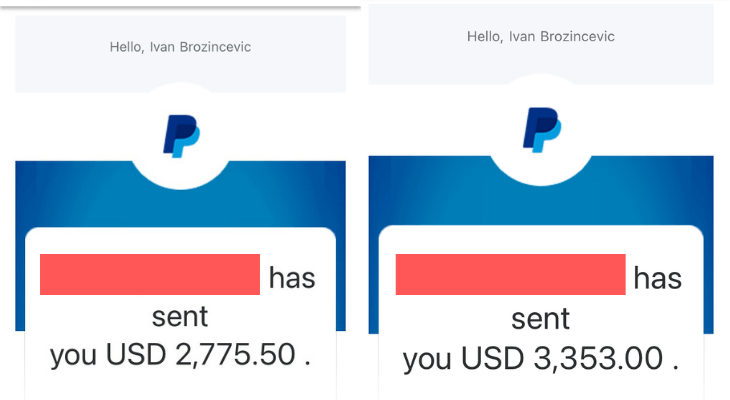 If you want to learn more about how you too can start making money online with affiliate marketing, click the button below!
Among the best features of my # 1 ranked course is that you can take it for a test drive (just $7 for 7 days).
After evaluating over 600+ programs on the web, my conclusion is easy. This is the best course to learn about ins and outs of affiliate marketing.
And if you're looking for the very same, click the button below!
THE BEST WAY TO MAKE MONEY ONLINE IN 2023 >>
If you need any help or you have a question, feel free to contact me.
And feel free to share this Scentsy MLM review to help others as well!
All the best, Ivan. Founder, and CEO @freeaffiliatemarketingbusiness.com
Related MLM Review: Shaklee