After some time flirting with SEMrush keyword research tool, it was time for me to take it out on the road and see what's the noise for real! I'm more than happy to bring you my SEMrush review. After all, this tool has a big reputation. It's my honor to give an opinion.
If you are here because you've found SEMrush to be a bit pricy, I have a great free alternative in mind which I'm going to share with you by the end of this review. 
You and every other person who is interested in some serious keyword research should at least try SEMrush for free!
When it comes to online marketing, this excellent tool can offer you a lot of various services. I've found it to be one of the best places for building your online empire.
In my review, I'll keep the focus on Keyword Analytics tool mostly. I presume that's what you're looking for in SEMrush and I'll deliver the best service. Also, I'll do my best and explain the whole tool kit one tool at the time.
Keyword research is the most critical aspect of your online marketing business. Having tons of various data related to your keyword can only mean one thing. That is, GROWTH!
Long tail keyword research is my main focus. However, having an insight into a lot of other aspects can be useful as well.
SEMrush can give you all you need to successfully grow and keep growing your business.
Let's take a closer look, shall we?
I'm already excited like a kid in a candy shop.
How about you? Can you feel it?
What is SEMrush for?
Huh! Where to begin with all the options that you can get will SEMrush. Honestly, it can be a bit overwhelming when meeting this tool for the first time.
Have you had this feeling?
Luckily for you, I've been using this tool from time to time. I was comparing the results that I've got with other research tools such as Jaaxy and Long Tail Pro. I concluded that a comparison of search results is an excellent move because it can give you confidence in your chosen keyword quickly. Moreover, you can see what's the difference between those tools.
As you know already, I'll keep my review pointed towards keyword research mainly. However, you will learn a thing or two about all the fantastic tools that you can get with SEMrush.
SEMrush is not just another keyword research tool. It is a complete tool kit for online marketers. You can get full access to many tools for SEO such as:
Domain Analytics
Marketing Insights
Topic Research
SEO Writing
Lead Generation
PPC
The company has a simple mission. In their own words:
-to make online competition fair and transparent, with equal opportunities for everyone.
They are focused on creating the best competitive solution for all digital marketers. The company is in the business for over ten years. They say that their mission is to simplify online marketing tools to make digital marketing easy and accessible to everyone!
I think, so far, they've been fulfilling their objectives successfully.
Who is SEMrush for?
In their own words, this tool kit is for all digital marketers, by digital marketers.
Having over 3,000,000 users all over the world, SEMrush is for the evergrowing population of digital marketers.
For everyone who wants to learn about keyword research, competition analysis, PPC campaigns, and all aspect of successful online business, this tool is an ultimate solution.
The company cooperates with everyone, from solo bloggers who are just starting their first blog to large companies such as Vodafone, TransferWise, Booking.com, Lionbridge, Skyscanner, and many others!
If you want to upgrade your SEO skills, this tool kit might be for you as well.
Let's see how it perform when we start up the engine. Then we'll check out how to do keywords research using SEMrush Keyword Analytics.
SEMrush Tool Kit Overview
As I can see, SEMrush is constantly upgrading its service. It started as a keyword research tool, but as you scan through all of its possibilities, you can see that it's more than that.
For the first time users, this tool kit might be intimidating at first. The interface can be a bit simpler than it is right now. That's just my humble opinion. I have a feeling that they might lose customers because of a heavily overloaded screen.
It attacks you!
If you are meeting this tool for the first time, I would recommend using Keyword Analytics only. Later on, as you get familiar with other options which you'll get with SEMrush, you can start to expand your skill set.
Keyword Analytics tool is one of the best keyword research tools that you'll find online today. It gives you insights into plenty of metrics like the volume of searches that keyword gets each month, related keywords, and organic search results.
One of the attractive things is Domain Analytics.
Like every other good keyword research tool, this one can help you to get an in-depth look in how I like to say, neighbors backyard. In other words, you can analyze your competition from head to toe.
One of the cool features is Domain vs. Domain which you can use to compare your site with others directly!
So far, SEMrush is rocking.
Another cool feature of this tool is SEO Content Template and SEO Writing Assistant.
Unlike other tools on the market which are focused on keyword research and competition analysis mostly, this one goes a step further and helps you to SEO your content. In my opinion, this feature is a huge bonus! I'll explain more about this as we move through this review.
Topic Research is a new feature within the tool kit. I like it a lot.
If you are a content marketer, you're going to love this little piece of software! In a nutshell, it helps you to get tons of ideas regarding your topic keyword. You can upgrade your copywriting skills for at least three levels with the help of this tool.
I'm more than fascinated by SEMrush keyword research tool so far. For the rest of my review, I'll show you how it works in practice.
If you are ready, let's hit the road!
How to Use SEMrush Keyword Analytics
As I've said, SEMrush can be a bit intimidating. My objective with this review is to help you not only to get a full insight into it but to understand its basic operation. So, if you ever decide to use it, you'll be prepared.
I've spent some time playing with its functions, and I can say that once you get used to it, you'll see that it's pretty simple. It's all just a matter of habit if you ask me.
For my demonstration, I've chosen a seed keyword 'best keyword research tool' so you can learn how it works.
Keyword Overview
This option is simple. Once you enter your seed keyword, you'll be served a couple of data so you can scan your keyword before taking it on further analysis.
The results on the screen might look like they are for hardcore hackers or something like that. However, they are easy to read.
You will get an overview of your keyword starting with the most important metric, keyword volume. This metric tells you how many searches your keyword receives each month. In addition to it, the number bellow tells you how many results match the exact keyword in search engines.
Right next to it, you can see a CPC for your keyword as well as distribution per country. For those of you interested in CPC this quick overview of the price might come in handy.
SEMrush gives you phrase match keywords as well as related ideas. There are five keyword ideas in each column. You can see a search volume for each keyword. Right next to it is Cost Per Click for each keyword too.
If you click on 'Full Report' for each of the columns, it takes you to Keyword Magic Tool where you can inspect your selected phrase in more details.
I'll explain the Keyword Magic Tool in one moment. It's the best feature of the tool kit in my mind.
The last thing you can check out in SEMrush Keyword Overview is the top ten Google results for the selected keyword. It shows you your competition on the first page. You can analyze each competitor in depth by clicking on the link.
SEMrush takes you in Domain Analytics then, and that I'll explain later in this review as well.
Keyword Analytics is fun and straightforward to use. Once you get used to those redirects, you'll be fine. For now, you can focus only on search volume and CPC
Ok, now let's see how your keywords look under the SEMrush microscope.
Keyword Magic Tool
Keyword Magic Tool is a new feature of SEMrush which I found to be the most exciting part of the whole tool kit.
You and every other marketer out there should focus on finding long tail keywords all the time. They are the top SEO technique these days, and I believe it will stay like that for some time.
Competition around broad keywords is massive in search engines. It's getting harder to rank for them as we speak. Long tail keywords, on the other hand, are easier to list for and they should be your main focus after all.
Keyword Magic Tool within SEMrush is a great tool which gives you an easy to read metrics such as volume, keyword difficulty index, CPC, level of advertisement competition, and more.
It also shows you a list of related long tail keywords. You can filter those suggestions by choosing a tail. For example, I've searched for 'best keyword research tool,' and I had a couple of long tail options on the side. I've chosen a 'free' tail, and I've got a new list targeting 'best free keyword research tool.'
In a nutshell, it SEMrush helps you to narrow down you selected long tail keyword intending to find the one with the best metrics for your campaign.
Within the table, you can see a trend in search results for each month over twelve months. It shows you how popular the keyword is in search engines.
Like with every other keyword research tool, with SEMrush, you'll get all the necessary metrics. You can also save and create lists, but that is only available for paid users. With the free trial, you can get just one record.
Once you have a keyword that you like, you can click on the phrase. SEMrush is going to take you into Keyword Analyzer where you can do in-depth research for the chosen keyword.
For a first time user, all of this can be a bit too much, but once again, my goal with this review is to help you understand this tool.
Keyword Magic Tool is not complicated. Moreover, it's an excellent tool for beginners and more advanced marketers. It takes you from the surface of the keyword to learning everything that you have to know about your selected phrase.
Organic Traffic Insights
Now, you can use the Organic Traffic Insights feature to have all of your keywords on a glance.
Many people hop on to Google Analytics and Google Search Console to see how they perform with their keywords. However, SEMrush can help you to connect your accounts with this one and have all the results right in front of you.
You can get a list of keywords that drive the traffic to your website.
This tool helps you to analyze those keywords without using Google Analytics or Google Search Console. You can see how many impressions you get per keyword, what is a CTR for it, and also the position it holds on Google search results.
In my mind, this is a fantastic option! To have your GA and GSC data connected and analyzed all at one place is game-changing.
For example, you can filter your keywords by the device. This option comes in handy when you want to improve your mobile SEO. Mobile user vs. desktop user ratio is getting close to 50:50. Within SEMrush, you can track your results, and take actions to correct your mobile SEO strategy.
Moreover, you can filter your keywords for the country as well. All in all, it helps to get all your keyword results on one place where you can spin them, analyze, and improve!
This SEMrush review is getting awesome! Let's see what else there is.
Ad History
If you are up for some keyword bidding, this report will be just the right for you. Ad History report can help you to get detailed insights into PPC campaigns for your chosen keyword.
To see the full report, you must enter your selected keyword. After you do research, you will see the list of all domains that bid for the keywords in Google. Pretty simple stuff for those of you who like to create PPC campaigns and have fun with paid adverts.
I prefer SEO and content marketing. However it may be, SEMrush has something for everyone.
With the help from Ad History report, you can analyze your PPC competitions. You can see details about ads such as how many advertisers you compete with, how often they bid on their keywords, and more!
One of the best features of this part of the whole tool kit is the ability to view past ads for a selected keyword. This way you can analyze your keywords performance before making a real bid. You can save a lot of time and money by choosing the right keywords.
I hope you are a fan of PPC because if you are, this is your tool! SEMrush has it all covered.
Keyword Difficulty
To me personally, Keyword Difficulty is the sweetest part of this review. PPC is not my world, but SEO I dig.
Every good content marketer should be familiar with a few terms when searching for a perfect keyword. First, it should have good volume. Second, it should have low competition. And third, it should be easy to rank. Those three is for what I'm always looking in my keyword research.
SEMrush can help you with all three at once!
Using this part of the tool is as easy as everything so far. All you have to do is enter your keywords to the box (10 is the limit) and read the metrics.
For each of your keywords, you'll see a difficulty percentage which is measured in percentage from 0-100, closer to 100 means high difficulty. You'll get a search volume for each of your keyword telling you how many searches per month each phrase gets in Google. Moreover, this tool shows you trend fluctuation graph for each keyword. It gives you an option to take a look into SERP for each one as well.
Keyword Analytics is a must tool for every marketer out there. Everything that I've tried so far has fascinated me. I have to say that guys at SEMrush are doing an excellent job providing a high-class service when it comes to keyword research and digital marketing in general.
You can get a similar service in one of the alternative tools that I like to recommend, but for now, I'm curious about SEMrush.
What Else Can You Get With SEMrush Tool Kit
This keyword research tool kit has many fantastic features. So far, we have covered only keyword research tools. However, there is much more to see withing SEMrush.
As I've mentioned at the beginning of my review, if you are new at this stuff, I would recommend you to stick to the first part of this post. Keyword Analytics is more than enough for every digital marketer.
Everything that comes from now on is a bit more advanced stuff, and it can confuse a beginner.
I'll give my best to simplify the things for you.
Domain Analytics
Let's start the second part of this review with one of the coolest features together with Keyword Analytics.
Within Domain Analytics you can get a full profile of your domain. The in-depth analysis covers everything important to know about domain online visibility.
Domain Overview
Once you enter your domain name into Domain Overview, you'll see a range of metrics like organic traffic. If you use advertisement to drive traffic to your website, you can see those numbers as well.
Furthermore, you'll see a domain backlink profile showing you the number of backlinks. You can analyze them further within the Backlinks bar.
Domain Overview shows a few more metrics such as instant analysis of a website's top keywords. You'll see organic positions for each keyword, as well as the most recent position changes.
This option is a great way to see what are your top organic traffic sources. To improve your web performance, you'll need these metrics at one stage of your development.
Furthermore, you can use Domain Analytics within SEMrush to analyze your website performance. You can analyze your competition too!
This tool will get you a complete insight into your competitions domains. You can use it to scan their work, see what they do right so you too can start doing the same or even more. Also, you'll be able to recognize their soft spots so you can leverage that information to outrank them in organic search.
Advertisement Research
If you want to do in-depth ads research on your competition in Google Adwords, you can do so by jumping into Advertisement Research bar. This function can help you to see what they do good, what keyword they use, how much and how often they bid.
All in all, this is a smart tool for every Ad marketer.
PLA Research
PLA Research is a powerful e-commerce tool that helps you to discover product listing ads that show up for your keyword. You can find a lot of search queries that your competition uses to trigger PLA. You can analyze ads and keywords in detail for your e-commerce store as well as your competitions ads.
Display Advertising 
Moreover, with the help of Display Advertising tool, you can analyze the text ads and banner your competitors use so you can do better. It shows you real-time text ads and banners that appear in any county of the world. You can also select a device they use to see how their ads perform across different devices.
Now, while reviewing SEMrush I've realized how it's messy. Here we are at Domain Analytics where I try to explain each tool individually and so far we're doing good. However, it seems that some devices are overlapping with each other.
For example, when you click on Domain vs. Domain which is a new feature that got me excited, SEMrush takes me to Gap Analysis bar where the same is listed under Keyword Gap. I don't see a point in this action. It should be either one or the other!
In other words, one of those bars has to go because it confuses the user.
Traffic Analytics 
Anyway, when you click on the next bar which is Traffic Analytics, you'll be redirected to Marketing Insights where you can get an overview of main metrics for almost any website online!
This function is a fantastic tool that can help you to compare your site with your competitors. You can see where do they get traffic from, what are their top quality backlinks so you can try and get the same.
Also, you'll be able to analyze their sources of traffic based on the country, and more!
Ranks
Another cool feature is the Ranks. Here you can take a behind the scenes look at traffic source for top websites on the Internet.
You can see how many clicks per day sites like Facebook, Wikipedia, or YouTube get!
Domain vs. Domain
Let's see what can you expect from Domain vs. Domain which is Keyword Gap listed under Gap Analysis. 
Here you can enter up to five domains, select the comparison by organic keywords, paid keywords, or PLA keywords, and compare them by clicking on the Go button. You can use filters and sort data by specific keywords, volume, CPC, competition, or the number of search results.
Using this fantastic tool you can see where and how specific domains overlap each order. In other words, what keywords they have in common.
You can do the same thing to analyze backlinks for five domains at once! And use the same data to see what backlinks are in common between those sites.
In my opinion, this is a powerful way to get valuable data regarding both keywords and backlinks. You can use it to improve SEO on your website.
Domain Analytics is, in general, an excellent tool for everyone who is on the advanced level of digital marketing.
If you desire to reach the advanced level, you'll find this tool kit to be perfect for you. I hope my SEMrush review is helping you to understand everything that comes with it.
Topic Research
How difficult is for you to find the right content ideas?
If you have any troubles with inspiration, you can always open Topic Research. It is something new within the SEMrush tool kit, and I find it to be stimulating!
In a nutshell, you can enter a topic into the search bar, select the country, and get tons of great ideas for your content. You can even search for a specific domain on the Internet to get content ideas directly from its database!
Topic Research tool gives you tons of ideas regarding trending searches for your chosen topic. Moreover, it doesn't stop there! You'll get more ideas such as compelling headlines, related searches, interesting questions that might become the future article. As well as some subtopic ideas to help you expand your topic.
I've found this tool to be one of the best new features of SEMrush. Make sure you check it out if you ever hit a creative roadblock.
SEO Content Template
As you can see SEMrush can offer a variety of tools for competition analysis, keyword research, as well as content marketing. One of them is the Content Template.
This featured tool helps you to analyze your rivals content for a selected keyword. Then, it gives you tips and recommendations on how to create your SEO friendly content.
You'll get insights into keywords that your rivals use within their article. And the list of backlinks that you might try to acquire as well. Furthermore, this tool will show you their readability score and average text length so you can write more and better.
That's not all to it! You'll get notified if they use any video material. Therefore, you can go and create and embed a video on your page.
As the last thing, SEMruch gives you a couple of necessary recommendations for constructing your article. Things like title, meta description, headline, and text. Powerful stuff!
SEO Writing Assistant
I'm a big fan of writing assistants. You see, I use Grammarly to help me with my writing. I've tried a few others such as Yoast SEO plugin for WordPress as well. I've concluded that all of them contribute a lot to improve your writing.
Writing Assistant is still in the Beta stage of development. However, it's doing a fantastic job for now! You can use this tool directly on SEMrush website. Alternatively, you can get it as a plugin for Google Docs or WordPress.
While writing the text for this headline, I found a couple of improvements that I can make. For example, I've discovered that my sentences are too long. I should break them down to make them readable.
This tool is a blend of WordPress editor, Yoast SEO plugin, and Grammarly. I think this is an excellent move by SEMrush developers.
If you care for your text as much as I do, you're going to love this piece of software!
Lead Generation Tool
By installing a custom Lead Generation widget on your website, you can collect emails from your visitors. In exchange for their email, you'll offer them a sample site audit.
This tool helps you to generate business leads for your website. It's a cool thing to use if you are building your email list.
The point of list building is to give something in exchange and possibly for free. If you don't have a free product or service, you can use this one to help you with lead generation.
I'm pleasantly surprised to see how SEMrush spreads itself in many different directions to help you grow your business. They use 'one hand washes another' principle to help you get leads. And you help them to grow their business in exchange.
After the installation of a free widget, you can customize the settings. The process is almost the same as with other lead generation tools like AWeber for example.
However, this tool comes only with a paid subscription. For my review, I wasn't able to test it because I'm on a free trial.
Listing Management
If you have a physical business, you can use List Management to check your online listing.
First, you'll have to provide details about your business to get started. This tool helps you to see how your business appears on Google, Yelp, Facebook, and many other search engines, apps, and directories. Then, you can update and manage your listing via SEMrush Listing Management.
For every business owner, this tool is a must. If you want to build trust and credibility online, you'll have to be transparent and visible all over the Internet.
CPC Map
I wasn't digging deep into this tool. However, as far as I was able to see this tool is going to help you to to get detailed insights into CPC per region of the selected country.
For example, you can scan the whole US. Different shades of blue help you to see which region has the most expensive as well as the cheapest CPC.
Also, it gives you a list of industries that are most popular for the selected country. You can then choose the industry you want. And, you can take a look at some most expensive and most popular keywords within the industry.
Pretty cool stuff if you are a CPC professional.
SEMrush Pros:
Possibly the best SEO Tool Kit online
Comprehensive keyword research tool
In-depth keyword analysis (organic & paid)
Detailed competition analysis (organic & paid)
In-depth domain analysis (your own & competitions)
SEO Content & SEO Writing tools
SEMrush FREE academy (SEO, Content, PPC)
10 FREE keyword searches per day, every day!
1 FREE Project List
SEMrush Cons:
SEMrush jumps from bar to bar and confuses with this action. For example, when you select Traffic Analytics listed under Domain Analytics, it takes you to the Marketing Insights bar.
The left menu sidebar is messy. I can see a lot of room for improvement in that area.
SEMrush Price
Now, here we are at an unpleasant part of this review. After some time spent working with SEMrush for free, it is the time to see the price tag.
First of all, I would recommend anyone to use this tool for FREE along with their alternative keyword research tool. I've done so for a few times. It helped me to see that I don't need expensive tools to do it right. SEMrush is a pricy one. If you have a highly developed business, then go for it. However, if you are on the budget, then the free version is cool.
Let's take a look at four paid options that you can choose.
Pro $99-per-month
Guru $199,95-per-month
Business $399,95-per-month
Enterprise – Custom Plan
You can choose monthly billing or maybe you'd like to pay the annual subscription. In the second case scenario, you'll get a discount price. You can save around 15% on your bill if you choose an annual subscription.
Summary
SEMrush proved itself to be the king of all SEO tools out there. I heard the rumors, so I had to see for myself. After having my fun with it, I'm more than convinced it's true.
This comprehensive keyword research tool kit can help you manage your online business in many ways. No matter what kind of tools you need, it has it all. SEO, Advertising, Social Media, Content Marketing, or Competitive Research, you'll have all you need at your disposal.
I think it's sufficient to say that I would recommend this tool kit to everyone.
Also, I know that it can be a bit pricy, especially if you are starting your business. That was the case with me as well. And that's why I was curious to find an alternative solution that can help me with keyword research. What I've got was much more!
If you are looking for something that can effectively substitute SEMrush, you're at the right place!
SEMrush Free Alternative 
SEMrush is the most comprehensive help you can find on the internet today. However good it may be, I've seen a critical mistake in its operation. This fault made me reconsider this tool kit and start looking for some kind of alternative.
And I found it!
First of all, the reason why I didn't purchase SEMruch was that you're left to figure out the tool all by your self. If you are not pro, it'll take you a lot of time to figure out everything.
On the other hand, I've found a tool kit, much like this one, but a little bit better, and cheaper!
Within this tool kit, you'll get everything you need to start plus a little bit more.
What is FREE?
You'll get two FREE websites (with website back up). You can start building your online entrepreneurship career with zero cost.
The deal includes a FREE beginner training course which covers WordPress, SEO, keyword research, content writing, and more! You'll learn from the top marketers in the industry with 15 years of experience!
Furthermore, you'll get access to one of the best keyword research tools on the planet, Jaxxy. How to use Jaaxy? – free training is also available.
You'll learn how to monetize your websites using Amazon (or any other) affiliate links and Google Adsense program!
For most online marketers, getting initial traffic to your website is the worst nightmare. Within this tool kit, you'll get access to a live community of digital marketers. You can share your work, drive initial traffic for free, and even make a couple of sales while doing so!
You can get all that while being educated by the top online marketers in the world.
Earn while you learn! I like the sound of it.
The best part is, you can get it all for FREE if you join Wealthy Affiliate today!
Why Wealthy Affiliate?
I'm a member of the community for over a year. Before joining Wealthy Affiliate University, my online career was on the rock bottom.
I was intimidated by all those tools and professional stuff like SEMrush. I thought figuring out all of those things by myself will take me ages. It almost made me give up on the idea of working online.
Then one day, I got the best recommendation of my life!
Here I am today one year after, rocking the SEMrush tool. The best part is, I don't need it anymore. I have a Wealthy Affiliate and Jaaxy on my side!
My changed online marketing world is the reason why I like to recommend WA to everyone.
Wealthy Affiliate University is free to join. All you need to start is your email address.
Before making a decision, I invite you to learn more about the best free SEMrush alternative in my Wealthy Affiliate program review!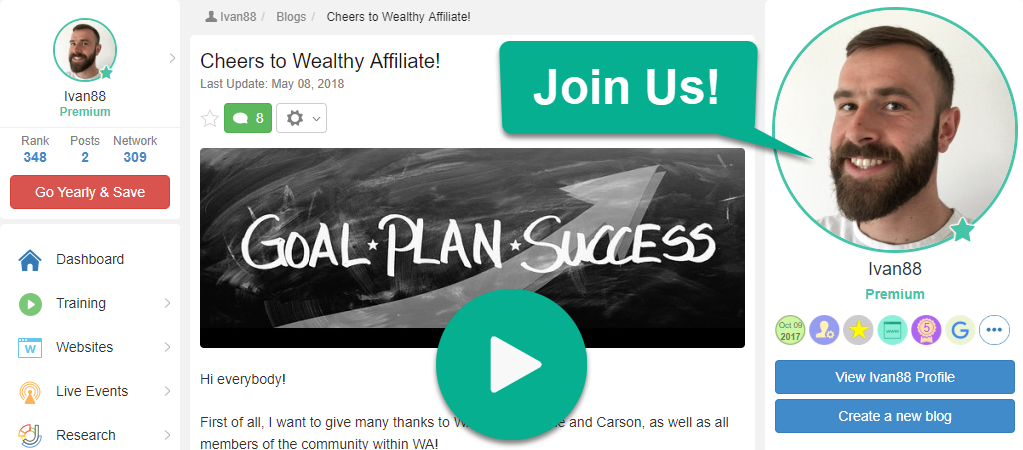 PRESS PLAY TO LEARN MORE!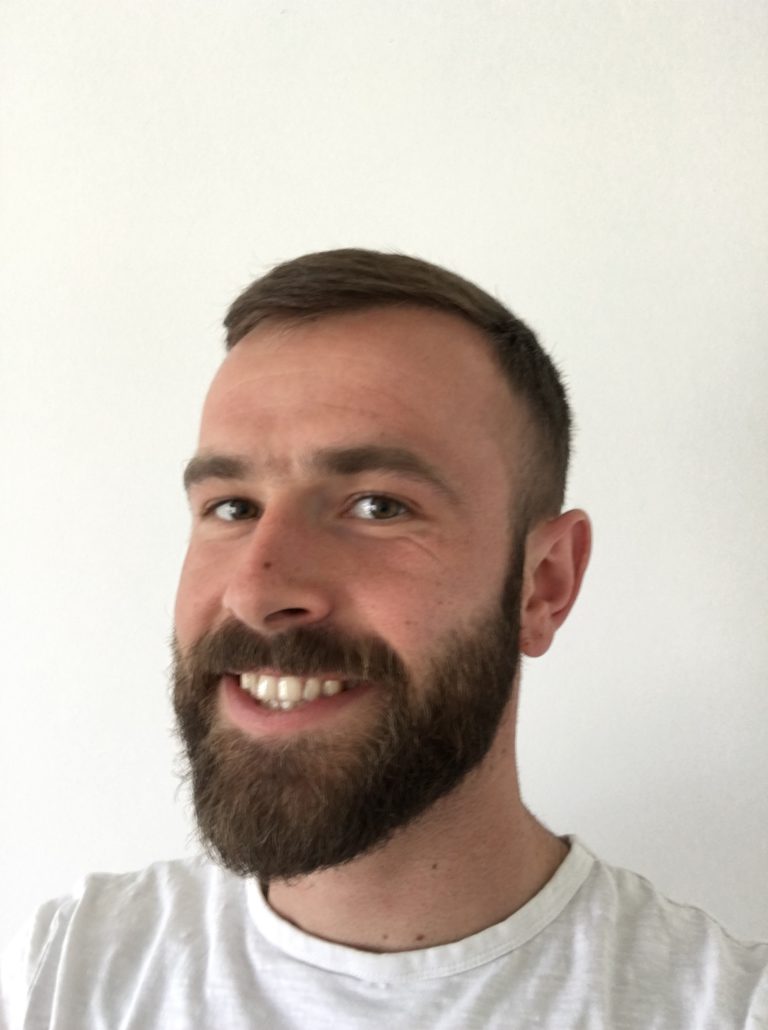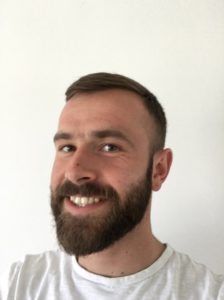 I wish you a successful online marketing journey!
If you need any help or you have a question feel free to contact me!
All the best,
Ivan,
founder, and CEO at
freeaffiliatemarketingbusiness.com