Welcome to my Speedly review. This is another MMO program that promises quick cash for little to no work. Unfortunately, these "magnets" usually turn out to be scams. So is Speedly a scam too or a legit way to 100's per day?
Let me show you what I know.
Speedly is another product released by Art Flair and the gang from WarriorPlus. You see, I reviewed a few of them so far. And the story is always the same, guys. In other words, it's always some magical system that's going to make you tons of cash with little to no work and zero investment.
This time they claim that you can make $298.50 per day using this system for only five minutes per day. If you are like me, you don't believe this BS, and you need to know if it's true or scam. You've probably read a few reviews out there, as well. But be careful because Speedly affiliates write half of those reviews!
I'm not trying to sell you this program, nor am I going to sugarcoat the truth. I want to know the same answers, just like you. So without further ado, let see what's the story here, shall we?
By the way, congratulations on researching before getting into things headfirst. I know it's hard to trust people on the net these days. But if you are looking for something real, check out this genuine way to make money with affiliate marketing.
Within this Speedly review, I'll show you what's the story here. Also, I'll explain how the whole thing works and give you a look inside. Lastly, I'll discuss whether Speedly is a scam or legit way to make money online. Shall we begin?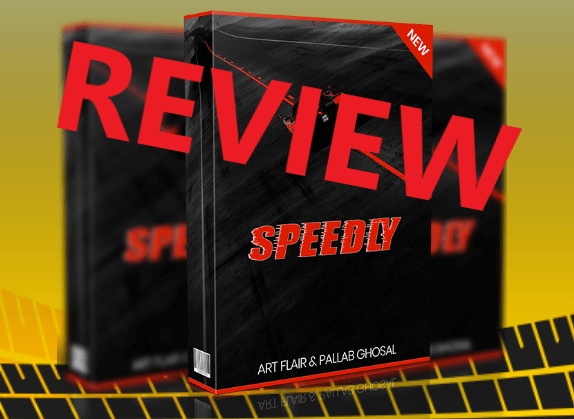 Speedly Review – Overview
Product Type: Affiliate Marketing Training (?)
Owner: Art Flair & Pallab Ghosal
Price: $12.95 + 100's in Upsells
Rating: 2/5
Recommended?: No
Quick Summary: Speedly is a marketing program created by Art Flair and Pallab Ghosal. They claim this system is going to help you to earn instant commissions without any work or effort. I mean what?
In my opinion, Speedly is a get-rich-quick scheme that's good only for the owners. They promise $298 per day, working only five minutes. The training, on the other hand, is an hour-long video session about affiliate marketing.
Also, there are tons of upsells inside Speedly sales funnel, which is, unfortunately, the main in the intention of this offer. In other words, it's been created to make money off you and not to help you to make money.
I think this is the best for the creators.
If you are looking for a LEGITIMATE PLATFORM that enabled me to earn a full-time 4-figure income online, make sure you click the button below!
THE BEST WAY TO MAKE MONEY ONLINE IN 2023 >>
What is Speedly?
According to the sales page, Speedly is all about using some secret method that's going to double up your efforts and make your sales on autopilot. With this method, you can make $298.50 per day. That's $8955 per month! Amazing! Do you know what the best part is? You only need to work for a few minutes per day. Wow!
I always like to repeat the BS from the sales page so that you can hear it one more time before we move on. Now let's be real guys. Do you know what the definition of a get-rich-quick scheme is? It's when someone is trying to separate you from your hard-earned cash promising massive returns in a short time with no work.

Sounds familiar? You bet ya! In my opinion, Speedly is just another get-rich-quick scam. These guys are creating these products like crazy. Every single one of them is about making money with little to no work. And guess what? None of them seems to work. You can take a look at Profit Robot, Commission Robot, or Easy Profit Secrets.
I know that you are looking for ways to make some fast cash online. But let me be honest with you. There's no such thing. Making money online is the same as in the real world. In other words, it's a business. And businesses need time to grow and become profitable. Speedly is just another product that is promising a quick way around this but can't deliver the promise.
Are You Tired of Scam and Programs That Don't Work? Here's Something That's Been Working For 14 Years and Counting!
Who are the Creators?
Art Flair and Pallab Ghosal are the owner and creators of the Speedly system. These guys are standing behind many other flashy products from WarriorPlus. In other words, they are serial product releasers.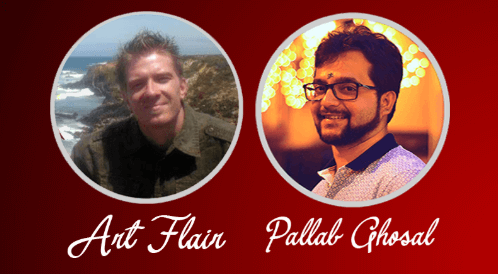 The quality of these products is usually poor. What's even worse, some of them are just rehashed versions of a previous one. The creators of these MMO opportunities do this to make double money on an existing product, which is scammy, in my opinion.
What's Inside of Speedly?
Before I explain the method that's supposed to make you $298.50 per day, let me show you what's inside. So, if you ever buy this software, you're going to get access to 16 video lessons where the creators are talking about blogging and Facebook targeting. Something they teach with almost every product they release.
Lesson 1 – Introduction to Speedly
Lesson 2 – What You Need
Lesson 3 – Set Up Part 1
Lesson 4 – Building Your Fan Base
Lesson 5 – Set Up Part 2
Lesson 6 – Set Up Part 3
Lesson 7 – Set Up Part 4
Lesson 8 – Double Your Traffic Part 1
Lesson 9 – Double Your Traffic Part 2
Lesson 10 – Double Your Traffic Part 3
Lesson 11 – Setting Up Your Traffic Magnet
Lesson 12 – More on Traffic
Lesson 13 – Outsourcing
Lesson 14 – High Converting Offers
Lesson 15 – Starting From Scratch
Lesson 16 – $22K in 60 Days Case Study
Now guys, just to go over these 16 video lessons is going to take you an hour or two. Then, to apply, this is going to take a few more hours, days, weeks, and even months. So what about working for only five minutes? I guess that was just an innocent lie.
And another thing. The authors have said that this traffic is instant free traffic, which is also highly misleading. You see, Speedly program shows how to get free and PAID traffic from Facebook.

To do so, first of all, you need to build a fan page (Lesson 4). But that's not enough. In order to get tons of traffic to your offers, this fan page needs to have a considerable following. And to have a massive audience, it'll take you years! This method might work well for creators of Speedly since they're in the business for years. It's wrong to tell you that you can do the same in 5 minutes and with little to no work.
How Does Speedly Work?
The fact that the owner doesn't share how the system works is also highly misleading. All they do is stuff you with their own earnings and results. I don't know about you, but I don't like to pay for something if I don't see how it works. In other words, I don't like secret software because they always turn out to be scams.

Anyway, that's why I'm here writing this Speedly review to help you out. This system works on a method called affiliate marketing. In this case, you can learn how to set up a WordPress blog, write product reviews, and how to get Facebook traffic to your site. The main goal is to convert your visitors into buyers.
Affiliate marketing is a business model based on revenue sharing. Before you even start, you need a product that converts. With Speedly, you can learn how to find those products on WarriorPlus or ClickBank marketplaces. Then once you know what you are going to sell, you need to build your business and get traffic. The diagram below shows how affiliate marketing works.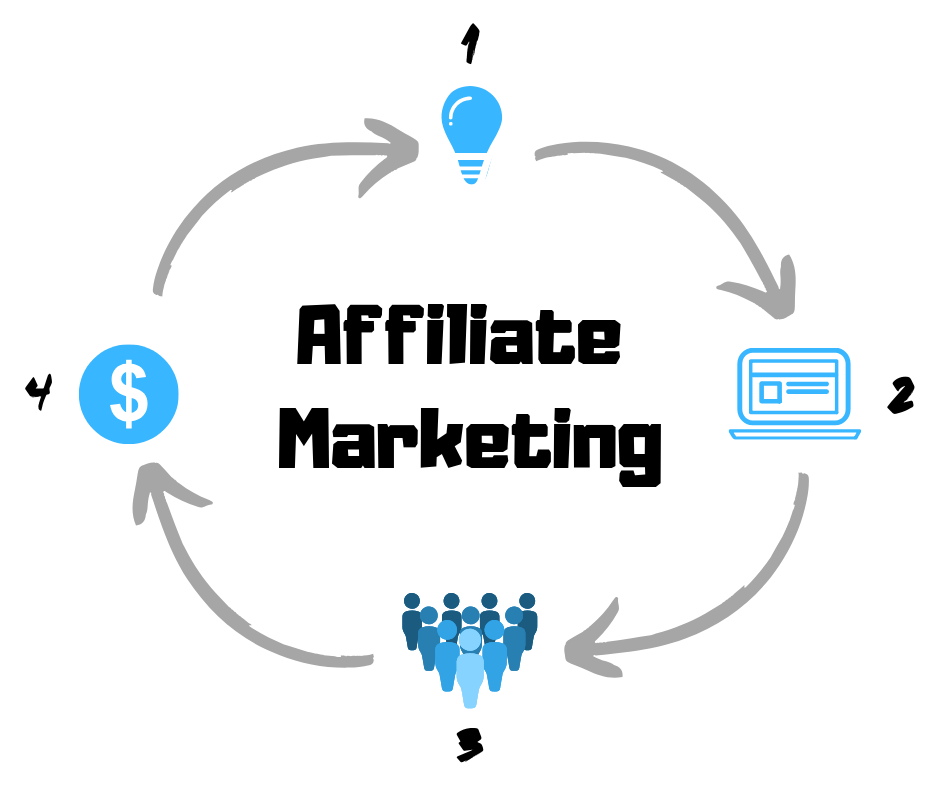 The creators of Speedly are teaching how to set up a blog that you're going to share on your FB fan page. The problem is that these lessons are brief and bearly explain the basics. To be successful at blogging, you need a lot more than this, believe me, I know. This program is not as nearly as comprehensive as some legitimate affiliate marketing programs that I reviewed.
Once you build a website, you can learn how to set up the FB fan page form where you're going to drive traffic to your offers. However, to do so, you'll have to have a massive Facebook following. It's not going to happen overnight, as these guys claim. According to the Speedly program, you need to invite your friends and family to follow you. From there, you start to build up your fan base by attracting more people. However, in my experience, this is a mammoth task. Forget about making tons of cash working only five minutes.
Since these guys know that his free traffic method is not going to work for 99.9% of the users of the Speedly system, they are going to show you how to get PAID traffic from Facebook too. Now, there are a few problems with FB ads also. As you can see in the image above, they say it's 100% newbie-friendly, and no big budget is needed. However, that's merely sugarcoated truth. FB ads are expensive in the long run and not a sure way to get traffic that converts.
Will It Make You Money?
This is the most critical question that needs to be answered. The creators promise $298.50 per day, working only 5 minutes per day. Now, you know that's not going to happen with this program. That's sure as the fact that it's going the get dark tonight.
I believe that the only people who are going to make money for sure with Speedly are going to be the creators. Those earning claims that you can see all over the page are their own from the sales of this program. In other words, they are professional marketers, and they know how to make you excited about numbers.

The truth is, the system itself sounds reasonable, and with a lot of work and the RIGHT guidance, you can make cash with affiliate marketing. That's the method I've been using on this site, and it works fine. But it won't happen overnight or with just five minutes of work each day.
THE BEST WAY TO MAKE MONEY ONLINE IN 2023 >>
Speedly Funnel Revealed!
Let me show you how the creators of this system are making those numbers from the sales page. Speedly sells for measly $12.97. It seems like a fantastic price given the fact that the system is going to make you 100's per day with little to no work, right?
However, that's only the entry point to Speedly funnel. Once you pay the front end price, you're going to get five more offers right into your face! That's the way how these guys make that much cash with this program, not by using it, but by selling it.
Upsells
Case Studies and Advanced Training ($27) – with this upgrade, you get eight real-life caste studies based on the owner's experience with affiliate marketing. This is allegedly going to help you to make more money in less time. Or is it going to make them more cash? Sometimes it's hard to tell.
DFY Platinum Pack ($37) – as its name suggests, with this upsell, you get the system in a done-for-you format. That includes funnels, social media promos, email campaigns, engagement posts, and more DFY stuff. But if it were that easy, why do they offer to do it for you? To me, it tells me that the training is crap.
Unlimited Traffic Package ($197) – in my opinion, this package is the primary intention of the Speedly system. They know that training sucks and doesn't work, so they give you a chance to buy DFY traffic too.
Resellers Licence ($197) – with this upsell, you can get a reseller license so that you can market Speedly as you were the owner. Meaning, you can keep 100% of profits after you make a sale.
Mastermind Coaching ($97) – the last upsell is all about working with creators 1-on-1.
Refund
Speedly comes with a 30-days money-back guarantee. I'm not sure if the same applies to those upsells, but I'm positive that you can get those 13 bucks back if you are willing to hustle for it. You see, these WarriorPlus vendors tend to make it hard to get a refund, yet they claim that it's issued with no questions asked.
What's Good About Speedly?
I try to be as fair as possible every time I review MMO products like Speedly. However, it's getting harder and harder to find something good about them. All I can see is owners rebranding the same systems over and over to make as much cash as possible off you.
1.) Affiliate Marketing is a Legitimate Way to Make Cash
I liked that the system is based on the affiliate marketing method. The training is not as nearly good as it is with some leaders in the industry, such as Wealthy Affiliate, for example. However, making money by promoting other people's products through your website is a legitimate way to make cash. If you can neglect all those get-rich-quick BS from the sales page, Speedly is a tiny course that can teach you the basics.
2.) You Can Get a Refund If You Don't Like It
Another good thing about Speedly is a 30-days money-back guarantee. WarriorPlus is a safe marketplace that hosts 100′ maybe even 1000's of digital products. In most of the cases, the WarriorPlus vendors approve refunds immediately.
Here's How To Start With Affiliate Marketing for FREE! Learn More!
What's Wrong With Speedly?
On the other hand, you need to see these scam warning signs before you make your decision. Since the first moment you've laid your eyes on the Speedly sales page, these guys have been intentionally leading you to believe in impossible merely to make as many sales as possible.
1.) $298/days With 5 Minutes of Work! Really?
One of the worst things about Speedly is those claims about making money with little to no work. No matter how good the system is, and in this case is not so good, the chances that you're going to make $298 per day are close to zero.

Even if you are an experienced online marketer, it may take you a lot of time and work to achieve those paydays. In my opinion, the sales page is full of get-rich-quick BS that's intentionally put there to make you want this system even more.
2.) Free Traffic Is Not an Instant Way to Get Leads
The creators of Speedly claim that you can get tons of free traffic and make sales on autopilot. But the truth is that free traffic takes a lot of time to work finally. It's not something that you can do for only five minutes per day and then sit back and watch the money flow into your bank account.
3.) You Need to Have a Budget for FB Ads
While reviewing the sales page, I got confused a few times. At one point they claim that you are going to use free traffic, then they say you'll be running ads to get customers. In any case, FB advertising is not cheap, and you'll need a few hundred to start with. Besides, no one can guarantee a positive ROI with paid ads, which is another scam warning sign.
4.) Training is Not Going In-Depth
Affiliate marketing is a process that has many layers. It's not enough to set up a FB fan page, review page, click a few times, and hope that someone is going to click your page and buy the product. That said, Speedly is not the shortest training that I've seen, but it's not even close to in-depth education on affiliate marketing. There's a lot more fine-tuning that these guys have missed.
5.) They Use Fake Scarcity
The timer that counts down the time and those claims that the price is going up when it hits zero are fake. In other words, this is a phony scarcity trick being used to push you into deciding without a second thought.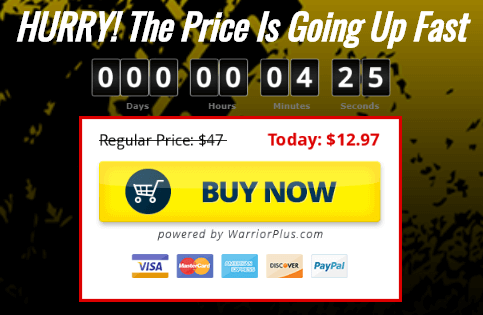 Besides, when the timer has finally reached all zeros, the price had stayed the same. Then it started to count down from ten to zero once again. Moreover, it'll be the same tomorrow, and as long as Speedly is available on the WarriorPlus marketplace.
6.) It Starts With 13 Bucks But Ends With $555!
The worst thing about Speedly is its funnel. You're being fed with a lot of BS designed to sell you this seemingly low-priced product. But as you know already, there are tons of upsells down the road waiting for those who fall for it.
In other words, the creators have chopped the system into pieces so that that they can make more money. If they tell you that the system is going to cost you $500 upfront, they will not make that many sales. Also, that tells me that the product is not going to work if you don't take those upgrades.
7.) Testimonials are Coming From Vendors, Not From Customers
Lastly, those testimonials that you can see in the image below are all given by vendors and other product creators from WarriorPlus. In other words, these guys support each other and give false testimonials so that they can make more money every time they release the new product.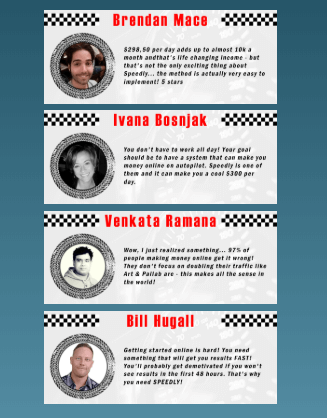 The fact that there are no testimonials from real users is, at least, concerning if not even showing that Speedly could be another internet scam.
Is Speedly a Scam or Legit?
No, Speedly is not a scam. However, the marketing methods these guys use to make sales, as well as the quality of the program, are questionable. You won't make $298.50 per day, working five minutes. There is a lot of work to do, even money to invest, and more!
Affiliate marketing and making money online, in general, is not a get-rich-quick scheme. If you want to make it happen, you need to put in a lot of time and work, especially if you are a newbie. There are no shortcuts or Speedly solutions.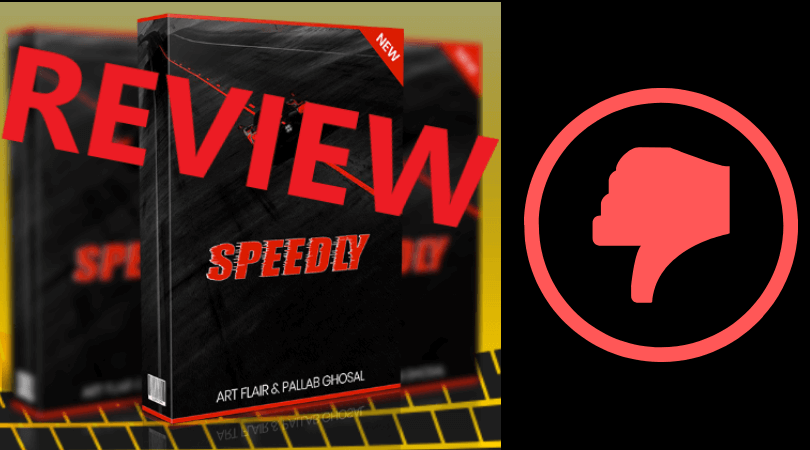 That said, I do not recommend Speedly. I still think that it's a low-quality program that is overhyped to make more money for the creators via upsells. In my mind, that's not the way to do business.
Here's How to Make Money Online!
Thanks for reading my Speedly review. I hope I have helped you to learn more. If you have any questions about this program or maybe you can offer an experience, feel free to leave them in the comment box below.
Before I let you go, let me tell you how I make money online with affiliate marketing with the help of a REAL program. The program that I recommend has everything you need to get started online with zero costs and nothing with getting rich by tomorrow.
Wealthy Affiliate has been and still is the best online platform for making money online. These guys can teach anyone how to become a successful affiliate marketer. The best thing is, it entirely safe and free to join. No BS, no upsells.
These guys have helped thousands of regular people like you and me to make money online and even quit our 9-5's. Make sure to grab your opportunity!
THE BEST WAY TO MAKE MONEY ONLINE IN 2023 >>