Welcome to my Starting From Zero review.
I remember bumping into Fred for the first time via one of his ads on Facebook. He was promoting the first volume of his Starting From Zero book.
The first thing that got my attention was mentioning the name, Robert Kiyosaki. The second thing was Fred's story, a classic rags to riches Cinderella man tale.
Now today, I'm going to take my time to sit back and check out what is he all about.
According to Fred Lam, this book and eCommerce training program can help you to replicate his success in no time.
The guy spent time and time making it work for him, and now, he wants to teach you the same.
He promises that you don't have to know anything about computers or have a bag full of money to start an online business.
Hence the name.
However, the leading question is this: Is Starting From Zero a scam or legit?
Within this Starting From Zero review, I show you what' the story here. Also, I'll show you how the whole thing works.
Lastly, I'll discuss whether it is a scam or a legit way to make money online. Shall we dig in?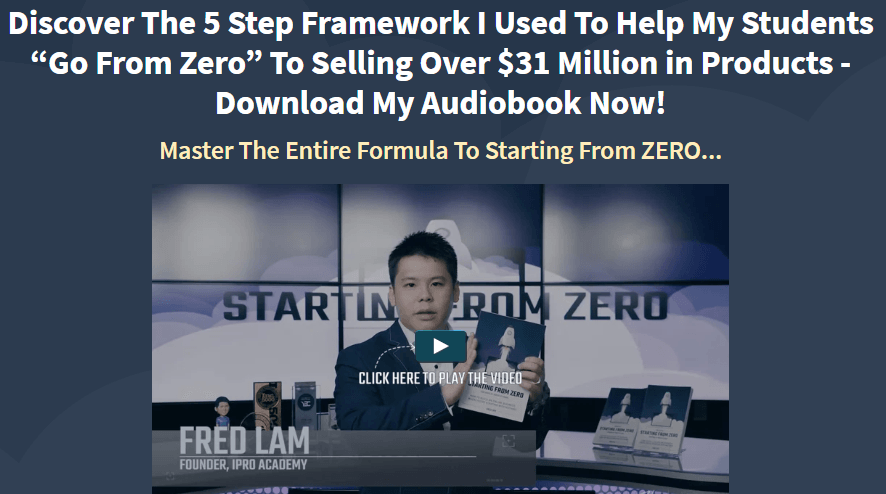 Starting From Zero Review – Overview
Product Type: Dropshipping Training
Owner: Fred Lam
Price: $1.99 + Upsells
Recommended?: Not really…
Quick Summary: Starting From Zero is a dropshipping program created by Fred Lam where he shows the 5-step framework that has helped his students to go from zero to earning an income online.
So is it a scam or legit?
Here's the deal. The ebook is just an invitation to join the first stage of the training and it's not going to be free.
From thereafter, you'll have to pay more and more for each new piece of information.
That's the first thing I didn't like about Starting From Zero in this review. I would like to know the full price before paying anything!
Fred Lam has chopped this course into a few upsells without disclosing the fact. The program could work if you have enough money to invest. It's not going to be really from zero.
Moreover, the sales pitch is misleading and that's another problem.
I don't like sales funnels, hidden upsells, promises about making tons of money fast, etc. I feel that this course could do better if Fred was more transparent about the whole thing.
The good news is, the Starting from Zero course is backed up with a money-back guarantee, which means that you can bail out if you change your mind.
Also, the business model (dropshipping) is legit. However, I'm not a big fan of it because it requires a lot of investment and the success rate is very low.
The bottom line is, Starting From Zero is a legitimate dropshipping training course.
For more information, keep reading my Starting From Zero review, or…
If you're looking to start from zero and build a successful AFFILIATE MARKETING business using the same 4-step system I use to earn consistent passive income online, click the button below!
THE BEST WAY TO MAKE MONEY ONLINE IN 2023 >>
What is Starting From Zero?
Starting From Zero is an ebook by Fred Lam that sells online for $1,99. Before I start about the book, I want to say something about the zero in the title.
He should rename it to Starting From Two Bucks. Pay attention now because this is one of those innocent marketing tricks that are used by intelligent marketers to get you in.
This little ebook is a composite of Fred's knowledge and experience on how to start a successful e-Commerce business.
He wants to show you how he has begun his multimillion business operation from his kitchen table and with zero investment!
Unlike Fred, you'll have to start from $1,99.
However, Starting From Zero ebook is an initial stage of Fred's funnel where he invites you to join him in creating a hub and community of people who want to take control over their financial destiny.
You get the ebook in two formats, audio and downloadable PDF. Inside of the script, you'll find a blueprint for building your online empire based on Lam's model.
One might say it's a sure shoot for only two bucks! However, mark the word funnel.
You see, I believe that this kind of marketing is the reason why people like to say that Starting From Zero is a scam.
However, we've just started this review, so let's hold the verdict. I have a hunch that this guy could be a real deal.
Who is Fred Lam?
Fred Lam is a creator and owner of Starting From Zero program. A few years ago, Fred Lam was a dishwasher. Today, he's a super successful entrepreneur.
This guy started from the very bottom. Working from his kitchen table with nothing but a laptop and a will to succeed, he managed to create an e-commerce business that has generated him millions over time.
Fred claims that he started his business literally with zero investment.
It's hard to believe in the last fact, but hey, it's marketing. You see, stories like Fred's sell like crazy!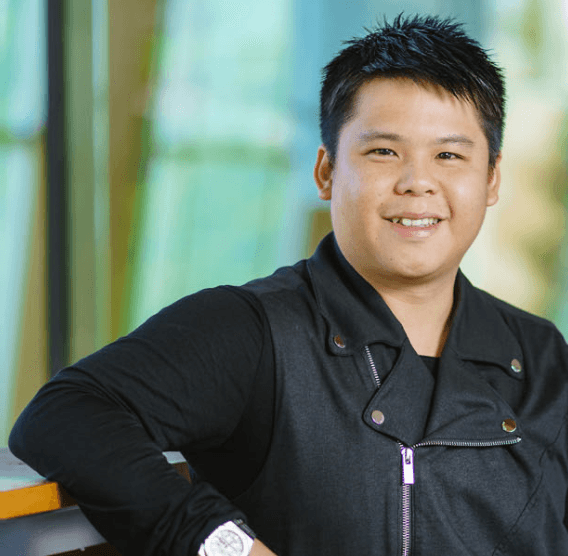 Anyway, Fred Lam is a guy who can show you the secrets of paid traffic. That's why he decided to create the Starting From Zero book and the program.
He claims that he's going the teach you those traffic buying secrets that have made him millions.
He's also a successful writer, multiple business owner, and a young visionary that like to empower other individuals to take the same path as he did.
Now, as we know much more about this young man, it's too hard even to think that Starting From Zero is a scam.
Here's How to Start With Affiliate Marketing for Free!
Starting From Zero Funnel Revealed
Before we dig deeper into the content of the program, let me show you how the whole thing works. As you know, it's not going to be from zero.
Below is the breakdown of Starting From Zero sales funnel.
Ebook – Starting From Zero
Webinar With Fred Lam
The Initial Course – B.S. Framework
Upsell 1 – eComprenuer
Upsell 2 – Influencer Masterclass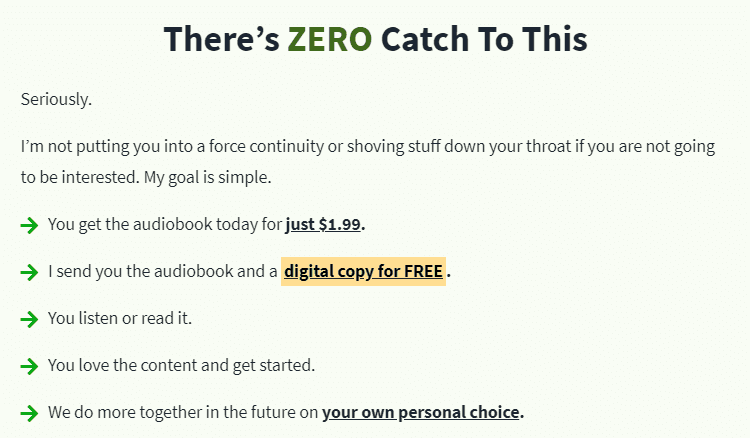 But there's a catch, of course.
As you know already, Fred is going to invite you to buy his audiobook where he gives you the exact blueprint of his success. The book itself is not going to be enough to build anything.
However, it's a neat way of collecting leads and future customers.
The next step that comes naturally after an ebook is a webinar. It's the same case with Fred. He's going to run a probably prerecorded webinar where he's going to talk a lot about nothing.
Online marketers like him use this opportunity to excite you even more.
By the end of the video, he's going to invite you to take his Starting From Zero program.
Now, you can forget about the title of his book. The game is moving from zero to a lot more. It's time to invest some real money, learn from the course, apply the knowledge, and, hopefully, reap what you sow.
Moreover, be prepared to spend a couple of hundred on a paid advertisement online as well.
Fred Lam is teaching people how to start an e-Com business in five steps. I'll explain his five-step method for starting an online store under the next headline of this Starting From Zero review.
Before you start working with Fred, you're entitled to know the real price of his courses, which are probably going to be necessary if you want to make his five-step system work for you.
Here are the real numbers.
eBook $1,99
B.S. Framework $47 one time payment
eComprenuer $147 for three months; $49 per month afterward
Influencer Masterclass $197 one time payment
Grand Total: $393 in cash, followed by $49 per month!
I told you in the beginning to mark the word funnel. However, that's how internet marketing works. You should always remember to inspect exciting products like Starting From Zero before you decide to buy them.
I still hold on to my belief that Fred Lam might not be a scam. Yes, he's indeed applying misleading tactics to get you in but, this guy has a strong reputation, which leaves little room for doubt about the quality of the course itself.
Now when you know the real truth behind the funnel, it's time to inspect Starting From Zero course in more detail.
How Does Starting From Zero Work?
Alright! It's time to take a look at what you can learn from our man Fred Lam. Starting From Zero is a program where Fred is teaching people his five-step system for making money online.
In a nutshell, he can show you how to start an eCommerce store from scratch.
Fred claims that his system has earned his students over $32.3 million over time.
A few of them went hardcore with this system and became millionaires. Some of the students make a six-figure income by applying Fred's method. Many have become five-figure earners, and the numbers are still rising.
You and I will take a look behind the curtains to see what's the noise. As you can see on the image below, the five steps are: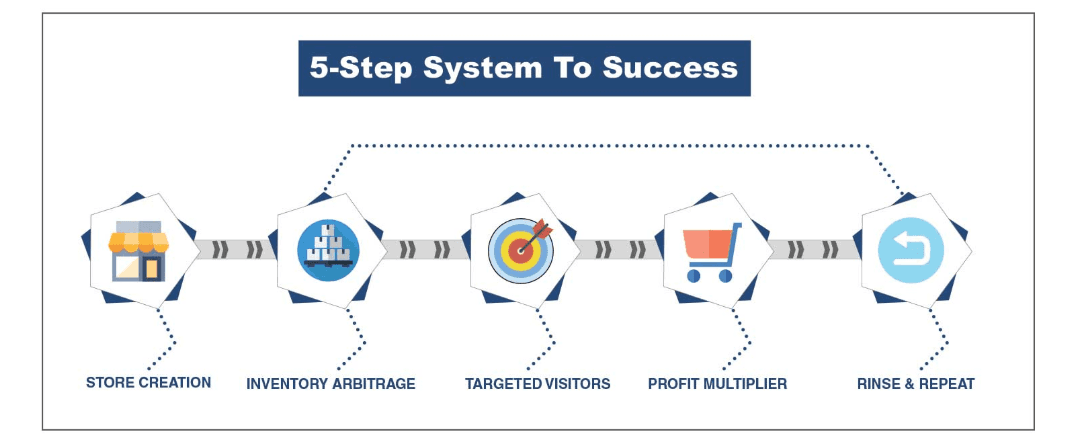 #1 Instant Online Presence
Everyone can start an online store today. It takes only a few minutes and a couple of clicks to have a website up and running. In the first of five steps, Fred is showing how to do so with minimal investment.
#2 Inventory Arbitrage
After you have an online store set, you'll have to select a niche and fill the stock. In the real world, you would have to buy and stock tons of products.
However, the advantage of the online store is that you don't have ever to see the product you sell.
Today it's possible to sell millions of products without the need to stock or ship any of them.
#3 Fast & Targeted Traffic
Fast and targeted traffic is every online marketer's dream. Fred claims that he has a super simple method that can help you to get an incredible amount of traffic to your site.
With the third module of Starting From Zero, he's teaching people how to use Facebook ads to get strictly targeted visitors.
#4 Profit Multiplier
In step number four of Lam's Starting From Zero course, he's going to show you how to sell more. Every business owner wants to get the most out of his customers.
It's the key to more profit. Here you'll learn Fred's secrets to asking customers to spend more while giving them maximum value in return and without annoying them.
#5 Rinse & Repeat
The last step of the five-step system is where you'll learn how to repeat the process over and over. It's time to put the current store on autopilot, rinse and repeat the process as many times you wish. At least that's what Fred claims.
If you're looking to start from zero and build a successful AFFILIATE MARKETING business using the same 4-step system I use to earn consistent passive income online, click the button below!
THE BEST WAY TO MAKE MONEY ONLINE IN 2023 >>
Who is Starting From Zero for?
Here is a cut from Fred Lam's official website.
We truly believe in every single person who takes our education seriously. We know that anyone can build an online business and embrace financial freedom even if you are starting from zero.
Mark the last word from the first sentence. It's for people who take education seriously. If you are looking to start an online business by selling random stuff online via the Shopify store, then Starting From Zero is for you.
Remember that you'll have to invest more than two bucks if you want to make Fred's system work for you as well.
What I Like About Starting From Zero
1.) Fred is a Real Deal
I reviewed a lot of programs so far, guys. Do you know how you can tell if the program is a scam right away?
If the owner is not transparent, in other words, if they hide behind fake names and letters on the screen, you can be sure it's a scam.
However, Starting From Zero's creator, Fred Lam is a real deal. The guy is a master marketer, and there are a few things to learn from him.
2.) Money-Back Guarantee
Starting From Zero comes with a 30-days money-back guarantee. If for any reason you don't like this training course, you can ask for a refund.
I hope they respect the policy. Some owner tends to stall it to keep the cash and left you hanging.
3.) Training is Legitimate
The Starting From Zero system is a legitimate course on eCommerce. I reviewed a lot of dropshipping 'courses' so far, and this is one of the rare that I might recommend.
Fred is showing how to start an eCommerce store in five steps, which are proven to work. Though drop shipping is not the best business, hey, it works.
What I Don't Like
1.) He's Not Honest With His Sales Pitch
The sales pitch for the Starting From Zero program and the whole funnel is unethical. Fred is not honest, and that's a big problem.
There are too many upsells that are probably needed to make this system work. I don't like to see a program that's chopped into pieces that are designed to make you spend more and more of your hard-earned cash.
2.) You'll Have to Pay For Traffic Too
The funnel itself is not the only problem. If you ever get into this, you need to know right from the start that traffic methods that Fred is teaching are expensive.
The whole thing explodes from two dollars into a few hundred in a few days. Many people, including me, like to know upfront what is the real cost.
3.) The Business Model is Hard and Costly
Starting an eCommerce business is not for everyone. Not only expenses will keep rising if you join Starting From Zero course but it's also hard to execute it.
Just by looking at the eCommerce stats, it's easy to see that only about 2-5% make it happen.
I personally am not a fan of this business because it's is hard and expensive compared to my favorite online business model – affiliate marketing.
Check Out Wealthy Affiliate Instead. A Completely Safe and Legitimate Platform!
Is Starting From Zero a Scam?
The fact is that Starting From Zero works. I've seen many positive reviews and testimonials so far.
Some reviewers are critical of Fred because of his selling methodology, including me. If you believe in the title of his system, it means that you are new in the online business world.
Therefore, you're a perfect customer to guys like Fred.
In my opinion, Starting From Zero is not a scam. It is a very well worked out funnel by a guy who has a strong online reputation. Moreover, the system is making money for some people.
I hope that those testimonials are real.
Do I Recommend It? 
The reason why I don't recommend Starting From Zero to beginners is that you'll have to invest money in this program to make it work.
Around $400 plus advertisement costs are going to be necessary to make it work, which is far away from zero.
Don't ever buy into those stories about how you can make money online with little or no investment. That's all marketing, nothing else.
The real truth is always different.
Fred's system works. However, he's not completely honest with his offer. That's why I don't recommend it.
You can end up spending a lot of money. For someone new in the world of online business, that's a lot of money that can find a much better use.
How To Start an Online Business for FREE?
Thanks for reading my Starting From Zero review. I hope that you have gotten all you were looking for. If you have any questions about this program or maybe you can offer an experience, feel free to leave them in the comment box below.
Before I let you go, let me tell you how I make money online with affiliate marketing with the help of a REAL program.
The program that I recommend over scam sites has nothing to do with getting rich quickly. That's not how making money works.
However, the point that I want to stress out is that it could work if you know how and where to start.
Wealthy Affiliate has been and still is the best online platform for making money online. These guys can teach anyone how to become a successful affiliate marketer.
The best thing is, it entirely safe and free to join. No BS, no upsells.
These guys have helped thousands of regular people like you and me to make money online and even quit our 9-5's. Make sure to grab your opportunity!
THE BEST WAY TO MAKE MONEY ONLINE IN 2023 >>
Related Reviews: