When I first saw the sales video the alarm in my head went off! The usual question poped in. Is Super Affiliate Success System a scam or is it a legit program? Shortly after seeing the presentation, I decided to dig in deep into it to uncover the truth. In this Super Affiliate Success System Review, you'll discover all the answers you seek too. 
What are your first impressions on this program? Do you think it's a scam?
You see, affiliate marketing training programs like this one can work. However, they do business in a scammy way which causes a lot of doubt.
The video presentation that you've probably watched has a powerful effect on the human mind. If nothing, it can make you start searching for more information about the program as you're doing right now.
I'm happy that you have discovered my review. I want to help you find everything you need to know about the legitimacy of programs like this one.
Therefore, let's cut the small talk and let's dig into this Super Affiliate Success System Review right away.
Official Website: thesuperaffiliatenetwork.com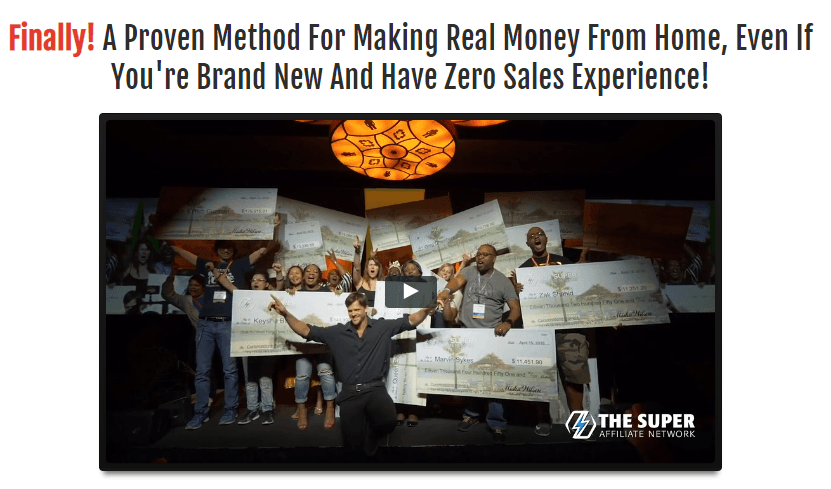 Two Ways to Do Business Online
I've learned, so far, that there are only two ways to sell. You see, I was a waiter in a five-star hotel. My job was to sell expensive stuff to rich people and sometimes, to less wealthy people as well.
The first and best way to sell a product is when you are completely honest with your offer.
In this case, you have a product that works for many people, and you are happy to sell it without any misleading infromation. You give people a free trial, so they can see what's the word. Then, you offer a full membership with a fixed price, and you start the training.
That was how I was taught to sell expensive wines for example.
On the other hand, guys like Misha Wilson like to do business a little bit differently. He will sell you tons of ideas about how you can get rich quick to get you in. In other words, he will manipulate you through many layers of the funnel until you buy the initial course which has little or no value. The course is usually designed to lead you to more expensive offers from the company.
I'll explain the full system in more details a bit later in my Super Affiliate Success System Review.
Because of the faulty system like this one, many people leave the course empty handed and unhappy after they've spent a couple of hundreds while getting nothing in return.
To understand the whole scheme better, here is another offer from the same company that is almost identical to this one. It's a copy paste funnel called My Super Affiliate Mentor. You can witness how virtually the same stuff is being used to get you to buy the identical course from the same company.
I know that I'm a little bit too harsh when I judge this affiliate program or any other this kind. But, the truth is that many people fail because of the misleading information they give out during those videos.
They fail, and they fail hard!
I don't want you to fail.
So, let's make a deal, shall we?
You see, I'm against the business model presented by Micha Wilson. All I can say as a reviewer that this affiliate program is probably a legit system in the end. I believe that you can ultimately make money, but only if you have a pile of cash to invest in the first place. I'll explain why a bit later as well.
Now, here is the deal.
If you are interested in working with Misha Willson, let your first task be to read my Super Affiliate Success System Review to understand how it works.
Therefore, you can have a heads up on the things that will follow once you join in.
On the other hand, I have a better suggestion for you.
If you like the first scenario that I've described in a couple of paragraphs above about doing the business more ethically, feel free to check out the training course I happily recommend. Everyone who is looking to start from scratch, without any pressure to buy more expensive up-salles, and with full access to the training system for a fixed price is more than welcomed to join for free.
MY #1RECOMMENDATION FOR MAKING MONEY ONLINE
What is Super Affiliate Success System?
Super Affiliate Success System is a funnel presented by the owner of The Super Affiliate Network, already mentioned Misha Wilson.
It's a part of the system that leads you from the sales video to purchase of the initial course for $37 per month.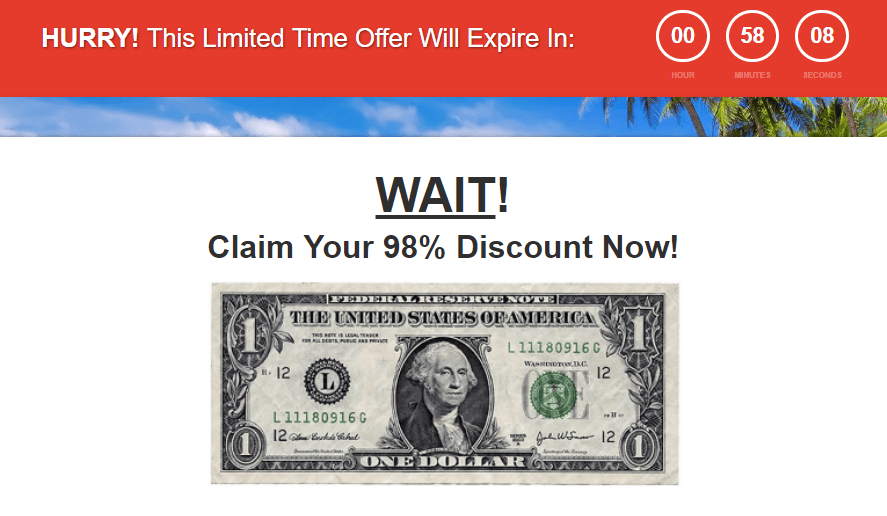 After you buy in, you'll be offered to buy more expensive training.
The problem occurs when you realize that it'll cost you much more than the initial $37 per month to finish the program.
Moreover, to make it work and start earning money, you'll have to invest additional cash in a paid advertisement. The total you'll be spending can leave you broke if you are not prepared.
That is something that they won't tell you in those sales videos.
Instead of telling you the truth, the guys will feed you with a lot of false claims, wrong beliefs, and misleading information for the sole purpose.
They want you to buy the initial course.
I've been through the same system called Internet Jetset created by John Crestani. He's using the same marketing principles to make you buy the initial course. During the training, he brings you halfway there. Then, he offers advanced training, Super Affiliate System which completes the program.
If you don't take the other offer, which is usually a pretty expensive one, you won't get a chance to earn money from the system.
At this moment people start to panic because they've already spent a couple of hundreds. The majority gives up and never sees their money again.
Misha Wilson is using the same principle with his program (notice the similarity in the names) to sell you more without telling you the truth from the start.
Super Affiliate Success System Funnel Revealed!
First, they catch you with a video offer where they give you zero information about the course.
On the other hand, the presentation is full of misleading information, telling you how you can get rich by doing nothing. Moreover, they promise you 4-6 paychecks each week if you agree to go with them.
Be aware because the truth is not even close to what they say.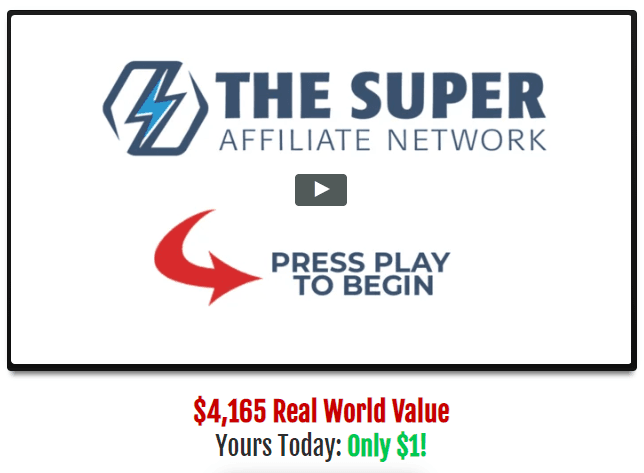 Even if you are a fully conscious person, this kind of sales video can have a powerful hypnotic effect on your mind. It'll leave you with a desire to buy the initial course whether you are aware of it or not.
During a long presentation, they use many keywords that trigger human curiosity such as 'the secret' or 'powerful system.'
After you take a closer look at Super Affiliate Success System and accept the offer to join for free, you'll be redirected to the main website.
The Super Affiliate Network official website is the real deal behind this funnel as well as the one that I've reviewed earlier, My Super Affiliate Network. Both lead you on the same website.
It is the moment where you'll have a chance to buy the initial course from the company.
After you get in and start working on your business, you'll have to stop for a few times.
You see, the whole system is structured in a way that every once in a while you'll have to buy advanced and each time more expensive training.
This kind of affiliate programs can leave you dry, so be aware!
MY #1RECOMMENDATION FOR MAKING MONEY ONLINE
What is Behind the Funnel?
I did my best to get inside of the system so I can give you an honest review.
You see, after joining the course, I've realized that there is something behind all those funny and false promises.
There is a whole set of training modules designed to teach you affiliate marketing.
Mischa Wilson is using My Super Affiliate Mentor, and Super Affiliate Success System funnels only to drive traffic to his main website where he's teaching how to sell online. He's showing the model of affiliate marketing based on paid advertisement.
Both funnels are the best examples of what you can learn from him.
However, as it is usually the case with the affiliate programs that use the same tactics to get recruits, the chance that you'll learn how to sell online for real are very slim. The guys will teach you how to sell the very same course you're learning from, but that's all you'll learn.
As I was able to see, the whole course goes through a couple of modules where you'll learn everything you have to know about promoting The Super Affiliate Network.
You as a recruit will get a chance to set up your funnel.
Misha will show you the basic stuff like setting up a website. Moreover, he'll teach you how to use WordPress and Click Funnels so you can start creating funnels.
His system works on paid traffic.
Therefore, he'll show you how to advertise online to drive potential customers through your funnel.
If you have nerves of steel to endure and enough cash to pay all the additional offers that you'll have to buy if you want to finish, you might get something in return.
Although I don't like the system that Misha Willson apply, I believe that he's not just empty talk. I think there might be some value in the end.
But, I'll wait with my judgment. This Super Affiliate Success System Review is not over yet.
What the Real Price Then?
You see, the system like his is a costly one. You might be thinking that you'll pay only $37 per month, but you'll be wrong.
For $37 per month, Misha Wilson will show you how to set up your website and initial framework. You'll learn how to make funnels just like the one you are interested in, the Super Affiliate Success System.
They will charge you monthly fee to teach you a bunch of stuff that you can find on YouTube for free.
In the meantime, he'll lead you through the system of many upsalles if you want to finish the course.
I was able to discover that the real price of this program goes over $12k!!!
And that's without advertisement costs!
You see, this is a 'pay to play' affiliate marketing business model. It means that you'll have to, in the first place, invest a lot of cash if you want to sell anything. It means that for 37 bucks, you'll only get a peek at what's really behind the course. If you want to play for real, you'll have to spend a couple of thousands before you can make some money in return.
Is Super Affiliate Success System a Scam or Legit?
The Super Affiliate Success System sales funnel is not ethical at all. Misha Wilson is using forceful manipulation to get you to buy the initial course without telling you the truth about his program. It's not right to do business as he does.
Many marketers use the same techniques to sell their courses as well. Some of them I already reviewed earlier such as AWOL for example. The difference between them is in the less scammy approach. With both, you'll end up selling the same course you purchased in the first place.
When someone does business like described, it can be hard to say that he and his program are not a scam.
On the other hand, there is some material behind all that manipulating sales system which means that Super Affiliate Success System is not a scam.
The truth is that SASS is only a sales funnel which will lead you to The Super Affiliate Network where the real program is. In the end, it all looks like a legit affiliate program if you can swallow the fact that you'll be manipulated to buy more until the end of the program. It turns out that's the only way to complete the training and get some money in return.
Do I Recommend This Affiliate Program?
There are several reasons why I don't recommend it!
First of all, the Super Affiliate Success System doesn't exist at all! As you could read in my review, it's only a funnel that leads to The Super Affiliate Network. Misha Wilson is using the same tactic as he did with My Super Affiliate Mentor funnel to drive customers. To me, this opens a big field of suspicion in the quality of the program itself.
Secondly, during the sales presentation, they use non-ethical methods of mind control to get customers. In my mind, that's the worst way of marketing. Misha Wilson is not revealing anything about the course itself like it doesn't matter. Instead, he is forcing you to sign in and start your monthly membership so he can earn at least $37.
Lastly, the full price of SASS or The Super Affiliate Network is far away from the initial 37 bucks. After he gets you in, you'll be forced to pay for more expensive courses or to quit if you don't have enough cash. This kind of strategy is leaving people broke and in debt. Shame on the owners!
I hope you've read my Super Affiliate Success System Review and I managed to help you to make up your mind about the legitimacy of this affiliate program. If you've decided to look further, I have a fantastic recommendation down below if you want to check it out.
Is There Something Better?
You are probably aware of how hard it's to find a legit training in the sea of affiliate marketing programs that are focused on taking your money primarily. I've been through a few scams myself, so I know how complicated process it is.
I believe that today is your lucky day.
The fact you have landed on SASS  could be a significant turning point in your affiliate marketing career.
You see, I am happy to recommend my #1 choice to everyone interested in learning the basic as well as more advanced affiliate marketing. People trust and do business with this company for 15 years. Many of the students have changed their lives forever after joining this affiliate program. I'm the one who can speak about the same change happening to me.
These guys don't use shady manipulation tricks to get you in. And I believe that that's how good reputation spread itself over time.
Kyle and Carson do business in the most ethical manner possible. They will give you full disclosure before you decide to do anything. You'll even get two free websites with hosting included during your free trial which is, by the way, unlimited. There is no time pressure whatsoever.
If you are looking to start an affiliate marketing website from scratch, look no further!
Our online community is growing more significant as we speak. We are 1.4M strong, and the number is still rising. You won't find a better environment to start your brand new online adventure than this one. We work in 193 countries, helping thousands each day to start their online business.
Before I finish this Super Affiliate Success System Review, I invite you to click the image below and check out Wealthy Affiliate.
I hope to see you there.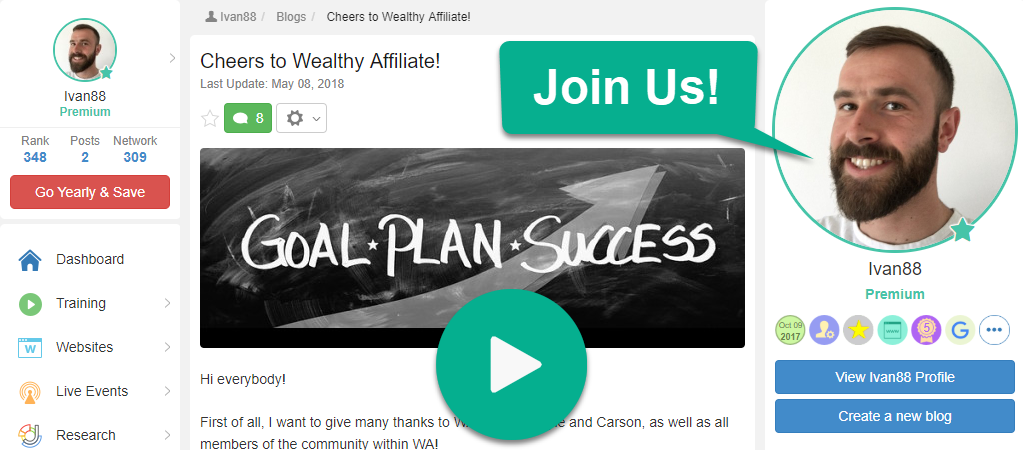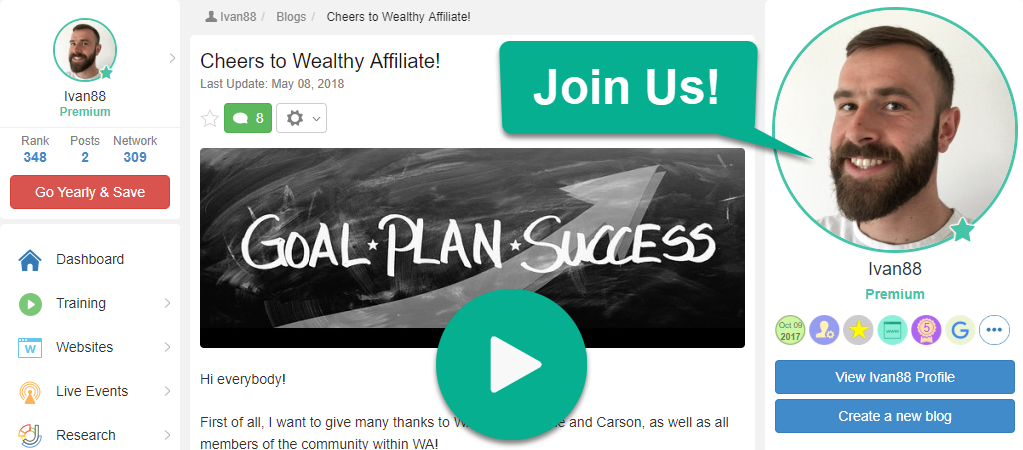 PRESS PLAY TO LEARN MORE!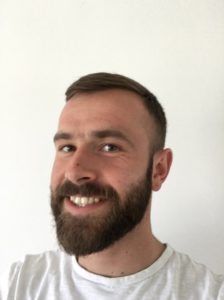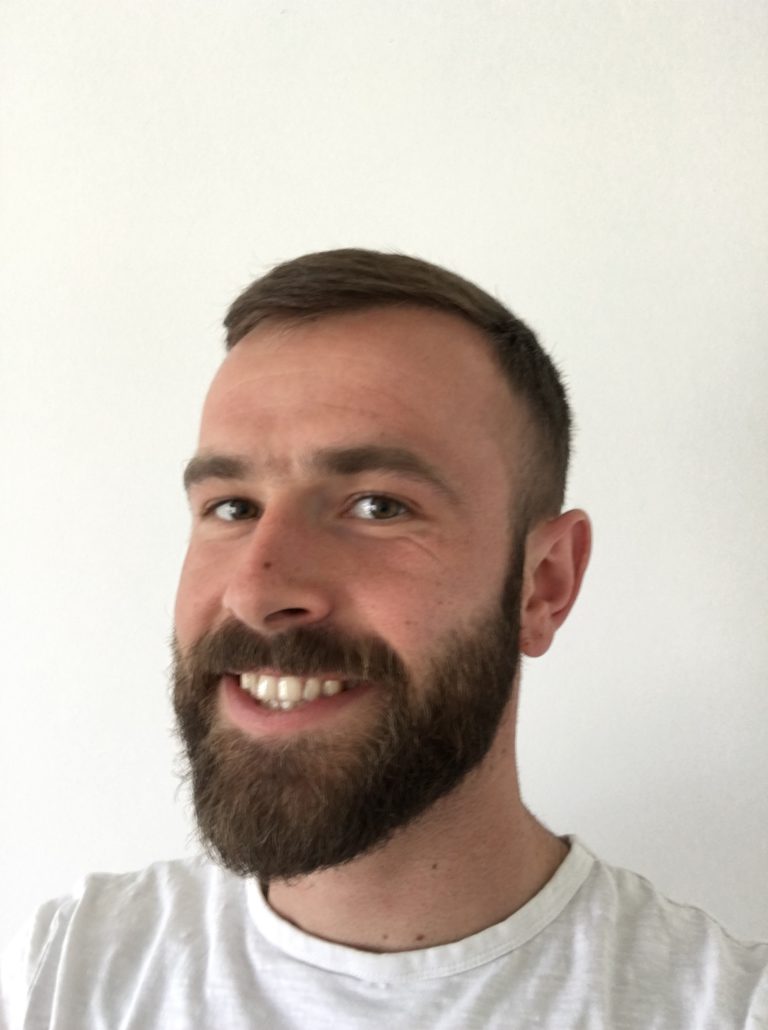 I wish you a successful online marketing journey!
If you need any help or you have a question feel free to contact me!
All the best,
Ivan,
founder, and CEO at
freeaffiliatemarketingbusiness.com