Welcome to my Super Funnels review.
Breakthrough software that automates free traffic, leads, and commissions in less than 60 seconds.
Completely done-for-you Next-Generation funnels that do not require any skills.
The best part about Super Funnels is that you can start making money, even as a complete newbie, in just sixty seconds.
Really? Should I say it's a scam right away?
You are here because you want to know whether or not this software works.
On top of that, you don't believe the hype, and you have tons of questions.
You wanna know whether Brendan Mace is trying to scam you for your hard-earned cash or not.
Also, you don't want fake reviews. You want the truth.
Hi, I'm Ivan and I'm an online marketer who went from losing my time waiting tables to running a thriving online affiliate marketing business.
In the meantime, I have actually tried and reviewed 600+ courses, scams, and even pyramid schemes to find the very best way to generate income online.
Within this Super Funnels review, I'll show you what it is about. I'll explain how the whole thing works from top to bottom.
I'll show you what to expect and give my honest take on whether Super Funnels is a scam or a legit way to start an online business.
Shall we begin?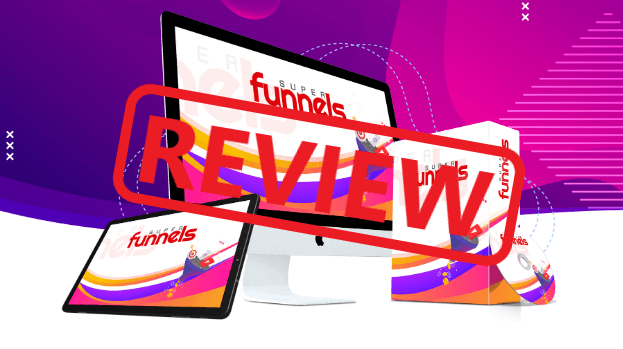 Super Funnels Review – Overview
Product Name: Super Funnels
Product Type: Affiliate Marketing
Owner: Brendan Mace
Price: $23 + UPSELLS
Rating: 2/5
Recommended?: No
Quick Summary: Super Funnels is supposed to be a breakthrough software that automates free traffic, leads, and commissions in less than 60 seconds.
Needles to say, the entire sales page for Super Funnels software is misleading, overhyped, and is not sharing the real deal behind this product.
And the real deal is nowhere close to what's been advertised.
The truth is, Super Funnels is just another system that might work only if you purchase expensive upsells or you have advanced marketing skills.
It's based on affiliate marketing, which is a legitimate method. But this offer is not so.
All you get with Super Funnels is software that creates DFY pages.
However, the problem is that this app is not going to automate free traffic for you and thus, will not make you any money unless you buy expensive upsells.
The bottom line is … Super funnels is not a scam. But…
The sales page is overhyped and full of getting rich quick BS. Worst of all, the product does not live up to any of those claims. You can say it's false advertising too.
This is not recommended, especially not for beginners.
Alternative: If you're a newbie who is looking to earn passive income online, there are other, more beginner-friendly, and cost-effective alternatives. My top-rated affiliate marketing course has helped me to go from earning $0 to $100's per day!
THE BEST WAY TO MAKE MONEY ONLINE IN 2023 >>
What is Super Funnels?
The sales page for Super Funnels is full of hype and doesn't reveal too much.
As it's usual with products created by Brendan Mace, you're told that it's a superb software that's going to get you 100% free traffic, make you commissions in 60 seconds, and the rest is on autopilot.

You see, Brendan Mace and Jono Armstrong are serial product creators and launchers. Most of their "breakthrough" solutions could be found on the WarriorPlus marketplace, including Super Funnels.
Most of those products are rehashed and rebranded versions of one another.
So, in this case, you have a simple funnel builder that you can use to promote affiliate offers. You set up the funnel, send the traffic, and make money. That's the theory.
But the reality is something else. I'll show you what I mean soon.
As I've said, Super Funnels is another in a line from Brendan Mace. You can take a look at Cash Magnets, AffiliSites PRO, or 7 Min Sales Machines. All these systems are almost the same as this one, only rebranded.
And they all share the same flaws too. Let me show you more.
How Do Super Funnels Work?
So as I mentioned already, Super Funnels works on the method called affiliate marketing. It's a process where a marketer earns a commission by promoting other people's products or services.
The most popular and effective way to do so these days is with sales funnels.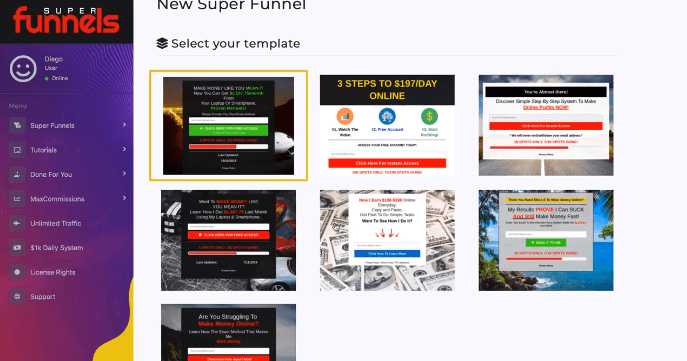 Once you log into the dashboard, you'll get a simple funnel builder where most of the things are done for you, not all things.
In other words, you need to:
Select the Template
Add Your Affiliate Link
Customize Your Funnel
Connect Autoresponder
Send Traffic
Make Money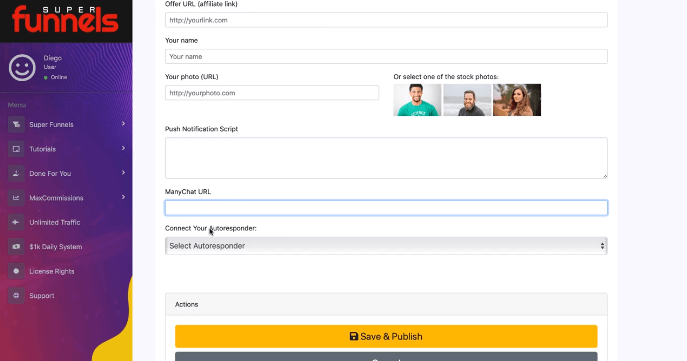 That's how Super Funnels Work once you get inside. The system is relatively easy to use. Most of the technical things are explained during five training videos.
Once you set up your funnel and finish steps 1 to 4, you need to send traffic to your offers. Without traffic, your funnel is dead and won't make you any money.
Within this system, there are a few lessons (very brief) that explain how to get traffic and that a BIG PROBLEM:
If you want to activate that 100% free traffic that's going to make money in 60 seconds, you'll have to share your funnels on Facebook. Five videos show you how to do so:
Old Facebook Method
Get Unlimited Buyer Traffic
Increase Engagements With Your Potential Buyers
Manage Your Friends List
Curiosity Posts
Now, this method is going to work only if you are already an established marketer who has an extensive FB friends list of targeted customers, like Brendan, for example.
If you are a newbie who is just getting started with affiliate marketing, this method won't work for you, especially not in the first 60 seconds. You need to build your following first, which takes months of work.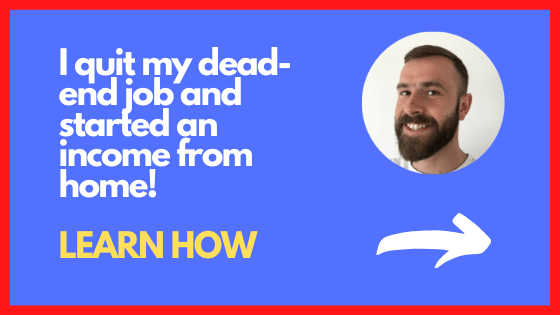 If you don't want to work for free traffic, you can buy it. Super Funnels system contains three training videos where you can learn how to get paid traffic to your funnels.
Bing Ads
Google Ads
FB Ads
If those won't work for you, which might happen, there's an alternative traffic source included.
The guys from Super Funnels recommend SoloTraffic.net. This is a site where you can buy Solo Ads.
In a nutshell, you can rent advertising space from email list owners. You pay them, and they allow you to use their email list to advertise your offer.
This is another very risky method too, and you need a lot of money to make it happen.
Will You Make Money With Super Funnels?
There are two answers to this question.
Affiliate marketing is how I make consistent passive income every single month all year round. That said, I can say that it a great way to make money online.
On the other hand, the reason why I'm not so confident in this particular system is those traffic methods.
Getting free traffic from FB is going to be extremely hard. It takes a lot of time to create an extensive enough list of people who trust you and will buy from you.
Those commissions as shown in the image below are not going to happen immediately.
Those are Brendan's PRO earnings.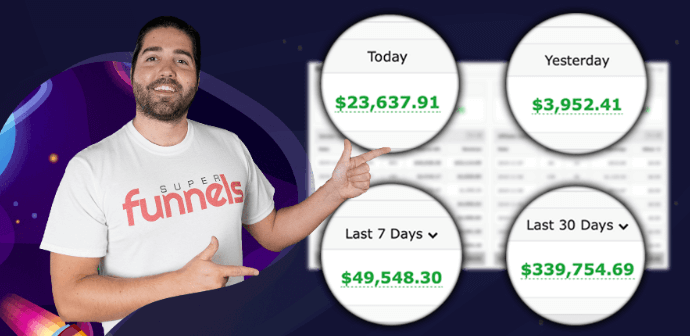 When it comes to paying for ads, you need to have, first of all, a fat stack of cash. At least a few hundred for starters.
Then, you need to be aware that no one can guarantee a positive ROI. If you don't pick your offers carefully, you could burn a lot of money.
On top of that, Solo ads are not the ideal solution too, but they might work.
All in all, I believe that you can't make the money as it's been promised. At least not with the basic version of Super Funnels.
In other words, you'll have to take some, if not all, of the expensive, upsells. Let me explain more.
Super Funnels Funnel Revealed
Product creators and owners like Brendan Mace like to create these simple training courses that sell for a low price. They intentionally excite the sales page and put a low front-end price to get you inside.
Super Funnels is perfect for newbies and people who don't know how these sales pages work.
The front-end price is $23. That's not expensive for a funnel builder and relatively short training on free and paid traffic generation.
However, since this training won't work for 99% of buyers and inexperienced marketers, they will offer you a quick fix with one of the upsells.
Max Commissions $67
Done-For-You $197
Limitless Traffic $197
Complete $1K system $197
License Rights $97
These upsell appear as soon as you pay the front-end price. So basically, they tell you (between the lines) that the system won't work if you don't buy those upgrades.
The worst thing is that they are expensive and come as a surprise.
What I Like About Super Funnels
From the first moment I saw the sales page for this offer, I knew that Super Funnels might be a scam because of those overhyped and misleading claims.
However, the system is not so bad. There are a few positive things about it.
You Get Affiliate Funnels – There's a list of DFY funnels inside from which you can choose yours. You can customize them to make commissions go to you. However, these funnels are not top-quality sales funnels. And frankly, they look a bit scammy. But you don't need to build them, which is a good thing.
They Show How to Get Traffic – Most of the systems like Super Funnels fail to teach you how to get traffic, the most critical ingredient. Here is not the case. You're going to get nine videos that show five different methods for getting traffic. Not an in-depth education, but it's on point.
You Can Get a Refund – Maybe the best thing about this WarriorPlus offer is that you can get your money back. You have 30 days to ask for a refund. However, I need to warn you that WarriorPlus vendors are very strict about it: They might hold on to your money and decline your request.

What I Don't Like About Super Funnels
As much as I like affiliate marketing, I'll never say that you'll make money instantly or claim something that's not true.
This offer is full of misleading claims that are not ethical and should be avoided in marketing.
Overhyped Sales Page – Have never seen super funnel software that does everything for you. Make money in 60 seconds or less with 100% free traffic. Newbie-friendly and super easy to use. Tripple your sales and make money 24/7 on complete autopilot. Should I go on? All these claims from the Super Funnels sales page are misleading and overhyped and a serious scam warning sign.
Traffic is Not 100% Free – A free traffic method will work only if you have a huge FB following. If you don't have that, and you don't know how to drive free traffic, you'll have to rely upon paid ads and solo ads. It's going to cost you a small fortune to get started. And no one can guarantee positive results. It is a piece of information they hide away from you before you buy this offer, and I hate it.
It's Not For Newbies – In theory, affiliate marketing is a relatively simple method. I believe that everyone can learn this system and even make money. However, Super Funnels is not for newbies since they teach advanced techniques and paid traffic. It's best to learn to build a site or a funnel on your own and learn how to get free traffic from search engines and social media before getting into advanced methods and ads.
Upsells – Since the owner knows that every newbie at affiliate marketing is going to be confused with those advanced methods, they offer upsells that fix those problems such as traffic generation. I think it's unfair, mainly because those upsells are hidden out of your sight.
Is Super Funnels a Scam or Legit?
Super Funnels might be a scam. The creator of this software promises unrealistic things that his product can't deliver.
He talks about getting instant traffic and making money in less than 60 seconds. Just because of those claims, I'm sure that this is a scam.
But since you get some funnel-building software, it's a legitimate offer.
However, the problem with Super Funnels is that you will not make any money with it unless you get traffic to your funnels.
Brendan Mace is not going to teach you how to do so, which is another problem with this app.
Instead, he will "force" you to buy expensive upsells one of which is about getting traffic to your pages.
Since the entire offer is really unethical, scammy, and misleading, I highly doubt that the traffic is as real and profitable as the owner promises.
On the good side of things, I like the fact that Super Funnels comes with an option to ask for your money back.
If you feel like you've been scammed or you don't like it, you can contact the vendor and ask for a refund.
Just keep in mind that they might turn your request down.
Do I Recommend Super Funnels?
I don't recommend this offer to my readers.
In my opinion, Super Funnels an overhyped marketing funnel that's preys on newbies.
Making money with affiliate marketing has nothing to do with those claims such as '60 seconds to profits' and many other get-rich-quick BS that they spread with those sales pages.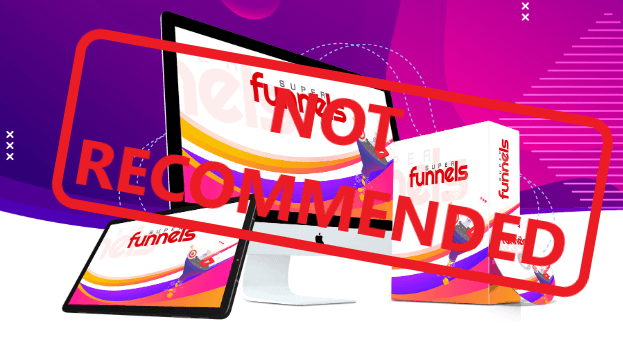 Besides, if you are a newbie, you're going to have a hard time making it work for you.
If you don't have enough money to pay for ads or those upsells, or if you don't have an extensive list on FB of people who are interested in making money online, this is going to be a waste of your time and money.
I believe that the best way to get started with affiliate marketing is if you learn the process in a step-by-step manner.
If you want long-term success, that's the only way to go.
How I Make Money With Affiliate Marketing
The program that I recommend as my #1 solution for making money online with affiliate marketing is 100% based on free traffic from SEO and blogging.
The best thing about this method is that it is passive in terms of results and income.
In other words, you could be earning an income from your site for years and years to come because this method is so POWERFUL and overlooked by many marketers.
Just take a look at commissions that I earn passively all thanks to my #1 recommendation.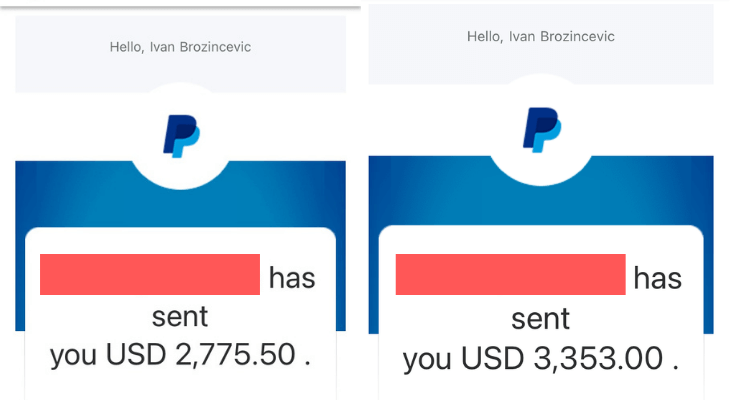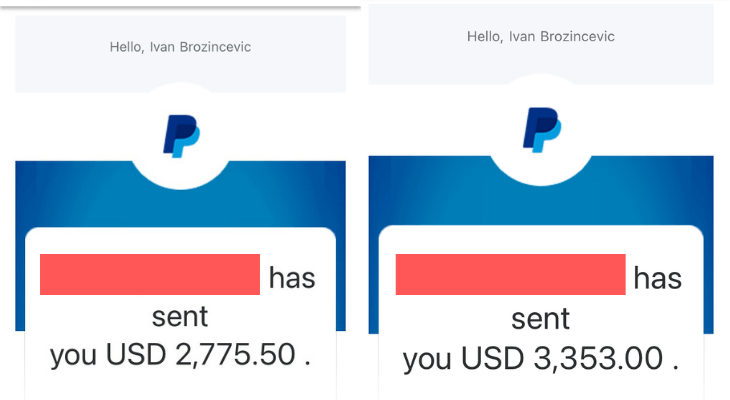 If you want to learn more about how you too can start leveraging SEO to get tons of visitors to your website and make money online with affiliate marketing, click the button below!
Among the best features of my # 1 ranked course is that you can take it for a test drive (just a $49 Premium subscription).
You will get one complimentary site and access to the very first ten lessons from the course to try things out.
After evaluating over 600+ programs on the web, my conclusion is easy. This is the best course to learn about ins and outs of affiliate marketing.
And if you're looking for the very same, click the button below!
THE BEST WAY TO MAKE MONEY ONLINE IN 2023 >>
If you need any help or you have a question, feel free to contact me.
Thanks for reading my Super Funnels review.
All the best, Ivan. Founder, and CEO @freeaffiliatemarketingbusiness.com