Are you looking for a real Authority Site System review? Not sure if it's worth your hard-earned money or a scam? You're not alone!
Many people are wondering what all the fuss is about this program, and whether it can really deliver on its bold claims.
TASS, short for "The Authority Site System," was developed by Authority Hacker. They claim to help you construct authoritative websites, achieve high rankings on Google, and generate online revenue.
But is it all it's cracked up to be? Or is TASS a scam?
Your search brought you to the right place!
To answer these questions and more I conducted an extensive review of what this comprehensive system has to offer. I purchased the course and spent a few months building my authority website by following Gael's and Mark's instructions.
In this post, I share my findings so you can decide if investing in this system is right for you!
After reading this Authority Site System review, you'll know for sure if this is the right choice for you to start earning online income through building authority sites.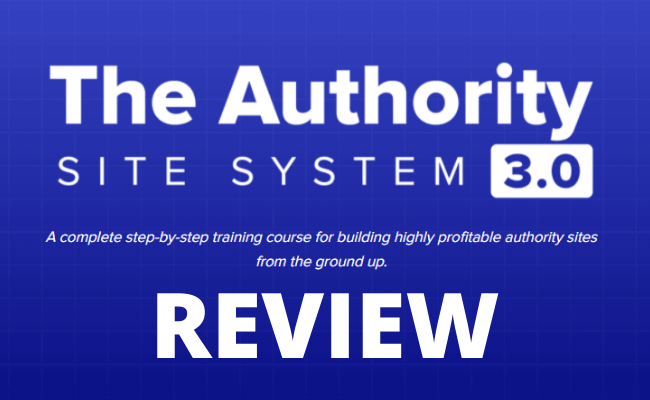 Is Authority Site System A Scam?
Like with any online course, some people have questioned the legitimacy of the Authority Site System, and some have gone as far as calling it a scam. But is it really a scam?
The answer is a resounding NO. There are several reasons why this assertion is false.
First, Gael Breton and Mark Webster are well-known figures in the Internet marketing industry, and their authority websites have been featured in reputable online publications like The Huffington Post and Forbes Magazine.
Second, the Authority Site System has a massive following, with thousands of satisfied customers who have reported excellent results from following the course's teachings.
Consequently, I am one of those satisfied customers. I have implemented the entire course and will share my personal results a bit later in this review of the Authority Site System.
Third, the course is backed by a 60-day money-back guarantee, which means that you can get a full refund if you are not satisfied with the program.
Additionally, the Authority Site System has a comprehensive structure, and its teachings are based on proven strategies and techniques that have been tested and verified over time.
The course includes step-by-step tutorials, webinars, and a private community where subscribers can interact and share their experiences. Moreover, the course is regularly updated to reflect the latest trends and developments in the Internet marketing industry.
That said, the idea that the Authority Site System is a scam is nothing but a baseless and unfounded claim. The course is a legitimate and highly effective tool for anyone looking to build and grow an authoritative website.
Its structure, credibility, and track record make it a valuable investment for anyone who is serious about succeeding in the online business space.
The only issue with TASS is that it costs a hefty chunk of change. And, it requires a significant investment in order to actually implement Mark's and Gael's expert advice.
Alternative: If you're a newbie who is looking to build affiliate websites, there are other, more beginner-friendly, and cost-effective options. My affiliate marketing course has helped 100s of students so far to start for FREE! (click the banner below to learn more).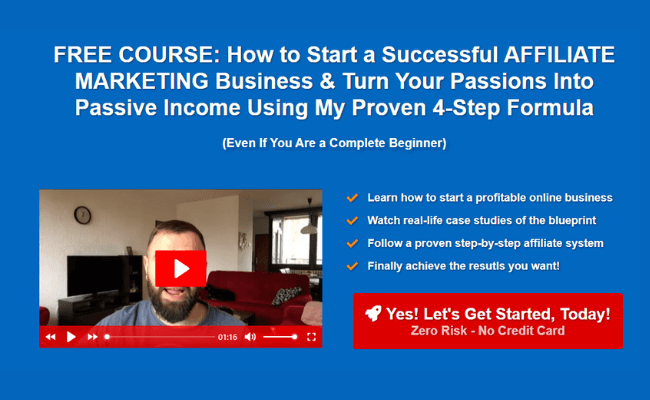 What Is The Authority Site System?
With that critical question out of our way, let me share a bit more about the Authority Site System in the rest of my review.
As touched upon earlier, the Authority Site System is a comprehensive online course that teaches its students how to build and grow authority websites. The program was developed by renowned Internet marketers, Gael Breton and Mark Webster.
The course covers a wide array of topics and actually consists of 15 training modules where Mark and Gael explain the following topics:
Market research
Keyword research
Teach site setup
Design & Branding
Content creation
Link building
Hiring & Outsourcing
Monetization
Analytics & Tracking
One of the key features of the Authority Site System is the "Content Creation Framework," which provides a detailed guide on how to create high-quality, SEO-friendly content that resonates with the target audience.
I personally struggled with this area before investing in TASS. My impression is that Mark and Gael are expert content creators, and their Authority Site System utilizes a holistic approach to website building, encompassing all aspects of the above.
The system also emphasizes the importance of building a strong backlink profile by obtaining high-quality backlinks from authoritative websites.
This was another area where I personally struggled before. However, after implementing techniques from TASS, I was actually able to generate tons of high-quality backlinks and improve my DA dramatically, even with a brand-new website!
By the way, I have created a video review of the Authority Site System in case you are interested in this format.
What Is My Experience With the Authority Site System?
My experience with the Authority Site System has been nothing short of amazing! I have gained an immense amount of knowledge and skills that have allowed me to build a successful authority website from scratch.
The program has exceeded my expectations and has provided me with a robust learning experience that has empowered me to achieve my goals.
From the very beginning, Mark and Gael have been extremely hands-on and extremely knowledgeable. Their expertise in the field of affiliate marketing is simply unparalleled, and they have left no stone unturned in equipping their students with the right skills and tools to succeed.
From their insightful case studies to the live site builds everything about their training has been top-notch.
What I found particularly impressive about the Authority Site System was its focus on staying away from any get-rich-quick schemes. Instead, the program emphasizes developing a genuine and sustainable long-term affiliate authority website in a niche of your choice.
This approach resonated with me as a student, and I felt like it gave me the necessary foundation to build a successful authority website that will last for years to come.
What Are My Results With The Authority Site System?
I personally chose espresso machines as my niche, and with the help of the Authority Site System, I have been able to create valuable content around that niche.
Over the course of three months, I have written around 30 articles, generated backlinks using the recommended techniques, and implemented other strategies that I learned from the program.
These efforts have contributed towards an amazing result: my site is now ranking on page one of Google for several keywords!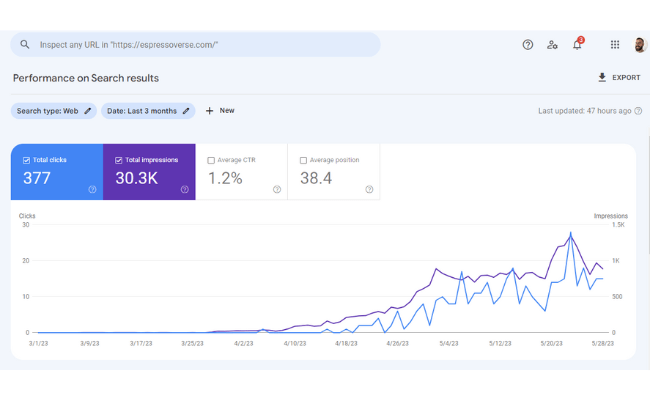 The website is a few months only and it is already picking up a nice amount of traffic from Google. A few posts have reached the top 3 positions and others are climbing as I keep working on my content.
Naturally, some of these clicks eventually ended up on Amazon and I managed to earn a few $100s in just a few short months working on my Authority Site System website.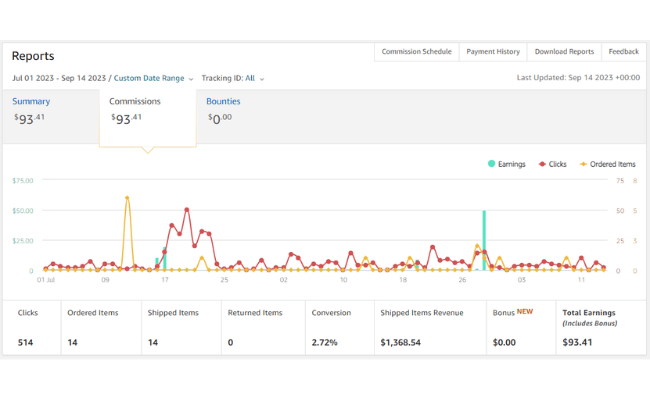 The course works, as evident. However, it goes without saying that completing the training and achieving results requires considerable effort.
Based on my experience, it typically takes around 6 months to finish the TASS training and establish a strong foundation for your site. Subsequently, it may take another 6 months to begin seeing results and generating income.
In the following sections of my Authority Site System review, I will share even more information about the course. First, let me share a few about the creators of TASS.
Who Are Mark Webster and Gael Breton?
Mark Webster and Gael Breton are two highly successful affiliate marketers and authority website experts who have made a name for themselves in the online marketing world.
They are the masterminds behind the highly popular website authorityhacker.com, which is widely recognized as one of the top resources for bloggers, SEO specialists, and affiliate marketers alike.
The duo started their joint venture back in 2013 and have since created numerous authority websites that have generated millions of dollars in income.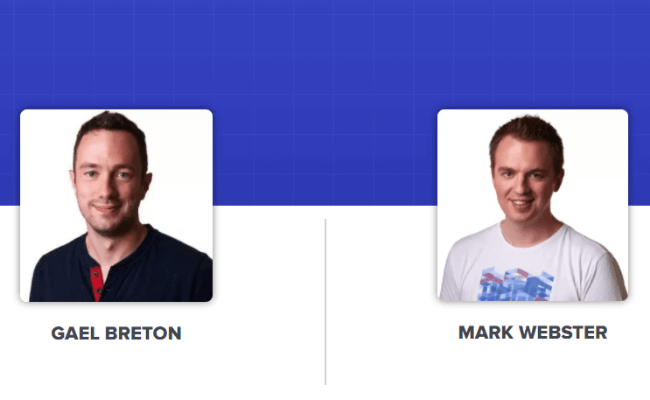 Their immense success has led them to share their knowledge and expertise with others through their highly sought-after course, The Authority Site System.
Gael Breton serves as the co-founder and editor-in-chief of authorityhacker.com, where he is responsible for content creation, brand design, and course development, among other creative tasks.
With years of experience in the industry, Gael has made a name for himself as a leading authority on content marketing and SEO.
In contrast, Mark Webster is the second co-founder and serves as the system expert. He is responsible for handling various technical aspects of their business, including building websites, creating backlinks, outsourcing, and providing support.
He has gained immense expertise in these areas over the years and is widely recognized as one of the leading authorities in affiliate marketing.
Both Mark and Gael are incredibly talented and experienced individuals who have made a significant impact on the online marketing industry. Their blogs, podcasts, and courses are widely recognized as authoritative sources of information by thousands of people around the world.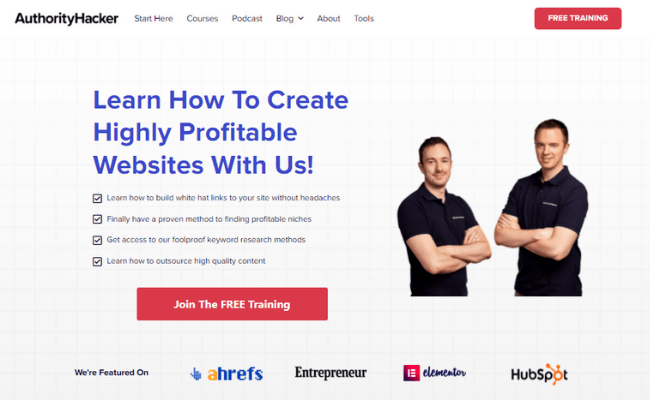 They have dedicated their lives to mastering the art of building successful authority websites and have proven time and again that they are truly exceptional at what they do.
Indeed, they serve as a great source of inspiration and role models for anyone looking to succeed in the highly competitive world of online marketing.
With that in mind, let's move on to the next section of the Authority Site System review, where we'll break down the valuable lessons you can learn from these two marketing experts.
How Does The Authority Site System Work?
The Authority Site System training is designed to guide you through the process of starting an affiliate marketing site and ultimately becoming an authority in your chosen niche.
Sounds simple, right? Well, the truth is, it's not that easy.
Building and growing an authoritative website is no walk in the park. However, with the right instructions and a lot of hard work and effort, anything is possible.
But here's the great thing about the Authority Site System: you gain access to comprehensive video lessons and step-by-step training. These resources will teach you how to create your own niche authority site.
Below is a breakdown of the course curriculum for easy reference:
Internet Marketing 101 – The first module of the Authority Sites System covers the concept of authority sites. It provides live examples that demonstrate how authority sites are built, how they generate revenue, and how they drive traffic.
Brainstorming Niches – Inside the Authority Site System module, you'll learn effective techniques for brainstorming niche ideas. Gael will guide you in identifying what makes a niche good for you, allowing you to focus on niches that genuinely inspire you.
Qualifying Niches – The previous module was about market research, and now it's time to select the perfect niche for your authority website. This comprehensive module is dedicated to in-depth research and niche refinement.
Planning Your Site – Once you've completed the last module, Gael will demonstrate how to plan content by analyzing your competition. He will explain the significance of pillar content and guide you in creating categories that form the foundation of your authority site.
Setting Up Your Site – In this module, Gael and Mark will guide you through the process of buying and setting up a domain and hosting. They will then walk you through the basic WordPress setup, email setup, theme setup, and all other technical aspects.
Branding Your Site – This module of The Authority Site System focuses on branding. It is crucial for your site to stand out in the market, and this is accomplished by designing a captivating brand that appeals to your niche audience.
Setting Up Posts & Pages – This module is the first of four training modules where we will teach you how to create all the necessary content for your website. Additionally, you will learn about the distinction between these pages and blog posts that can generate traffic to your site.
Preparing Info Content –  In this module of The Authority Site System, you will learn how to find ideas for your informative posts, create lists to ensure a constant flow of ideas and much more.
Writing Content – This module of the Authority Site System provides practical training on conducting research for your posts using free resources like YouTube and SERP. You will also learn how to outline your post and craft high-quality blog content.
Uploading & Optimising Content – The next step is optimizing for keywords, titles, tags, and URLs. Additionally, you will learn how to upload images, write a meta description, and add internal and external links, among other things. The last step is publishing your content.
Initial Link Building – The Authority Site System has a dedicated module that delves deep into link building. This comprehensive training module is truly invaluable, especially this particular lesson.
Affiliate Monetisation Set-Up – Once you reach this module, you will learn how to find and apply for affiliate programs, select products, utilize affiliate links, manage your links, and more! The primary focus centres around the Amazon Associates program.
Commercial Content – In this comprehensive module of the Authority Site System, you will gain valuable insights into creating, uploading, and publishing your commercial content. Examples of commercial content include product reviews, product comparison articles, and roundups.
Advanced Tactics – Advanced tactics involve improving your skills and implementing the knowledge you've gained so far. The primary concept is to delegate content creation and concentrate on activities like conversions, sales, and technical aspects of your website.
Becoming An Authority – This is the last module of the Authority Site System course where you will consolidate your learning and prepare for the upcoming months. Keep in mind that becoming an authority in your niche requires dedication, time, and effort – the course is just the start.
Who Is Authority Site System For?
The Authority Site System is specifically designed for individuals who understand the dedication of building an authority site from scratch, requiring significant time and effort. Long-term success is the main focus.
Gael and Mark have meticulously prepared over 180 lessons that cover everything from A to Z. In order to fully grasp the process, one must invest several weeks, if not months, in learning the intricacies.
Obtaining traffic and generating sales usually takes several more months, possibly even up to a year, to master these methods and achieve initial results.
Finally, to establish authority with search engines and users, one must persistently follow and repeat the process for several more months.
Hence, the Authority Site System is exclusively intended for individuals who genuinely aspire to build websites and have the financial resources to enrol in this comprehensive course.
It caters to both beginners and advanced marketers alike.
serious individuals
hard workers
affiliate marketers
content creators
bloggers
website owners
Who Is Authority Site System Not For?
There are two types of individuals in the world. One person is willing to work hard for success in any field, while the other constantly seeks shortcuts and never achieves success.
The Authority Site System is not for the latter type of person. In other words, it's not suitable for those who are unwilling to invest significant time and effort into their websites.
Furthermore, it's not for individuals who dislike the concept of building authority sites, creating content, improving search engine rankings, and assisting others in solving problems.
How Much Does Authority Site System Cost?
To gain access to the Authority Site System's 15 training modules and other features, investing in this course requires a payment of $599 (plus VAT).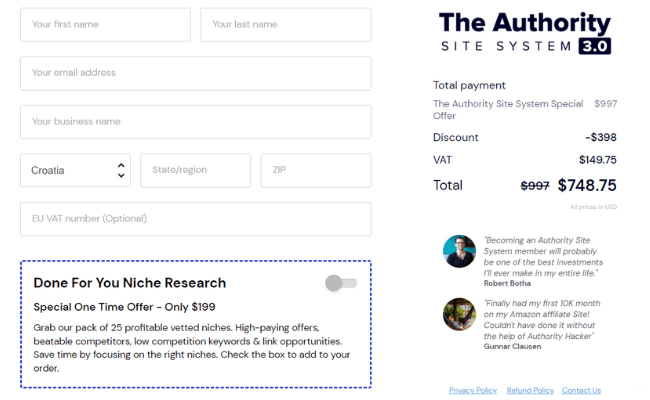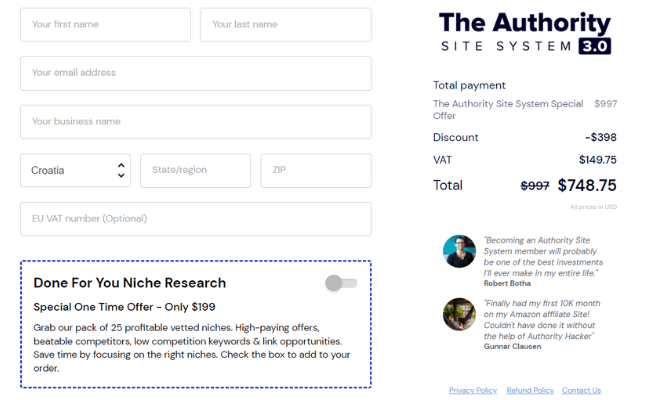 If you prefer not to pay upfront, we offer an alternative: six monthly payments of $149. Although this option comes at a higher cost, it provides a more manageable way to cover the expenses.
Additionally, we have a special offer on the checkout page. The Authority Site System team is offering niche research for only $199 as a one-time fee.
This offer includes a pack of 25 profitable vetted niches with high-paying offers, low-competition keywords, and link opportunities. It's an optional but highly recommended upgrade to expedite your progress.
The great news is that there are no other upsells once you're inside! However, please note that there might be additional expenses when you start building your site.
TASS Extra Costs
For example, you will have to pay for:
hosting
domain
tools
outsourcing
To account for miscellaneous expenses, it is recommended to set aside an additional $500. Unfortunately, the guys will not supply any tools.
TASS Refund Policy
When you visit the Authority Hacker and The Authority Site System pages, you'll notice that they provide a 30-day period for testing the course. This means there is a refund policy in place.
The great news is that the refund is issued without any complicated requirements. In other words, you don't have to go through any unnecessary steps to get your money back. All you need to do is reach out in time, and you're good to go!
Is Authority Site System Worth Time and Money?
Yes, it's really worth time and money. The Authority Site System (TASS) is a highly valuable digital marketing course. More importantly, students of TASS 3.0 are achieving results.
Furthermore, the training is well-structured and comprehensive. Gael and Marc have left no stone unturned in their approach to building authority websites.
While I understand that the price may not be affordable for everyone, the investment could pay off in less than a year if you're committed to The Authority Site System 3.0 from the start.
Is the Authority Site System Recommended?
Yes, I gladly recommend the Authority Site System to anyone interested in learning how to build a successful website from scratch. However, I must emphasize that this course requires a significant investment of time, effort, and money.
Unlike in the past, building an authoritative website is no longer easy. Nowadays, an authority site needs to demonstrate its commitment to the business by providing a wealth of high-quality, SEO-optimized content.
The Authority Site System is particularly suitable for individuals who enjoy blogging and writing and wish to monetize their passions through affiliate marketing. However, newcomers may find certain aspects overwhelming.
The Authority Site System Alternatives
If the Authority Site System isn't your thing, here are some alternative courses you can consider.
Free Affiliate Marketing Business Course
I have created a free step-by-step affiliate marketing course that follows the same direction as TASS. In other words, I share my experience and teach you how to build your own niche affiliate website and grow it to become an authority and earn revenue with affiliate marketing. (click the banner below to learn more).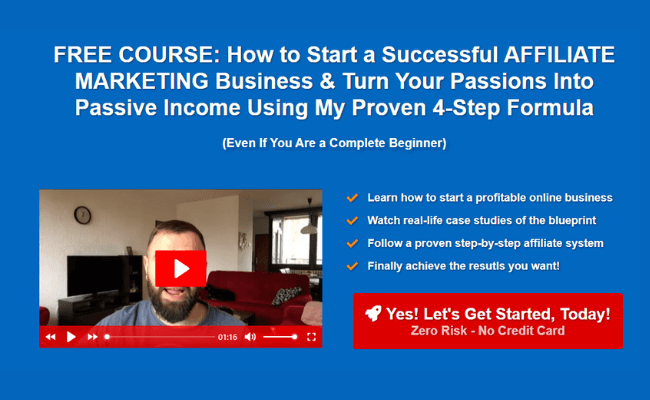 Invincible Marketer
A great alternative to the Authority Site System is a brand-new affiliate marketing course called Invincible Marketer. It might be the best solution if you are aiming to become a niche authority using funnels.
Affiliate Lab
Similar to The Authority Site System, the Affiliate Lab course teaches how to rank sites on Google, and earn through affiliate marketing. However, the Affiliate Lab takes it one step further and shows how to sell these sites for 40x profits.
Wealthy Affiliate
In contrast to TASS, Wealthy Affiliate offers all the tools and private coaching that you need without spending extra money, Moreover, WA is far less expensive and maybe even a better course in terms of the quality of the information.
You can even join WA for free and it is going to cost you only $49 to get access to training, tools, and support!
Legendary Marketer
Legendary Marketer is for those who like the idea of the MMO niche and would like to make money promoting high-ticket items. It's not focused on slow success and is a high-quality course.
The Super Affiliate Network
If you would like to learn how to create simple websites also known as sales funnels, The Super Affiliate Network is a good alternative to The Authority Site System. Keep in mind that it requires a lot of extra investment too.
But at least it offers a free trial. It's a less-risky option.
Commission Hero
Commission Hero is for people who would like to learn how to make money with ClickBank. It is a course created by one of the top CB affiliates and is packed with a lot of value.
The only problem with this course is the high price that is followed by paid ads (more costs).
The Authority Site System Review – Verdict
Overall, I'm extremely satisfied with the Authority Site System and everything that comes with it. It's one of the best affiliate marketing and SEO-based courses available today.
The price may be high for some, but if you're willing to invest, I highly recommend Gael's and Mark's courses.
✅ Pros:
You Get 15 Comprehensive Training Modules
No-BS Approach To Affiliate Marketing
Access to Authority Hacker Facebook Community is Included
Tons of Templates and Resources Also Included
Mark and Gael are well-known experts In This Field
The Authority Site System Is One Of The Top Rated Courses
Case Studies Are Included So You Can See How It Works
Students Are Getting Results With TASS
The Authority Site System Has a Generous Refund Policy
Course Is Constantly Updated – Current Version 3.0
🛑 Cons:
Although It's A High-Quality Course, It's Expensive
TASS Does Not Include Tools
No Free Trial Whatsoever
Building Authority Sites Is Not For Everyone
It Takes a Long Time To See Results
If you need more time and resources to make your decision, you can follow their blog, Authority Hacker, listen to their podcast, and more.
Additionally, you can join a free webinar where they will provide detailed information about the Authority Site System.
Please keep in mind that succeeding in this course requires a significant amount of time and effort. If you're not prepared to wait a year or two for results, it may not be the right fit for you.
Thank you for reading my review! What do you think? Have you had any experience with The Authority Site System or been a member of the program? Do you think it is a scam, legit, worth it or not?
Feel free to share your thoughts and opinions in the comment section below!
Frequently Asked Questions
Is The Authority Site System Worth $997?
While some may find the course overpriced, there are bright aspects to consider. The course offers plentiful useful and workable information. If you utilize it effectively and achieve success, the initial investment will be worthwhile.
Do I Have to Buy Tools?
To increase your expenditure, you'll need to allocate funds for tools like websites, hosting, and keyword research tools. This will immediately raise the total cost of the course by a few hundred dollars.
Can I Get a Refund If I Change My Mind?
You have 30 days to inspect the course and apply for a refund if you change your mind. However, please note that tools and extra costs may not be refundable.
What Will I Learn from The Authority Site System?
Learn how to build an authority niche website, drive organic traffic from search engines, apply for affiliate programs, and make money through affiliate marketing.
Are Gael Breton and Mark Webster Experts?
While Gael and Mart may face some trash-talk, I genuinely believe that these guys are true experts. Although they might not be Neil Patel, they certainly know how authority sites work.
Is the Authority Site System a Scam?
This is not a scam, pyramid scheme, MLM, or get-rich-quick scheme. It's a 100% legitimate course that teaches workable methods for building affiliate websites.
How Long Does It Take To Get Results?
The Authority Site System may require up to a year to achieve results. Due to its slow nature, it demands substantial time and effort. However, setting a realistic expectation of 6-12 months is reasonable.
Are People Getting Results With The Authority Site System?
Certainly! This course is producing results for its users. Numerous positive testimonials and reviews can be found online. It's worth noting that these results are achieved by users who put in a tremendous amount of effort.
How Much Money Can I Make?
While there is no guarantee of earning money with The Authority Site System, reaching positive outcomes can lead to unlimited potential.
How to Start With Affiliate Marketing For Free
If The Authority Site System is too expensive for you, I have a great recommendation at the end of my review!
I have created a free step-by-step course where I teach how to leverage a simple 4-step formula that I've been using to earn a full-time income online with affiliate marketing!
If you want to learn more about how you can start making money online with affiliate marketing, without having to pay 1000s of dollars for a training course, click the button above!
I'll see you on the next page…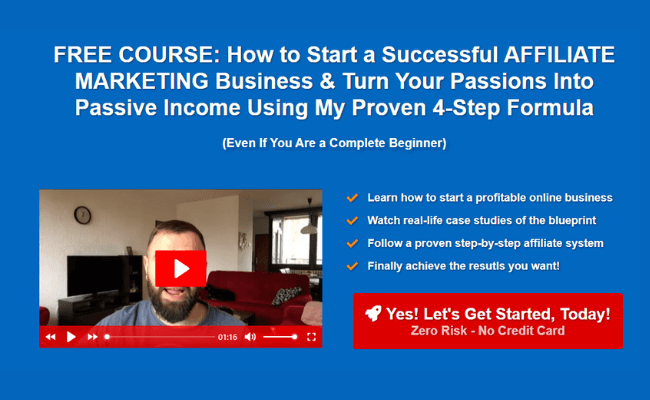 If you need any help or you have a question, feel free to contact me.
And don't forget to share this Authority Site System review with your friends and family!
All the best, Ivan. Founder, and CEO @freeaffiliatemarketingbusiness.com