Welcome to my Commission League review.
You have probably participated in a free webinar with Mike Balmaceda where he told you that you can make tons of cash using this simple and effective online marketing method.
And now, you are curious to find out what this method is really about.
Moreover, not only that you want to know what it is about, but it's also critical to learn whether the Commission League is a scam or a legit program that is going to work for beginners.
You don't want to waste a few thousand bucks on a scam, right?
In Mike's own words, The Commission League is a system that is designed to work in three simple steps and make you tons of money working as little as 20 minutes per day even as a beginner.
Sounds incredible! But is it really? Can you make tons of money that fast even as a newbie?
Well, truth be told, NO, you can't make tons of cash right off the bat. Maybe down the road, yes. However, expecting to bank big bucks as soon as you enter Mike's training would be foolish.
In this Commission League review, I'll explain everything you must know before handing over your hard earn cash for this ClickBank product. Also, no worries, I'm not associated with the owners, so my review is unbiased.
That said, let's begin already! Shall we?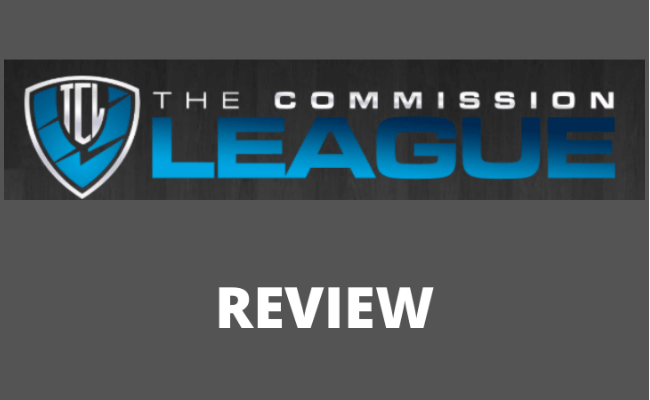 The Commission League Review – Overview
Product Type: Affiliate Marketing
Product Price: $3,997
Product Owner: Mike Balmaceda
Money-Back Guarantee: 30-days (questionable?
Recommended?: No
Before we dive into the meat and bones let me share a few general characteristics of this training course.
The Commission League is an affiliate marketing training course created by Mike Balmaceda and his team.
During the sales pitch (free webinar) Mike promises tons of cash, in record time. He talks about making $200-$1000 working only 20 minutes per day. But in my opinion, that's just sales hype.
Moreover, I've done quite extensive research for this Commission League review, and honestly, there are a few good points inside of the program that I appreciate learning (but I'll not be using them!).
Inside the program, guys are going to share a lot of useful knowledge (on a narrow and specific topic), tools, and resources needed to put this method into action.
In a few words, the method boils down to creating marketing campaigns and renting email lists from influencers to get traffic, collect leads, and make sales.
Just a side note, this method might not be for beginners.
Surely, anyone can start with affiliate marketing and succeed. But if you are a beginner on a tight budget, well my friend, you might want to skip the Commission League because you'll need quite a budget for this.
But all in all, the training seems legitimate. There are no usual signs of a scam, which means you're safe. More about it later in the review as well.
Also, if you are not sure about this product, make sure to check out my recommendation below!
My #1 recommendation is a 100% legitimate program that helped me to go from being a complete newbie to making $100's per day with affiliate marketing! Click the button below to learn more!
THE BEST WAY TO MAKE MONEY ONLINE IN 2023 >>
What is the Commission League?
The Commission League is an online marketing training course that promises huge earnings with little to no work.
Affiliate marketing is a great business opportunity because it allows you to automate your business at one point. But first, you need to get there.
In a nutshell, the program is about creating affiliate campaigns and promoting other Click Bank products. Each time you make a sale, you earn a commission.
Well, at least that's the theory. The reality is not always the same.
The key to success with affiliate marketing is in traffic. And, Mike Balmaceda is teaching how to drive traffic by reaching out to influencers and asking them to promote your offer.
Now, you might be asking yourself. Who is crazy enough to promote your offer just like that?
Well, the truth is, a lot of people will do this for you if you pay them cold cash.
With the Commission League training, you'll get a set of videos where you'll learn how to find problems and solutions for those problems (products). Then, the next step would be reaching out to influencers for traffic.
And lastly, if they accept your offer, they will send you the desired traffic and you'll make money each time someone buys a product you're promoting.
Mike Balmaceda seems very confident in this method, and I have to say too, it sounds pretty legit to me.
Who is Mike Balmaceda?
Mike Balmaceda owns the Commission League together with his partners John, Justin, and Steve. Mike is quite a familiar name in the industry of affiliate marketing.
He's known for products such as Amplify and Six Figure Success Academy.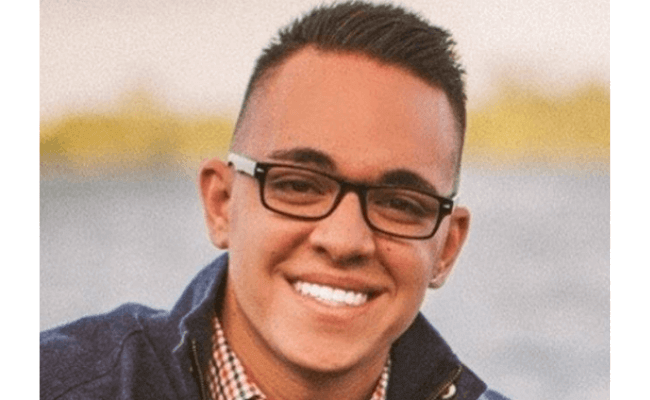 Today, Mike Balmaceda shares more of his secrets with TLC. Also, Mike is a vice-president of Bridgegap Marketing Inc.
A long story short, Mike is a legitimate online marketer.
The Commission League Price 
The thing that caught my attention the most is the very price of the Commission League. It's quite expensive for beginners.
The program costs $3,997 plus some extra costs down the road, which I'll talk about later in the review.
However, this is too much money for a training course. Despite the fact that you'll get legitimate training, tools, and allegedly, there's support too, I feel this is too much money.
Just a side note. The price used to be $997 a few months ago.
I did an update to the Commission League review to let you know what's changed in the meantime and was shocked to see that it now costs $4K!
Do They Offer a Refund?
You need to be careful with this one. Technically speaking, there's no refund on The Commission League. The purchaser is going to get a 30-days success guarantee, which states if you don't make $3000 in 30 days of joining, they will refund you the price.
You need to prove that the course did not work for you. Otherwise, no money-back.
Now, with that part covered, let's see what's the story once you get inside.
What's Inside of The Commission League?
The main content of the program is divided into five training modules and it looks like this:
Commission League Blueprint
How to Find $1000 Opportunities
How to Find Profitable Products
Push Button/DFY Influencer Solutions
Done-For-You Setup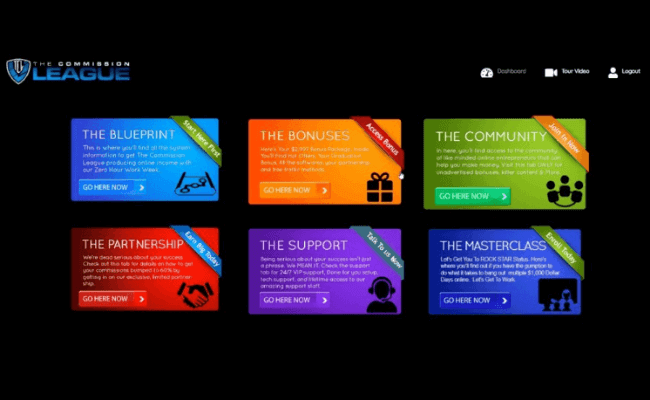 Together with those basic five training modules, you get a set of tools such as a free autoresponder integrated into your pages.
Also, they will give you a squeeze page builder for free, 1000 email leads, DFY email follow-ups, support, and a few other bonuses.
That said, it's time to get into the meat and bones of the training. Shall we?
How Does Commission League Work?
As I mentioned earlier in this review, the Commission League is based on affiliate marketing. This means that they teach how to find profitable products and how to promote them to other people and make sales.
Free Registration
But before you can start with the course, you'll have to register your name and email address as shown below.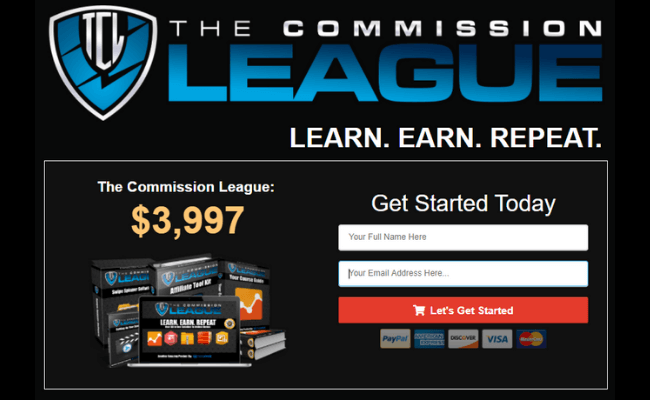 The good thing is that Mike shows the price of the course immediately. Respect.
Then, you'll get details in your email to register for a free webinar.
Free Webinar
This webinar is basically an overview of the Commission League method and the training program itself.
I'm glad to see that they teach legitimate methods. However, there are a few things you need to know about affiliate marketing before you jump into it. You see, it's never easy as it seems.
First of all, to get started with Commission League, you need a budget. The very course is pricey, and it's also based on paid traffic method called Solo Ads.
They will show you how to reach out to Instagram influencers and pay them to rent their lists.
Speaking of which let me show you the training.
The Commission League Training
So the Commission League method basically comes down to renting other people's mail lists and promoting your products through the same list.
Mike and his partners call them Influencers. And they say you can pay them $50 to promote your products.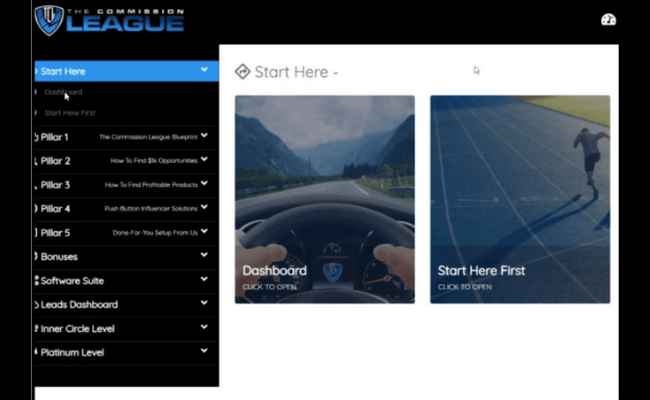 So for example, an Influencer agrees to rent you a list of 20,000 subscribers and you send an email blast to that list.
Let's say that out of 20K, 200 people click on your offer. In most cases, this would cost you around $200. However, Mike claims that he will show you how to get more clicks for less money.
But first, you'll have to find products and build a campaign. To do so, you need to follow the three steps.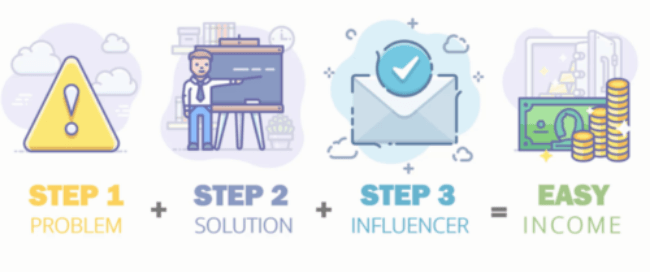 Step 1 – Identify users' problems and their needs.

Step 2 – Find a product that delivers a solution to their problems.

Step 3 – Tell them about the solution and recommend the product.
The good thing about the system is that they will provide you with almost everything you need to build a campaign.
So once you find the product from ClickBank that fits the profile, you need to create a sales funnel.
Once you do so, you have to search for Influencers who are going to promote your funnel to his list of followers.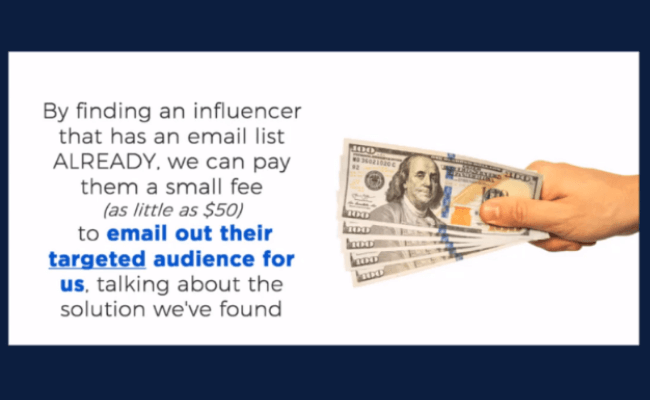 This brings me to another problem with this system.
Those influencers are not going to share their list just like that, especially if you are looking to promote a crappy product, which is not the rare case when it comes to ClickBank products.
You see, they worked hard to create a fan base, so why would they give you their list just like that and for as little as $50?
I know I wouldn't want to spam my people with low-value products.
The good thing about this method is, there are Influencers who simply don't care about the people and are all about money.
They will sell for even less than $50. So technically speaking, the training inside works and the method is sound.
Is The Commission League Going to Work?
The Commission League is teaching legit methods, and it could work and even make some money down the road. But affiliate marketing is unpredictable and you can never guarantee an outcome.
Moreover, you need to work hard on these methods to make them your own. That's the way to long-term success with affiliate marketing. The sad truth is, people will tell you anything just to sell whatever they're selling.
I wouldn't say that you can make money in 20 minutes.
However, the good thing about Mike's training is that he takes care to do the most things for you. Which is good and bad actually. It means that all students will have the same pages, which is not good.
But he's going to share a lot of free resources, which is pretty cool.
What makes the Commission League attractive is its satisfaction guarantee. They promise to give you a refund if you don't make $3000 in the next 30 day.
Sounds tempting. But then again, it's all a part of the marketing, so how can you trust them?
THE BEST WAY TO MAKE MONEY ONLINE IN 2023 >>
What I Like About The Commission League
There are some good points about the Commission League. Based on my research, it's teaching affiliate marketing, owners are experienced marketer, and you get some free stuff.
1.) The Commission League is Based on Legit Methods
Affiliate marketing is my top recommended way to create passive income online. The good thing about this program is that it could show you how to get started with affiliate marketing.
I doubt that it's the best training you'll find, but it's good and covers all steps of the process.
2.) You Get Tools & Resources Included With The Training
I like that Mike and his associates give a lot of free stuff within the member's area. The give a free autoresponder, which is a rare thing to see.
Also, they included other free resources such as DFY squeeze pages as well as a list of subscribers for testing the system.
What's Wrong With The Commission League
I wouldn't call The Commission League the best training course out there. In my opinion, there are a few problems with the system and the training course itself. I wouldn't call it a scam either, but you need to see these warning signs first.
1.) The Commission League Is Expensive for Beginners
Yes, they give a lot of cools stuff for free, and the training is legitimate. But $997 to learn how to find products on ClickBank, create sales funnels and buy Solo Ads is a little bit too much, especially for beginners.
And that's not the final price because those Solo Ads, well, they cost more money. You need a further budget to make this system work.
2.) Lack of No Question Asked Money-Back Guarantee
There is a sort of a money-back guarantee inside of the Commission League, but it's not the usual no-questions back. Instead, you need to prove that you watched all the videos, took action with the course, and haven't achieved any results.
If you can't prove that the course didn't work for you, unfortunately, they won't give you a refund. But if you can, they promise to help you reach $3000 in revenue in 30 days before they issue a refund.
3.) Questionable Traffic Methods
The Commission League System is based mostly on Solo Ads, which is a highly questionable and expensive method for getting traffic to your offers. It comes down to paying other people (Influencers) to send your offer to their list.
This method is not the best way to pay for traffic.
The reason for saying so is, you can never be sure of the quality of the list and how it will convert. You could end up paying a few 100's to get back less than invested. In other words, no one can guarantee a positive ROI with this method.
In my experience, the best way to get traffic to your offer is via free sources like search engines and social media. If you have to go for paid traffic, my best suggestion would be those two as well. Solo Ads are, in my opinion, too risky.
4.) The Commission League Promotes Getting Rich Quickly
Once you leave your email and register for a free webinar, you're going to listen to a lot about making tons of cash in simple three steps, working less than 20 minutes per day, and a lot of BS related to getting rich quickly.
I hate to hear this because it almost never works like that! In 99.999% of cases, those promises fall into the water and are being used to attract as many newbies as possible.
Affiliate marketing works, that's a fact. But don't believe every word you hear for those gurus out there.
Related: Commission Five Review
Is the Commission League a Scam?
The Commission League is not a scam. In my opinion, it's a legitimate training program that focuses on teaching it's students how to start a successful affiliate marketing business.
The training course contains all components needed to create campaigns and earn revenue through affiliate marketing.
So no, it's not a scam. You can even get your money back if the training does not work for you in the first 30-days. But remember, you need to prove your actions before you request a refund.
However, in my opinion, it's expensive, requires further investment, and carries a lot of risks.
I wouldn't recommend The Commission League to beginners especially and for several reasons. A few of them are mentioned above. But the choice is always yours.
Do you think that this might be something for you? Let me know what you think in the comment box below.
The Commission League Review – Conclusion
At the end of the day, there are much more scams than legitimate affiliate marketing training courses.
But you don't have to worry here. The Commission League is legit. However, it's expensive as hell! The method might be legit, but I don't see why would I pay $4K to learn this.
Honestly, guys, there are free YouTube videos where you can learn the basic pillars of affiliate marketing and take a stab at it yourself.
Even better, you can click the button below and try my #1 recommendation where you can learn affiliate marketing for free!
With the program that I recommend to affiliate beginners like yourself, you'll get everything you need to learn affiliate marketing for free.
Of course, there's also a premium membership, but it's not going to cost you $4K! Not even close.
Thanks for reading my Commission League review. What do you think? Is it a scam or legit? Feel free to share your comment at the end of this review.
How To Make Money Online As a Beginner
My #1 recommendation is a 100% legitimate program that helped me to go from being a complete newbie to making $100's per day with affiliate marketing! Click the button below to learn more.
THE BEST WAY TO MAKE MONEY ONLINE IN 2023 >>
And don't forget to share this review with your friends and family!
All the best, Ivan. Founder, and CEO @freeaffiliatemarketingbusiness.com