Welcome to my Traffic Takeover review.
Traffic is the key to the success of every direct marketing campaign, whether it's done online or off. No visitors to your business means that your business is not going to be successful.
Now, on the other hand, if you get tons of visitors each day, your business is going to thrive. That's why every marketer out there is looking for ways and means to get more traffic.
Unfortunately, there are tons of shady system, programs, and plugins that can do this for you. Your main question is probably what is this plugin about? And, is Traffic Takeover a scam or legit?
In this Traffic Takeover review, I'm going to show you how this plugin works. I will share my personal opinion followed by a few pros and cons so that you can make a well-informed decision.
And also, I'm going to discuss whether Traffic Takeover is a scam or legitimate plugin for getting tons of traffic to your website or online business.
Shall we?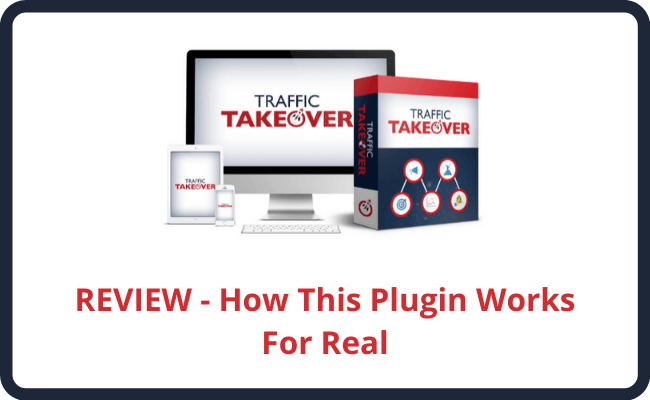 Traffic Takeover Review – Overview
Product Type: Traffic Plugin
Product Owners: Glynn Kosky
Price: $23 + UPSELLS
Money-Back Guarantee: 30-Days (Questionable!)
Recommended?: Not really…
Quick Summary: Traffic Takeover is a simple WordPress plugin that helps to increase traffic to your website, blog, or online business. However, the reality of this plugin and the information from the sales page seem to be two different worlds and that is what troubles me the most.
See, the owner is promising totally unrealistic things. He uses misleading tactics to get you to buy this plugin and I'm not 100% okay with that. I wouldn't go as far to say that Traffic Takeover is a scam, but it's not 100% recommended either.
As I see it, this offer is designed to trick newbies into thinking that you can get 100% hands-free traffic and all those other things just so that the owner can earn commissions from the front-end product and hidden upsells.
The bottom line is, Traffic Takeover is not a scam, but I do not recommend it. It's overhyped, misleading, and is probably never going to work as advertised. In the next sections of my review, I'll be showing you more details.
If you don't want to waste time and money on scams, but would like to start a successful online business, check out the PROVEN TRAINING that enabled me to go from $0 to earning $100's per day!
THE BEST WAY TO MAKE MONEY ONLINE IN 2023 >>
What Is Traffic Takeover?
Traffic Takeover is a simple WordPress plugin that allows you to use a few unique features such as popups, and Facebook Messenger features on your website.
These are popular techniques of grabbing your visitor's attention and getting your visitor to take the desired action with your business.
However, the information from the sales page is, let's say, a bit unrealistic, at least.
The creator of Traffic Takeover claims the following:
100% Newbie Friendly Software Plugin
Instantly Takeover The Authority Of ANY Website Online!
Monetize ANY Website Online With YOUR Affiliate Link!
Gets You Unlimited 100% FREE Traffic
Get MORE Leads & Sales With Traffic Takeover
Simple Three-Step Process To Profit
That's just a bit too much false information guys.
I'm doing these reviews for a long time now, and I can tell you immediately that half (if not even more) of these claims is pure marketing BS.
That's why I decided to show you this Traffic Takeover review to help you understand this product before you make up your own mind.
This plugin is useful in one way, and very unethical, on the other hand, which I'll show you soon.
See, Glynn Kosky is known for creating these shiny objects. I've had a chance to review a few of his "magic" plugins and software.
The one conclusion I've got from this experience is that Glynn likes to overhype things a little bit too much.
I'm not saying that Traffic TAkeover is a scam. But the way he describes it and the way it really works are two different universes.
Speaking of which, let's meet the owner…
Related: Commission Shortcut Review – a Scam or Money in Your Pocket?
Who is Glynn Kosky?
Glynn Kosky is the owner and creator of many programs for making money online such as Traffic Takeover and others.
The truth is, Glynn is very successful digital marketers.
However, he's also a guy who likes to create these (no so good) products, software, and plugins, to trick newbies into thinking that this is going to make them rich overnight.
Some of Glynn's products do work, but most of them are just overhyped little programs.
Which category does this one first in?
Let's take a detailed look before we decide.
What You Get With Traffic Takeover
All you get here is a WordPress plugin that helps to create (fake) sites and call to action features.
Also, you get a short video training where you can learn how to use this plugging and a few bonuses.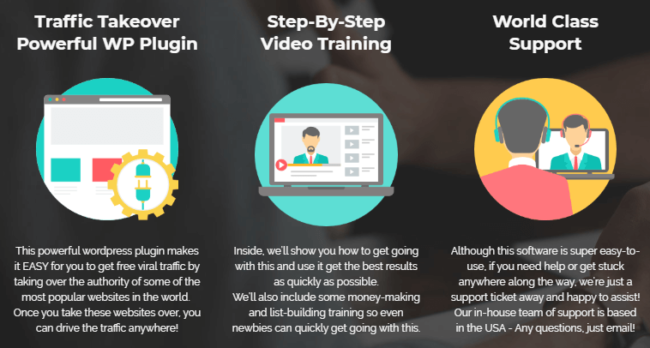 That's it, really.
The main intention of my Traffic Takeover review is to show you how it works for real, so let's move on to explain the "science" behind this "magic" software.
How Does Traffic Takeover Work?
First things first, I want to explain something fundamental.
Glynn claims that with Traffic Takeover, you can take over the authority and traffic of any website out there.
He gives examples of Forbes, CNN, and many other sites that are leaders in the publishing industry and thus get 100's of 1000's of click daily.
But in reality, all that his plugin can do for you is to mirror these sites, which creates FAKE authority.
For example, you can use traffic takeover plugin to copy and paste URL from Forbes and then the plugin will show this page from Forbes on your site, as your own article.
This means that you have to create your own site, with your own domain, and then you can use the plug in to show the content from these sites.
However, and this one is a biggie, this is NOT going to give you authority or traffic of the site you decide to copy.
The reality is, you CAN'T use Traffic Takeover plugin to take other web site's traffic or authority.
That's just Glynn's way of overhyping this unethical, yet in some ways, useful plugin.
Traffic Takeover Step-By-Step
There are a few steps to use Traffic Takeover plugin:
Choose Action – this could be image, video, HTML, social, opt-in, external site, messenger
Action Details – here you add the name and the details to your action
Action Settings – this feature gives you options by which your nation is going to be triggered
Add Website – here you have to add a site you wish to mirror
Get Link/Share – here you get a finished site which you can share with your traffic
The mirroring feature of this plugin is designed to trick people into thinking that they are on some high-authority site, so when you engage some other elements of the plugin, they will trust you more easily.
This method is a bit unethical, in my opinion.
Traffic Takeover Features
Here's the list of other features of the traffic takeover plugin that you could use to communicate with the visitor.
PopUps – this feature is convenient and allows you to create different kinds of popups to grab your visitor's attention right after he lands on your site or right before he decided to leave.
Auto Facebook Messanger – this feature of Traffic Takeover helps you to integrate automatic Facebook chatbox on your site so that you can effectively communicate with your visitors even when you're not there.
Social Share and Connection – you can use this plugin to instal a social share button on your site so that people can share your website easily with others.
Another thing you need to know before we move on with this Traffic Takeover review is the fact that this plugin won't get you any real traffic to your website.
You'll have to do it on your own.
So if you don't have skills in traffic generation, this plugin is going to be pretty much useless.
Kind of disappointing revelation, right?
If you want to learn more about how Traffic Takeover works, I suggest watching this demo below and you'll see what I'm talking about here.
Who Is Traffic Takeover For?
I would say that this plugin is for those who want to increase conversions because the primary function is just that.
Those popups and messenger feature of Traffic Takeover plugin are useful and could help to improve your conversion rates.
It's for people who already have traffic flowing to their businesses, but want to make the most out of it.
To name a few:
Digital marketers
Online business owners
Affiliate marketers
Product owners
Bloggers
Price Evaluation and Upsells
There are two different packages you can choose from:
Lite Version – $22.95 – with this version you get full access to the software, videos, Facebook group, and more. This licence is limited to one site only.
Pro Version – $32.95 – with this version you get everything from the Lite versions plus option to use the plugin on an unlimited number of sites, plus some additional video training.
You'll also get an opportunity to take a few upsells as soon as you join.
Triple Profit Bar $37 Downsell $27
This upgrade allows you to add an attention-grabbing bar across the top section of a website you Takeover.
This bar increases your chances to grab your visitor's attention and thus, increases your chances for profits.
Instant Profit Wheel $37 Downsell $27
This upgrade allows you to add an engaging wheel with all sorts of different prizes popup on a website you've taken over.
You can choose what prizes you want to display on the wheel (free reports, access to CPA offers, coupons, etc.)
Traffic Takeover Advanced Training $47 Downsell $37
In short, this is a full-length video series detailing how to use Traffic Takeover in various ways, full installation guide etc.
And since the basic version of the plugin does not provide with actually traffic generation training, this upgrade is here to help with that.
Agency Rights $297 Downsell $197
This upgrade allows you to use Traffic Takeover on behalf of your own clients.
Licence Rights $297 Downsell $197
As the name suggests, this upgrade allows you to resell the software as you own and keep 100% of the profits.
Money-Back Guarantee
Glynn gives you 30 days to instal and try out his new software.
If you have some concerns about it or you end up thinking that it's not worth your money, all you have to do is send an email, and you'll get a refund.
However, vendors like Glynn could ignore your request, so be ready for everything.
Related: Is the Commission Magnet a Scam? – You Need to See Warning Signs!
Traffic Takeover Pros and Cons
When I first got my hands on this traffic software, I thought that it is just another scam designed to trick newbies into buying this and expecting fast and easy results.
And I wasn't wrong.
As you can see, my Traffic Takeover review is hype and BS-free, and I'm not trying to tell you something that isn't true.
I like the fact that this software is easy to use and could help to increase conversions.
But the fact that Glynn has overhyped the sales page with a bunch of lies and unrealistic claims is tough to comprehend.
That said, let's list a few pros and cons that I've gathered while reviewing Traffic Takeover.
Pros:
Helps increase conversions
Easy to use and comes with simple instructions
30-day money-back guarantee (Glynn might ignore your request)
Cons: 
Unrealistic and Overhyped sales page
The software uses unethical methods
It comes with a bunch of expensive upsells
So as you can see, I'm a bit on the fence when it comes to this plugin.
It's not that I don't like some features, but I simply can't run away from that sales page and all those promises of getting tons of free traffic in just a few clicks and such.
And as you can see, Traffic Takeover comes with a lot of unexpected and expensive upgrades, which is a bummer too.
But all in all, I think it's a neat little software that has some purpose.
Related: How To Get Free and Paid Traffic to Your Website
Is Traffic Takeover a Scam?
No. Traffic Takeover is not a scam. If you ever buy this offer, well, you'll get a WP plugin that has some neat functions and could improve some things related to traffic generation.
However, the way the owner describes the abilities of this plugin sound like we have a 100% scam in progress.
He literally claims that this plugin can takeover any websites authority and give it to you in just a few clicks. He promises unlimited free traffic and other things that will NEVER happen.
Every experienced traffic expert knows those claims are 100% BS.
The only way to get authority in your niche with your site is to gradually build trust between you and your visitors and you and search engines. And you're doing it by creating content regularly, helping your audience, following SEO rules, etc.
You simply CAN'T use some Traffic Takeover plugin and expect to get instant authority and traffic.
I'm afraid that this plugin is just a marketing gimmick, nothing else…
Traffic Takeover Review – Final Words
Traffic generation is a serious business. Don't fall into thinking that it's an easy thing to do.
Getting traffic to your online business takes a lot of time, work, and patience, and sometimes even money.
And if you could give all those from the above, you can succeed online.
Then, you can use a software, or a plugin to maximize your conversions and get the most out of your traffic.
That's what they are used for, really.
Thanks for reading my Traffic Takeover review.
Before you decide about this software, make sure to check out my top recommended program below.
This platform shows how to get unlimited free traffic from search engines using completely legitimate methods.
Make sure to check it out 🙂
THE BEST WAY TO MAKE MONEY ONLINE IN 2023 >>
If you need any help or you have a question, feel free to share them in the comment box below.
And don't forget to share this post with your friends and family!
All the best, Ivan. Founder, and CEO @freeaffiliatemarketingbusiness.com