Are you looking for an honest TubeLoom review?
Do you want to know whether TubeLoom is a scam or legit opportunity to make $300-$500 per day?
I purchased this little course you don't have to.
TubeLoom is supposed to help you leverage a "money well" hidden on YouTube. This little well is worth $300-$500 per day! It sounds fine and dandy. But trust me, YouTube marketing is not a child's game as Charlotte wants you to believe.
The truth is that the TubeLoom video is full of hype. No matter what these 'gurus' say, making money online, whether it's with YouTube, Google, Facebook, blogging, or whatever else there may be, is not an easy process.
It takes time to learn and create something out of nothing and have a successful operation in your hands. Trust me, I know!
By the way, congratulations on researching yourself! Quick research saves you time and your hard-earned money. It shows that you are serious about finding a legitimate way to make money online.
In this TubeLoom review, you learn about what's behind the sales video. Also, you can see whether it works or not. I show you the FULL price of the course and everything else that you should know before buying.
TubeLoom Review – Overview
Official Website: tubeloom.com
Product Type: YouTube Marketing Training
Price: $39,95 + Upsells
Recommended: No.
Quick Summary: TubeLoom is a program that teaches how to use some secret YouTube loophole to earn a life-changing income online. However, in reality, everything related to this ClickBank product is more or less fake. Student testimonials are fake as well as Charlotte's story.
All you get is a short course on YouTube marketing, but in my opinion, it's not worth the money. TubeLoom is based on legitimate methods, but it's concise and I don't recommend it. Worst of all, the sales page is full of hype and the funnel could cost you a lot in upsells.
If you're tired of scams and schemes, click the button below and discover the best way to make money I use to earn consistent passive income online!
THE BEST WAY TO MAKE MONEY ONLINE IN 2023 >>
What is TubeLoom?
Charlotte or Charlie White, the spokesperson from the TubeLoom marketing video, explains that this program teaches how to exploit little-known secrets for making money with YouTube.
She claims that her system could help you start making $100, $300, or even $500 per day.
It all comes down to finding products that people are looking for, filming a short 2-3 minute video review of the same, uploading it to YouTube, and viola! You'll be making money.
I can't argue with this method, because it works. In fact, every online marketing technique works.
However, there's one little thing they don't tell you.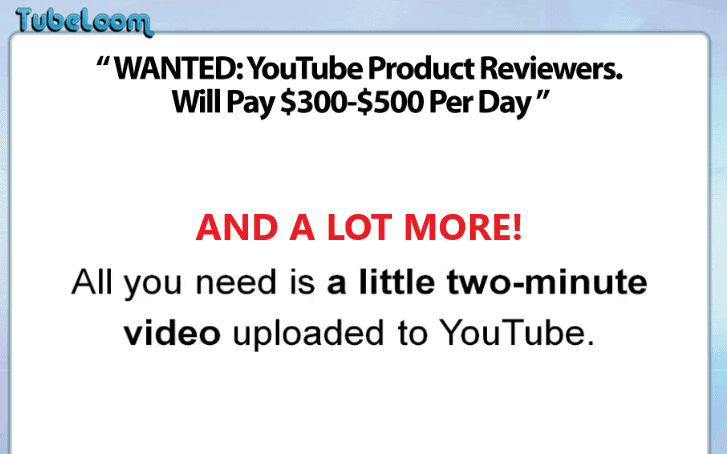 Making money online will not happen overnight.
Guys and gals like Charlotte are great at convincing you otherwise. Their motive is to fire you up so that you buy their program ASAP.
But I know, for a fact, that it takes a lot of time to learn and apply the system. It takes hours and hours to acquire the skills needed to make it happen. Every successful marketer can confirm this.
Only those who are looking to scam you will claim differently.
You see, this program is just another little ClickBank product in a row that's designed to sell, not to teach!
Do you want to learn about affiliate marketing, or do you want to fill the pocket of a person who is not even willing to share her real name?
How Does TubeLoom Work?
Ok, let me explain for free how TubeLoom or in other words, YouTube marketing works.
So if you want to become a marketer on Youtube, this is what you have to do.
First of all, you need to find affiliate programs that will pay you a commission after you successfully sell their product. There are hundreds of affiliate programs to join. One of the most popular is Amazon, eBay, ClickBank, ShareASale, etc.
All you need to do is apply for the program. Usually, it takes less than ten minutes to fill in the forms and get accepted.
Once you become a partner, you can browse products from the marketplace, choose the ones you like, and get an affiliate link.
The affiliate link serves as a connection between your promo material (YouTube video), and merchant or vendor, in other words, the owner of the product. Every time someone buys through your affiliate link, the owner pays you a commission.
Now, once you know what products to promote, all you need to do is open a YouTube account, if you don't have one, and shoot and upload the videos. You can make a video with images only. Or you can make voiceover videos.
If you are not camera-shy, you can film yourself directly.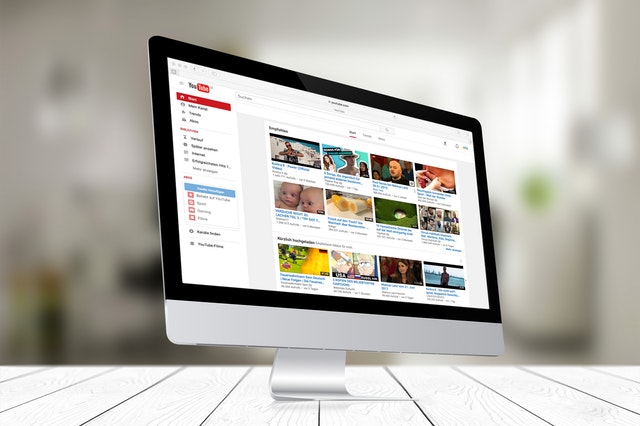 As Charlie from the TubeLoom video has said, your job is to create a product review and recommend those products to folks. Basically, all you need to do is to explain the product just as I am doing right now.
However, she claims that it works literally overnight! That's an absurd lie, my friend, a lie!
I know for a fact that YouTube marketing and every other search engine marketing takes months and months, even years to happen.
If you are a newbie, it can take a few months to figure it all out. Since YouTube is a search engine just like Google is, you need to understand keywords and SEO. Then there is a video editing and all other technical skills that take a few months to learn.
I'm not saying that it's impossible, but it'll take some time to get it all right.
Moreover, the program is not even close to what I call proper training and education. As I said, it's designed to make money for the owner and his affiliates. There's very little for you to learn here.
Let me show you more.
What's the Price of TubeLoom?
I want to show you the price structure of TubeLoom before I show you what's inside. This way, you will see what the real intention of this program is.
So as it's advertised, the program is selling through ClickBank for only $39,95. Pretty cheap right? Now here is what happens once you pay the price.
As soon as you enter your details and confirm the payment, you'll stumble on the first of many. Upsells baby! What makes this offer even more disgusting is that some upsells cannot be denied. There are no 'Thanks, but no thanks' buttons, meaning, they force you to take it. At least that was the case with me!
TubeLoom Step-by-Step Riches $67
Done For You Easy Cash Campaigns $47
VIP Elite Mastermind $47
If you take out your calculator and add these together, you get the agenda here. $210 for a few short videos that talk about YouTube marketing! The same stuff you can find on YouTube for free.
So the only people that are making cash with this program are an affiliate and the owner.

Now, let's take a look at what's in it for you.
What's Inside of the TubeLoom Program?
Once you get access to the main dashboard, you'll get your hands on a set of videos. These videos are brief, and they barely touch the surface of making money on YouTube.
Commission Overview
Picking the Product
The Review Video
Video Optimization 1
Video Optimization 2
Video Optimization 3
Outsourcing YouTube Videos
Bonus #1 How to Tripple Your Payments PDF
 Bonus #2 Top 10 Most Lucrative Markets and Hobbies PDF
In a nutshell, these videos explain the same process I've described above. You will find seven videos that are between 2-10 minutes where some guys fly ower steps for having a successful YouTube marketing business.
The course is not even close to what I would call a decent affiliate marketing training. I've seen a lot of material of this kind, a lot! TubeLoom program is just another one in a series of half-baked courses that are designed to rip you off.
In reality, learning affiliate marketing takes time. If you want to get it right, you need, first of all, a proper step-by-step video material together with a mentor who can show you how it's done. For the price you would pay to get your hands on this little program, you could get so much more!
Who is TubeLoom Program for?
This program is for no one!
Actually, it's for newbies that are looking for some affiliate marketing holy grail that will make cash overnight. Precisely how TubeLoom is advertised, a get-rich-quick scheme.
Can You Make Money With TubeLoom?
I highly doubt that you can make money with this program. With YouTube affiliate marketing, yes, but this program can't help you to do it the RIGHT WAY.
Making money on YouTube is a reality. It's not a pipe dream.
However, making money with this popular video service is an exceptionally long process. Anyone who tries to tell you differently is only after one thing and one thing only — your wallet.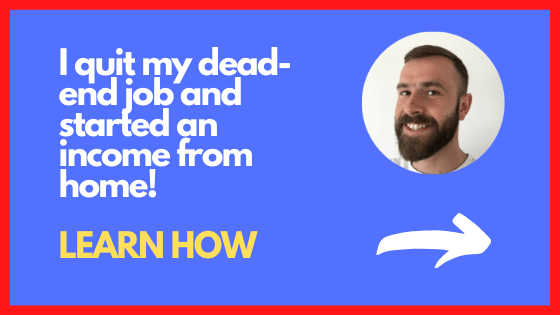 Is There a Refund?
TubeLoom is a ClickBank product. Meaning, you can get a refund if you ever end up buying this little crash-course. ClickBank gives 60 days money-back guarantee on all products sold through their marketplace.
So, if you are not happy with the program, you can contact the customer support and ask for a refund. It's usually issued within 24 hours after the purchase. But it may take up to five business days to get your money back.
What's Good About TubeLoom Program?
There's (almost) nothing good about this program. It's designed to pull you from upsell to upsell until you spend a lot more than an initial $40. In my opinion, the content of the program is not worth four dollars, let alone ten times more.
The only good thing about TubeLoom is that you can get your money back. As I said, it's covered with a 60 days refund policy, which I recommend you to use if you have already paid for it.
What's Wrong With TubeLoom Program?
Now, on the other hand, I want to give you a set of warning signs that show that TubeLoom is a scam.
1.) No Proofs or Testimonials from REAL People
Those testimonials on the bottom of the sales page are fake. In other words, the owner of this program has downloaded a few photos from fabuluosfaces.com and pasted them on the site together with a little success story.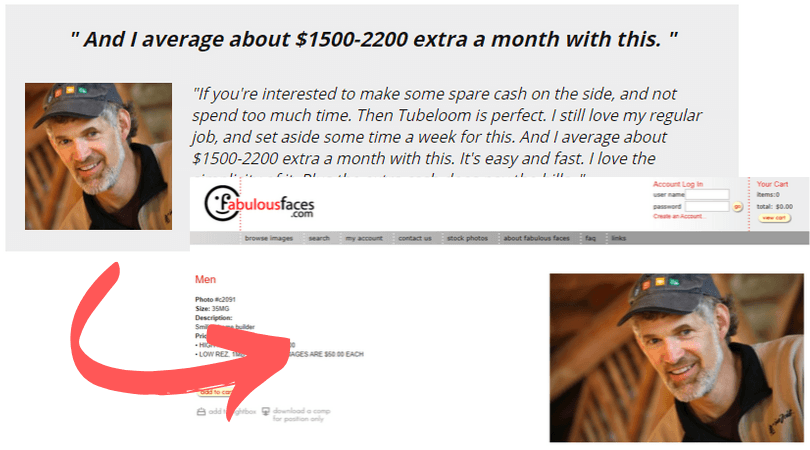 Once again, if this program has any real-life value, you could find a few testimonials from real people. There's nothing to think other than TubeLoop is a scam like many others that plague the internet.
2.) Charlotte is Not a Real Person
Charlotte White is only a pen name. She's not a real person. In other words, the real person behind the marketing funnel is using Charlotte White alias to represent the owner of the system.
If this program were what she claims, she would be proud to show her face and give you at least a social media proof that she's an honest entrepreneur who is trying to help you.
3.) Overhyped Get-Rich-Quick Marketing
These little programs are known to use overhyped marketing solely to push you into a buying mode. The spokesperson in the video tells you that you can start making hundreds per day with little to no work. Ridiculous lie!
I don't mind marketing if it's going to sell you something that works. As you know, it takes time and time to reach the level of earnings that are promoted by this video. Overnight success doesn't exist in the real world, only in films.
4.) Expensive Upsells
The sole purpose of everything listed as a red flag so far is to get you in so that you can start buying expensive upsells. As you can see in the image below, what they really want to do here is to sell and sell more and more useless crap.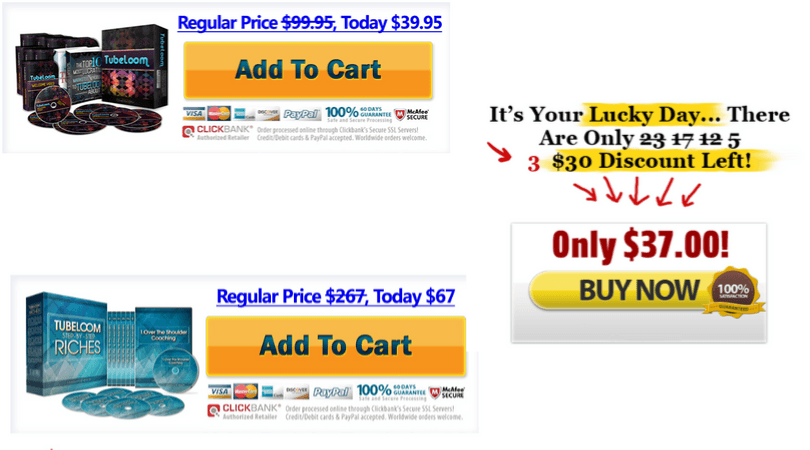 What's behind these upsells is beyond me. Frankly, I don't even want to know. Judging by everything that you've seen so far, the chances that you're going to get something valuable in your hands are tiny as a poppy seed.
5.) The Program Itself is Very Shallow
When you add all the videos together, you'll get roughly 45 minutes of training! I think I can rest my case right here.
Is TubeLoom Program a Scam or Legit? 
TubeLoom is a scam. It's a marketing funnel that's designed to sell you a crappy course on YouTube marketing. Moreover, you'll get a chance to spend a lot more than $40 only to learn there's nothing there to learn. Besides, you can find the same info all over the net for free.
The sales page is fake. As you can see from the images above, everything is fabricated. They use stock images as student success stories. Charlotte White is a fictitious character that's designed to connect with you on a personal level. But her only job is to push you into buying this little course.
How would you call it? Would you say it's a legit opportunity to make money online?
Do I Recommend TubeLoom Program?
You see, I believe in knowledge. I like to think that the more you learn to more you can earn.
So based on everything that I've told you already with this review, the simple answer is no, I don't recommend this course. Once again, making money online is a process. It's a business.
Don't trust anyone who tells you that you can do it in record time. In most cases, those offers turn out to be scams.
Every time you hear stories like Charlotte's, my advice is to put your credit card back and close the window!
How to START an Online Business for Free?
Thanks for reading my TubeLoom review. I hope I have helped you to learn more. If you have any questions about this program or maybe you can offer an experience, feel free to leave them in the comment box below.
Before I let you go, let me tell you how I make money online with affiliate marketing with the help of a REAL program.
The program that I recommend has everything you need to get started online with zero costs and nothing with getting rich by tomorrow.
Wealthy Affiliate has been and still is the best online platform for making money online. These guys can teach anyone how to become a successful affiliate marketer.
These guys have helped thousands of regular people like you and me to make money online and even quit our 9-5's. Make sure to grab your opportunity!
Make sure to check it out. It's free to join!
THE BEST WAY TO MAKE MONEY ONLINE IN 2023 >>
If you need any help or you have a question, feel free to contact me.
All the best, Ivan. Founder, and CEO @freeaffiliatemarketingbusiness.com