Welcome to my Use2Earn review.
I get it, $500 per day could turn your life around, right?
This money could help you to pay off your debts, get a better house, and even fire your boss.
But you're not sure about Use2Earn, and you need to know whether it is really possible or just another internet scam.
That's why I want to share this review with you.
Not only that I want to help you to learn more about this site, but also, I want to show you some clear signs that this is a scam.
$500 per day could probably save your life, but this site is just a waste of your time, and you'll see why in the next sections of my Use2Earn review.
By the way, big congratulations on doing the research first.
You're one of a few smart ones who are smart enough to look up for more details before falling onto a scam.
And it shows me that you are looking to find the best way to start making money online.
So, let's cut the small-talk and jump right into the business.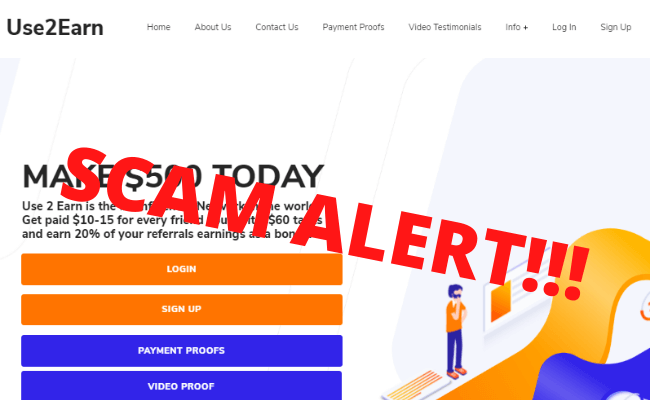 Use2Earn Review – Overview
Product Type: Make Money Online
Product Owners: Unknown
Price: $0
Money-Back Guarantee: No
Recommended?: No! Scam Alert!
Quick Summary: And at first, glance Use2Earn looks like a completely legitimate site.
Use2Earn website claims that you can start making easy money by referring people, completing surveys, playing games, downloading apps, etc.
Moreover, you're supposed to earn $10-$15 for every person you invite. Also, you get access to a wall tasks where you can earn $60 per task and a 20% bonus on every invite through your affiliate link.
However, once you start digging under the surface, you'll find out that Use2Earn is one big scam.
And this site is not the only one out there.
The platform is a part of a series of clone sites that use the same fake model to scam people into wasting time and money online.
During this Use2Earn review, I'm going to show you not one, but severe several scam signs that back up my claims here and are a clear warning to stay away from the platform as far as possible.
If you don't want to waste your time on scams anymore, make sure the check out the best way to start making money online below.
My #1 recommendation is a legit course for making money with affiliate marketing that made me go from zero to earning a consistent passive income online every month.
THE BEST WAY TO MAKE MONEY ONLINE IN 2023 >>
What is Use2Earn?
Use2Earn is a website you can join to get paid online completing simple tasks such as filling out surveys, watching videos, and referring others to the site to earn commissions.
According to the official information, the site is #1 influencer network online.
They promise that you can earn $500 per day in just three simple steps which I'm going to cover a bit later in my Use2Earn review.
For example, you can earn $10-$15 for every friend that joins Use2Earn via your referral link. On top of it, you can make up to $60 for completing various small tasks online.
Sounds like a great deal, right?
But all these promises are nothing but a lie, and this site is a scam.
See, Use2Earn is a clone website that's designed to steal your data and sell it to scammers. You're lead to believe that you can make up to $500 per day.
However, all those promises are fake and designed to get you inside.
The goal is to get your email address, name, and other details.
You can really earn some money inside the Use2Earn platform. However, they will never pay you your rightful earnings, which makes this site a scam and a waste of time and money.
This is not the only site that uses the same tricks to get you scammed.
Use2Earn is a clone site and a part of a large network of scams. You can click on the links below to see some more examples.
And to show you that I'm not pulling this out of thin air, let's start with the first red flag – the owners of the site.
Who Owns Use2Earn?
The only information available on the official site tells us that Use2Earn.co is located in New York.
But if you run this address through Google, which is what I did, you'll find out that there's no such company on this address.
However, to cover up the scheme, they tell you a quick story about how Use2Earn grew from a small site in 2015 to becoming a #1 influencer network in the world.
But this is a fake story too. I'll show you a few other sites that use storyline to cover up the scam.
Other then this, there's nothing else that tells us about the owners of the site which is a first of many scam signs.
How Does Use2Earn Work?
To join and start making $500 per day, all you have to do is join Use2Earn and start sharing your referral link with others to make $10 per referral.
As you can see, it takes a simple three steps to start earning a life-changing income online.

Once you join the site, you have to share your link on the internet to earn commissions.
Alternatively, you could watch videos and fill out a survey to earn an extra income with this site, but that also is just a hoax.
You see, they'll use you to complete these tasks so that the owners could earn an income off your effort.
And you, you won't get a dime for it!
This website, at first glance, looks like a legitimate way to earn an income, but as you're going to see in the later sections of my Use2Earn review, it's nothing but another internet scam.
Can You Make Money With Use2Earn?
Unfortunately, you won't make any money with Use2Earn because the main goal is to get you to start working on those tasks so that whoever owns this site could get paid.
So, for example, if you fill out a survey, you earn $10 for the task.
However, the money is not going to be yours to keep since this site is just using your time and effort to generate cash through other websites.
As I said, you're just a tool for whoever owns the Use2Earn and other scam sites out there.
You'll painfully learn this once you decide to pull out your earnings.
You see, Use2Earn has a policy that you have to be 99 years of age to be able to withdraw your earnings, which automatically means that you won't get your money.
Crazy right!?
Well, that's how they managed to scam 100's of people out there already.
First, they fire you up with promises of fast and easy cash.
And once you start working on those clicks and tasks, you'll get a feeling that you're making money.
But once you decide to cash out, you'll get stabbed in the heart!
This is how these sites work, and all of them are scams.
There are many legitimate surveys for money sites, but Use2Earn is not one of them!
Use2Earn Scam Signs!
Now that we've covered a few necessary information about Use2Earn let's start with the second part of the review where I'm going to show you a series of scam signs.
These findings just prove my claim that Use2Earn is a scam!
Fake Testimonials
As you can see on the image below, several sites use the same testimonials to convince you that you to could earn with Use2Earn.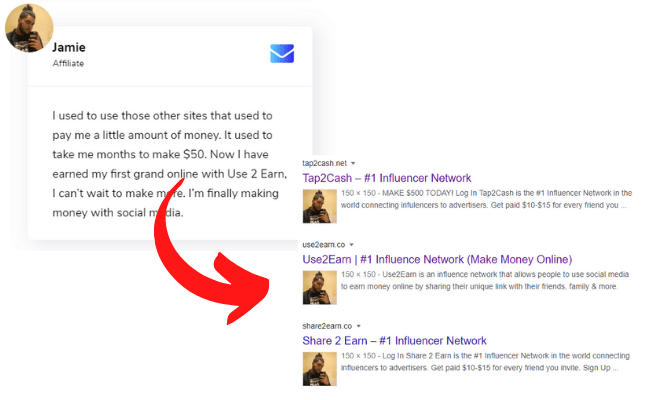 These testimonials are fake and designed to cover up the scam.
And not one scam, but several!
If there were real people making money with Use2Earn and other clone sites, there would be no need to use fake testimonials, right?
But fake testimonials is not to only proof that Use2Earn is a scam.
Let's continue the review to show you more!
Overhyped Claims
As soon as you land on Use2Earn site, you get blinded with claims about making $500 per day completing simple tasks and such.
They even say how they've paid $158.678.00 to 750.000 member so far!
Now, simple math will show you that this is less than $500 per day.
You see, these claims are fake too and designed to fire you up to start thinking that you've found your ticket to paradise.
If it were that easy to earn an income online, the whole world would be rich by now!
And I would be the first to leverage this once in a lifetime opportunity.
But I won't because I know that Use2Earn is a scam!
Fake Address
Another thing that I wanted to show you with this Use2Earn review is the fake address and contact details.
If you "Google" provided address, you wouldn't find this company there.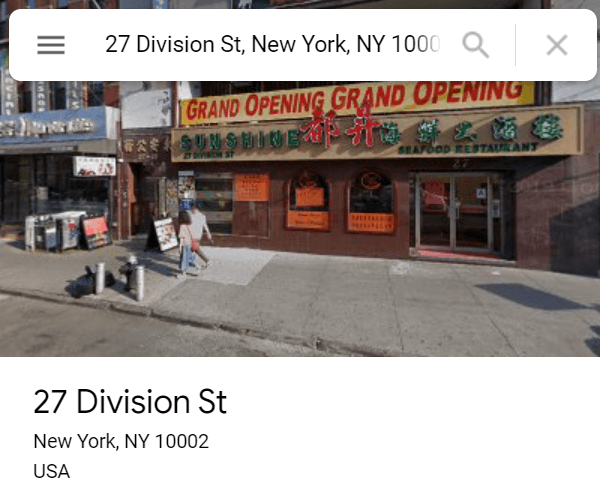 Not only that but if you try to use the contact details provided, you'll stumble across a wall of silence.
You can send 100's of emails to the address provided, and none of them is going to be answered.
One more time, these are being used to fill you up with confidence.
But in the end, it's all just one big scam!
Use2Earn Has No Owners
Every single legitimate site online has an about me page where you can see who owns the site.
The fact that Use2Earn provides zero details about the owners of the site is enough to steer clear.
If this site were a legitimate thing and they do pay out tons of cash to their members, wouldn't you agree that the owners would be happy to stand behind it?
That's what legitimate sites do!
Tons of Complaints
Another thing that should convince you that Use2Earn is a scam is tons of complaints on BBB.
The images below show complaints made on account of a site called Notion Cash, which is the nothing but a clone site of Use2Earn.
Many people have fallen on fake promises about making tons of cash only to learn that they have been scammed.
Complaint after complaint has been filed, yet none of them has been answered.
What does this tell you?
It's a scam!
As you can see, once of the users completed all tasks and was waiting for $350 payout. However, the owners of the site simply stopped all communications with him.
They told him that he is going to receive his money, but nothing has happened.
Two more people had the same problem with their payouts too.
Moreover, if you pay a visit to TrustPilot, you'll find more and more complaints from people who have been manipulated by Use2Earn and are calling it out!
The problem with this site is the same in all those complaints.
In other words, users did what they were asked to do, earned some money, and then they lost all the communication with the owners.
They are still waiting for their money.
But unfortunately, they are probably never going to receive it. Just take a look at the following red flags and you'll see what I mean…
Fake Founding Date
The image below shows the exact date when Use2Earn domain was registered online.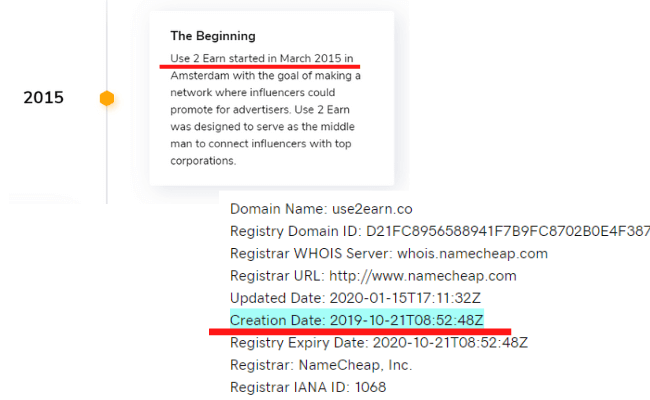 Yet, on the official website, they say that the site has been around since 2015!
This is yet another proof that Use2Earn is a scam and something you don't want to be a part of.
The website is just a year old and yet they claim so many accomplishments since 2015.
Things don't add up here at all…
In my opinion, the fake founding date is just a trick designed to manipulate you into thinking that you're becoming a part of a legitimate scheme.
And yet, in reality, it all seems to be just one big lie. I mean, these scam signs just keep piling up!
No Social Media Presence
A funny thing about Use2Earn is their claim that they are #1 social influencer in the world.
But once you start searching for the social media presence, you get nothing.
And those social media icons at the bottom of the page won't get you anywhere.
They are there just to make you think that this site has a social media presence.
If you click on one, or all of them, you are going to be redirected to either login page or your own social media page.
This is just another proof that Use2Earn is a scam. I mean, how can you call yourself a #1 social influencer and then, when you do a simple internet search, there's no sign of it.
In my opinion, someone is using the power of social media to attract you to this website.
Think about it. If you give your site this title, people will start trusting you because you're popular on social media.
However, in this case, the whole thing is just a big coverup for something much bigger.
Use2Earn Is Clone Site
I've mentioned this for a few times in this Use2Earn review, but it's time to show you with some images too.
Use2Earn is nothing but a clone site that looks the same as many other sites out there.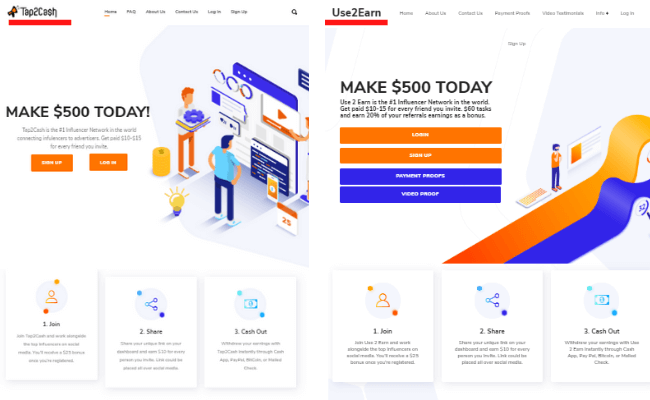 All of them promise $500 per day, completing simple tasks and referring people to the site.
All of them are #1 influencer network in the world.
All of them have an address in NYC.
All of them use the same testimonials.
All of them share the same founding date and history.
And so on.
Now, this might be the most definite proof that Use2Earn is a part of a much bigger scam.
Someone somewhere is creating these fake sites to trick you into joining the scheme and who knows how many clone versions are out there.
Use2Earn Users Were Unable to Cash Out
If you, let's say, join the scheme and start working on those tasks, you'll probably earn a few dollars.
However, if you try to withdraw your money, just like many people before you, you'll get rejected.
In some cases, they'll send you an email with the confirmation that your payment is on its way.
But you'll never receive any money.
And the funny thing about this is that they openly say that you must be 99 years of age to earn with Use2Earn.
Otherwise, you're not going to be able to take out your rightfully earned money.
This is enough for me guys, so let's conclude.
Is Use2Earn a Scam or Legit?
Use2Earn is a scam!
The website is using tons of lies and fake claims which have been disclosed in this review.
I don't see any reason to join this site because you'll only end up wasting your precious time to make money for an unknown owner of this website.
The fact that Use2Earn is not the only one out there is enough to stay away from these scams.
As you can see from my review, the website attracts people with fake claims about making easy $500 per day.
Moreover, the unknown owner is using fake address as well as fake testimonials to manipulate you into signing up for this scam.
And even if you join and start promoting this website to others, you will not be able to cash out your earnings because the whole scheme is rigged against you.
If you take a closer look at Use2Earn terms of use, you'll discover that they have a policy which started that you must be 99 years or older to participate.
Meaning, if you try to pull out your rightful earnings, they will simply ignore your request.
All in all, this website is one big scam and it is not the only one!
Ask yourself, why would someone use fake testimonials?
Why would someone create a fake story about the history of the company?
Why would they use tricks to keep you away from your earnings?
Why would they use a fake address?
The answer is simple; it's a scam looking to trick you into working for someone else's profits.
Thanks for reading my Use2Earn review. I hope I've helped you to see the truth.
Related: Is PlentyBread a Scam or Legitimate? – Review
How To Earn An Income Online?
If you want to earn an income online, you have much better, and legitimate options to do so.
For starters, you could check out my recommendation below.
The platform that I recommend has helped me to earn an income online, have more time and freedom, and even to quit my dead-end hotel job.
If you want to succeed online, you should click the button below, and follow the instructions from the next page.
And I'll be more than happy to help you along the way!
THE BEST WAY TO MAKE MONEY ONLINE IN 2023 >>
If you need any help or you have a question, feel free to share them in the comment box below.
And don't forget to share this post with your friends and family!
All the best, Ivan. Founder, and CEO @freeaffiliatemarketingbusiness.com