Welcome to my Viral Store review. Starting an eCommerce business used to be a daunting task. But not anymore! Today, we have ecom store builders that are designed to do the job in a few hours.
However, sadly, having a store is not enough to make money. What is the most critical part of every business? Traffic! Without any traffic, your store is going to sit there and collect dust.
A Viral Store is a software that promises both easy start-up process as well as tons of traffic.
But you need to know that marketing and reality are two different worlds. Traffic on a push of a button? Super-easy ways? I don't think so. Let me explain in more detail.
By the way, congratulations on researching before getting into things headfirst. I know it's hard to trust people on the net these days. But if you are looking for something real, check out this genuine way to make money with affiliate marketing.
Within this Viral Store review, I'll show you what this software is about. I'll show you what to expect from the software and give my honest opinion about whether Viral Store is a scam or legit way to make money with eCommerce.
Viral Store Review – Overview
Product Type: eComm Software
Owner: SaaS Studio
Price: $19,95 or $29,95 + UPSELLS
Rating: 2.5/5
Quick Summary: Viral Store is an app designed to build an eCommerce store in just four steps. After reviewing this software, I concluded that it's legitimate.
However, push-button viral traffic is not going to happen unless you have hordes of followers on Facebook. Traffic is a bloodline of every business, and this software will not get it for you, you need to work for it or pay for it.
In the rest of this Viral Store review, I'm going to share more details about this Amazon store builder so stay tuned.
If you're tired of scams, upsells, get-rich-quick schemes, make sure to check out the PROVEN SYSTEM I use to generate a consistent passive income with affiliate marketing below!
THE BEST WAY TO MAKE MONEY ONLINE IN 2023 >>
What is Viral Store?
Viral Store is an app for creating an eCommerce store from scratch. It allows you to build an online business in just a few clicks and sell stuff from Amazon, AliExpress, and Bank Good platforms. This app comes with a unique feature called Push-Button Facebook Viral Traffic System.

The latter will be the main topic of this Viral Store review. You see, push-button traffic sounds great at first. Who would want to complete the most challenging task of having an online business in just a push of a button, wouldn't you agree?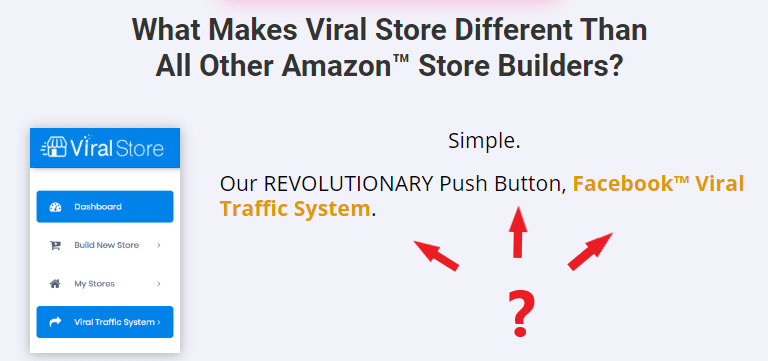 However, the truth is never as it seems. And remember, if it sounds too good to be the truth… Well, I believe you know the rest of this sentence.
Viral Store reminds me of a few overhyped products I reviewed on this blog so far. For example, Traffic Trapper also promises push-button traffic while xPress Funnels delivers push-button marketing funnels and traffic.
But in reality, these sales pages never reveal the true nature of the product in the backend. That said, let's check out the next sections of my review to learn what you get with Viral Store and how it works.
What's Inside Viral Store?
Instead of spending hours and hours in front of your computer trying to figure all the nuts and bolts, you can use the Viral Store app to build an eComm store in a few steps. It's used to be something that was challenging and stopping the most people from plunging into the eComm world.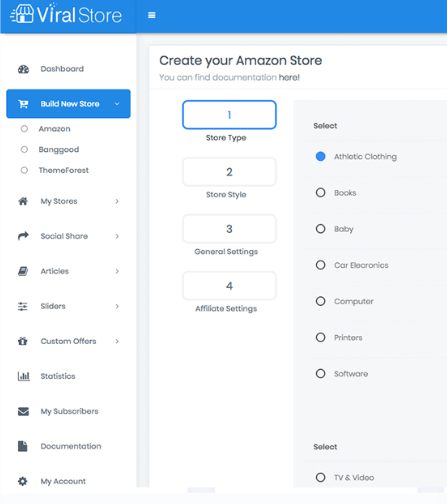 Much similar to Shopify, this app works in a few simple steps and allows you to become a proud store owner quickly. Here are some of the top features of the Viral Store app.
Free Hosting
Free Sub-Domain
Push Button Facebook Viral Traffic – I'll explain this one.
Commission up to 10%
Advanced Live Statistics
7 Amazon Store Types
3 Premium Templates
Friendly dashboard
Subscribers System
Legal Terms and condition
Without any stock
and more
All in all, this app is a great deal. It helps to bridge the most challenging tasks that occur while building an eCommerce store.
But does it work, and will it make you money in a matter of minutes as they promise during the sales pitch? Let's answer those questions in the rest of this Viral Store review.
How Does Viral Store Work?
When working with the app, all you need to do is complete four simple steps, and your store is live. This app builds three different store types:
Amazon Store
BangGood Store
ThemeForest Store
Each model is connected to 1000's of products from each marketplace. In other words, you can choose to sell items from any of those three online retailers.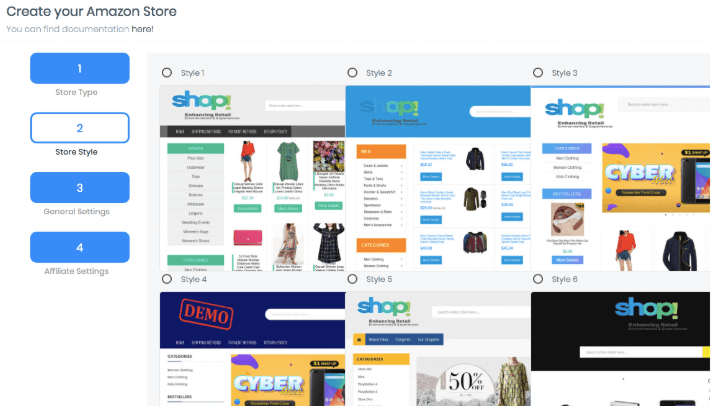 Here are four simple steps you need to take to build a chosen store.
Choose the Niche
Choose the Store Style
Customize Your Store
Connect Your Affiliate Link
It takes a few hours to finish all four steps. Viral Store app helps to do it in a few steps and in a few hours tops.
However, as I said earlier in this review, having a store is not going to be enough. You need to get some eyeballs in front of your window. If you fail to do so, I'm afraid that this cool app will have no use.
So What About the Push-Button Traffic?
The creators of the Viral Store app promise free viral traffic from Facebook and other social media channels. The best thing about it is it comes on a single push of a button.
Now, that's a smart marketing trick being used to make you believe that the most challenging part is also going to work like magic. Most importantly, there's nothing revolutionary about it. Most of these software builders have this feature included too.
I admit, the store builder is impressive. It really does a good job. However, getting traffic will be a problem for newbies. That's the truth, guys, and gals.
You see, the Viral Store app has a feature that allows you to share your store with your friends via your Facebook or Twitter account. Now, the problem is that you probably don't have thousands of friends that are waiting for your store with their wallets wide open.
Am I right?
However, it's not the end of the world.
To get tons of free traffic via Facebook, you'll have to do some work first. And it's not going to be an easy task, and you certainly won't start making consistent sales from the minute you launch your store. But it's possible.
THE BEST WAY TO MAKE MONEY ONLINE IN 2023 >>
Will It Make You Money?
If you already have 1000's of followers on Facebook, you can make money with Viral Store pretty fast. But if you don't, then your store might collect some dust in the beginning. At least that's my opinion based on three years of experience with web traffic.
You see, free web traffic takes time. That's the law. You need to build an audience first to be able to make money with eComm or affiliate marketing. If you don't have time, but you do have resources (money), you could pay for traffic via online ads.
Either way, it won't be some magical push-button traffic that appears on demand.
That said, eCommerce is a legitimate business opportunity, and many people leverage the power of eComm to make 100's and even 1000's per week.
But don't forget, traffic is the key ingredient. Without it, your business is dead. So, if no one can't find your store, you can't make any money. That's nothing but pure logic.
My best recommendation for learning about how to get tons of free traffic from search engines and social media is Wealthy Affiliate. Make sure to check it out!
Viral Store Price & Upsells
If you are interested in this cool software, it sells via Warrior Plus marketplace, and it can be yours for:
$19,95 for 1 Viral Store
$29,95 for Unlimited Stores
Upsells
Of course, Viral Store is a first, and foremost, a sales funnels. It comes with a set up unexpected and expensive upsells too.
Viral Store Pro $27 Per Month
Viral Store Reseller Rights $97 Per Year or $247 One Time
What I Like About Viral Store
I was pleasantly surprised by this app. It's a convenient tool that will build an eCommerce store for you quickly. Here are some of the features that I like as well.
1.) Affordable Price
Building an eComm store from scratch could cost you a lot. You need hosting, domain name, themes, and other tools, which could cost you a few 100's to get your store off the ground. Viral Store an all in one tool that has almost everything you need for building an online business. And it is not as expensive as some other tools out there.
2.) Easy to Use
Most of those tools are complicated to use and could drive you crazy. I like the simplicity of the Viral Store. It's simple and easy to navigate through the app.
What I Don't Like About Viral Store
Even though this tool is easy to use and affordable for everyone's pocket, I still think it lacks some critical aspects. You need to see these cons as well.
1.) You Don't Have Full Control Over Your Business
Viral Store is a cloud-based app. This means that you can host your site on free sub-domain. Also, it means that you won't have full control over your business. This is a problem. You see, if the owner pulls the plug, your business is gone. The best thing is to host it on your own.
2.) Push-Button Traffic Doesn't Exist
Viral Store app comes with a convenient feature of getting traffic from social media, but it won't work as they say. The story about free push-button traffic is nothing but marketing. It's just a feature and that's all. If you want to profit with your store, you need to learn (if you don't know already) some necessary traffic generation skills.
3.) No Free Trial or Money-Back Guarantee
I was disappointed with the fact that the app doesn't offer a free trial. Most significant competitors give at least 15-30 days of the trial period. If they don't offer a free trial, then they at least give you a money-back guarantee. Unfortunately, Viral Store can't offer you any of those two.
4.) Hidden Upsells
The money is in the upsells. And the owners of Viral Store know that as well. I don't like the fact that you are surprised by two upsells as soon as you buy the tool. Also, I believe that the first one contains some parts of the system that should be included with the basic package.
Is Viral Store a Scam or Legit?
Viral Store is not a scam. It's a legitimate and convenient eCommerce store builder. The app comes with a lot of cool features and helps to build an Amazon business in a few simple steps. It's easy to use and affordable.
The only thing that is a bit misleading about this app, which is why I wrote this article, is the story about the free viral traffic. It's not going to work like that. No one is going to hand over to you tons of free traffic. You need to work for it or pay for ads. There's no way around this!
Those 'little white lies' don't make it a scam, though. But it's misleading and not an honest thing to say.
Viral Store Review – Conclusion
It used to take months of hard and mentally draining work to build a website, find the right products, connect all the tools and plugins to have an online store up and running finally. Today, the story is much different.
You and I live in times where technology is getting faster and faster. It took me days to finish my first website three years ago. But now, with the help of those great tools, we can build one in just a few clicks.
However, they are only tools. A hammer will build you a store, but it won't bring people inside and make them spend their hard-earned money.
The same goes for the Viral Store app. You need to understand that the key to having a successful online or offline business is traffic.
So please, next time you hear push-button traffic solution, come and find me.
You Can Start an Online Business for Free
Thanks for reading my Viral Store review. I hope I've helped you to learn more about what it is and how does it work and to answer your question, whether it is a scam or legit. If you have any questions about the program or maybe you can offer an experience, feel free to leave them in the comment box below.
Before I let you go, let me show you a legitimate training course for making money online. This is proven to work by thousands of marketers all over the world, including me.
Wealthy Affiliate is, in my experience, the best affiliate marketing training course on the internet. These guys are teaching people how to start an online business and super-successful affiliate marketer every single day! Traffic training included!
The best thing is, it entirely safe and free to join. Make sure to check it out!
THE BEST WAY TO MAKE MONEY ONLINE IN 2023 >>