How does idea to write a blog for free about something you are knowledgeable, work from home or wherever you want, and on top of that make some money, sounds to you?
Many people won't believe it, but, you can live off from writing a blog.
It may sound impractical, and people will wonder how the hell can you write a blog and still earn money from the same.
Well, they (naysayers) thought the same for writing books, or writing music, or magazines.
Those people who believed in the possibility, they are wealthy people today, and not just financially wealthy, but in every other aspect as well. They have a chance to do something they love and enjoy while they make money out of it.
Sounds like a perfect formula! 🙂
My experience so far taught me that anyone can get into the blogging business and be successful.
Like in the real world, the online world is full of business opportunities, and the industry can be learned if you are willing to pay attention and follow proven steps.
I have a proven formula right in front of you.
Moreover, I will demonstrate the formula by the end of this post.
So let's skip the foreword, and let's explain how to write a blog for free and how to make some money while doing it in more detail.
5 Step Formula for Writing a Blog for Free
(this model shows four steps, but I'll give you additional one that fits perfectly)
1.) Choose an Interest
To begin with a blog, you have to have a filed of interest, something you are passionate about, or you have a head full of knowledge about the specific field.
In the blogging business, we call it a niche.
For some people their niche is an automotive word; for others, it is dating, for the third, it is cooking, and so on.
For me, it is personal development and affiliate marketing. I like to read, listen, watch, and learn by experience, everything related to human development.
On the image below, you have an example of one of my interests turned into a business!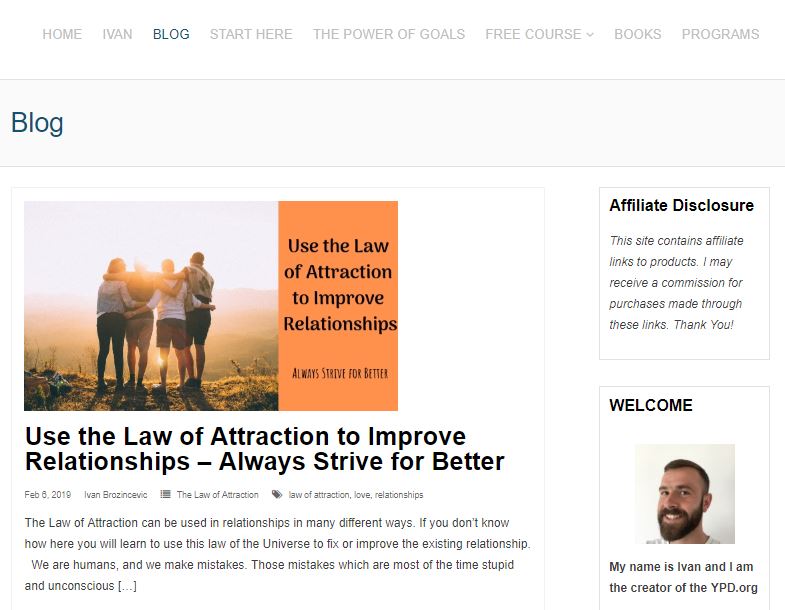 You see, even the little passion for something is enough to start a blog. I've created that site after reading a book.
Word of caution. Don't get disappointed if you are not an expert in the field yet.
Because in this business, as in every other business, the small spark can light a forest fire, a little snowball can start an avalanche. In other words, you can, and you will learn a lot more along the way once you start blogging.
Now, after you decided what it is what you are going to blog about, the next step is also a creative one.
2.) Create a Website (Blog)
At this point, you will have to create a website.
Many people get discouraged after they begin and then they realize they have no clue how to build a blog.
There are many places online where you can create and host your website for small money.
You can try websites such as:
Wix
GoDaddy
Squarespace
Website builder
BlueHost
There is only one small issue with all of the above.
They don't provide you with training on how to build a website. You will get all the necessary tools, but no knowledge. Because of this lack, this is the turning point for the majority of enthusiastic new bloggers.
However, I found a fantastic online training program where I learned how to start up a new website from scratch! The best part is – it is for free!
I have got two websites no charge, plus a free beginners course to get started online.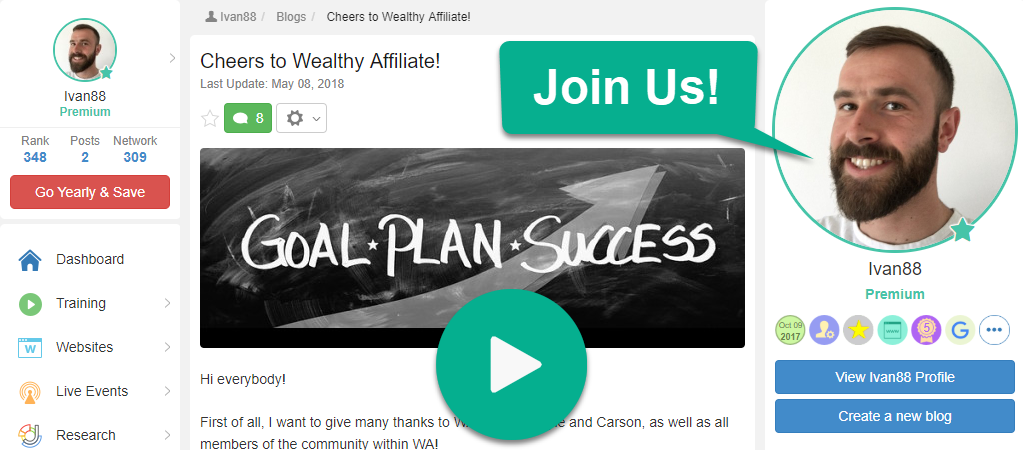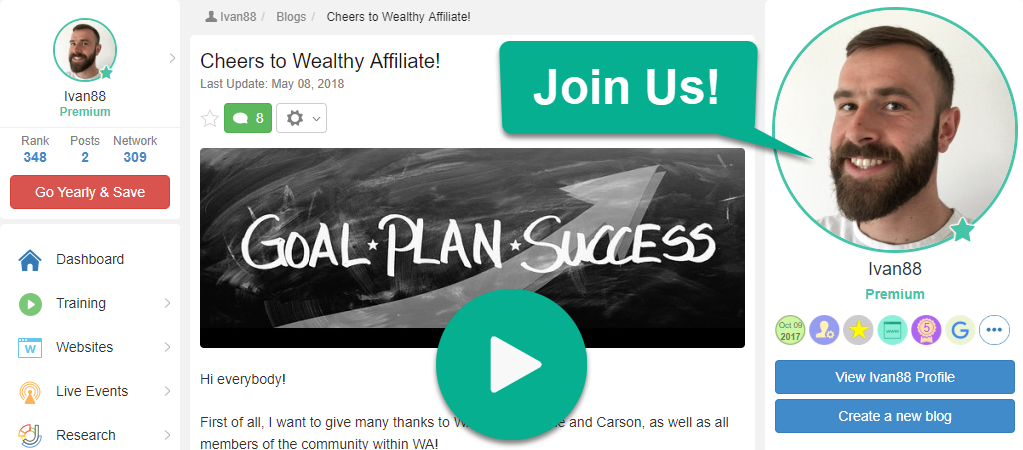 PRESS PLAY TO LEARN MORE!
Let's stick to the process here.
Ok, once you finish the setup, you will have to start writing. In other words, you will have to start a blog.
It is simple.
All you have to do at this point is to share your knowledge with the world as you would share with a friend.
Again, you don't have to be an expert in English literature to be successful at blogging. If you know how to communicate verbally by mouth, you will learn how to communicate by writing.
Now, after you choose your interest (niche), you have your website ready,  and the first content is there. The next step is the one which will open a way to make some money.
Where are those naysayers now? 🙂
3.) Get Traffic on Your Blog
You see, the point is that your blog has no value to anyone except you if you don't attract some visitors to your site.
There are a few proven ways how to get traffic to your website.
a) Free, Organic Traffic
The first option takes time and work, but eventually, it will yield you a nice amount of traffic in reward for your work.
You have to write a few blog posts to get rankings at Google and other search engines.
Around 30 very well written and helpful blog posts can get you started.
As your blog gets more and more content, and your website matures, your site will get high rankings.
Hopefully, page one of Google's search, which leads to a massive amount of natural, organic traffic!
This method is as simple as it sounds. As mentioned already, with this method you will have to be diligent and patient to get results.
However, if you are impatient and you want traffic straight away.
Moreover, if you have money to start a PPC campaign, then you can try the second method.
b) Paid Traffic
This particular method is not rewarding regarding satisfaction after a lot of hard work, but it is gratifying concerning traffic count.
It is straightforward.
After you have content on your website published and ready for users (potential customers), you can run a paid ad campaign.
For example, you can pay to Google to immediately show your website to potential readers when they search for something related to your niche.
Alternatively, you can run paid ad campaigns on Facebook, Instagram, Pinterest, YouTube, and more!
I like Pinterest the most because both free and paid traffic is continuous and massive!
This method is expensive, and it is not recommended for beginners because it can cost you a lot of money to reach your readers.
Moreover, all of that money can go to waste if you don't have enough experience.
So, my advice is to stick with the free stuff until you grow confidence.
Once you learn how to blog, you have your traffic in place and growing; it is time for the part where you are going to put some value on your words using nothing but affiliate links!
When I heard about this for the first time, I felt like I won the lottery. 🙂
4.) Make Money
There are 50+ different ways how can you monetize your website!
Unbelievable!
However, the following two are the most popular and the easiest ways to do so.
a) Using affiliate links
Alright, now we are talking business.
The affiliate link is a connection between your site and merchant of a specific product or service.
You can use your website to promote (market) other peoples product or services to make money while you blog about your hobby or something else you are passionate about.
Once again, like I won the lottery. 🙂
b) Selling advertisement space
There is another good way how to make money while blogging.
You can get paid for ads on your site which is what many bloggers are using to earn a nice passive income on the side.
The best way to do so is to join the Google Ad Sense program.
Google pays you to use selected space on your website to run advertisements. Every time a visitor clicks on an ad displayed at your blog, you will get paid by Google.
Between those two, I prefer affiliate links more.
You see, affiliate marketing is a simple concept which is fast to learn. Moreover, it is a rewarding and exciting way to make money while blogging.
If you ever purchased and used any product or service related to your niche, you can try to get some of that investment back.
All you have to do is write a review of a product or service, post it on your blog, and get ranked on Google, Bing, and Yahoo.
Other people who are searching for a review of that very same product or service will click on your site, if happy with your report they will use provided affiliate link and purchase the product or service.
In the end, both ways are going to work equally only if you accomplish the first three steps.
Moreover, you can discover many more exciting ways to earn money from your laptop along the way.
I wish I have enough time to share them over here, but I don't.
I'll get them to you some other chance. 🙂
5.) Repeat the Process
This step is self-explanatory.
Once you go over four steps that are described so far, repeat all you have learned to master the skill.
After you get the grip around blogging it's going to be easy to scale it or to create another one.
As I was saying to my friend who was interested in learning, once your imagination gets the process, your mind is going to run wild.
Wild in a positive way, of course. 🙂
Work Online, Work from Home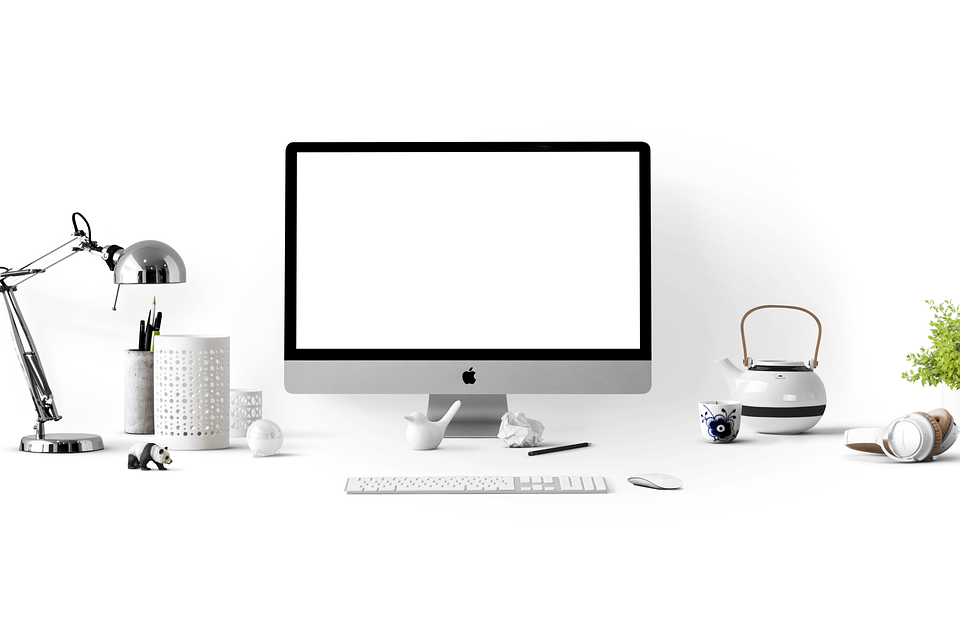 Together with the fact that you can make money while writing a blog, there are many more benefits from blogging career.
One of the primary benefits and my favorite is freedom.
You see, as long as you have your laptop with you and a stable internet connection, you can run your business from anywhere!
More and more people begin to see this benefit, so they decide to give it a try. It's starting to be a worldwide movement.
Unfortunately, not so many people succeed in trying.
A lot of people starts with a massive enthusiasm after they see that it is profitable and it works. However, after some time their bubble bursts and they give up.
I will share a few keys you will have to take with you if you decide to write a blog and make money out of it.
1.) Be openminded
It is probably a whole new world to you, so keep your eyes and ears wide open, and your mouth closed. Listen to others who know more than you do.
2.) Be diligent
No one is going to do the job for you except you! Don't just daydream about the success, work for it!
3.) Be patient
The money will not come after a first blog post, not even after thirty-first. It will arrive at one point as long as you don't lose your patience and give up.
4.) Be willing to fail
There will be failures on the road. If you let it get into your heart, you will most certainly stay at the place. Try to learn from every failure. Use it as a lesson, so next time you can get it better.
5.) Learn how to say no
If you want to make money in this business, you will have to say NO to many things which can take you away from what you want.
And now, I would like to demonstrate to you everything you have read so far.
If you allow? 🙂
Start Blogging and Make Money Now!
Wealthy Affiliate is an online business certificate program which can teach you all details about how to make money while blogging.
It is a broad online community of entrepreneurs who are eager to learn and to share their knowledge with you. I am one of them.
The founders of the Wealthy Affiliate training program are guys who have spent the last 13 years doing what they know the best.
Kyle and Carson made a fortune working online, and they share their knowledge in a step by step manner so you too can repeat their success.
At Wealthy Affiliate, you can learn how to chose your niche, find affiliate programs with products to promote, how to build your website, how to write content on your blog, how to get traffic on your site, how to use affiliate links and Google AdSense to make money, and a lot more!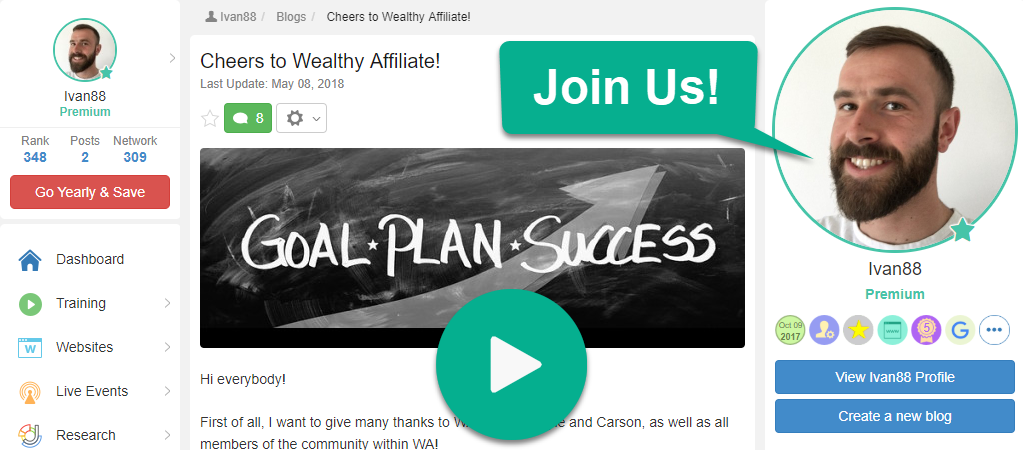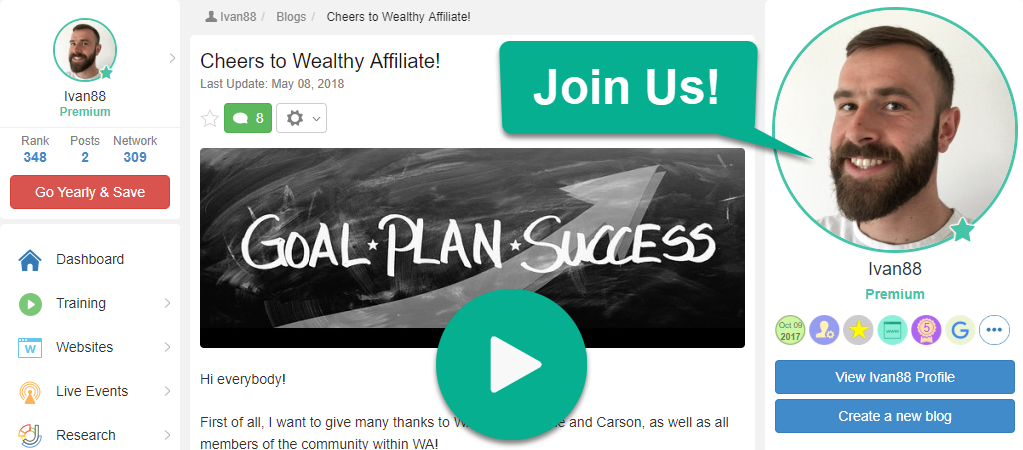 PRESS PLAY TO LEARN MORE!
Moreover, they offer a free trial of their program, plus two free websites where you can make your first steps in the blogging business.
My advice is to try it for free before starting.
As I gathered my best knowledge from them, they are my only recommendation for all new bloggers.
I think there is no other place online where can you learn what you can at Wealthy Affiliate.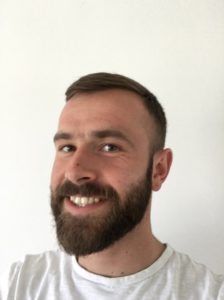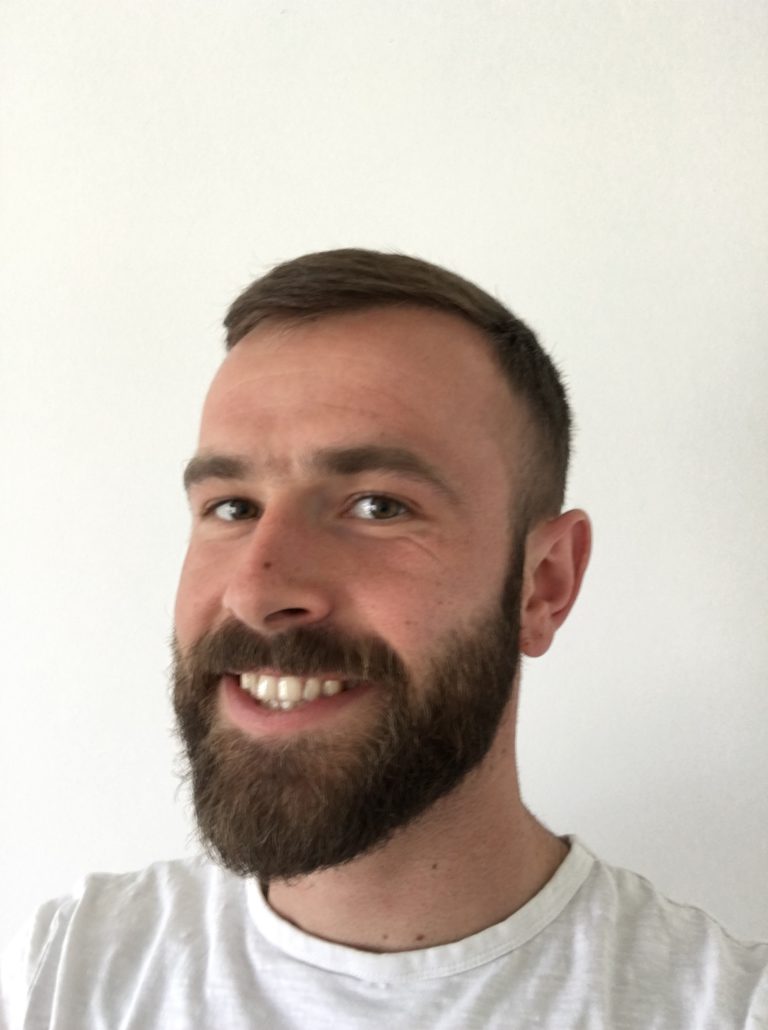 I wish you a successful online marketing journey!
If you need any help or you have a question feel free to contact me!
All the best,
Ivan,
founder, and CEO at
freeaffiliatemarketingbusiness.com