Welcome to my 10 Minute Millionaire Insider review.
New York Times best-selling author, D.R. Burton Jr, claims that his expert advice on investing could help you to make millions of dollars working only 10 minutes per day.
Are you wondering whether or not 10 Minute Millionaire Insider is a scam or legit?
If you are a little bit sceptic too, make sure to read the rest of this unbiased article.
I learned about this opportunity from Money Press Tree while I was reviewing another so-called "get-rich-quick" scheme.
Money Press Tree is a host to a series of questionable newsletters that are seriously overhyped.
It looks like this one is following the same road. But is it going to deliver the promise?
To find out the truth, let's dive into this 10 Minute Millionaire Insider review to see could this letter make you rich in a matter of minutes.
10 Minute Millionaire Insider Review
10 Minute Millionaire Insider is a newsletter that teaches about a few alternative income streams discovered by D.R. Burton.
He claims that all you need is 1o minutes with him, and he'll make you a millionaire.
But I know you're smarter than that. I mean, those claims and the name of the program are nothing but overhyped marketing.
Making millions in ten minutes is possible only if you are on a Warren Buffet level.
I guess you're not W.B., right?
So what will you get? What is it really about?
10 Minute Millionaire Insider is a program that will show you how to set up trades in less than 10 minutes.
That explains the misleading name for this program.
These tips and tactics of trading are based on D.R Burton's years and years of experience.
He's decided to share them in the form of a newsletter. That's all.
One thing is for sure though, you still need a lot of money and skills to make millions.
It would be foolish to fall on those empty promises from the sales page.
Who is D.R.Burton Jr?
D.R. Burton is a professional and experienced trader who claims that he has reverse-engineered a system of trading that makes him tons of cash each week.
Since then, he's also uncovered a millionaire-making secret: how to set up multiple sources of income, continually streaming into his bank account, month after month.
D.R. Burton is a self-made millionaire and an author.

In other words, D.R. Burton is a legitimate character.
But what about his newsletter? Is it legitimate too?
Let's take a closer look now at the rest of this 10 Minute Millionaire Insider review.
What You Get With This Newsletter
Each month you'll receiver a newsletter that contains thoroughly researched and analyzed trades based on D.R Burton's methods and techniques.
The letter is called 10 Minute Paycheck Plan.
In addition to the newsletter, you'll receive an invitation to a live training session each month where Burton is going to show some of his favourite strategies for earning an income from trading stocks.

Here's the list of perks you get as a subscriber:
Digital Bootcamp 5-Part Video Training Series
Three Guided Money-Doubling Opportunities
Instant Action Alerts
Paycheck Alerts
Millionaire "WealthClass" Video Series
10 Minute Millionaire Insider Cheat Sheet
Personal Income Ledger
I have to add a private note that I'm not a big fan of this type of investing, but the fact that D.R. Burton has got a lot of field experience is reassuring.
After all, he's a recognized expert.
But on the other hand, I've managed to dig up a lot (A LOT) of negative customer reviews from people who claim that 10 Minute Millionaire Insider is nothing but a scam and a rip-off.
I'll show you these later. Let's see if they are valid first.
How Does It Work in Practice?
You'll receive trades and set-up in an almost DFY format.
This means that market analysis is already done for you. All you need to do is place the trades.
Then, once you set up your trades accordingly, you need to wait for Burton's signals to close.
This is going to be done via email and text message.
If successful, your trade should be winning, and you should cash in big bucks.
That is, of course, nothing but a theory. I haven't invested any money into these trades so I can't vouch for it. But it sounds legitimate to me.
However, you still need to see those horrible complaints before you make your own decision.
CLICK HERE TO DISCOVER THE BEST WAY TO EARN AN INCOME ONLINE >>
Price, Upsells, and Refund
By the time of writing this 10 Minute Millionaire Insider review, the newsletter is selling for $299 one time.
This price includes all the perks mentioned in a few sections above.
Are There Any Upsells?
No, there are no upsells immediately.
But they will send you upgrades and additional offers via email all the time.
Also, you need a starting capital if you ever decide to listen to Burton's advice.
Is There a Refund?
Yes, you can try it out risk-free for 90 straight days. If you don't feel like this is going to work, you can get your money back.
How to Get a Refund?
To get your money back, you need to contact the customer support, and they will give you a refund, no questions asked.
What I Like About This Letter
D.R. Burton is an Expert
The only thing that I like about this program is the fact that D.R. Burton is a legitimate guy and a stock market expert.
He's years of experience behind him and leaves a good impression of a person who knows how stock market works
But I still can't escape those negative customer reviews that I'm about to show you in a few moments.
What I Don't Like About It
Impossible Claims
D.R. Burton might be an expert in trading stocks, but his marketing is entirely misleading.
The types of headlines he is using are putting wrong ideas into the minds of the users and are designed only to make more sales of the newsletter and to make money for Burton himself.
As a matter of fact, many people have fallen on these claims and here's what they have to say.
Has Got a Lot Of Negative Reviews
The first set of negative reviews of 10 Minute Millionaire Insider is coming from Amazon customers.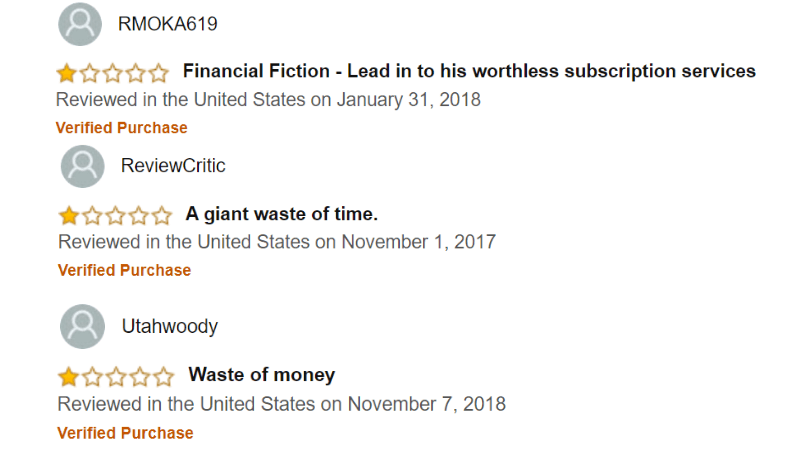 This is just the tip of the iceberg.
This set of negative reviews and complaints comes from another review site.
As you can see, all those claims about 100% gains or higher, and even Burton's reputation are seriously trash-talked.
One cannot escape thinking that, after all, it might be a scam.
No Training on Stock Market
What you get is a newsletter and a few walkthrough videos where D.R. is going to show you the system.
Unfortunately, you won't get step-by-step training that will teach you how to become an expert yourself, which is something that I don't like as well.
Is 10 Minute Millionaire Insider a Scam?
D.R. Burton's newsletter has got a lot of negative customer reviews of people who claim that he fails to deliver and who feel like they were scammed.
Those complaints are a clear indicator that the quality of the program is not as good as it's been advertised.
However, other than that, there are no signs of a real scam.
Technically speaking, it's a legitimate program for investing in a stock market.
You get tips and instructions for setting up stock market trades from a recognized expert in the field, D.R. Burton.
So in my opinion, the 10 Minute Millionaire Insider is not a scam.
Together with the advice and analysis, you get a short video training as well as a set of bonuses such as email and text alerts and weekly webinars.
Also, Burton has backed his program with 90 days money-back guarantee, which is something that every legitimate program has to have.
Related: Is Fast Fortune Club a Scam? – What Tom Gentile Hides From You?
Do I Recommend This?
I don't recommend 10 Minute Millionaire Insider because of those negative reviews and claims created by the owner.
Burton promises too much and promises some unrealistic things such as making money in just 10 minutes.
It may take 10 minutes to set up those trades. But you still need to hustle a lot.
This newsletter might be a convenient tool or a source of insider information, but that's all that it is. A tool.
Another reason why I don't recommend this program is the lack of education.
Yes, you'll get a few videos that show how to set up trades, and some monthly webinars where you can learn a few things from Burton.
However, the program lacks education, and I feel like it won't teach you how to become an independent trader.
In my opinion, the best way to succeed in the long-run is if you learn how to do your own market analysis, develop your own strategy, and learn how to pick your own trades.
Because of those overhyped claims, many people fall into the trap of thinking that programs like this are a fast way to riches.
The truth is, there's no such thing.
How I Earn a Passive Income From Home
Thanks for reading my 10 Minute Millionaire Insider review. I hope this post was useful.
If you have any questions about this website or maybe you can offer an experience, feel free to leave them in the comment box below.
Before I let you go, let me show you how I earn an income online from home, which has enabled me even to quit my lousy job.
I wouldn't have succeeded without help from the marketing platform that I recommend above all other.
Make sure to check it out!
CLICK HERE TO DISCOVER THE BEST WAY TO EARN AN INCOME ONLINE >>
If you need any help or you have a question, feel free to contact me.
All the best, Ivan. Founder, and CEO @freeaffiliatemarketingbusiness.com