Welcome, fellow online entrepreneur!
I'm Ivan and  I created this site to help people like you find the best and most legitimate ways to make money online.
That is exactly what I was looking for a few years ago and thanks to some of the best programs out there, I now earn a consistent passive income every month!
And as I said, I want to help you do the same…
So who am I and what do you need to know about me?
Well, to answer those questions, here's a little story about me, my past, my present, and my future…
My Road From Waiting Tables to Thriving Online Business Owner…
Just like billions out there, I was a part of the system that dictates to go to school, get a job, and live in debt for the rest of your life.
A concept that I didn't like from the start.
I mean, what's there to like? Eat, sleep, go to work, repeat.
All my life, I was being told what to do, how to do it, and when to do it.
After graduating high school I was told to go to college.
After two years in college, I thought about it and realized that my going there was not my decision, and couldn't see my future after graduation.
So I decided to quit before it was too late.
Shortly after, like every other dropout, I found myself working at one job after another, mostly in hospitality.
I used to work 8-9-10 and sometimes, during busy periods, I worked for 12+ hours!
It's sufficient to say that I didn't see my future there either.

I mean, who wants to slave for the "BOSS" all day every day (and sometimes night too)?
The truth is, I didn't hate my job as much as I hated being told what to do, punch the card, and report to a manager.
In fact, I found great pleasure in service.
But the "BOSS" part of it was something I hated from the bottom of my soul.
So I started to think about my life once again.
Being surrounded by rich people (entrepreneurs), I got the idea to start my own business.
I had nothing left to do but start the search for my opportunity.
I was reading books, attending seminars (live & online), watching videos, and patiently waiting.
One day, while watching a video on YouTube, I heard that it's possible to make money online with AFFILIATE MARKETING and live the LAPTOP LIFESTYLE.
This information threw me ecstatic!

So my decision to go for it was as fast as lightning.
But unfortunately, I didn't know where to start…
All I knew is that LAPTOP LIFESTYLE is something that I WANT!
I wanted to learn more about affiliate marketing and everything that comes with it, but all I found were broken pieces of information.
I don't even have to say how many scams are out there. I've even fallen on a few myself.
But it was a lesson that had prepared me for something BIG.
Days went by, and I was still looking for this perfect opportunity.
One day, I received an open invitation to learn affiliate marketing through one of the top marketing platforms on the internet.
I still can't remember from whom I got this invitation, but all I know is that I was sceptical to open it at first.
But soon enough, I opened the email, clicked the link, followed the instructions, and the rest is HISTORY!
Today, I run a successful online business, and I enjoy the Laptop Lifestyle.
A Laptop Lifestyle means that you can work only your online business wherever you want whenever you want.
If you want to make lots of money, you can hustle for hours and hours, and it'll happen.
Or if you just want to supplement your main income, you could do it part-time.
There are no rules or limits.
You can take your laptop and work on your business anywhere, as long as you can catch WiFi, you're golden!
And since the income from affiliate marketing is mostly passive, you have more time for other activities that you love.
As you can see, I enjoy spending my time outdoors, I like to hang out with my family and friends, or take my dog to nature…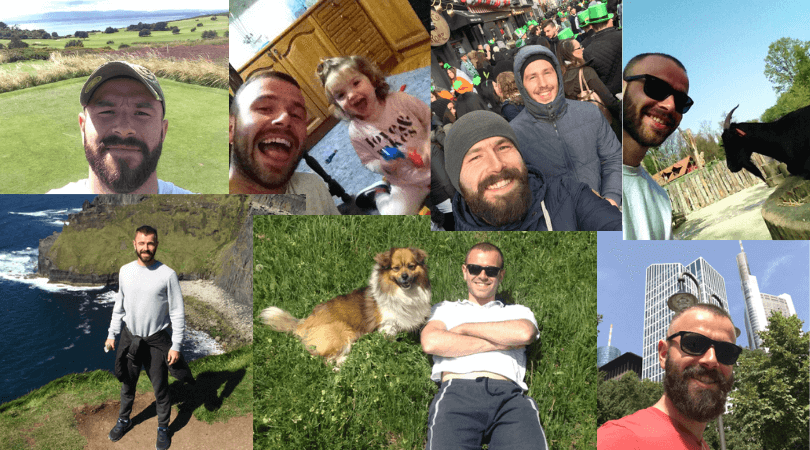 But I'm not an Internet 'Guru' or anything like that.
All I know is that making money online is not a myth, it's REALITY.
I won't tell you that you can push a few buttons and then, the money will pop out of your screen.
Those things don't exist!
But I can confidently say that if you are willing to devote enough time and put a lot of work into this, YOU CAN DO IT!
Your skills, knowledge, diploma, or the lack of it, doesn't matter at all!
I'm a college dropout and a guy who's been waiting tables for a living and quite honestly, I wasn't living a very healthy lifestyle.
Today, I make money online and I'm healthy, happy, and on my way to becoming a wealthy individual all thanks to the power of online income.
It's nothing secret or magic.
It's all about taking action and committing to success.
Also, it's about having someone who can show you the way.
That's the formula I used and with a lot of work and effort, I managed to bring my wish to reality.
My GOAL is to build a life I don't need a vacation from and to show you how to achieve the same.
I know that the online world is like a jungle out there and it's full of traps, scams, schemes, and such.
That's why I have decided to create this site.
I want to help you avoid time and money waste and find your way to real online courses that are getting RESULTS.
So after trying 600+ online courses and spending 1000s of dollars to get RESULTS, this is my #1 Recommendation for people who want to make money online…
I use this EXACT SYSTEM to earn $1000s in passive income every single month promoting products that I don't even own or create!
This method allowed me to quit my J.O.B. and earn a full-time income online!
And today is your opportunity to do the same…
I hope you like my site and I hope my work has contributed to your life in any way.
If you need any help or you have a question, feel free to contact me.
All the best, Ivan. Founder, and CEO @ freeaffiliatemarketingbusiness.com