Welcome to my Perpetual Income 365 review. If you're anything like me, you've probably done extensive research into the product and are looking for more detailed information on whether or not it's legit.
Congratulations on being a smart online shopper. That's how you avoid getting sucked into scams and get-rich-quick schemes.
So is Perpetual Income 365 one of the above? Can you trust Shawn Josiah? Is everything just another scam?
In this blog post, I'm going to reveal all the insider details about Perpetual Income 365 that will help you make an informed decision as to whether or not it is something worth investing in.
From discussing its features and benefits to exploring its potential cons, I'll cover every aspect of this shady money-making program so that you can decide if it's a scam or legitimate before putting your hard-earned cash at risk. Ready?
Keep on reading my review or see the video review below (4700 people have seen this review so far!).
Is Perpetual Income 365 a Scam?
I want to clarify that Perpetual Income 365 is not a scam. Initially, I had doubts when I came across this product. The sales page and overall presentation made me think it was just another overhyped and low-quality ClickBank product.
How about you? Did the "secret algorithm" story leave you with the same impression?
I was actually surprised to see that you get a sort of workable affiliate marketing system.  You gain access to step-by-step training instructions, and resources necessary for implementing this system.
That being said, Perpetual Income 365 is legitimate. In other words, you receive a product and a practical system in return for your cash.
However, it's important to note that there is also an underlying agenda, which is kinda of a problem.
First of all, it is designed to make you promote Perpetual Income 365 and become the salesperson for the program. The person of extreme benefit in this case is, guess who? The creator – Shawn Josiah!
Personally, I am not fond of this approach, and I will delve into further details in the subsequent parts of my review.
Another problem is that the entire offer costs over $600 instead of the advertised $9! Plus there are recurring monthly costs involved that were not disclosed before buying the product.
This raised even more concerns about the creators' intentions. Is he helping you to make money? Or, is he using you to make more money? Somehow, I'm convinced in the latter scenario…
Note that Perptual Income 364 is not a scam because of this. While you get some value for your money, a hefty payment is required for access to the system, which is why I don't recommend it.
If you're looking for the best business model to earn passive income online as a beginner, there are other, more suitable, and cost-effective alternatives.
THE BEST WAY TO MAKE MONEY ONLINE IN 2023 >>
What Is Perpetual Income 365?
Perpetual Income 365 is a step-by-step training for making money online with affiliate marketing. The program is designed to teach you how to make money promoting ClickBank products using solo ads.
As mentioned, you get access to a set of step-by-step training videos with which you can learn how to promote digital products to people to earn recurring commissions.
One of the recommended products is Perpetual Income 365 itself. The creator has this idea of building a team of salespeople through his program.
What's Inside Of Perpetual Income 365?
Inside the main dashboard, you will find the contents of the program such as:
Welcome video where you can meet Shawn Josiah.
Onboarding videos where you can learn more about PI 365.
Step-by-step guide for launching your money pages.
Integrations such as autoresponder, landing page builder, click tracker, and other tools.
5 DFY money pages that you can use to promote products online.
Traffic Crusher: is a solo-ads marketplace where you can purchase real clicks.
Upgrades (see the price section of this Perpetual Income 365 review to learn more).
Here is what else you will find inside the Perpetual Income 365 program.
Private Community
The first feature inside the dashboard is the Private Facebook community. By the time of writing this Perpetual Income 365 review, the community has had 6K members.
It's always a good sign to see a large and active community.
This means that the product is legitimate and you will have instant access to all the help and support that you need in order to succeed with Shawn's system.
Customer Support
At the top of the dashboard screen, you will find a link to customer support. In case you have some problems with your system or membership, you can contact support to resolve them.
These are not the only features inside. There are a few more. However, I'm not going to be covering them in this Perpetual Income 365 review.
Those five above are the most important features of Shawn's system.
RELATED: Best Way To Make Money Online For Beginners
How Does Perpetual Income 365 Work?
The idea of Perpetual Income 365 is based on email marketing and promoting digital products from ClickBank to other people using solo ads and DFY money pages.
Here is a step-by-step:
Step #1 – Integration of Platforms
The first step is to integrate your affiliate links into the platform to make sure that commissions go to you after each sale you make down the road.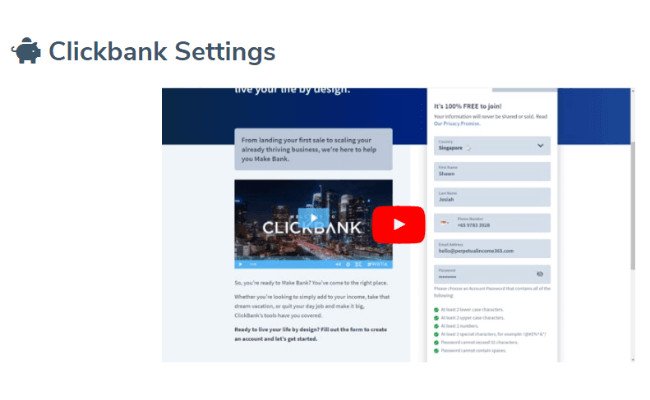 In this step, Shawn is going to show you how to create affiliate accounts with:
ClickBank
WarriorPlus
DigiStore24
The last instruction is how to integrate PayPal.
Step #2 – Integration of Autoresponder
Once you've done integrating affiliate accounts, the next step inside the Perpetual Income 365 system is to create and integrate your GetResponse autoresponder into the system.
GetResponse is free for 30 days and then it is going to be about $15 per month for a 1000-subscriber list.
As your list grows, so will the costs of the GetResponse.
You will be instructed on how to integrate GetRespose into your account and use an autoresponder to send the DFY email sequence to your subscribers once you activate the system and start collecting leads.
Step #3 – Creation of Pages
The next step in setting up the Perpetual Income 365 system is the creation of your money pages. As a basic member, you will get access to one DFY page (multiple templates).
This is the page that will be shown to people once they land on your offer. It's also known as a landing page.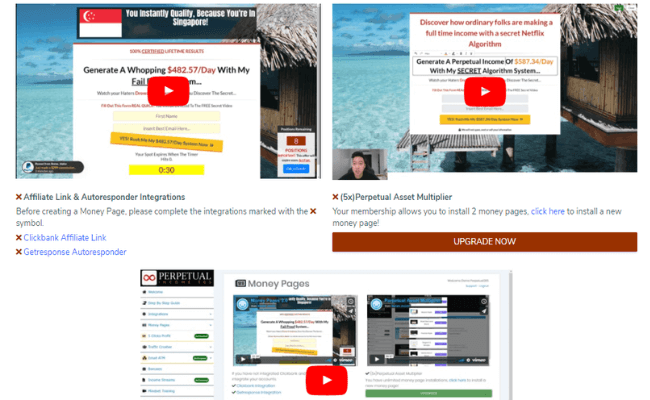 Moreover, this page was designed to collect emails, add them to your own list, and send your subscribers to the offer pages where they can join Perpetual Income 364.
If that happens, you make money. But let's not get ahead of ourselves here.
This step also includes upsells from the beginning of the Perpetual Income 365 review.
Step #4 – Running Traffic To Build Your List
Once you set the Perpetual Income 365 money pages up, you should be ready to earn some income with this system.
In a nutshell, you'll be buying traffic from UDIMI and For Me solo ad marketplaces.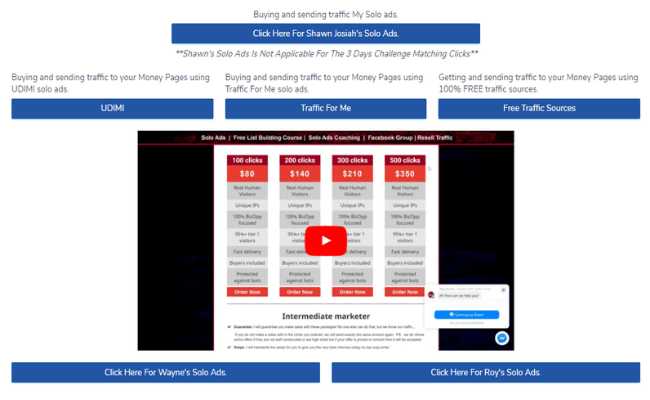 In this step, Shawn will show you how to reach out to trusted vendors to get the most quality traffic for your money. This important step as your whole campaign depends on traffic so pay attention.
Keep in mind that solo ads are a pretty expensive way of advertising.
To give you a full-scale picture of potential cost, take a look at the average cost at Udimi.
100 clicks – $80
200 clicks – $140
300 clicks – $210
500 clicks – $350
1000 clicks – $675
2000 clicks – $1290
3500 clicks – $2188
5000 clicks – $3000
10000 clicks – $5750
About 500 clicks should get you started. After that, you will have to keep reinvesting money into the system to earn more income.
Step #5 – Sending Emails To Make Bank
The next step of the Perpetual Income 365 review is to activate the DFY email sequence that goes to your subscribers as soon as they give you their email addresses.
The system sends 30 emails in 30 days for you so you don't have to do anything here.
Step #6 – Building a Million-Dollar Mindset
So once you set up the system, and manage to get high-quality traffic to your offers, the rest should be taken care of automatically.
And if you follow Shawn's instructions to the letter, you should earn commissions.
The last step of Perpetual Income 365 is building a million-dollar mindset. In this section, you will get two videos where Shawn gives some warnings and instructions.
He also suggests watching these videos before launching your campaigns!
RELATED: Best Way To Make Money Online For Beginners
How Much Does Perpetual Income 365 Cost?
So to get access to Perpetual Income 365, you'll have to shell out only $9 one time. After that, it's going to cost you $47 per month to keep access to the system and updates.
Perpetual Income 365 Upsells 
Before you get access to the system, Shaw is going to offer to purchase a few additional upgrades.
The 5-Clicks Profit Activator – $197
Email ATM Machine – $297
Perpetual Asset Multiplier – $127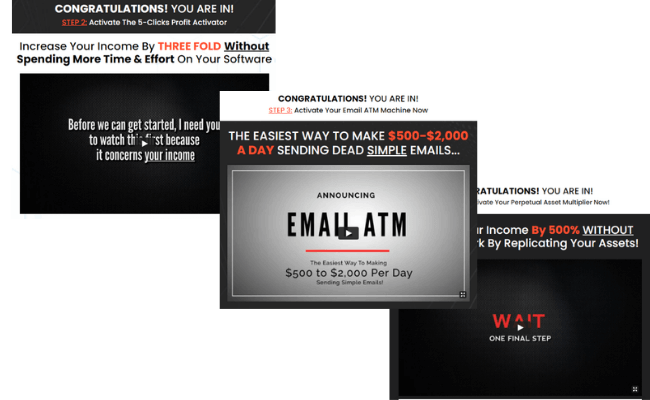 Extra Costs
In addition to these upsells, which are optional, by the way, you will have to spend more money on the Perpetual Income 365 system down the road.
Here's a breakdown of extra costs:
GetResponse Autoresponder – starts at $15 per month but the costs will increase as your list starts to grow.
Solo Ad traffic – starts at $345 (maybe even less) but increases as you advance through with your business.
Recurring membership – You will have to pay $47 per month to keep access to Perpetual Income 365.
I personally hate the fact that none of these were disclosed before buying the product. It shows that the creator has designed the Perpetual Income 365 for his own benefit, not yours.
Are Perpetual Income 365 Students Getting Results?
Despite the program's popularity with over 6800 members in the private Facebook group, I found very little evidence that people are able to earn consistent profits using the system.
Although I went through countless earnings screenshots and testimonials from students, I was disappointed to see that there were only a handful of success stories and even those seemed questionable.
I also browsed through the Facebook group thoroughly and found it hard to come across anyone who had actually made significant profits from using the program.
Some people made a sale here and there. Nothing life-changing as advertised.
One would expect that with so many people using the program and with claims of a "proven system," the results would be better.
Additionally, negative online reviews raise concerns about the program's validity. Does the creator of PI365 rely too much on marketing tactics instead of delivering a reliable and profitable system?
Before concluding my Perpetual Income 365 review, let's go over a few pros and cons to help sum up.
RELATED: Best Way To Make Money Online For Beginners
Perpetual Income 365 Review – Pros & Cons
✅ Pros
Affiliate Marketing Is a Profitable Method
You Get DFY Pages and Step-By-Step Instructions
Access to Support and Facebook Group
You Can Test PI 365 for $9 for 14 Days
ClickBank Money-Back Guarantee
🛑Cons
Hidden Upsells (over $600!!!)
Undisclosed Recurring Monthly Costs
Lack of Real User Testimonials
Focused on Teaching You To Promote PI365
Perpetual Income 365 Is Not Newbie Friendly
You Don't Own Your Business
Lots of Negative Google Reviews
Perpetual Income 365 Review – Conclusion
Based on my experience and research, I can't recommend Perpetual Income 365 to anyone serious about making money online. Success in this field requires hard work, dedication, and a solid strategy – none of which I found in this program.
The claims made by Perpetual Income 365 are too good to be true. They promise easy and consistent profits without much effort, but I haven't seen any substantial evidence of people actually making money.
The website and promotional material are filled with hype and exaggerated claims, misleading newcomers to this field. It's clear that the main goal of this program is to make money for the creator, not for customers.
As an affiliate marketer, I'm always looking for quality programs that help me achieve my financial goals. Unfortunately, Perpetual Income 365 doesn't meet my standards.
I advise against investing time and money into Perpetual Income 365. There are better affiliate marketing programs that provide value and deliver on their promises.
THE BEST WAY TO MAKE MONEY ONLINE IN 2023 >>