Are you wondering whether Profit Robot is a scam or legit?
If you want to know whether or not this 'robot' is going to make you $444.80 per day, you will get the honest answer in this unbiased Profit Robot review.
According to the lovely salesperson, this program should be some set-and-forget method that requires only a few minutes of work per day and will rake in 100's per day.
What a cool story. Gee, I really wish it's real. Here's what's really going on.
Profit Robot is another product from the WarriorPlus marketplace created by Art Flair.
This one follows the same traits as all other get-rich-quick schemes that he throws out.
By the way, congratulations on researching yourself!
Quick research saves you time and your hard-earned money. It shows that you are serious about finding a legitimate way to make money online.
Within this Profit Robot review, I'll show you what's the story here.
Also, I'll explain how the whole thing works and give you a look inside.
Lastly, I'll discuss whether Profit Robot is a scam or legit way to make money online.
Shall we begin?
Profit Robot Review
Profit Robot is some kind of system that's going to make you $444.80 per day. The best thing about this system is that you don't need to work more than 20 minutes per day (sense the irony in my voice).
All you need to do is set it up and forget about it. The robot is going to make cash on autopilot.

Another cool thing about this software is that you don't need to have any skills or knowledge. It's completely newbie-friendly.
Also, you don't even need to sell or promote anything. Now that's a shocker.
To me, this sounds a bit weird, wouldn't you agree? I mean, how can you make money online without selling?
Even better, the creator of Profit Robot claims that you don't even need to have a budget!
But the truth is that the sales page, all of it, is just one big blatant lie designed to sell you something else.
You see, Profit Robot is just a fancy name for a funnel builder and software that shares affiliate links on social media.
The chances that you're going to make $444.80 per day are close to zero.
All you are going to get are two automated sales funnels and an opportunity to spend some more of your hard-earned cash.
CLICK HERE TO DISCOVER THE BEST WAY TO EARN AN INCOME ONLINE >>
Who are the Creators?
Art Flair and Pallab Ghosal are the owner and creators of the Profit Robot system.
These guys are standing behind many other flashy products from WarriorPlus. I've had a chance to review a few of them, such as Commission Robot (notice the similarity) and Easy Profit Secrets.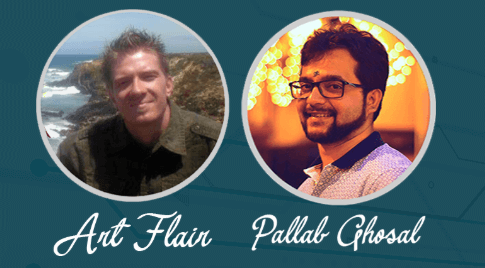 The quality of these products is usually poor. What's even worse, some of them are just rehashed versions of a previous one.
The creators of these MMO opportunities do this to make double money on an existing product, which is scammy, in my opinion.
What's Inside of Profit Robot
Since the sales page doesn't reveal too much about this system, I had to take a closer look. That's the only way to find out the truth.
And the truth is far away from what you are expecting, my friend.
As I suspected, Profit Robot is nothing more than a few short videos about getting traffic to your funnels. I'll explain the system too. Let's take a look at those videos first.
Lesson 1 – Introduction to PROFIT ROBOT
Lesson 2 – Why is this so Powerful – Part 1
Lesson 3 – Why is this so Powerful – Part 2
Lesson 4 – Turn Your FB Posts into Free Clickable Ads
Lesson 5 – How To Get Buyer Traffic For Free – Part 1
Lesson 6 – How To Get Buyer Traffic For Free – Part 2
Lesson 7 – Get Free Social Media Traffic
Lesson 8 – Scaling Up (Get More Traffic)
Lesson 9 – Siphon Traffic Like a Pro
Lesson 10 – Get Even More Traffic
Lesson 11 – More About High-Quality Traffic
Lesson 12 – Summing Up
This might look like a lot of training, but these lessons are concise.
As you can see, the most important part of this program is the traffic generation, and the author of Profit Robot is teaching how to get free traffic to your funnels using social media.
The problem is that they claim that this method will bring you laser-targeted traffic to your funnels.
However, what the author is not mentioning here is that these methods are based on his social media accounts.
Meaning, he's spent years in building the right following. If you are not having the same, you'll find these methods worthless. Or you'll have to spend a lot of time building (if you know how) your social media following.
Compared to what I know about free traffic, the Profit Robot FB method falls short.
You see, SEO (search engine optimization) has been and will be for years to come, the best way to drive traffic to your funnels.
It also takes some time to build a steady traffic stream, but compared to social media, SEO is a long-term game.
How Does Profit Robot Work?
According to the sales page, Profit Robot works almost on autopilot. They say it's 95% done-for-you sales funnel. All it takes is 20 minutes of work each day to make $444.80 per day.
However, what they don't tell you is that it's never like that.
In theory, Profit Robot works on a model of affiliate marketing. You can get two sales funnels that are connected with affiliate promotions. Then, in order to make some cash, you'll need to send traffic to your offers.
Sounds effortless, right?
Affiliate marketing is a business model where you promote other people's products or services. It's the best way to make money online.
In this case, they are suing sales funnel. You can also use a website or just an email service to reach out to your people and try and make some sales. Every time you make a sale, you get a commission.
But you see, the creators of Profit Robot are marketing experts. They claim that all you need to do is send the traffic to these offers and let them do the selling.
They have prepared sales to funnel together with landing pages, squeeze pages, and everything else, so you don't have to waste time on that.
That's all good, and I appreciate their effort, but like many other products that these guys throw out, this system is also using some shady and weak traffic methods. As explained before, you need to send traffic to your offers to make cash.
Spamming social media groups is not the best way to do so.
In my experience with social media traffic, I learned that it takes a lot of time to build a considerable following.
Alternatively, these guys could teach you how to pay for ads on Facebook to get prospects.
But what about no budget needed?
Will it Make You Any Money?
As I've said already for a few times in this review, I highly doubt that you'll be making $444.80 per day with Profit Robot.
The system inside might not be a scam, but I don't see how you can bank that much working only 20 minutes as these guys claim.
No matter what you can see or hear, affiliate marketing is not a get-rich-quick scheme. Those bold claims are coming from expert marketers.
In other words, they know what you want to hear.
In my opinion, Profit Robot could work if you have enough social media followers or cash to run paid ads. If you don't have either of those two and don't know how to get traffic to your funnels, you won't make a dime with this product.
In any case, I believe that Profit Robot is just another flash program that's going to last for a few months and then disappear completely because people will notice that it's just flashy marketing.
That's how it usually goes with low-quality products from WarriorPlus and ClickBank.
Profit Robot Price
The front end price is only $13. For this price, you're going to get Profit Robot sales funnels and those 20 and something minutes of training on free traffic from Facebook.
This, unfortunately, I believe, is not going to be enough to make $444.80 per day.
That's why you can buy some more products to improve your chances (sense the irony again).
Upsells
Real-Life Case Study ($25) – with this upgrade, you get eight real-life caste studies based on the owner's experience with this system. This is supposed to help you to make more money in less time.
DFY Package ($35) – as its name suggests, with this upgrade, you get everything done-for-you. That includes funnels, social media promos, email campaigns, engagement posts, and more DFY stuff.
Traffic Package ($197) – in my opinion, this package is the primary intention of the Profit Robot system. They know that training sucks and doesn't work, so they give you a chance to buy DFY traffic too.
Resell Licence ($97) – with this upgrade, you can get a reseller license to Profit Robot. Meaning, you can keep 100% of profits after you make a sale.
Coaching & Mastermind ($97) – the last upsell is all about working with creators 1-on-1.
Is There a Refund?
Luckily, like every other WarriorPlus program, Profit Robot comes with a 30-days money-back guarantee.
CLICK HERE TO DISCOVER THE BEST WAY TO EARN AN INCOME ONLINE >>
Profit Robot Scam Signs
You see, I review products like Profit Robot almost every single day. It's become effortless for me to separate the BS from the truth.
Unfortunately, this product is full of the former. Let's start with the most obvious one.
Promo Page Implies on Getting Rich Quick
Profit Robot is a get-rich-quick scam, at least.
By definition, get-rich-quick scams promise high returns for little to no investment. That's what's going on here.
These guys are making promises that they are not able to make.

For example, they promise $444.80 per day, with only 20 minutes of work.
Or even worse, they say that you'll make money this week and possibly even be stuffing your PayPal account with cash by tomorrow.
Those are big red flags that tell you enough about this offer.
No Real-Life Testimonials
The only testimonials that "prove" that this system works are coming from other WarriorPlus vendors and affiliates who are known to create and promote get-rich-quick scams like Profit Robot.
For example, Bill Hugall and Mosh Bari are just two names whose products I've already reviewed. All of them are get-rich-quick scams. The rest of the folks that you can see on the sales page are falling into the same category.
With that said, the lack of testimonials from real users that are not associated with Profit Robot is another huge red flag.
No Guarantees That You'll Make Money
To make matters even worse, all those get-rich-quick claims about making money as soon as tomorrow with little to no work are falling into the water now.
You see, the owners can't guarantee that you'll make any cash, yet on the other hand, they make those bold promises like it's a joke.

Their disclaimer clearly says that the results or success with Profit Robot is not guaranteed.
To anyone with common sense, this tells that they have been lying to you all the time, which is another scam warning sign!
Training Is Unbelievably Short
Once I saw that you're going to get only 20 and something minutes of training on traffic generation, the most critical part of every business, I concluded that Profit Robot is indeed a get-rich-quick scam.
I mean, it's wrong to tell people that they are going to make tons of cash and then give them less than a half of an hour of training.
The whole program is a joke where the ower has something else on his mind.
The Product is Geared Toward Upsells
Speaking of which, if you remember, there are five upsells coming to your way as soon as you agree to go with Profit Robot. Let me explain more.
You see, the seemingly low price and a flashy sales page full of get-rich-quick BS are designed to get you inside without thinking.
Then, as soon as you're in, you're going to be spammed with five more sales pages that are promising even more cash if you buy them. To me, it shows that the whole thing is designed to make cash for the creators.
Moreover, it tells that the product you're buying for less than fifteen bucks is not going to work.
Is Profit Robot a Scam?
Despite all the negativity in the second half of this review, I think that Profit Robot is not a scam.
The reason? Well, you get some training as well as access to two almost done-for-you sales funnels, which makes it legitimate. Also, there's a money-back guarantee, which is a good thing too.
However, that doesn't mean that I recommend Profit Robot. I'm strictly again marketing methods these guys use to make sales.
I don't mind a bit hype, but they are crossing too many lines of good taste.
I don't approve programs that are not transparent with their offer and are leading you to falsely believe that you're going to make money by tomorrow.
I keep reminding my readers whenever I review products like Profit Robot that affiliate marketing is not a get-rich-quick scheme.
No matter how good a product you have or how great your funnel is, there are no ways to make money as fast as tomorrow, especially if you are a beginner.
In my opinion, this offer is just another shiny object that's going to lose its shine and disappear forever.
Lastly, one of the main reasons why I don't approve these shiny objects is that the owner is thinking about himself mostly.
If Art and the gang were honest mentors, gurus, call them however you want, they wouldn't push scammy products like this all the time that are designed to rip you off once you decide to get inside.
Instead, like very few legitimate mentors, they would have had one course which they perfect over and over, making it as easy as possible for you to make money online.
Here's How to Make Money Online!
Thanks for reading my Profit Robot review. I hope I have helped you to learn more. If you have any questions about this program or maybe you can offer an experience, feel free to leave them in the comment box below.
Before I let you go, let me tell you how I make money online with affiliate marketing with the help of a REAL program.
The program that I recommend has everything you need to get started online with zero costs and nothing with getting rich by tomorrow.
These guys have helped thousands of regular people like you and me to make money online and even quit our 9-5's.
Make sure to check it out if you are serious about earning money online.
CLICK HERE TO DISCOVER THE BEST WAY TO EARN AN INCOME ONLINE >>
If you need any help or you have a question, feel free to contact me.
All the best, Ivan. Founder, and CEO @freeaffiliatemarketingbusiness.com