Here at FreeAffiliateMarketingBusiness, you'll only find real tests and reviews.
When I believe it's safe to do so, I purchase all digital products in my reviews and I maintain complete independence from manufacturers.
My Main Goal
My ultimate objective is to provide my readers (you) with the most reliable and unbiased reviews of online business courses.
My end goal is to create a fair and accurate representation of each course, allowing my readers to make well-informed choices about their education and prospects.
My Review Process
To accomplish my main goal, I employ a rigorous review process that consists of a comprehensive analysis of every aspect of the online business course.
When reviewing a course, I use a five-point rating system, which means that I give a score of 1 to 5 for each aspect I evaluate.
Once I have all the ratings on paper, I calculate the overall editorial rating for the course and show it in the overview box in my reviews (see image below).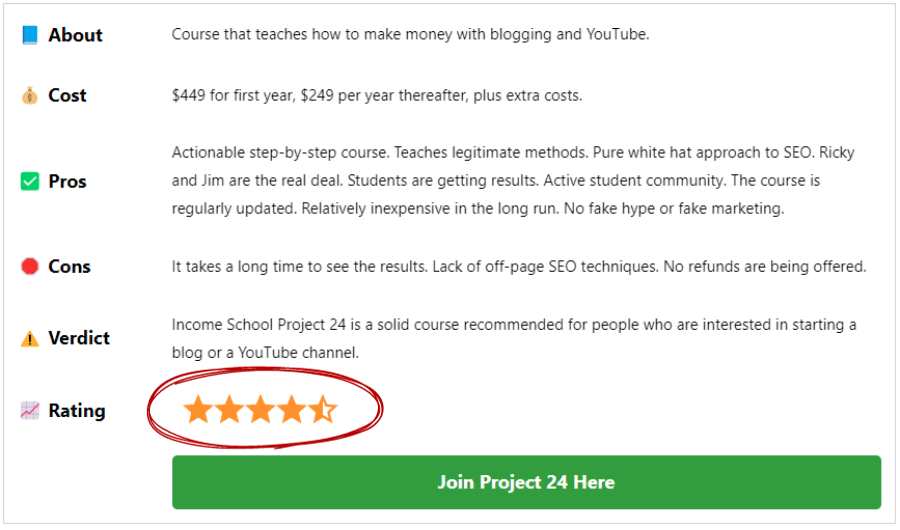 However, not all review factors are created equal.
Certain aspects of the course are given more weight than others when it comes to calculating the review rating.
For example, I consider the refund policy to be particularly important, so that factor is weighed more heavily than something like the platform on which training videos are hosted.
I am dedicated to ensuring that the rating displayed for each course in my reviews reflects its true value, making it easier for students to decide which courses to enrol in and which ones to steer clear of.
Here is how I review every course on FreeAffiliateMarketingBusiness:
I start with the landing page
I start by checking out the landing page or sales page for the course, if available.
On this page, I carefully examine the claims made by the course creator and gather as much information as possible about how the product helps you in making money online.
This step holds great significance in my review process as it often reveals instances where creators exaggerate their products and provide misleading information to encourage purchases.
➡️ If I find out that the page is vague and misleading, I give a low rating in this area.
➡️ On the other hand, the more transparent and objective the page is the higher my rating is.
I check if the creator is real
The next part of my reviewing process is to dig into who the creator is and verify their credibility and trustworthiness.
To do this, I dive into the course's about pages, search for the creator's name, and even check out their social media profiles to confirm their authenticity.
One of the primary objectives of this step is to ensure that the creator has sufficient experience with the method they teach in their course.
In simpler terms, I want to ensure that they can not only talk the talk but also walk the walk.
➡️ If I find out that the creator has no credentials, I give a low rating in this area.
➡️ On the other hand, the more experience he has the higher my rating is.
I look for student results
Many times, online money-making courses have pages showing the accomplishments of current and past students.
I examine these achievements to determine if the course is truly delivering results for its students.
Moreover, I also investigate whether these outcomes are genuine representations of real people or if they are fabricated to make the course seem credible.
➡️ If we find out that the results are fabricated, I give a low rating in this area.
➡️ On the other hand, the more real student testimonials the course has the higher my rating is.
I inspect the pricing and costs
The next thing I do in my review process is to find out all I can about the course pricing, any hidden upsells, and extra costs.
I collect this information from the sales page and personally go through the checkout process, which means I run the risk of spending my own money.
In certain instances, creators only disclose this information during an onboarding call.
➡️ If I find out that the pricing doesn't reflect the value, I give a low rating in this area.
➡️ On the other hand, the more fair the pricing is, the higher my rating is.
I look for a valid refund policy
I strongly believe in consumer rights and your ability to return products if you are unsatisfied with them.
That's why I thoroughly examine refund policies before risking your money and mine.
During this stage, I aim to ensure that if you choose to invest in an online business course, you have a convenient and hassle-free option to receive a refund if you have a change of heart.
➡️ If I find out that there are no refunds or the policy is very strict, I give a low rating in this area.
➡️ On the other hand, the more fair the refund policy is, the higher my rating is.
I inspect the training material
The next logical step in my review process is to purchase the course if I feel it is safe to do so and gain access to the training material, communities, bonuses, and so on.
Once I'm in, I thoroughly go through all the material provided by the creator, often spending hours researching the course curriculum and even testing the strategies.
The ultimate objective here is to determine if the course aligns with the creator's claims on the sales page and if it's worth the price.
➡️ If I find out that the curriculum is low quality, I give a low rating in this area.
➡️ On the other hand, the more comprehensive and well-put the training is, the higher my rating is.
I test the support system
I think your success must have the ability to receive help and support once you become a customer.
That's why I ensure that I send at least one email to the course support team if such an option is available, of course.
My main objective in this step of the process is to determine the speed and effectiveness of the support.
➡️ If I find out that the support is low-quality or non-existent, I give a low rating in this area.
➡️ On the other hand, the more helpful and responsive the support team is, the higher my rating is.
I read/watch third-party reviews
After I finish reviewing the product, I usually check out Google and YouTube to see what other reviewers have to say.
I do this to ensure I haven't missed any important details and that my review is on point.
However, their opinion doesn't influence my own!
I make a list of pros and cons
Once I have all the details in place, I will create a list of the things I like about the digital course as well as a list of things I don't like.
The main objective of the pros and cons lists is to offer you a birds-eye view of the product's strengths and shortcomings.
Usually, I put this list in a few places in my reviews.
I conclude with our recommendation
Finally, I gather all the ratings and calculate the overall editorial rating – as mentioned earlier, assigning it a star rating.
I then wrap up our review by sharing my own opinions and recommendations about the course.
➡️ If I find the course to be a scam or a mere money trap, rest assured, I will clearly state it in my review and make sure you're aware of the risks.
➡️ Conversely, if I believe the course is an excellent investment with the potential to help you achieve your goals, I'll gladly express it in the conclusion!
My Core Values
✅ My main goal is to provide you with honest and unbiased reviews of online courses.
✅ I believe in utmost transparency and straightforwardness in my reviews.
✅ As stated in the affiliate disclosure, I use affiliate links and may receive compensation if you purchase products through those links.
✅ I always disclose the use of affiliate links in my reviews and on my website.
✅ I don't write paid or sponsored reviews and I will always decline such a request.
✅ I don't recommend every course I review on my website.
✅ I only recommend courses and programs that I would personally invest my time and money in and genuinely believe will help you in your pursuit of making money online.
✅ I'm not swayed by the pricing or commission rates of the courses when making my final decision.
✅ Most of the time, I will suggest a more affordable but more valuable course with a lower commission rate, rather than an overhyped and expensive high-ticket commission course.
✅ I do not let the opinions of others or the influence of course creators affect my reviews.
And that's it!
If you have any questions or concerns about my review process or anything else, please, contact us.