Welcome to my 24-7 Wealth Club review.
The alleged owner of this program, some dude named Richard, claims that you can use his system to bank massive cash in record time.
He's looking for nine more members to join his elite team of top earners, blah-blah-blah.
The reason why you are here, reading this review, is that you don't believe the word from the dude named Richard.
Am I right?
Nine bucks seem like nothing, but still, you don't trust him. And I don't blame you.
On the other hand, you might be curious about what is really behind the sales video, and I'm going to share the secret.
Thanks for stopping by.
By the way, congratulations on researching before giving away your hard-earned cash.
That's the way to stay safe online, avoid scams, and find your way to the best way of making money online.
So without further ado, let's start this 24-7 Wealth Club review.
24-7 Wealth Club Review
So, as I was saying, Richard claims that this is a brand new, revolutionary, done-for-you money-making system.
The system that he's been building for so long could potentially earn $13.127 in the next seven days.
According to Richard, you don't need any previous experience making money online to earn thousands per week with his revolutionary system.
Also, it has nothing to do with risky methods like trading bitcoin and other cryptos, or online surveys and anything like that.
Great story, right? But…
What is 24-7 Wealth Club Really?
You see, 24-7 Wealth Club is a marketing funnel designed to sell you sob-story about getting rich quickly.
Everything you've had a chance to hear during the sales pitch is fake.
There are no proofs of earnings, no real-life testimonials, the owner is secretive, and everything else tells us that this is a scam, which I'll prove by the end of this 24-7 Wealth Club review.
Let's start with the dude named Richard.
Who is Richard?
One of the first signs that there's something wrong with this offer is a severe lack of details about the owner.
The dude named Richard has barely had guts to share his first name with us.
All you could hear is a short story about his life.
If you watched the sales pitch, you could have heard that Richard was an average employee who had serious money issues.
Out of desperation, he tried to make money online. Long story short, he's now a super-successful online business owner, and he wants to help you too.
That's all good. But where are the proofs?
How can you trust a guy who's not willing to give out more about himself?
I understand that not everyone is exceptionally social today, but at least a social media profile would be enough, right?
You see, the dude named Richard is just a fake character.
The real owner is hiding behind Richard and has designed him to sell you this get-rich-quick scam.
What's Behind the Sales Pitch?
A few weeks ago, maybe even a few months, I reviewed another program that looks exactly the same as this one.
The promo material has been changed, but the end product is the same. The program is called the Secret Profit Club.
Basically, 24-7 Wealth Club is just a rebranded version of the Secret Profit Club.
This just proves that the owner is cloning these sites to make more and more money of innocent newbies!
So, if you ever decide to buy this, you'll get a few PDF's about ClickBank affiliate marketing, as well as a few short videos that talk about the same topic.
The information within is, to my surprise, legitimate!
However, there's nothing secret or revolutionary about affiliate marketing, nor could this program help you to make $13.127 in the next week.
It could help you to understand affiliate marketing, but I'm afraid that would be all you can get with this program.
You see, Richard, or whoever has created this program, has something different on his mind.
The truth is that the product like 24-7 Wealth Club and Secret Profit Club is designed to aim at your desire to make money online.
Hence the BS about making thousands per week during the sales pitch.
They know that people are drawn to this like a moth to a flame.
But in reality, all you get is a few sample videos, a set of PDF's and a head full of hopes with no means of translating them to your reality.
At least not with programs like this one.
If you want to learn more about affiliate marketing and to start a legitimate business, make sure you click the blue button below.
CLICK HERE TO DISCOVER THE BEST WAY TO EARN AN INCOME ONLINE >>
Price & Upsells
I want to show you now what's the real aim of the 24-7 Wealth Club.
It's not teaching you about making money online. Instead, it's about spending your hard-earned cash.
The starting price is only $9. However, once you pay to get in, you'll immediately get a set of expensive upsells under your nose.
24-7 Wealth Club 2.0 – $99
24-7 Wealth Club Pro – $79
24-7 Wealth Club Social – $49
And once you go through those upsells, you'll get a chance to see that there's nothing that could honestly help you to make $13.127 in the next week.
The whole scheme is just an expensive funnel that could potentially bleed your wallet dry.
The worst thing is that if you decline those upsells, you'll still get everything for only $9.
In other words, whether you spend $236 or just $9, you'll get the same stuff.
That's just nasty!
What Good About it?
While reviewing products like this one, it's hard to find something good about it. However, not everything is so dark.
The program comes with a 60-days no questions asked money-back guarantee.
So, if you are not satisfied with the material, or you think that 24-7 Wealth Club is a scam, you can ask for your money back.
You can contact the Clickbetter customer support and file a request.
Now, Here's What Wrong With It!
Before I conclude this 24-7 Wealth Club review, here are my proofs and reasons why I think it's a dirty scam.
There is No Sign of Revolutionary DFY System!
The scheme is promoted as a revolutionary, never seen, done-for-you make money online system. However, once you get inside, there's no sign of anything alike.
All you get with 24-7 Wealth Club are a few PDFs and a set of videos about CB affiliate marketing. There's no real training or anything remotely close to what's been advertised.
Earning $13.127 in the Next Week is Impossible With This!
The dude named Richard claims that his powerful system can potentially make you $13K in the next seven days.
However, making that kind of money is impossible with the content of this program.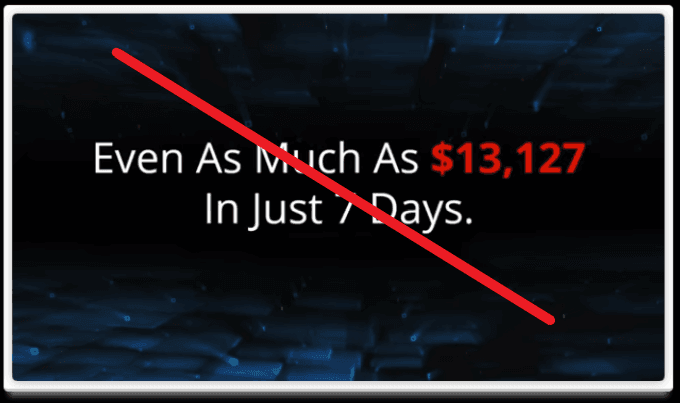 You've been fed with a lot of misleading and overhyped income claims that are not even close to reality.
They play on your desire to make money online for a reason.
You Could Spend a Lot More Than Nine Bucks
As you know, 24-7 Wealth Club is an overhyped sales funnel.
Those overhyped earning claims are designed to pull you into a vicious spending cycle.
The price climbs rapidly from measly nine bucks to $236 in the blink of an eye.
The only person who can truly benefit from this program is the dude called Richard and people that are affiliated with this offer.
The Richard Dude is Not a Real Person!
You have learned this one already as well. The dude called Richard is not a real person.
He's probably just a fake character that's designed to connect with you and to sell you 24-7 Wealth Club scam.
If Richard were a real person, he would have been proud to connect through a social media account or give at least a little bit of evidence that he's a real person.
Those Success Stories…Fake as Well!
The last red flag or a warning sign that Indicates that 24-7 Wealth Club is a scam are those success stories.
Richard or whoever is behind this scam has fabricated a few names and numbers to convince you that you could be the next one.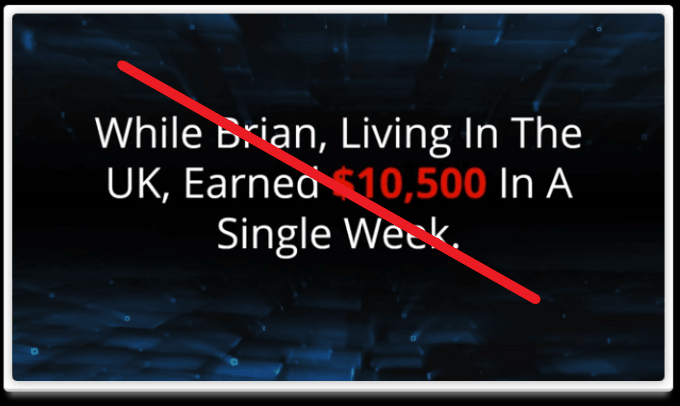 I know you are smarter than that.
Who is This for?
Based on everything that I've seen so far, my honest opinion is that this offer is best for the owner only!
The whole thing is designed to make you spend money so that a person who owns it could earn more off your desire to start making money online.
That said, let's answer this one last question in this 24-7 Wealthy Club review.
Is 24-7 Wealth Club a Scam?
When we summarize everything that's been discovered with this review, I conclude that 24-7 Wealth Club is a scam.
However, there are always two sides of the same coin.
On the one hand, you can say that it's not a scam because, after all, you are going to get something in return for your hard-earned cash.
Now on the other side of the same coin, we have five red flags.
Those five red flags indicate that the owner has no honest intention in helping you make $13.127 in the next seven days or even more.
He tells you how you can become rich quickly only to sell you this program for a few bucks.
But the main intention is to get you to go through the expensive funnel to spend your hard-earned money on upsells.
And the content of the program is not even close to a legitimate training program for making money online.
Basically, the only person who is going to get rich here is Richard or whoever he really is.
So whether or not 24-7 Wealth Club is a scam is totally up to you.
In my opinion, it's a scam that should be avoided. I don't recommend overhyped programs, half-baked courses, and expensive funnels to my readers.
What Should You Do Now?
First of all, thanks for coming to the end of this 24-7 Wealth Club review.
I hope I have helped you to see through the sales video and to learn how this program really works.
Secondly, if you are sick of false promises, turnkey solutions, and scams, you might be interested to learn more about how I make money online.
The program that I'm happy to recommend has nothing to do with getting rich quick.
However, it's proven to work if you are willing to work on it.
If you are looking for an honest way to start making money online, make sure you check out the blue button below!
CLICK HERE TO DISCOVER THE BEST WAY TO EARN AN INCOME ONLINE >>
If you need any help or you have a question, feel free to share them in the comment box below.
And don't forget to share this post with your friends and family!
All the best, Ivan. Founder, and CEO @freeaffiliatemarketingbusiness.com