Are you looking for an honest Cash Flash review? This brand new system is designed to show you how to make money using free traffic and the CPL marketing method.
Now, there are 50+ different ways how you can make money online with free traffic. You can sell other people's products via affiliate marketing, or you can monetise the traffic with ads and earn revenue each time someone clicks on the advertisement on your site, and so on.
One of the ways to earn money online is CPL or Cost Per Lead, which is exactly what Cash Flash is designed to teach you. CPL is a method where you get paid every time someone clicks on your link and fills in a form, registers for a webinar, or signs up for an email list.
That said, the method you can learn with this training program is legitimate. However, the point of this Cash Flash review is to help to see whether the training is a scam or legitimate. And you're in the best place to learn the truth!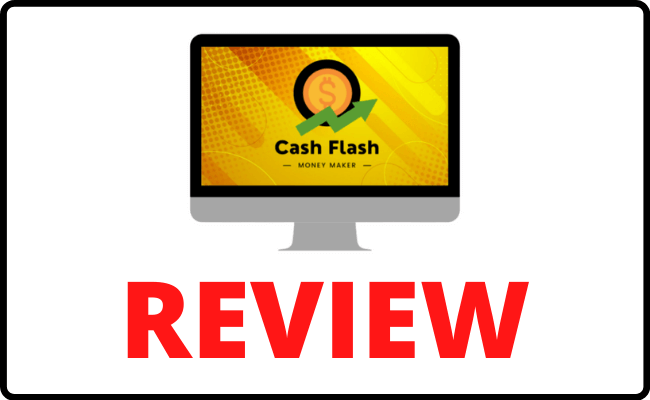 Cash Flash Review – Product Overview
Product Type: CPL Marketing
Price: $11.97 + UPSELLS
Owner: Sabin Timsina
Recommended?: Not For Beginners! See summary below…
Quick Summary: Cash Flash is a training that teaches how to make money with CPL marketing. The training is based on teaching you how to get free traffic and get leads to other people's businesses. That said, it's legit.
However, CPL is not as easy as the owner portrays it. There are too many get-rich-quick signals that put me off. For example, this method is going to take longer than Sabin wants you to believe. Moreover, the Cash Flash program comes with expensive upsells, which you need to get the most out of it.
That said, this program is not my honest recommendation for beginners.
If you're on the hunt for a beginner-friendly method for making money online, click the button below and discover my top recommendation I use to make money every single day!
THE BEST WAY TO MAKE MONEY ONLINE IN 2023 >>
What is Cash Flash?
Cash Flash is a training course created by Sabin Timisina, where he shows how to make money using free traffic and CPL (Cost Per Lead) method. In my opinion, CPL is not the most beginner friendliest method, but it's legit.
Now, Sabin claims that you can earn an income extremely fast, which contradicts with the nature of free traffic. And this is a small scam sign. You see, free traffic usually takes time to take off, and needs a lot of effort. I'm sure this is not going to work as fast as he says.
Here are some of the claims from the Cash Flash sales page that I don't take seriously as well.
Built for newbies
Live the laptop lifestyle
Step-by-step video training
7-day money-back guarantee
30 minutes of simple work
You don't need paid traffic
You don't need an email list
100% proven system that works
Anyway, let's give Sabin the benefit of the doubt and let's take a look at the next section of my Cash Flash review to understand how this training works.

How Does Cash Flash Work?
Cash Flash method teaches how to make $100-$500 through CPL. In other words, each time you get a lead to sign up for an offer, list, or webinar, you earn a small commission. And the more traffic (leads) you get to a business, the more money you can potentially make.
Inside the Cash Flash members area, there are nine training modules where Sabin is going to explain how to use this method step-by-step. Also, you will find some extra resources and upsells that should improve the chances for success.
You can watch the demo video below if you need more info:
However, CPL is not some trick to making tons of cash online. Don't believe every word you hear. CPL is equally challenging as every other method out there. I like affiliate marketing, which is basically the same thing, and I too use free traffic to get leads to products that I promote.
If you take time to read the entire sales page, you can see that even Sabin says that there are no guarantees with this method. There's a chance that it won't make you a single penny.
Is Cash Flash a Scam or Legit?
Technically speaking, Cash Flash is not a scam. I found a few red flags such as overhyped claims that this method is going to make you money fast, or that you need to work only 30 minutes per day, etc.
However, except for those few flops, I can't see any other signs that this could be a scam.
The CPL method is legitimate, and you do get a set of training videos where Sabin takes you through the process of setting up your own business and getting free traffic. It's not the best training that I've seen, and I would not recommend this to beginner, but it's legit.
Related: Affili Weapon Review
Cash Flash Price and OTOs
In this section of Cash Flash review, we're going to go over the price. You have to know that there are several upsells within the funnel. In other words, the front-end product ($11.97) is pretty much basic, which means that you'll probably have to reach for upsells.
And you see, that is one of the reasons why I don't recommend these little crash-courses. The owners usually put their profits in the first place and are not 100% honest about the price. Legitimate courses like Wealthy Affiliate, for example, always put education in the first place.
That said, here is how Cash Flash funnel looks like:
OTO #1 Cash Flash PRO Version – $37
With the PRO version, you will get an additional five traffic source. This tells you that the basic version does not contain enough training on traffic generation, so you'll probably need this one.
OTO #2 Cash Flash DFY – $197
Done-For-You is an opportunity to hire Sabin to create an exclusive offer for your customers, which includes unique money page and traffic. Also, he provides coaching via Skype or emails to keep you in the loop.
OTO #3 Reseller Rights – $67
Reseller Right upsell you sell Cash Flash training program and keep 100% commission across the entire sales funnel.
OTO #4 IM Inception – $17
IM Inception is a set of interviews with 8+ successful internet marketers where they share their experience, tips and secrets, knowledge, etc.
OTO #5 Cash Flash Live Version – $37
The final upsell is contains 1-on-1 live call with Sabin.
Money-Back Guarantee
Cash Flash purchase is backed up with a 7-day money-back guarantee. In my opinion, seven days is not enough, but better something than nothing, right?
What I Like About Cash Flash
Teaches About CPL (Legitimate Method)
You Get 7-Days To Test the Product
What I Don't Like About Cash Flash
Sabin Promises Fast Earnings
Free Traffic Is Slow
Does Not Include Additional Traffic Sources
You Need Upsells to Get More Resources
Cash Flash Review – Conclusion
Cash Flash is a legitimate training course that teaches how to get started with CPL using free traffic. But in my opinion, this course is NOT recommended. First of all, you need upsells, which raises costs. Secondly, there are too many overhyped promises made by the owner that tells me this is not something I would want to be a part of.
The Best Way To Make Money Online
If you're looking for beginner-friendly ways of making money online, my only recommendation is affiliate marketing. And the best place to learn how to get started with affiliate marketing is Wealthy Affiliate training platform, no doubt.
That is my honest recommendation. If you want to give Cash Flash a chance, feel free, I hope it works for you. But after reviewing and testing more than 300+ courses, I still haven't found a match to Wealthy Affiliate and affiliate marketing.
You see, people think you need to sell to make money with affiliate marketing, which is not true. Affiliate marketing is so simple in its course that it's almost unbelievable. But people don't believe in simple things and always look for ways to find flaws and overcomplicate to sound smart.
Trust me. If you need a beginner-friendly and TESTED system for making money online, go ahead and try affiliate marketing and Wealthy Affiliate.
THE BEST WAY TO MAKE MONEY ONLINE IN 2023 >>
If you need any help or you have a question, feel free to contact me!
All the best, Ivan.
Founder, and CEO @freeaffiliatemarketingbusiness.com