Welcome to my EasyHits4U review.
Every business needs traffic to thrive and to be complete. Without traffic, your business is done.
So I'm guessing that you probably own a website or an online store or something like that and now, you are desperate to get some hits on your site.
Maybe you've tried SEO, PPC, and other methods for getting traffic, but none of them worked.
And now, you found about EasyHits4U, and you need to know what it is, how it works, is it going to work for you, whether it is a scam, and many other things, right?
In that case, you've landed on the right website. Follow me and let me show you more.
EasyHits4U Review – Overview
If you need some traffic to your online property, or you want to build a list for free, EasyHits4U offers a solution through their traffic exchange platform.
For example, you can join the platform and start clicking on other sites and "give" them free traffic. And for each click you give, you get one back.
Then, there's an option to simply buy clicks if you don't have time to earn the traffic.
And lastly, you can earn credits that you can exchange for clicks by completing various tasks such as watching video ads, downloading apps, etc.
It sounds good, right? But are there any side-effects of this kind of traffic? Is it even a legitimate thing or a scam?
Here's the thing.
While the traffic you get from EasyHits4U is completely legitimate, I'm not going to say that I recommend this platform.
In my opinion, it could do you more damage than good.
For example, let's say I land on your site to give you a click, but I don't really care about your content or what you have to offer. And the same thing is with you when you land on someone else's site.
In that case, we are just giving each other cold clicks that don't convert.
And since everyone is looking to collect as many clicks as possible, without exploring the site and its offers, this cold behaviour could send negative signals to search engines and decrease your authority.
That said, I found more cons than pros about EasyHits4U and you should read this review to see why this platform is not recommended.
CLICK HERE TO DISCOVER THE BEST WAY TO EARN AN INCOME ONLINE >>
What is EasyHits4U About?
I gave you an overview in the previous section of my EasyHits4U review, but I want to be specific here to help you understand the nature of the platform.
EasyHits4U is a traffic exchange site that will give you the ability to advertise your website to all of the members that are active within the program.
The platform was created back in 2003 and since then, it has grown 1.6 million members strong.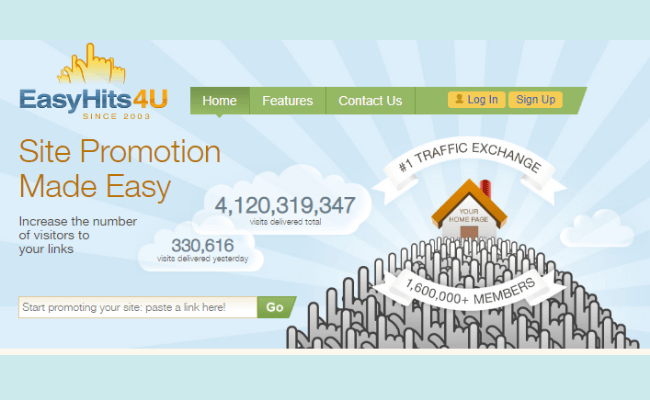 The good thing about this platform is the fact it is free to join. However, the free membership is limited and good enough to "get a taste of it," but you'll have to upgrade to leverage the full features at one point.
Speaking of features and benefits of the platform, let's see the full list then.
Features and Benefits
You can leverage this platform in more than one way to get traffic, earn profits, build an email list, boost other members' traffic, support their business, and more.
Here's a breakdown of EasyHits4U features.
More traffic to your sites
Extra bonus and credits with the Rewards Program
Earn credits from your referrals
Have multiple links active at the same time
Have multiple splash pages active at the same time
Link rotators
Exchange credits for Banner impressions
Convert credits into Text Ad impressions
Geo-location targeting
So the whole scheme comes down to exchanging the traffic with other members. The more traffic you give to others, the more you get back. And the ratio is fair enough, give one, get one (1:1).
Also, you can leverage some other features to get clicks to your site that are explained in-depth in the next section.
However, I have some issues with the quality of the traffic you get from EasyHits4U, which I will speak about some more later in the review.
Before I tell you why I think this traffic is useless, let me show you how the platform works.
How Does EasyHits4U Work?
In this section of the review, you're going to get in-depth information about four different way you can get traffic from EasyHits4U traffic exchange platform.
So as you know already, you can join the platform for free, no credit card needed. And if you wish to boost your efforts, you could upgrade to paid memberships.
Below is the screenshot of the platform from the inside.
And here is the break down of four different ways you can use this platform to get traffic.
Give to Get Back
I've mentioned this one already at the top of my review. The most popular way of getting traffic through EasHits4U is by clicking on other people's sites.
Once you send a click to another person's website, they will send you one click to your site in return.
Before you submit your site, you can set up some custom configurations such as geo-targeting, how many impressions per day you want, and what days of the week you want your site to be active at, and such.
However, if you are let's say lazy or simply don't have enough time for this method, you can try the second one.
Buy Banner or Text Ads to Get Traffic
First of all, unlike the first method, this one is not going to be free. With this method, you can buy banners to get exposure on the EasyHits4U platform and attract clicks to you.
And the principle is simple. You buy a banner or a text ad that gets displayed on the platform for other members to see. This way, you get more exposure and faster results.
And if you don't have money to invest in this method, you can try option number three.
Earn Credits By Watching Ads
You can earn credits by watching ads, clicking on banners, downloading apps, and such. And you can exchange those credits for traffic later on.
The process is simple. Go to the offers section within the EasyHits4U members' area and select the task you wish to complete. It will show you the number of credits you can earn after you finish.
Some tasks may take a few seconds, while some others may take a lot more. Nonetheless, each time you successfully complete the task, you get rewarded with credits.
And then, there's another way to earn credits and some as well.
Refer Others to the Platform
EasyHits4U has got a referral program in place. In other words, you can send invitations to get more people to join the platform and to become paid members.
Each time an individual accepts your invitation, you earn credits. And if your referral decides to spend money on paid membership or banner and text ads, you earn commissions.
And the extra credits you earn along the way, you can spend on more traffic.
In any case, the scheme has got the head and the tail. However, I'm still not 100% certain that the traffic you get from this platform is useful.
Let me show you more about the price, and in the following sections of the review, I'll explain what I mean by saying that the traffic from EasyHits4U is not worth the trouble, in my opinion.
Related: Traffic Xtractor Review
EasyHits4U Price and Membership
The platform is free to join. There are no joining fees and with a free membership, you get limited access to the features of the platform.
If you want to get more from EasyHits4U, you'll have to upgrade your membership from free to one of the two paid membership options offered.

Here's a breakdown of each membership.
Free Membership lets you promote only 5 links at once, 3 splash pages, 1 rotator (10 sites per rotator), earn 5% credits from your referrals, 2:1 geo-location ratio, etc.
Premium Membership ($7.95) lets you promote 10 links at once, 3 splash pages, 2 rotators (20 sites per rotator), earn 15% credits from your referrals, 1:1 geo-location ratio, etc.
Ultimate Membership ($19.95) lets you promote only 50 links at once, 100 splash pages, 100 rotators (100 sites per rotator), earn 20% credits from your referrals, 1:1 geo-location ratio, etc.
EasyHits4U Pros and Cons
In this section of the review, I want to show you a set of pros and a set of cons of EasyHits4U that I have gathered whole exploring the platform.
Since I always focus on the positive side first, let's start with pros.
PROS:
It's Free to Join
It's Legitimate Place to Get Traffic
The number one thing that I like about this platform is the fact that you can join for free. You don't have to leave you credit card info and are not obligated to upgrade if you don't want.
The second thing that I like about EasyHits4U is the fact that the traffic you get is legitimate. In other words, you'll get real human traffic to your sites.
However, that's all I could think of in this section. Let me tell you more about some of my concerns.
CONS:
The Traffic You Get is Practically Useless
This Could Do You More Damage Than Good
The Methods are Time Consuming
The Income Potential is Very Low
I've spoken about this already, and I have to repeat it once again. It seems to mee that the traffic you get from EasyHits4U is useless in terms of quality.
All you are going to get are cold clicks to your site from people that are only interested in earning credits so they can get traffic to their sites.
While this exchange is fair, I don't see any other benefits that you can get from this except the extended number of clicks to your site in your Google Search Console report.
And since these clicks are "cold," in other words, low time on the site, and great bounce rate, search engines will pick up this behaviour and consider it as negative and lower your authority.
This could, in turn, result in lower organic rankings of your site and less REAL ORGANIC TRAFFIC.
I don't want this to happen to my site.
And since the traffic you get from EasyHits4U is cold, you won't see any conversions, which means that your income from your sites is probably not going to increase a lot, if any at all.
Lastly, you'll waste a lot of time to earn credits to send traffic to your site. You can use the time more constructively to improve your SEO and thus, get more of REAL ORGANIC TRAFFIC to your online property.
Is EasyHits4U a Scam or Legit?
After a complete analysis of the platform, I say that EasyHits4U is not a scam. I didn't find anything wrong about this traffic exchange platform that could make me say otherwise.
The service exists since 2003 and since then 1.6 million people from all over the world joined the platform to exchange traffic.
In other words, it's completely safe and legitimate.
Is EasyHits4U Recommended?
My recommendation depends on your needs. If you are looking to have fun and earn credits to promote your site, or possibly build a list (this could work), I would recommend this service.
However, if you are a website owner whose business depends on search engines for traffic and customers, my answer is no, I don't recommend EasyHits4U!
As I have mentioned in the previous section of my review, it seems to me that there is no great chance to improve your status with the traffic from EasyHits4U exchange.
You don't want to send negative signals to search engines! This could ruin your entire business.
Related: Traffic Ivy Review
EasyHits4U Review – Conclusion
At the end of the day, everyone who owns a website, an online store, or a blog, goes to sleep with a wish to get more traffic to your online property.
I know I do every single day.
However, I'm very careful when I'm searching for these sources of traffic. I've learned that not every traffic is considered good traffic. In fact, some sources could damage your work so far.
You always want to get targeted traffic to your site in a larger amount as possible.
You don't want tons of traffic that don't convert into subscribers, readers, and eventually into customers.
Your goal should be to attract people who are interested in your niche and not some random cold traffic from exchange sites that could ruin your entire business.
Don't get me wrong. In some (rare) cases, these platforms are beneficial. But I don't recommend them.
My advice is to spend more time learning how to SEO your website and write more helpful and quality content that serves the needs of your audience.
This way, you'll get the attention of search engines, and of the people who are already looking for your website.
That's the formula for getting traffic that converts over and over again.
Thanks for reading my EasyHits4U review. I hope it was helpful enough.
Bonus – Where to Get More Free Traffic?
As a thank you for reading my review, I want to give you an excellent recommendation for getting tons of free traffic from search engines and social media.
Best of all, you'll learn how to get only highly-targeted visitors to your site, and not junk traffic that does not convert.
Click the button below to learn more!
CLICK HERE TO DISCOVER THE BEST WAY TO EARN AN INCOME ONLINE >>
If you need any help or you have a question, feel free to contact me.
And don't forget to share this review with your friends and family!
All the best, Ivan. Founder, and CEO @freeaffiliatemarketingbusiness.com