Welcome to my eCom Cash Bot review.
eCom Cash Bot is, allegedly, some secret software that will generate up to $500.000 in a year if you put it to use.
Now, that's the opportunity that's hard to miss. I mean, that's the kind of money that changes everything for you! You could live like a king by this time next year, am I right?
But no matter how much you want it, you're smart enough to look up for a review. You know that there must be some catch. You don't believe that scammy video, nor any of those promises made by an unknown person. You need to know what's the trick before you give away your hard-earned money.
By the way, congratulations on researching yourself! Quick research saves you time and your hard-earned money. It shows that you are serious about finding a legitimate way to make money online.
Within this eCom Cash Bot review, I'll show you what it is about. I'll explain how the whole thing works from top to bottom. I'll show you what to expect and give my honest take on whether eCom Cash Bot is a scam or a legit way to create an online income.
Shall we begin?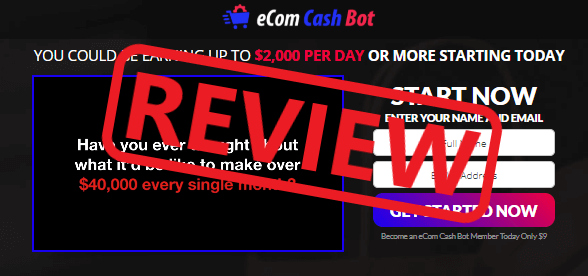 eCom Cash Bot Review – Overview
Product Type: eCommerce Training Course
Product Owner: Trish (fake name?)
Product Price: $9 + $300 in Upsells
Money-Back Guarantee: 60 Days No-Questions-Asked
Recommended?: NO! See the summary below…
Quick Summary: If only there were software or a bot that makes money on autopilot. All you have to do is plug it in some DFY system to make $10.000's in a month working only a few minutes per day.
I mean, if these things were real, everyone could use them to make money online and no one would be working anymore. But, as you already know, these things don't exist and in 100% of the cases are a scam.
That said, eCom Cash Bot is, in my opinion, a get-rich-quick scam. As I was saying, the unknown creator offers you a chance to activate a bot and make 1000's work only a few minutes per day. But instead of a bot, you get incomplete training about starting a dropshipping website and a chance to spend 100's on expensive upsells.
In other words, this is a sales funnel where they trick you into spending your hard-earned money. You are not going to get some secret eCom bot that is going to make you rich with a push of a button.
You see, there are too many scam signs all over this offer. You should read my eCom Cash Bot review to see them all. My honest recommendation is to save your money and your time by not getting into this one.
On the other hand, if you are tired of these push-money scams, you should click the button below to discover a real way to make money online I use every single day to make $1000's monthly from my website!
THE BEST WAY TO MAKE MONEY ONLINE IN 2023 >>
What is eCom Cash Bot?
Based on the sales page, eCom Cash Bot is a little know software for making killer profits online. You can use this software without any skills or previous knowledge.
It's simple to use, and you can cash in $2.000 per day and even $500.000 per year if you put in just a few minutes of work each day.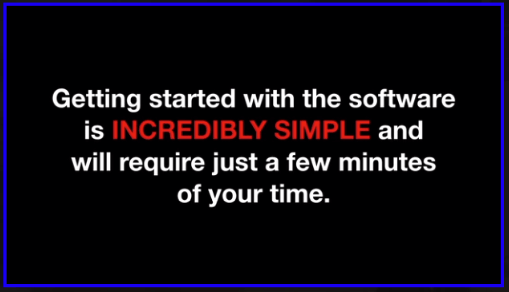 Now, that was almost an identical transcript from the sales video.
In reality, there are no such things as bots for making money online. It's a cute story designed to attract newbies and people who have no clue how online marketing works.
eCom Cash Bot is nothing more than a simple info-product that explains how to start an eCommerce website.
The truth is, there are no bots inside or software that will make you thousands with a push of a button. Just like eCom Cash Crusher, this offer consists of an overhyped sales video, an expensive sales funnel, and some very short videos.
eCom Cash Bot Sales Funnel
After I watched the sales video, I wanted to learn more about eCom Cash Bot. The front end price was only $9, so I took a leap of faith and purchased the bot in hopes to activate it and make millions.
However, just as I suspected, as soon as I paid nine bucks, they slapped me in the face.
In other words, if you decide to buy this offer, you're going to get slapped with some upsells too. That's, I'm afraid, the main point of this offer and the main reason why it exists in the first place.
Let me show you what I mean.
Upsell #1 Double My Profits $147 (downsell $97)
Upsell #2 Elite VIP Membership $297 (downsell $197)
Both of those upsells come with yet another cheesy sales video where the unknown woman is going to promise you hills and valleys.
I kindly refused both upsell, and that's what I advise you to do as well, if you ever get into this possible scam, of course.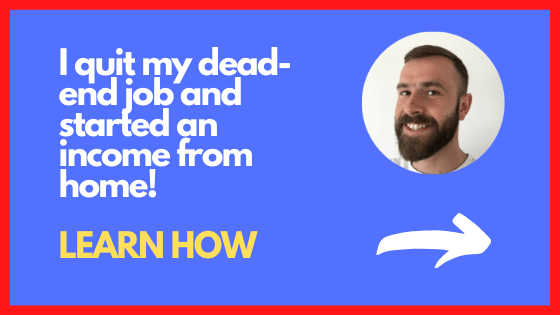 What's Inside of eCom Cash Bot?
Once you bypass those upsells, you will get access to the eCom Cash Bot. Now, as I was expecting, once I purchased the product, I've got access to a simple training course about starting an eCommerce business.
And when I say simple, I mean it's not going to help you to make $2, let alone $2.000.
Inside the member's area, you will find more upsells (Super Affiliate System), as well as some WordPress plugins (All in One WP Migration) and a link to a site called China Cash Clone, which is a rehashed version of eCom Cash Bot.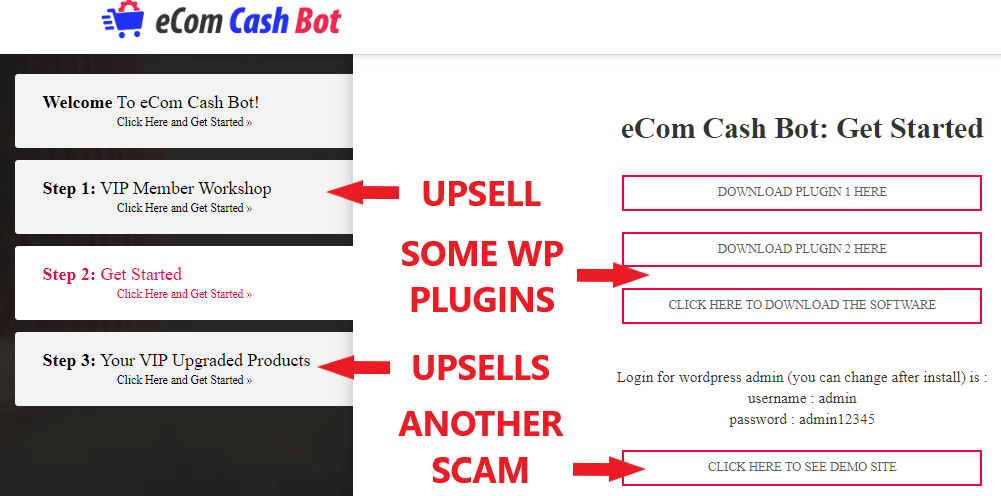 The training consists of a few videos, five to be precise, where an unknown man is going to show you how to start an e-commerce store. Now, those videos are actually good, believe it or not.
Without any beating around the bush, the guy shows how to set up a website, install the Woocomerce, find products, and manage your orders. In other words, they will show you some basic things you need to know about eCommerce.
However, there is one huge, vast, enormous, gigantic problem with eCom Cash Bot. And this issue is one of the main reasons why this is, in my opinion, a scam.
They won't show you how to get traffic to your store, and that's is why I believe that this is a scam or at least just another get-rich-quick-half-baked-info-product.
Without traffic, guys, you won't make a dime. That's a relentless fact.
They get you inside with overhyped video, some fake-ass earning screenshots, and a lot of BS. Then they give you a half-baked training that shows how to set up a Shopify store. But what after you finish this?
Well, they want you to start buying upsells, and one of the upsells is Super Affiliate System where John Crestani is teaching how to get traffic with FB ads. This training costs $1000 one time!
So let me ask you this. How would you feel if you feel for the story, shell out $9 to get inside, only to discover that you have to pay 1000's more?
Would you call it a scam? If you're not sure yet, keep reading my review because, in the next section, I'll remind you about all the BS they will throw on you with this one.
eCom Cash Bot Scam Signs!
Now, before I share my final verdict about eCom Cash Bot, let me show you a series of scam warning signs. These warnings are more than enough for me to keep my distance from products like this.
By the way, watch out for these too, eCom Profit Sniper and Easy eCash.
1.) Work 20 min per day & Earn 1000's Is BS!
The whole sales pitch for eCom Cash Bot is full of scam signs. The woman from the sales video claims that you can make $2.000 per day, $15.000 per week, and over $500.000 per year, working only 20 every day.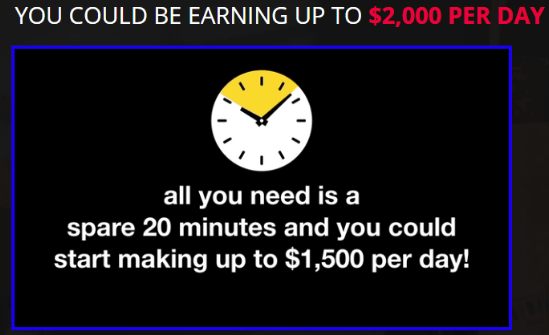 She even shows you a bunch of fake cheques to make you believe that this is possible with this offer. However, none of this is real. There are no proofs, which is a severe scam warning.
2.) No Info About the Owner
A woman called Trish claims to be the owner of eCom Cash Bot. She's not shared anything else about herself. We don't know who she is, nor can you contact her.
There's no about me page or social proof that she's a real person. Can you trust someone like that?
3.) Expensive and Hidden Upsells
The overhyped and misleading sales page is designed to pull you into a costly funnel. A low price of only $9 is more than inviting, too.
But as you could've seen on the image I've shown you earlier in this review, eCom Cash Bot is nothing but an expensive sales funnel designed to make cash for the owner and affiliates.
4.) Fake User Testimonials
While watching the sales video, you can bump into some real people that claim they generate automatic profits with eCom Cash Bot.
They claim that after a week of using it, some of them make 1000's and 1000's.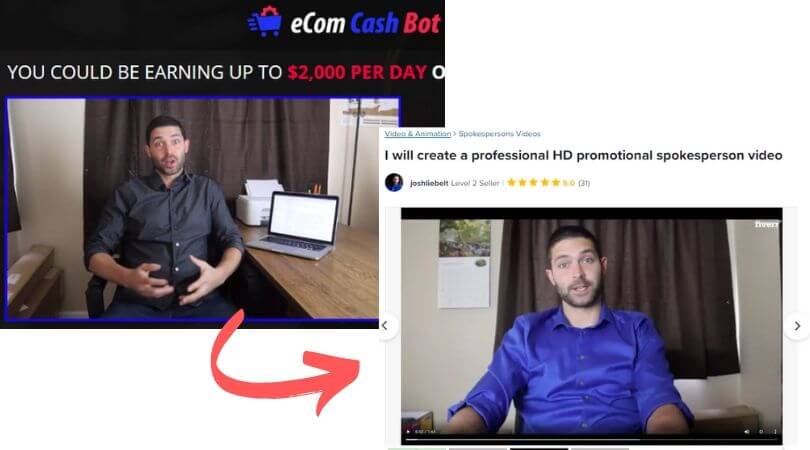 However, as you can see, their testimonials are fake.
They are Fiverr actors, and they shouldn't be taken seriously. Besides, fake testimonials are another huge scam warning sign.
5.) Fake Earning Widgets
Another scam warning sign comes from the sales page itself. The widget that shows in real-time how much money some of the members had earned with eCom Cash Bot is fake as well.
It is a popular trick being used on scammy sites like this one.
6.) The Info is Not Complete – There's No Software!
The training inside is going to show you, very briefly, how to spend more of your hard-earned cash on a web hosting and domain name, and how to put it together.
That's basically all you'll get. Yes, there's a crash course on dropshipping, but believe me, there is no secret software that is going to make you half a million per year!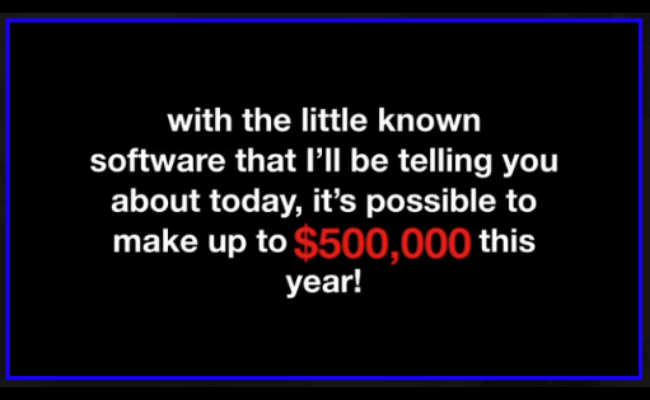 To make it even worse, the creator of the training hasn't included the part in getting traffic. Without any traffic to your store, there's no way to make money. The training is, in my opinion, worthless.
7.) They Will Send You More Junk
Your email address is needed to get started with eCom Cash Bot. However, once you leave them your address, your email inbox is going to look like this.

In other words, they will send you tons of scams and get-rich-quick schemes every single day.
Those offers are the same as this one, not worth your time and your money.
What I Like About eCom Cash Bot
There's almost nothing that I liked about this offer. The owner is fake, and testimonials are too. The training is incomplete, etc.
Maybe the only good thing about it is that it sells via ClickBetter. It means that you can get a refund if you ask for it during the first 60 days. Everything else about eCom Cash Bot smells like a scam.
Is eCom Cash Bot a Scam or Legit?
Yes, in my opinion, eCom Cash Bot is another online scam. The unknown owner promises 1000's and 1000's with some secret bot that has made a bunch of people rich.
However, there's no bot, only simple training on dropshipping, which is not going to make you a single dollar because it's incomplete.
You've had a chance to see some evidence that those people who got rich with this bot, are fake actors.
All those fake claims are supposed to get you all fired up about this seemingly cheap and once in a lifetime opportunity. But once you take it, they force you to spend $400+ on upsells.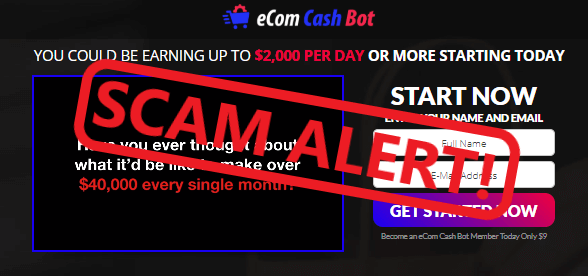 That said, I don't trust the eCom Cash Bot site, and I believe that it's a scam.
In my eyes, this is an unethical sales funnel that's going to make the owner rich and leave you on dry land and with an empty wallet.
I recommend staying away from bots, software, loopholes, turkeys, and others.
How I Earn Passive Income Online
First of all, thanks for reading my eCom Cash Bot review. I hope this article was useful to you.
If you have any questions about the program or maybe you can offer an experience, feel free to leave them in the comment box below.
Before I let you go, let me show you a much better way to earn an income online.
The platform that I recommend counts 2.2 million members so far and is, without a doubt, the best place to start making money online with affiliate marketing.
Tools and everything included! No BS, no upsells!
This platform is proven by thousands of marketers all over the world, including me, and it's suitable for beginners and advanced marketers.
Make sure to check it out. It's free to join!
THE BEST WAY TO MAKE MONEY ONLINE IN 2023 >>
If you need any help or you have a question, feel free to contact me.
All the best, Ivan. Founder, and CEO @freeaffiliatemarketingbusiness.com