Welcome to my Ecom Freedom review. Who is Dan Vas? Can you trust him? Is Ecom Freedom a scam or a legit Amazon FBA training program? Keep on reading…
There are tons and tons of courses that could show you how to make money with Amazon. Naturally, one of them is Dan Vas's course. But being popular online doesn't guarantee quality.
So is Ecom Freedom a scam or legit? Should you buy it?
I spent hours and hours researching, testing, reading, and watching everything about this program that I could find online.
Finally, I decided to share my review of the Ecom Freedom course to show you what all the fuss is about and to help you make a well-informed decision.
By the way, I'm not promoting Dan Vas's course to earn commissions if you buy it through my links.
Anyway, who am I? Why should you listen to me?
Hi, I'm Ivan! How are you doing?
I'm fine, just a bit exhausted from researching this course.
I'm a successful affiliate marketer. I went from waiting tables to earning a five-figure income online with my affiliate marketing business!
Moreover, I have also reviewed 600+ schemes and scams to find the best way to make money online.
In other words, I'm passionate about affiliate marketing and helping you to follow in my footsteps!
That said, in this Ecom Freedom review, I will answer all your questions. This article will offer you a clear understanding of this online program and help you to see if it is worth your time and cash.
Let's get rolling. Shall we?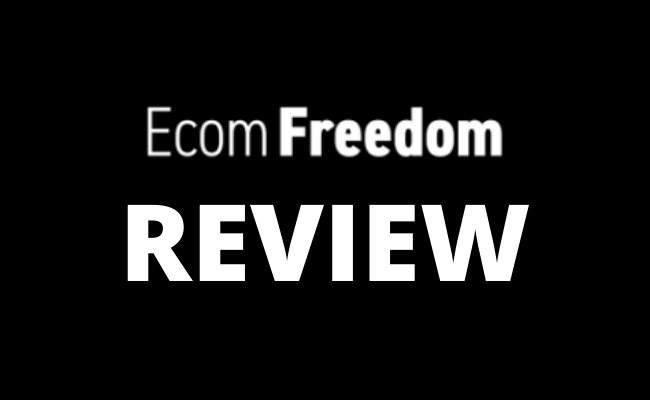 Ecom Freedom Review – Overview
Product: Ecom Freedom
Type: eComm training course
Owner: Dan Vas
Price: $799
Money-Back Guarantee: 7 days
Recommended?: Legit
Overview: Ecom Freedom is an Amazon FBA course. The creator, Dan Vas, is a legitimate person in this business space. With this course, he teaches how to start selling on Amazon from scratch.
In my opinion, the course is pricey. Moreover, the business model this course teaches is hard to execute, risky and requires significant investment right off the bat.
If you are on a tight budget, this course is not for you.
But if you are ready to invest at least $3K into this business, Ecom Freedom is legit. Read the rest of my review to discover more details about Dan Vas, the content of his course, price plans, and more!
Alternative: My #1 recommendation is a top affiliate marketing course that helps to build a successful online business from scratch! I used this exact system to go from $0 to earning $100's per day! Learn more below!
THE BEST WAY TO MAKE MONEY ONLINE IN 2023 >>
What Is Ecom Freedom?
Ecom Freedom is an Amazon FBA course by Dan Vas that teaches you step-by-step all the FBA methods that took his online service to 6 figures. But is it worth the hype?
With Dan's course, you are actually informed of every little thing that you require to do this. This suggests directing you via subscribing to Amazon.com, sourcing your stock, and inevitably making sales.
Amazon is obviously the most significant internet merchant in the world today, ahead of ebay.com and even Alibaba.
Therefore, it comes as no surprise that it's residence to the biggest internet business opportunities around.
According to the Ecom Freedom site, you require experience in running an online business for it to work out.
However, the irony is that the Ecom Freedom site also claims that you can also join the program even if you have no concept of what Amazon FBA is or exactly how to begin selling on the platform.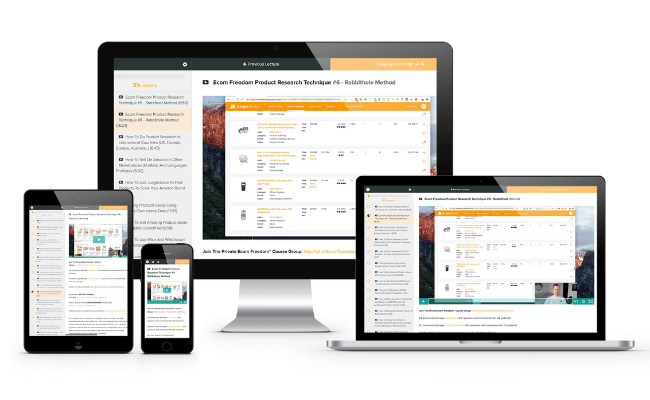 So if you join, what can you learn from Dan Vas?
Ecom Freedom reveals to you exactly how to construct your own FBA business from scratch.
More precisely, it shows how to:
establish your company
conduct a product research
slim your product opportunity
resource distributors
run Facebook advertisements
launch your own product
Moreover, Dan Vas declares to show you everything you need to know to build a successful eCommerce brand name.
The training course is mainly delivered by means of video, yet there are a couple of PDF records included permanently so that you can take a look at them in case videos are not your thing.
So is this course worth all the hype? Is it legit? Is Ecom Freedom a scam? To find out the truth, keep reading my Ecom Freedom review! By the end, you should have all the answers!
Related: Freedom Ticket Review
Who is Dan Vas?
Dan Vas is an online business owner and online eCommerce guru. Dan Vas began drop shipping in 2017, as well as created his initial training course, Shopify Freedom, in 2018.
Many people were judging whether the course is a scam or legit, so Dan turned to this new project called Ecom Freedom.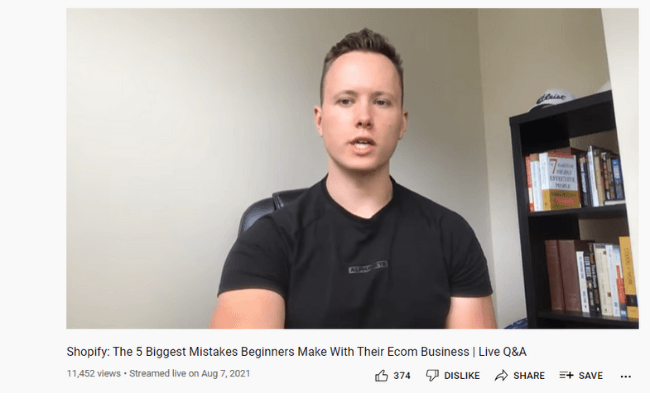 The good news is, Dan also owns a Youtube channel that has more than 341k clients at the time of writing this Ecom Freedom review post.
In my opinion, this is impressive. His Youtube material is mostly speaking about all the tools Amazon FBA calls for, monetary freedom, brand name structure, e-commerce, cost-free website traffic, as well as easy income.
I have actually seen a fair few of his advertisements, where he remains in the middle of a Lake, in an exotic location, etc advertising his program.
That said, there most definitely is a possibility that he is just one of these "online masters."
However, I do not want you to leap to any kind of verdict regarding his personality right now which is why I did research on the program and am going to break its components down for you in the following sections of my Ecom Freedom review.
Related: How To Make Money With the Affiliate Marketing
What Can You Learn From Ecom Freedom?
As mentioned earlier in the review, Ecom Freedom teaches how to sell on Amazon successfully. The course is split into 12 modules, with each showing you a different step of creating an FBA business.
Here is a brief video that explains what Amazon FBA is about.
And here is a quick overview of what is inside the course:
Welcome to Ecom Freedom

Getting Your FBA Online Business Set-Up

Building Your Product Opportunity List

Narrowing Your Opportunity List

Finding High-Quality Suppliers

Placing Your First Product Order

Creating A Powerful Brand

Creating A World-Class Amazon Listing

Launching Your Product Successfully With Facebook Ads

From Zero To Expert With PPC

Ordering Your Next Product

The Road To A Million-Dollar Brand
The first module is just a general introduction to the Amazon.com and Ecom Freedom training course. Dan Vas discusses the program, coming to be effective, your way of thinking, FBA success, and also more.
The course continues with the general info on Amazon seller central, and shows you just how to get your account authorized, arrange your paperwork, set up settlements, and also handle suspensions.
Furthermore, Vas reveals to you exactly how to start choosing your item.
His philosophy is that good item markets themselves, as well as in the FBA globe, and your product is essential for your success.
With this in mind, Vas reveals to you how to start deciding on your winning product.
He discusses calculating your item margin, recognizing Amazon's fees, verifying demand, checking for patents and trademarks, and also understanding the computed danger.
Inside the Ecom Freedom system, he shows you how to call suppliers, establish a connection, find your rival's distributor, and also determine your price.
Furthermore, Dan Vas shows just how to put your order. He reveals to you exactly how to develop your email, advertising, and marketing strategy, mission, and website.
Dan Vas speaks about every aspect associated with a winning listing, like a keyword checklist, expert product photos, optimum prices, and also an automated e-mail series.
He likewise reveals to you just how to scale your campaign using paid methods like Facebook Advertisements and Amazon PPC.
He goes over "keys" to Amazon.com PPC, enhancing your campaign, using Amazon.com's data to find search phrases, as well as providing you with basic suggestions.
Lastly, you will be learning how to scale your operation with more products, and more ads, all with the intention of increasing and maximizing your income.
Related: Ecom Success Academy Review
What Else Do You Get With Ecom Freedom?
The 12-module training is not the only feature of Ecom Freedom. Below is the complete list of all its features:
Unlimited mentorship from actual eCommerce millionaires
Over 100+ hours of video including calls
Step-by-step PDFs under every single course video
A complete plan of action with expert mentorship
Weekly calls with our Head of Amazon Scott Suggs who is a million-dollar Amazon seller
Bi-weekly calls with Dan Vas with the opportunity to speak with him 1 on 1 via Zoom
Lifetime access to the private Facebook course community with the opportunity to ask questions and meet like-minded people on the same journey.
BONUS 1: Millionaire Mindset Secrets Course
BONUS 2: Ecom Freedom MBA course
Can You Make Money With Ecom Freedom?
Ecom Freedom is not a get-rich-quick scheme. That said, you could make money with this system if you follow through with the course, and invest the required time and money into Dan's methods.
As you can see from the screenshots below, some students of Ecom Freedom are having success with this course.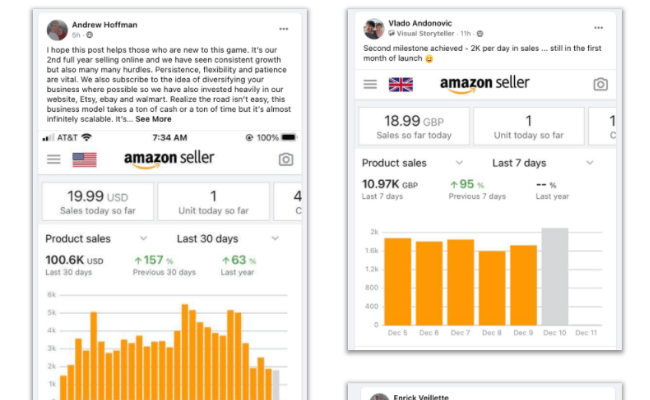 Dan claims that he is going to show you how to make six figures a month with this course. In my opinion, that is just an overhyped claim to sell the membership.
The fact is, most people who start with Amazon FBA fail due to the lack of proper training, lack of capital, or simply because they find it too complicated.
So even if there is a chance that you can make money with Ecom Freedom, don't get your hopes up right away. It takes time, money, and a lot of effort to earn an income with Amazon FBA.
What Do Ecom Freedom Reviews Say?
One of the surest ways to learn whether Ecom Freedom is a scam or a legit Amazon FBA course is to read some user testimonials. And there are quite a few Ecom Freedom reviews online.
On TrustPilot, Dan's course has received 491 reviews with an average rating of 4.6 (Excellent).
Most of the reviews say that the program is good, and comprehensive and users are happy with Dan's coaching system.
Below are some of the top Ecom Freedom reviews…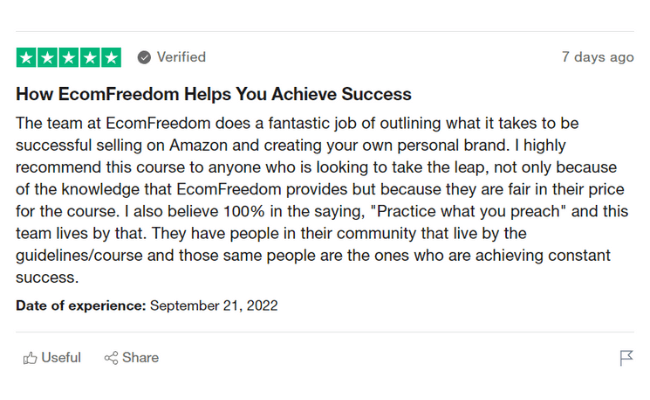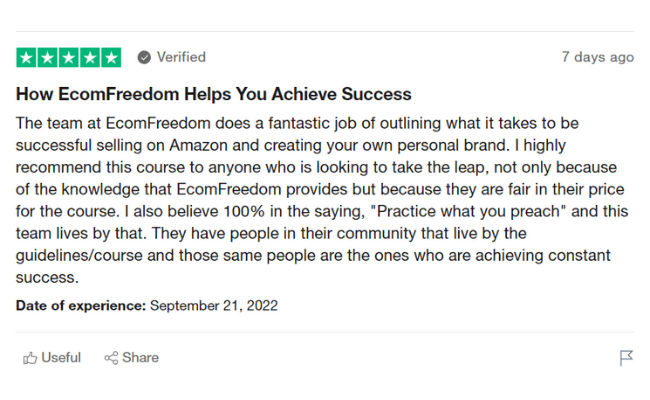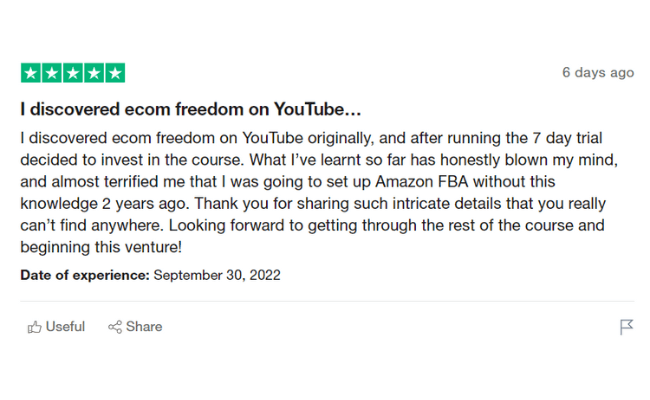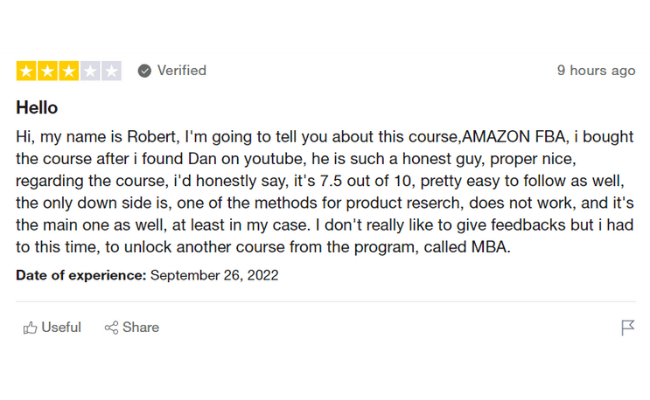 There are also a few negative reviews. In these cases, every single user said that they were unable to get the 1-on-1 coaching that was promised during the sign-up process.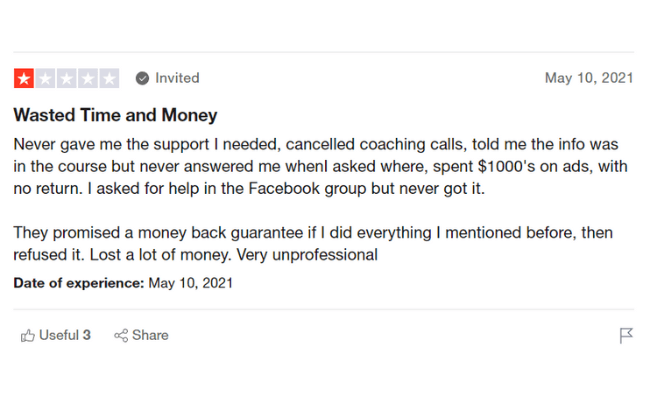 I'm my opinion, this is not enough to say that Ecom Freedom is a scam or anything like that. It just shows that just like every other coaching program, Dan Vas's has got some issues.
Who is Ecom Freedom Best For?
Ecom Freedom is for anyone that wants to learn exactly how to make money with Amazon. It is for both brand-new to it and for those who have the cash to purchase it since it is actually pricey.
Dan's course shows you the basics of FBA while additionally offering some sophisticated knowledge. It reveals natural ways to advertise your product, in addition to paid traffic.
This is good because even though it is pricey, you can at least learn how to advertise for free.
And since Ecom Freedom is a comprehensive course, it is for those who are looking for a complete education on this topic. I don't think you will have to walk around to find additional information.
Related: Ecomm Clubhouse Review
How Much Does Ecom Freedom Cost?
The Ecom Freedom course costs you $799 if you pay in full. The good news is that there is a 7-day free trial. Meaning, you can test drive the program before you are obligated to pay the price in full.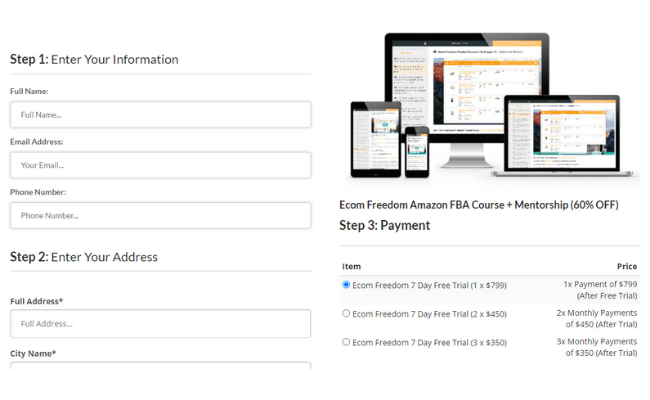 On top of it, it features a payment plan, with 2 month-to-month payments of $450. There's likewise a choice of 3 monthly repayments of $350.
You need to also recognize what various other expenses will use prior to joining. Will there be add-ons to the training course? Are you anticipated to pay for stocks or advertising?
That being said, I do intend to mention that you will require to have greater than $799 in your pocket if you wish to make a success of this training course.
This technique just functions if you make use of Amazon's paid advertising and marketing as well so this implies even more money. If you do not have $3,000+ to spend on your business today, then this technique is not really for you.
Does Ecom Freedom Have Refund Policy?
Ecom Freedom has a no-refund policy. However, it does use a 7-day trial for you to make your choice before being charged. This trial applies to all bundles of the Amazon Ecom Freedom course.


The free trial of each program provides you access to the first 3 modules. However, you are needed to enter your payment details prior to you get access to the free trial.
If within 7 days you do not desire to be charged for the complete course, just send an email and your trial will be canceled.
Within the training, they are pretty great about showing you how to cancel the trial if you want. They also reveal to you how you can update ahead of time, consequently charging your card ahead of schedule and getting complete access to the training before 7 days have actually expired.
Ecom Freedom Review – PROS
Dan Vas seems to be successful in this business
The course is comprehensive and workable
Dan teaches both newbie and advanced techniques
You get seven days to test drive the course
There is a private Facebook community
Ecom Freedom Review – CONS
The course is pricey
Amazon FBA requires a significant investment
Is Ecom Freedom a Scam?
Ecom Freedom is not a scam training course. In fact, I really assume it's an excellent training course. For all the value that Ecom Freedom gives you, I think it is one of the most legit courses out there.
Any person that's brand-new to FBA will discover a lot of value in this course.
Dan Vas has geared this course mostly toward beginners. He teaches them legitimate methods for selling on Amazon. Moreover, some latter parts of the course could be useful even to advanced FBA sellers.
Another thing that I like about Ecom Freedom is the 7-day free trial. Not too many Amazon courses in this price range offer the same option.
However, it is expensive and comes with a lot of extra costs.
But the bottom line is, Ecom Freedom is legit. In case you are looking for a decent Amazon FBA course, Dan Vas could help you to get started with this business model from scratch.
Alternative: My #1 recommendation is a top affiliate marketing course that helps to build a successful online business from scratch! I used this exact system to go from $0 to earning $100's per day! Learn more below!
THE BEST WAY TO MAKE MONEY ONLINE IN 2023 >>
Do I Recommend Ecom Freedom?
If you are serious about FBA business, Ecom Freedom is a recommended course.
With the Amazon Ecom Freedom course, Dan Vas guarantees to teach you the exact step-by-step FBA methods that took him to 6 figures. At the end of this course, you should have set up an FBA company that could also earn 6 figures.
Dan Vas does a good job not only showing you how to start from scratch but also how to manage it.
I have to warn you that this is not a get-rich-quick scheme. Moreover, not everybody will make money with this business model. Generating income with your Amazon account isn't a sure thing, similar to any Amazon FBA organization model.
Much like a dropshipping course, the whole course depends on just how much money and effort you put into it.
The bottom line is that I personally don't like FBA and don't wish to pursue it. In my opinion, it is too risky, and quite expensive online business model.
Even if you manage to successfully set up a store, the whole success depends on your ability to advertise it, and that costs a lot of money in the long run.
In my experience, there are much better, and less risky ways to start making money online (see my recommendation at the end of this Ecom Freedom review!).
However, the Ecom Freedom course is legit in case it is your cup of tea.
Final Words and Honest Recommendation
Overall, Ecom Freedom is a good Amazon FBA course. Dan Vas is a recognized person in this business.
One of his biggest successes is a YouTube channel where you can learn a lot about this business for free. This might be a good thing to do before you shell out $800 (plus extra costs) for this course.
However, if you are on a shoestring budget, I would recommend avoiding this course and business model in general.
Just the education will cost you up to $1K. And then, you will have to invest at least $2-$3K into other expenses that come with Amazon FBA.
Overall, to get started, you need to spend a boatload of money. Worst of all, there are no guarantees that you will get a good ROI.
That's why I have a better recommendation for you below!
Thanks for reading my review. What are your Ecom Freedom reviews? Do you have any experience with Dan's course? Feel free to share them in the comments section on this page!
Is There a Better Way To Make Money Online?
I know how hard it is to trust websites these days.
There are too many scams out there, especially in the make-money-online world.
I know, because I reviewed over 700+ sites so far!
Why did I review so many sites? Well, I wanted to find the best (and cost-effective) way for a beginner to start income online.
While searching for this information, I bumped into affiliate marketing.
Thanks to a decision to learn more, I went from waiting tables in restaurants to earning a full-time passive income online.
And today, I like helping people as you follow in my footsteps,
Keep reading…
How I Make Money With Affiliate Marketing
I earn online by creating simple affiliate websites that I use to connect people with products they are already looking for.
It requires no special skills or previous experience, which makes it the best way to start online.
The best thing about affiliate marketing is that it is passive in terms of results and income.
In other words, you could be earning an income from your affiliate website for years and years to come, even when you sleep.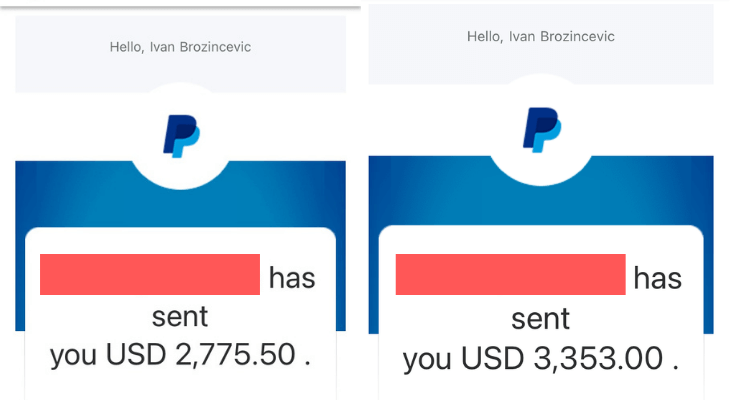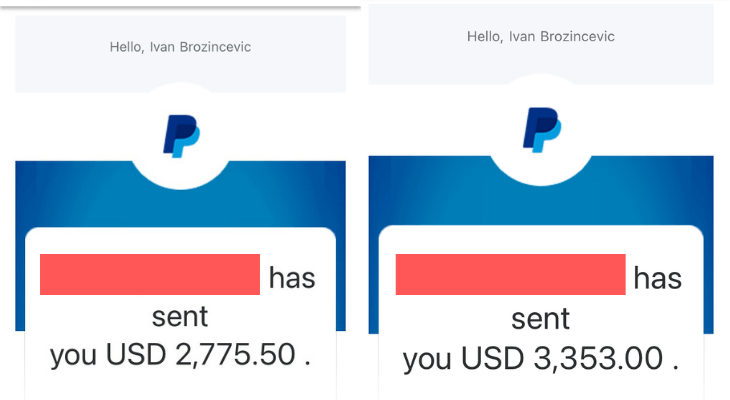 If you want to learn more about how you can start making money online with affiliate marketing, click the button below!
After evaluating over 700+ programs on the web, my conclusion is straightforward. This is the best way to start earning passive income online.
And if you're looking for the very same, I'll see you on the next page…
THE BEST WAY TO MAKE MONEY ONLINE IN 2023 >>
And don't forget to share this Ecom Freedom review with your friends and family!
All the best, Ivan. Founder, and CEO @freeaffiliatemarketingbusiness.com
Related: Ecommerce Empire Builders Review