| | |
| --- | --- |
| | The Entre Institute teaches you to become an affiliate marketer (for Entre itself!). It's a super-expensive system that offers no guarantees whatsoever. For these reasons, it is best to avoid it. |
Are you in search of a brutally honest Entre Institute review from someone who actually went through the program in 2023? Look no further! You've landed at the right place.
Entre Institute is a super popular online business training program that claims to revolutionize your journey as an online entrepreneur.
But the big question is, does it deliver on its promises? Can it genuinely guide you towards financial freedom and a life of abundance?
Or is Entre Institute just one big scam?
To give you a closer look, I went deep into the Entre Institute program, analyzing every aspect of the training to provide an unbiased review of its effectiveness.
I have put in endless hours to uncover facts, unearth truths, and provide you with a thorough analysis of the program, so you can make an informed decision.
So, let's dive in and take a closer look at what the Entre Institute has to offer.
Keep on reading my Entre Insititute review or see the video review below (3300 people have seen this review so far!).
Is Entre Institute a Scam?
Let me clear the air right off the bat. Entre Institute is not a scam; it offers a legitimate opportunity to build an online business. Jeff Lerner and his team offer a variety of courses, tools, and other resources to help you in this feat.
However, Entre Institute's business model is somewhat questionable and may mislead people into spending a lot of money without receiving the tangible training they need to succeed in affiliate marketing.
Here is what I mean…
Although you are led to believe that it is all you need for success, Entre Institute's initial $39 affiliate marketing course is simply a guide for developing the right mindset, which is important but not sufficient for building a successful online business.
The hidden truth is that their affiliate marketing program has several high-priced upsells that cost thousands of dollars (more info below in my Entre Insititute review).
So basically, after buying the $39 Entre Blueprint, you will be pushed into spending more money on super-expensive upsells.
And when I say pushed, I really mean that.
Their so-called "coaches" who are nothing but sales reps, will try to convince you that you literally can't succeed online if you don't invest your hard-earned money into Entre Institute.
As a result, the total cost of training and implementation can skyrocket into the thousands (over $10K to be more precise!), and some people may never see a return on their investment.
On the bright side, they will offer you an opportunity to recuperate your losses by promoting Entre to other naive newbies. Sounds a lot like a notorious MLM scheme, wouldn't you agree?
While having upsells does not necessarily make it a scam, the fact that Entre Institute's entire business model is designed to lead you from one sales pitch to another all with a goal to recruit you as a sales rep raised some red flags in my mind.
Does Jeff Lerner help you make money, or does he use you to make more money? Based on my experience, it is the latter.
Overall, Entre Institute may not be a scam, but its business model is questionable, and the high costs of its training program are the reasons why I don't recommend it to many individuals looking to start an online business with affiliate marketing.
Do You Want To Build a Successful Online Business? Are You Tired Of Overpriced Schemes Like Entre?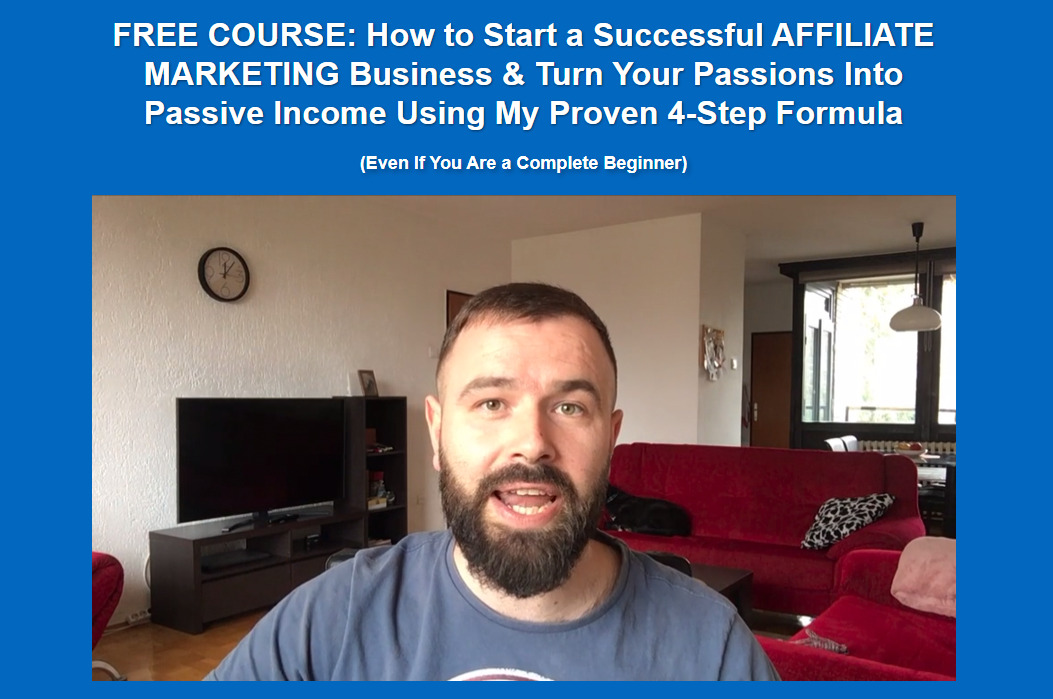 What Is Entre Institute?
Entre Institute is an online learning platform that provides resources and training for aspiring entrepreneurs. They offer a variety of courses, webinars, and coaching programs to help you learn the skills and knowledge needed to become successful in the online business world.
Some of their key areas of focus include:
affiliate marketing
lead generation
personal development
You also get access to a private community of entrepreneurs, where you can share ideas, ask questions, and get support from like-minded individuals.
The program is through a user-friendly platform, making it easy to navigate and access course materials. It is also designed to be self-paced, allowing you to customize your learning according to your schedules and preferences.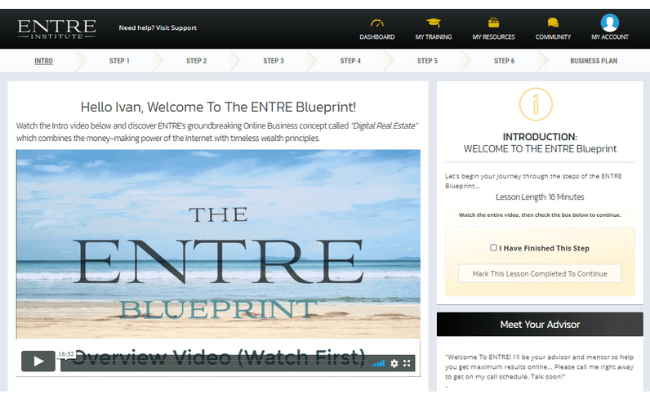 The program begins with the Entre Blueprint.
But as mentioned, the Blueprint – it's solely a mindset course. Its real purpose is to get you ready to purchase upsells and eventually become an Entre affiliate.
The rest of the coaching program inside Entre Institute is designed to help you build online assets such as Facebook pages, YouTube channels, Instagram accounts, and blogs, and make money using affiliate marketing (read: promote Entre).
If you're wondering how much you'll need to invest in building your online business with Jerr Lerner, continue reading my Entre Institute review.
How Does Entre Insitute Work?
Entre helps you to make money with affiliate marketing.
Affiliate marketing is a popular form of digital marketing, whereby you promote other people's products or services and, in return, earn a commission for each successful referral.
It's a win-win business model, as it benefits all parties involved. For advertisers, it's a cost-effective way to reach a wider audience, while for affiliates, it's an opportunity to monetize their website traffic or social media following.
One of the great things about affiliate marketing is that it is a beginner-friendly form of an online business. You don't need any previous skills or experience to build a successful affiliate marketing business.
However, the problem with Entre is that you may not have a wide range of options when it comes to choosing a product to promote. Instead, they will gently "force" you to become an Entre Institute affiliate.
So, it is another one of those bait-and-switch schemes where the main goal is to recruit you to do their marking for them. The person of extreme benefit in this case is, guess who? The owner – Jeff Learner!
RELATED: Best Way To Make Money Online For Beginners
How Much Can You Make With Entre Insititue?
If you are interested in promoting Entre Institute, the good news is that the earning potential is exceptionally high. Thanks to the enticing commissions offered by the company, you can stand to make a substantial amount of money by selling their products.
In fact, depending on the product you are able to promote and sell, you can earn commissions as high as 60%. This is a major incentive for many affiliates to join their program.
However, it is crucial to note once again that in order to qualify for these commissions, you will need to invest your own money into the high-ticket upsells offered by Entre Institute.
This is where things can get a bit tricky, as it may require a significant financial investment on your part in order to reap the benefits of the program.
Of course, the amount you can make will largely depend on your own marketing skills and the effort you put into promoting and selling Entre Institute's products. There are no guarantees whatsoever.
How Much Does Entre Institute Cost?
You can join the Entre Institute for $39 via EntreBlueprint. This seems like a fair price at first. But…
As I mentioned earlier, as you progress through the sales funnel, you must upgrade to high-ticket upsells. These upsells are important because they qualify you for commissions in later stages when promoting the Entre Institute.
Here are the prices of each upgrade:
Millionaire Productivity Secrets: $197
Knowledge Business Accelerator: $1,997
Agency Business Accelerator: $1,997
Affiliate Business Accelerator: $1,997
Entre Foundations: $297
Entre Coaching: $10,000 (you need to contact a so-called Entre Specialist first)
Implementation Bootcamp: Locked
Adskills Traffic Training: Locked
That is a LOT of money for an affiliate marketing program, right?
But here is the worst part…
Some people have commented on my Entre Institute reviews and claimed that they have invested over $30,000 overall! And now, they are deeply in-depth and left hanging with no chance of success on the horizon.
RELATED: Best Way To Make Money Online For Beginners
What Do Others Say About Entre Institute?
To discover genuine user opinions, one effective approach is to read Entre Institute reviews. That's precisely what I did. First, I visited TrustPilot's website.
Entre Institute Positive Testimonials
Entre Institute has received a rating of 4.7 out of 726 reviews on Trustpilot. The majority of positive reviews on Trustpilot pertain to a beginner's experience with Entre Institute.
In other words, people who leave positive reviews are newbies who have recently joined and appear to be quite excited about the program. However, there is a lack of positive reviews showcasing actual results.
This is not surprising, considering that Jeff Lerner and his team excel at influencing people's perceptions about the potential of the digital marketing industry. Here is an example: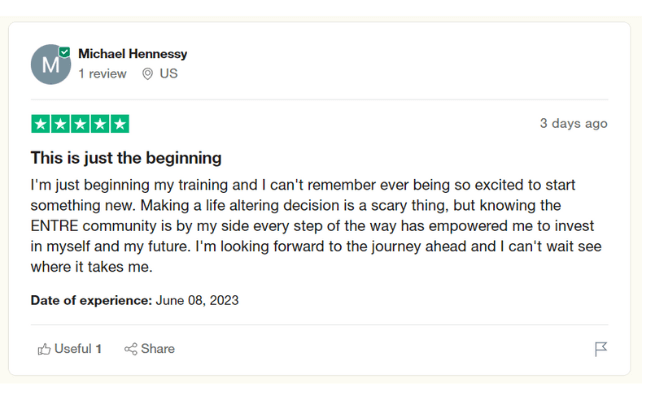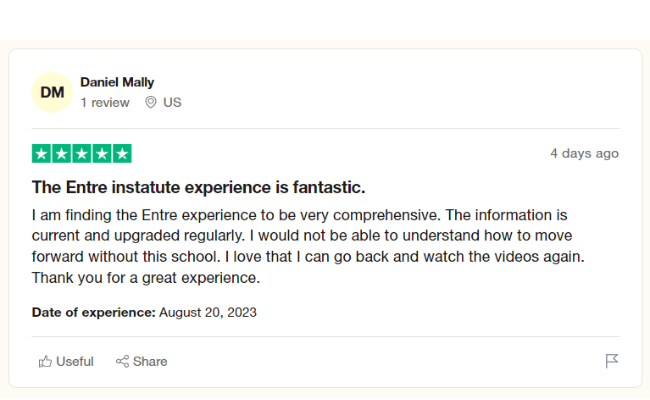 The problem, as I mentioned earlier, with these positive reviews is that they are not from individuals who have delved deeper into the topic.
I have, and the majority of people in the subsequent section of this article have done so as well.
Entre Institute Negative Testimonials
To get insights into their experience, you have to check out those 2 and 1-star Entre Institute reviews on Trustpilot.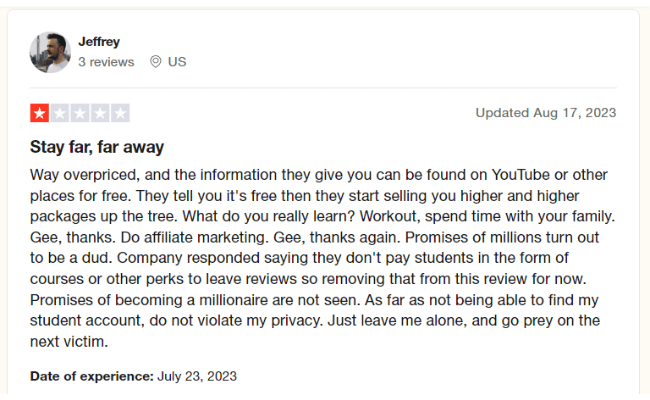 It's pretty clear that negative reviews show the absolute truth.
The most common complaint is that Entre Institute's structure involves giving you small but motivating bits of content while pushing you to continuously invest in their pricier courses.
They also stress the importance of taking these courses to achieve success.
Furthermore, when you express your dissatisfaction and ask for a refund, they subject you to more torment, which is another commonly reported complaint about Entre Institute.
RELATED: Best Way To Make Money Online For Beginners
Entre Institute Review – Pros & Cons
✅ Pros:
Low Entry Fee
Lucrative Affiliate Program
Money-Back Guarantee
🛑 Cons:
The Entre Blueprint is Not But a Motivational Training
Costs Keep Rising as You Move Forward
You're Driven to Become an Entre Affiliate
Jeff Learner Has a BAD Reputation
Entre Institute Has Got a Lot Of Complaints
Lack of Evidence From Successful Students
Entre Institute Review – Conclusion
Based on my experience with Entre Institute, I cannot recommend this platform if you are looking to start an online business.
While they advertise themselves as a comprehensive resource for entrepreneurial education, the reality is that they do not offer any valuable teachings until you purchase their Digital Bundle.
This bundle costs at least $1000, and even then, the material provided is underwhelming.
As a result, I believe that Entre Institute is more focused on making a profit from its customers than actually helping them build a successful online business.
I found their sales tactics to be aggressive, and they were willing to do whatever it took to convince me to make a purchase.
While I appreciate the need for businesses to make a profit, as an online entrepreneur, I do not feel that the platform provides the value that it claims to offer.
Therefore, I strongly advise against investing your time and money in Entre Institute. There are numerous other platforms and resources available that provide better value and are more transparent in their teachings.
As someone who is constantly seeking quality affiliate marketing programs, I can confidently say that Entre Institute is not one of them.
Is There a Better Way To Make Money Online?
I know how hard it is to trust websites these days.
There are too many scams out there, especially in the make-money-online world.
I know, because I reviewed over 700+ sites so far!
Why did I review so many sites? Well, I wanted to find the best (and cost-effective) way for a beginner to start income online.
While searching for this information, I bumped into affiliate marketing.
Thanks to a decision to learn more, I went from waiting tables in restaurants to earning a full-time passive income online.
And today, I like helping people as you follow in my footsteps…
Do You Want To Build a Successful Online Business? Are You Tired Of Overpriced Schemes Like Entre?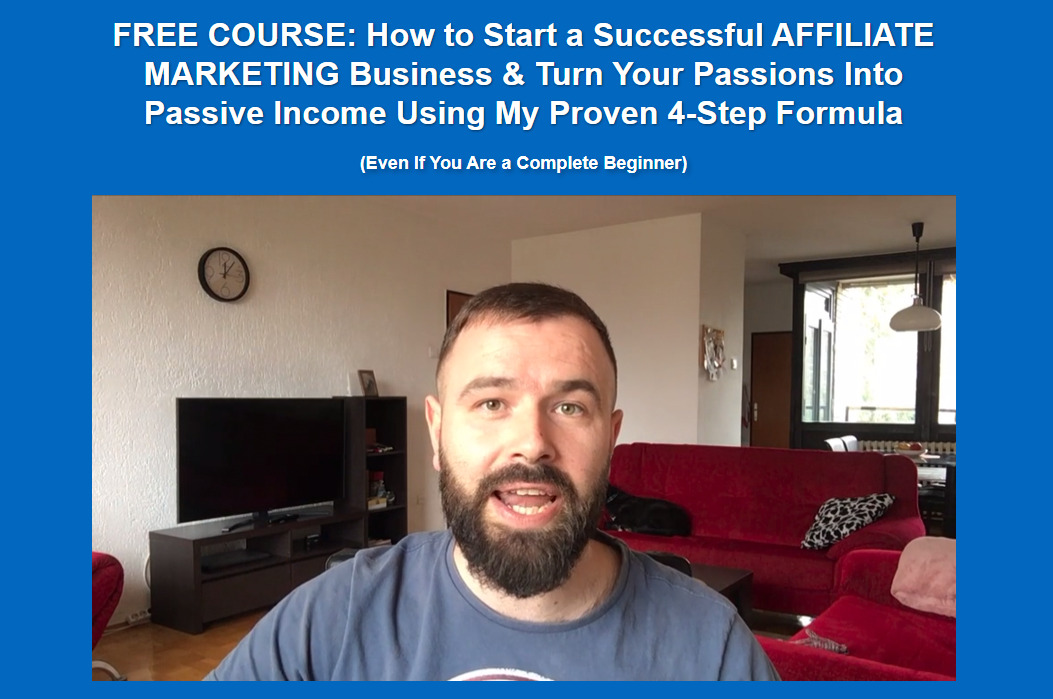 If you need any help or you have a question, feel free to contact me.
And don't forget to share this Entre Institute review with your friends and family!
All the best, Ivan. Founder, and CEO @freeaffiliatemarketingbusiness.com