Are you looking for an unbiased opinion? Welcome to my EZ SalaryZ review. What do you think? Is it possible to start earning a salary in just 60 seconds? 
You see, Mosh Bari & Jason Fulton say how with this system, you can kick your job to the curb and how you are one click away from generating salary every month without working every day.
Sounds like your dream job, right?
It was mine as well. It's called affiliate marketing, and it's an entirely legitimate thing!
I'm talking about the business, not the EZ SalaryZ program, of course. This offer is making a legitimate and real business look like a piece of cake. 60 seconds to profits? No skills? No manual work?
It's good they didn't say how you can push a button, and the money will come out beneath your PC.
By the way, congratulations on researching. I know it's hard to trust people on the net these days. But if you are looking for something real, check out this PROVEN training for making money with affiliate marketing.
Within this EZ SalaryZ review, I'll show you what this offer is about. I'll show you what to expect from it without any BS and give my honest opinion about whether it is a scam or legit.
Let me show you more! Shall we?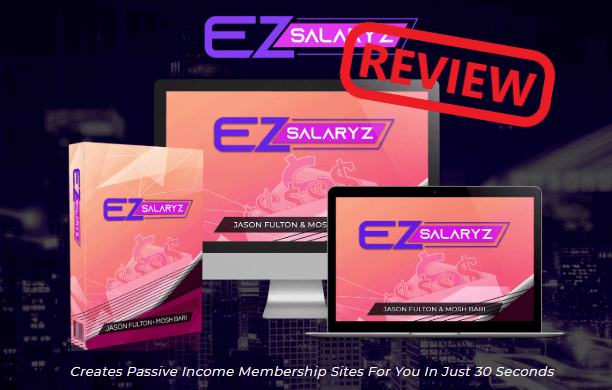 EZ SalaryZ Review – Overview
Product Name: EZ SalaryZ
Product Type: Affiliate Marketing
Price: $22 + Upsells
Owner: Mosh Bari & Jason Fulton
Rating: 2/5
Quick Summary: EZ SalaryZ is allegedly a software that works on a push of a button and will make you an income as soon as today. In addition, it is a fully tested and newbie-friendly software that requires no tech skills and manual work. It will make you a 1000's of dollars on a push of a button.
They even claim how you can start earning a salary in 60 seconds or less!
However, in reality, EZ SalaryZ is another overhyped and misleading offer from WarriorPlus. But if you put the sales page on the side, you'll find a simple cloud-based site builder and tons of upsells that complete the system!
The truth is, this software is not 100% scam because it is based on a legitimate method for making money online also known as affiliate marketing. It will do A PART of the work for you, but you still need skills and knowledge in traffic generation. Traffic is a lifeblood of every business and this software is not going to do this for you.
In fact, no software will ever generate you traffic and sales in 60 seconds or less.
The bottom line is, I don't recommend overhyped and misleading products like EZ SalaryZ. Mosh and Jason create tons of these "magic" software each month, and yet, most of them never work as promised. That's why they have to rehash them all the time to escape being called a scam.
CLICK HERE TO DISCOVER THE BEST WAY TO EARN AN INCOME ONLINE >>
What is EZ SalaryZ?
The fact that the owners are not disclosing more details about the program and the system inside is alarming right from the start. It was not a good sign.
Is it a scam?
Well, according to the sales page, EZ SalaryZ is software for making money online. It's a 99% automated software that works on one click, and you could generate a salary in just 60 seconds.
But I know that you're not buying this. The truth is, this offer is overhyped. You see, the creators are guys who have created tons of software for making money in a few seconds.
The funny thing is, no one is getting rich with them. How come?
Here are a few examples:
I have to correct myself before we continue. Someone is getting rich using EZ SalaryZ and other systems.
Yeah, you've guessed it right.
But don't worry, they say how you could use this software too to make $5,000 per month and even $50,000 per month without any skills or previous experience!
And have I mentioned that it takes only a few seconds to do so?
How Does EZ SalaryZ Work?
In reality, EZ SalaryZ is a software that works on a model of affiliate marketing.
The software creates cloud-based websites, and that's the whole science. You won't make money in 60 seconds, and you need some skills.
You can use the software to create a website and to generate content such as PLR products and video to your site and distribute it to others. To monetize your work, you need an affiliate link so that you can send your visitors to any offer you choose.
As I mentioned at the top of this review, EZ SalaryZ is based on the legitimate method.
However, the system has one flaw. Well, it has more, but this one is big!
You see, they will teach you how to create those sites. And truth be told, the software is going to do the work in a minute or two. And it will even put some content on the site for you.
But that's not the point.
The point is, they won't teach you how to attract visitors to your websites. They just show how to share your work on social media. But that's not going to cut it.
To make money online, you need massive amounts of internet traffic, which is something that this software can't help you to do so. A few clicks here and there are not going to earn you a salary with which you could quit your job.
Traffic generation is a crucial aspect! Without it, your sites are worthless.
The bottom line is, the EZ SalaryZ system could work, and it's reasonable. It creates sites in less than 60 seconds just as promised.
But, it's a seriously overhyped and incomplete product. You see, you're basically buying a website builder and a content spinner. There's no traffic training included in the basic package.
However, lucky for you (irony), guys offer 10X more expensive upsells where you can find the rest of the system.
EZ SalaryZ Price & Upsells
By the time of writing this review, EZ SalaryZ is selling for $22 one time via WarriorPlus marketplace. It's the place where you can find most of the Bari/Fulton products.
And just like with all those offers before, they push expensive upsells as soon as you agree to work with them.
The main (basic) package contains the software and instructions. But if you want to make it work and to make some money with it, you'll most likely have to purchase the following.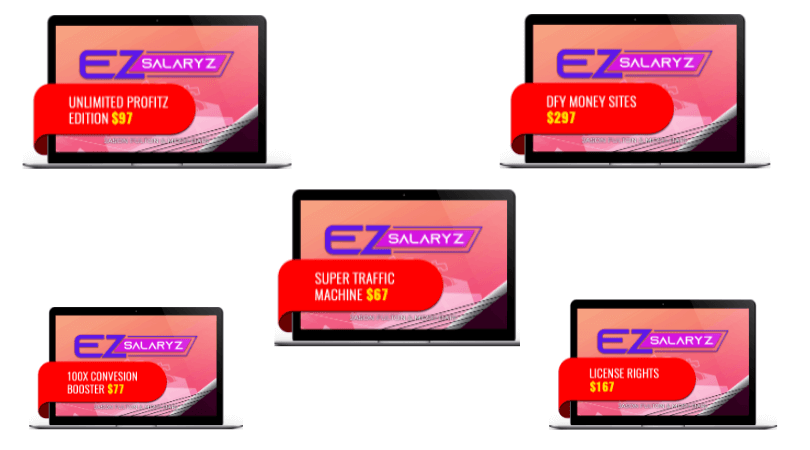 Unlimited Profitz Edition $97 – Basic package is limited. You can only build a few sites. If you want to get the full features, you need this upsell.
DFY Sites $297 – The software creates pretty much basic empty sites. They are worthless unless you know what to do with them. If you have no clue what's next after you create a vacant website, this upgrade will give you access to 20 DFY sites.
Super Traffic Machine $67 – As you know, they don't teach traffic generation (a y aspect of every business), but they do give you access to some traffic system.
100x Conversion Booster $77 – Since the Basic package is probably not going to provide you with tools you need to convert visitors into customers, you'll have to purchase the same.
Licence Rights $167 – Gives you PLR Rights to redistribute EZ SalaryZ system.
What I Like About EZ SalaryZ
1.) 30-Day Money-Back Guarantee
The only good thing about EZ Salary Z, in my opinion, is the refund policy. The system is based on legitimate methods, but it's not even close to being legit! I'll talk about this under the cons section of this review.
If you don't get results with this system, you can at least get your money back. The owners offer a 30-day money-back guarantee.
However, Bari & Fulton do not follow "no questions asked" route like many others do. They will ask for proof that you've used the system before they agree to give you a refund.
What I Don't Like About It
1.) Overhyped & Misleading Sales Page
EZ SalaryZ sales page claim some of the following benefits.
You can quit your job, you can earn a salary in 60 seconds, you can do this in three simple steps, you don't need to work, and many other claims are to be found all over the sales page.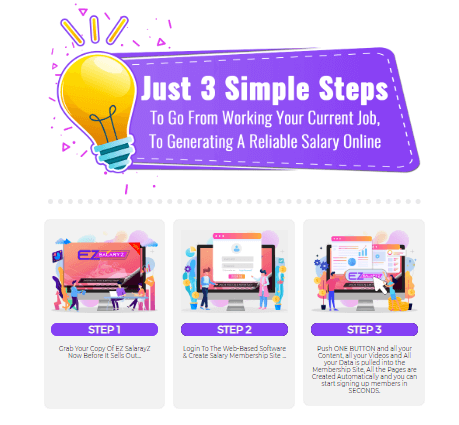 I don't like to see those claims. Yes, you can make money online. But it's a process, not magic. And these guys are making it look like it is the latter.
2.) Cloud-Based Hosting
The problem with software like EZ SalaryZ is the hosting. I don't like the fact that your site is cloud-based.
It means that you are not the physical owner of your business. The site is hosted on a cloud, and if Bari & Fulton decide to pull the plug, you'll lose your business.
The best thing when starting an online business is to build your sites on reliable third-party hostings such as BlueHost, or Wealthy Affiliate.
The latter is the company that offers the hosting, affiliate marketing training (top-notch), the tools, and the community.
It's my top recommendation for getting started online.
3.) Product is Basic & Requires Upsells
With the Basic version of EZ SalaryZ software, you're not getting too much in your hands. It's basically a simple cloud-based site builder, and it has very little value.
However, as you know, the system is completed with upsells. So if you want to make it happen, you need to take pro and unlimited versions, and probably even the traffic upgrade, as well.
I don't like to see upsells. The owners are not honest about the price, features, and benefits.
Is EZ SalaryZ a Scam?
No, EZ SalaryZ is not a scam. But I admit the owners have done an excellent job to make it look like it is.
All those claims about earning a salary online without having to work too much and about fast results in 60 seconds or less are more than enough to think about how this might be a scam.
But the truth is, it's legit software that crates simple cloud-based sites and speeds up the process.
I would not recommend it if you are looking for REAL WAYS to make money online. In my opinion, it's another internet offer that will die as soon as the owners turn to the next big solution.
The next time, they'll probably have something that makes money in 10 seconds.
How I Earn Passive Income Online
First of all, thanks for reading my EZ SalaryZ review. I hope this article was useful to you.
If you have any questions about the program or maybe you can offer an experience, feel free to leave them in the comment box below.
Before I let you go, let me show you a legitimate training course for making money online with affiliate marketing. This course is proven by thousands of marketers all over the world, including me.
CLICK HERE TO DISCOVER THE BEST WAY TO EARN AN INCOME ONLINE >>
If you need any help or you have a question, feel free to contact me.
All the best, Ivan. Founder, and CEO @freeaffiliatemarketingbusiness.com