Welcome to my Free Traffic Mastery 2.0 review.
Every business needs traffic to survive. It's nothing secret, right? There are tons of systems that promise floods of traffic day in and day out. But before you buy any products that promise tons of free traffic 24/7, you want to make sure it is not a scam.
It's good that you're here because in this review I'm going to help you to find out the truth.
According to the sales page, Free Traffic Mastery 2.0 is a three-step system created by Gena Babak that will show you "proven" strategies to get traffic on demand. It also teaches how to make affiliate marketing funnels and some more.
Let's see whether those promises are real or fake!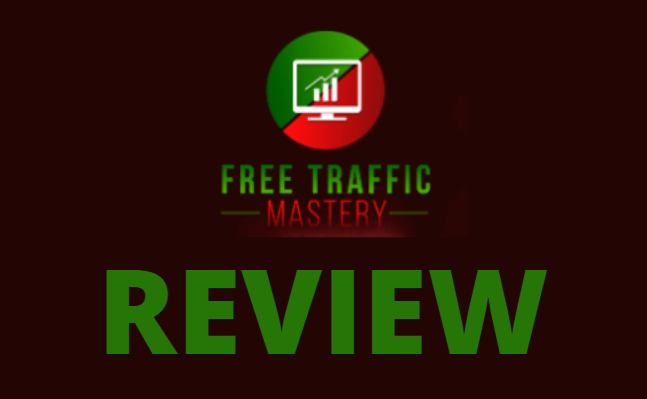 Free Traffic Mastery 2.0 Review – Overview
Product Type: Affiliate Marketing Training
Product Owner: Gena Babak
Product Price: $49.93 + UPSELLS
Money-Back Guarantee: 30 Days
Recommended?: NO! Read why not below…
Quick Summary: Free Traffic Mastery 2.0 is a concise training course where you can learn how to start with affiliate marketing. The course contains three parts, all of which are useful when building a new affiliate business.
But in my opinion, this course is not recommended because it is not going to teach you how to build a business from scratch. Instead, you get a chance to copy some funnels and spend more money on upsells, tools, and eventually, you'll need to pay for traffic, which is quite disappointing, right?
I mean, a program that allegedly shows how to master free traffic is leading you toward buying traffic (solo ads). It makes not sense to me.
The bottom line is, Free Traffic Mastery 2.0 is not a scam. However, this is not even close to a comprehensive training program and I don't recommend it because of the inferior quality.
Click below to discover a 100% recommended course that I use to make passive income online! My #1 Recommendation helped me to go from $0 to earning $100's per day with affiliate marketing.
THE BEST WAY TO MAKE MONEY ONLINE IN 2023 >>
What is Free Traffic Mastery 2.0?
Free Traffic Mastery 2.0 is a training program that is designed to show you how to get floods of free traffic to your online business 24/7. This is the second edition of the product, which is a good sign. It means that the product has been updated.
On the other hand, the product was released on WarriorPlus, which is never a good sign. Why?
Well, if you're new to the make-money-online world, then you could easily get tangled into tons of false and overhyped promises that vendors from Warrior Plus make to sell their software and programs.
As you can see from Free Traffic Mastery 2.0 sales page, the owner promises ultra-fast results and gives a lot of promises that give his product too much hype.
In any case, Free Traffic Mastery 2.0 helps to grow traffic and list, and automate the affiliate marketing process with funnels and autoresponders. Speaking of which, let's see how it works…
How Does Free Traffic Mastery Work 2.0?
Free Traffic Mastery 2.0 works in just three steps. This is nothing unusual to see when it comes to scams and WarriorPlus products. They always work in three phases.
Use Profit Funnel To Create Multiple Streams of Passive Income
Use Free Traffic Mastery To Learn Multiple Free Traffic Strategies
Use Daily Action Plan To Start Making Sales Daily
In a nutshell, Gena Babak is showing how to set up a sales funnel to grow a list and automate the whole process right from the start. This funnel includes affiliate promotions with which you monetise the process.
The second part of the Free Traffic Mastery program is learning some of Gena Babak's top strategies for getting free traffic to your profit funnel. The main idea is to use both methods to grow an email list and send emails daily to your subscribers to make sales.
The last step of the process is about taking consistent daily action to start making those sales daily.
What You Get With Free Traffic Mastery 2.0
Free Traffic Mastery includes a set of step-by-step training videos where Gena is showing how to build sales funnels and how to leverage free traffic strategies to get visitors and make money.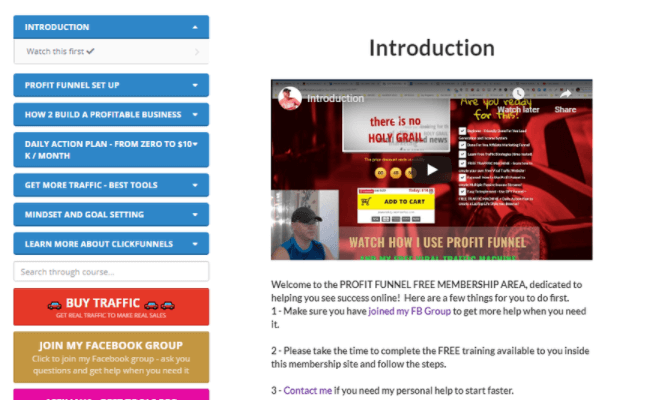 In addition to training videos, you get access to resources and the option to buy traffic as well.
It's funny. A program that teaches how to master free traffic is selling traffic as well. Nonetheless, there's nothing bad with it. In fact, it's good to have this option if you don't have patience for free traffic.
Watch the video below to see what is inside of Free Traffic Mastery.
In addition to the training, Gena Babak includes a set of fast action bonuses:
Bonus #1 – Live Coaching Sessions
Bonus #2 – Viral Traffic Quotes
Bonus #3 – Fast Traffic Secrets
Bonus #4 – Profit Cycle Course
How Much Free Traffic Mastery 2.0 Costs?
Free Traffic Mastery 2.0 is selling for $49 one time. You get training and bonuses. Also, this program comes with some extra costs. Gena is recommending ClickFunnels funnel builder, which costs $97 per month.
And here's the list of upsells that await those who buy this program:
Upsell #1 – Facebook Traffic Mastery ($37)
This upsells is an additional part of the training where Gena shows how to get traffic and new leads from Facebook for only $5 per day. This training is designed to help you start using Facebook to grow your list.
Upsell #2 – Ultimate Traffic Training ($77)
This training contains information about generating more visitors to your online business.
Upsell #3 – List Building Mastery ($197)
List Building Mastery is a separate coaching program by Gena Babak. This program is designed to show you how to build and use an email list properly.
Upsell #4 – Reseller Rights ($37)
This upsell allows you to resell Free Traffic Mastery 2.0 and keep 100% of the profits across the entire funnel.

Is Free Traffic Mastery 2.0 a Scam?
Technically speaking, no, Free Traffic Mastery 2.0 is not a scam. Gena Babak is a legitimate marketer and Solo Ads vendor who knows how to get online traffic and how to make money too.
But let's be honest, this is not going to get you free traffic fast. It may take weeks and months to put this system together, especially if you're a beginner. Even Gena does not give any promises. If you ignore the sales page and scroll to the bottom of it, you'll see an earnings disclaimer.
In other words, the sales page sounds good, but the reality is something different.
I've been and still am a member of some programs that teach free traffic generation. Some of them were scams, but those that worked were completely honest that getting free traffic could take a few months. That's the reality! No system can guarantee you success.
Personally, I'm not going to recommend Free Traffic Mastery 2.0. I'm sure that Gena Banak knows how to teach you to make money online, but I'm aware of much better ways of doing so. Keep reading my review to learn more…
Related: Wealthy Affiliate Review
Free Traffic Mastery Review – Conclusion
Finding the right affiliate marketing training course can be challenging. I know, I've been there myself. While I was starting my own business, I bumped into tons of these courses that were looking promising, but they never delivered.
I'm not saying that Free Traffic Mastery 2.0 isn't going to work. All I'm saying is that you need much more than this course to succeed online. If you're looking to start a long-term passive income, I've got a much better recommendation for you below.
Thanks for reading my Free Traffic Mastery Review 2.0. Let me know if you have any questions.
How To Make Money Online
The most crucial aspect of every training course is the community and live help. Affiliate marketing is a challenging business, which is why you need a coach and a group where you can chat and ask questions 24/7.
Also, you need a proven step-by-step training course and all the tools that you're going to use to build your online business.
And to help you to stop wasting time and money on unreliable courses, I invite you to click the button below and discover a platform where you get:
beginner-friendly training course
access to the largest online community
state-of-the-art tools
personal coaching
and more!
Affiliate marketing can be much easier when you have all you need to build success online.
Click the button below to learn more!
THE BEST WAY TO MAKE MONEY ONLINE IN 2023 >>
If you need any help or you have a question, feel free to contact me.
And don't forget to share this Free Traffic Mastery 2.0 review with your friends and family!
All the best, Ivan. Founder, and CEO @freeaffiliatemarketingbusiness.com