Welcome to my Freebie Commissions review. 
It's supposed to be a DFY system that is going to make you money in a matter of minutes. Is it legit? Or is Freebie Commissions a scam by Glynn Kosky?
The creator of this offer claims that you can choose an offer, add your affiliate link and get free viral traffic with a push of a button using this system.
However, I've seen a lot of scams and magic systems so far to know better than that. In other words, based on those claims alone, Freebie Commissions is an overhyped program and very close to be labelled as a scam.
But let's not judge yet. Let me show you more before you make the final decision.
By the way, congratulations on researching before getting into things headfirst. I know it's hard to trust people on the net these days. But if you are looking for something real, check out this genuine way to make money with affiliate marketing.
Within this Freebie Commissions review, I show you what the story here is. Also, I'll show you how this program works. Lastly, I'll discuss whether Freebie Commissions is a scam or a legit way to make money online.
Shall we dig in?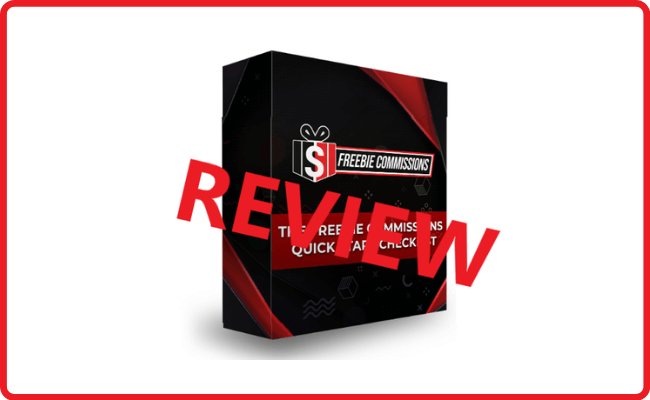 Freebie Commissions Review – Product Overview
Product Name: Freebie Commissions
Product Type: Affiliate Marketing DFY System (?)
Owner: Glynn Kosky
Price: $24.95 + Upsells
Recommended?: No!
Quick Summary: Freebie Commissions program is promoted as a get-rich-quick scheme. The sales page is misleading. For example, they say you'll make commissions in minutes from now, get traffic on a click of a mouse, and other things that don't match the real product.
The main problem with this system is that it's pretty much basic compared to what you've been told. Another problem is, there are tons of hidden upsells that contain a critical part of the Freebie Commission system.
In other words, this system is not 100% honest and transparent, and it is incomplete.
I've had a chance to review one product from Kosky production so far. The name of the product is Commission Shortcut, and it was not the best one. In fact, I think it didn't work at all. The story was almost the same as here with Freebie Commissions.
The only difference between those two is that here, you will give away free stuff before you start selling. However, the concept is the same as before.
You see, it a rehashed program. That's what these guys from WarriorPlus marketplace do the best. They create a system, and then they re-launch it over and over again under different names.
In my opinion, Freebie Commissions is the best for the owners. The bottom line is, I don't recommend half-baked systems full of upsells. See my Freebie Commissions review for more information.
If you are looking for a PROVEN WAY to make money online, make sure you click the button below!
My #1 recommendation is a 100% legitimate training course that has helped me to go from $0 to earning $100's in commissions per day with affiliate marketing.
THE BEST WAY TO MAKE MONEY ONLINE IN 2023 >>
What Is Freebie Commissions?
The owner says that Freebie Commissions is the easiest way to bank online profit without selling a thing. It's a system that makes money by giving away DFY products for free.
In other words, it's another product from WarriorPlus that promises a lot but delivers no so much.
How do I know? Well, I reviewed a lot of these super-commissions programs. All of them come with a hyped-up sales page, and at first glance, they sound great.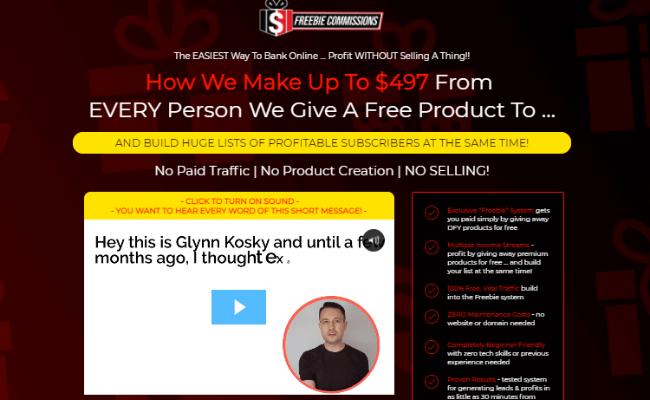 However, once you take the system out for a spin, you realize that this works the best for the owner.
With Freebie Commissions, you'll get a set of funnels where you give away some free products that probably don't work. Then, you collect the email addresses of your prospects and push them to something else to make the sale.
This is a popular method that's been used for years, nothing new about it. It's called affiliate marketing. But there's a small problem with this program, which I'll explain soon.
My biggest concern with this program is the sales page.
I don't mind a little bit of hype if the product is really that good. But when I see promises like 'make commissions in minutes from now' or 'free traffic on a click of a mouse,' I start to think that Freebie Commissions might be a scam.


Glynn Kosky literally claims that you can be making profits in minutes!
On top of it, he flashes his pro earnings and claims that you too can start making the same amounts almost immediately.
In other words, he flashes you with everything he can to make you believe that this is going to be your solution.
But in reality, the only people that are going to bank in with Freebie Commissions for sure are going to be the owner and affiliates.
Who Owns Freebie Commissions? 
Usually, it's hard to find the owner when it comes to products like Freebie Commissions. You see, the fact is that most DFY systems are not soo good. And because of that, the owners don't like to present themselves.
But here is not the case. Glynn Kosky is an entrepreneur, investor, digital marketer, and super affiliate.
The guy has made some serious money online via affiliate marketing using eBay and Amazon platforms. And now, he's sharing his success. However, like every other entrepreneur, Glynn is more focused on creating more products to make money for himself than to help other folks to make money truly.
All these products have been designed to trick you into thinking that you can make money instantly using free traffic systems, push-button software, and DFY websites.
But the main idea, just like it is behind Freebie Commissions, is to make money off you.
Let me show you what I mean.

Freebie Commissions Price and Upsells
It's hard not to get interested in buying Freebie Commissions. I mean, the sales page is looking so good. You can see that Glynn and his team had spent a lot of time making it perfect. And it's cool.
Who would want to buy something from a dusty store, right?
The program sells for a $24.97 one time payment. The good thing is that the program comes with a 30-days money-back guarantee. But keep in mind that sometimes it can be hard to get you cash from guys from WarriorPlus.
Then, the fun begins. I mean, that's why they call it a funnel.
So, once you pay the front end price, you'll get six more chances to spend some more of your hard-earned cash. That's how these guys make a fortune with programs like Freebie Commissions or already mentioned Commission Shortcut.
Upsell #1 – Unlimited Version – $97 (downsell $47)
Upsell #2 – DFY System – $67 (downsell $47)
Upsell #3 – Automated Traffic Flow – $97 (downsell $67)
Upsell #4 – Conversion Boosting Tools – $67 (downsell $47)
Upsell #5 – Bonus Page Creator – $67 (downsell $47)
Upsell #6 – Resell Rights – $197 (downsell $97)
You see, the program that you're going to get for 25 bucks (if you say no to those upsells) is not going to make you money. The program is just some basic videos that explain the process.
Take a look at those upsells, and you'll see that if you want to make this work, you'll need to take those upsells.
Freebie Commissions is just like every other make money online program out there. They get you in at a low price only to upsell you more and more. The basic course is not going to be enough to make it work, and they know it.
I hate to see this happening, but hey, that's how online marketing works these days.
How Does Freebie Commissions Work?
Freebie Commissions is a perfect example of how the program inside works. The only difference is that you'll create funnels where you're not going to ask for cash straight away.
Instead, they teach you to collect email addresses to build a list by giving away free eBooks and mini-courses.
In theory, once you build a list of subscribers,  you will contact your prospects with an affiliate promotion to make money on upsells, just like they do here. The business is called affiliate marketing.
Every time you make a sale, you're going to get a piece of the profit.

However, I said that there is a problem with Freebie Commissions. I'll show you what I meant now. You see, you'll get a funnel builder, and all other resources needed to build an affiliate marketing campaign.
They say that you'll also get free viral traffic so that you can start making sales as soon as possible.
But that's not true.
All they are going to show you is how to share your links on social media. If you don't have a substantial social media following or don't know how to get traffic to your offer, this program is not going to make you a dime.
In a nutshell, they are going to show you how to build a business, but you'll be left alone to figure out how to get traffic.

According to the sales page, they've told you that you're going to get one-click viral traffic. However, that's not going to be the case. To me, that's highly misleading.
And that's how Freebie Commission works, guys. But you see, Glynn has thought of that too. That's why there are those upsells. You can pay him more money to show you how to get traffic, which is precisely what they've planned right from the start.
One could say that it's a scam, right?
Who Is Freebie Commissions For?
It's evident to me that Freebie Commission is created to make money for the owner first. The whole thing has been set up to make more and more sales. Thus, to make more cash for those who created and those that promote this offer to others.
However, the program has the potential. But I believe that you'll need to pay for traffic to make it work.
That said, it could be for those who are willing to invest more than 25 bucks into this. I've got the impression that the basic program is not going to be enough.
What's Good About Freebie Commissions?
While researching for this Freebie Commissions review, I was looking for a system that will live up to the expectations created by the sales page. They promised easy profits within minutes and all other good stuff, but none of it was true.
Here are, however, a few good things about this program.
1.) You Get Training & Tools
The method they use for this system is a legitimate way to make money online. You need to promote products to make money. However, there's a lot of work involved here, no matter what they claim on the sales page.
The good thing is that you'll get a funnel builder (pretty much basic stuff) together with free giveaways, and everything else you need to create (mark this word) an affiliate marketing campaign.
2.) You Get 30 Days to Test Freebie Commissions
Another good thing about Freebie Commissions is that you can test them for 30 days. If the program doesn't live up to your expectations too, you can ask for your money back. T
here's only one small problem.
These guys from WarriorPlus marketplace are making it difficult to get a refund. They play 21 questions and sometimes even don't approve the request, while on the sales page, they say it's hassle-free.
What I Don't Like About This Offer
Like many other 'get-rich-quick' scams out there, Freebie Commissions is a program that is making affiliate marketing look like a child's game. I mean, the amount of BS that you can see on the sales page is enormous.
And the worst thing is that 90% of the info doesn't match the product behind it. Here's a list of bad things.
1.) There's No Free Traffic Training
One of the biggest problems with Freebie Commissions is that they claim you'll get one-click free viral traffic built-in to your campaigns. That's only half-true. You see, you'll get software that you can connect with your social media accounts, which is making it easy to share your campaigns.
But with whom?
If you don't have a massive following on your social media, the whole thing is worthless. Even worse, they don't teach how to get free traffic from search engines to your offer.
2.) Hyped Up Sales Page
Screenshots of professional earnings, super-easy, newbie-friendly, free traffic on demand and many other BS screams at you from the Freebie Commissions sales page.

The problem is that the program inside is not nearly as good as they make it look. You'll need to work a lot to set things up. There's no such thing as 100% done for you or any other crap you might have heard while being pitched to buy this program.
3.) Freebie Commissions Funnel Contains Six Upsells!!!
I don't know about you, but to me, those six upsells are torn in the eye. I was expecting to get super-easy software and DFY campaigns as well as free viral traffic (floods) for only 25 bucks.
But then, I get a half-baked system and tons of upsells in my hands. The problem is that those upsells are not disclosed on the sales page.
And some of them are necessary if you want to make Freebie Commissions work for you.
4.) System Is Not Complete Without Upsells
As I said in the previous paragraph, the Freebie Commissions front-end offer is not complete. To make something out of this program, you will have to reach out and buy some of those upsells.
This is not disclosed and in my opinion, it's an unethical way to make you spend more money without even knowing why you're spending it.
Unfortunately, there are many overhyped products like this on the market that are looking to trick you into spending $100's blindly so that affiliate and owners can earn off you.
Is Freebie Commissions a Scam?
Well, the fact that the sales page is highly misleading and intentionally hyped up to make as many sales as possible, and the product is not as nearly as good as described could've been enough to say that Freebie Commissions is a scam.
However, since you're going to get something that actually might work, I call it legitimate.
But that doesn't mean that I recommend this. It will be a slap in my face if I recommend this program.
You see, Freebie Commission is just one of many many maaaaaany programs out there that are designed to trick you into a spending cycle. Some might even say that it's a scam because you're lead to believe that you are going to get a system that is going to make you 100s and 1000s with little to no work.
I don't see how this program is going to help you to do so.
In my opinion, the whole thing is designed to fill the pockets of creators and affiliates. Even those few testimonials are coming from WarriorPlus vendors. Meaning, these guys are associated with the owner and are participating in the promotion of this program.
With all that being said, I don't recommend Freebie Commissions, mainly because I know that there are much better solutions for making money online.
Freebie Commissions Review – Conclusion
Thanks for reading my Freebie Commissions review. While you're here, let me show you how to start a successful online business through the best platform there is.
You will not have to pay $100's to get your hands on important parts of the training. You will not have to figure things on your own because of the lack of support. Instead, you will get everything you need to make money online.
If you want to learn more click the button below!