Welcome to my Paid Online Writing Jobs review.
You are here because you are wondering whether POWJ is a scam or legit, and I'm here to help you.
At first glance, POWJ site looks legitimate. But looks can be deceiving.
Just a few weeks ago, I reviewed a clone website called Paid Social Media Jobs.
In a few short words, it was a scam that tricks people into paying for social media jobs. Common sense dictates that jobs are, whether online or offline, free!
In this case, PaidOnlineWritingJobs.com call themselves the biggest online writer employer on a part-time basis.
But, that's a lie, and I want to show you why you need to avoid this website.
I mean, why would you pay for an online job? It makes no sense.
By the way, congratulations on researching yourself! Quick research saves you time and your hard-earned money. ? It shows that you are serious about finding a legitimate way to make money online.
Within this Paid Online Writing Jobs review, I show you what it is all about and how it really works.
Also, I'll show you a few scam warning signs that you need to be aware of before going any further!
Product Name: Paid Online Writing Jobs
Product Type: Freelancing Online Training
Owner: Unknown
Price: $27+ Upsells
Rating: 1/5
Recommended?: No!
Quick Summary: This site is going to charge you $27 to get a bunch of information that could be yours for free. The training inside of the platform is brief, and there is a scarce of jobs inside. All they do is funnelling you to free sites where you can find work if you are lucky. The site serves as an intermediary, and in my opinion, it's a scam that charges people for service that's free using Google, Fiverr, Freelancer, etc. Do yourself a favour, and avoid sites like these.
If you are looking for a PROVEN WAY to make money online, make sure you click the button below!
CLICK HERE TO DISCOVER THE BEST WAY TO EARN AN INCOME ONLINE >>
What is Paid Online Writing Jobs? 
Paid Online Writing Jobs is a platform where you can allegedly get paid to complete simple online jobs such as writing articles and stories.
Also, according to the official website, they can offer you to proofread books and scripts and get paid for doing so, write reviews of sites, and get paid for writing blog posts.
It takes three simple steps to get started.
First, you need to sign up for a VIP membership. Then, all you need to do is search for a job from thousands of freelance writing jobs in their database. And of course, the last steps are to complete the job and get paid.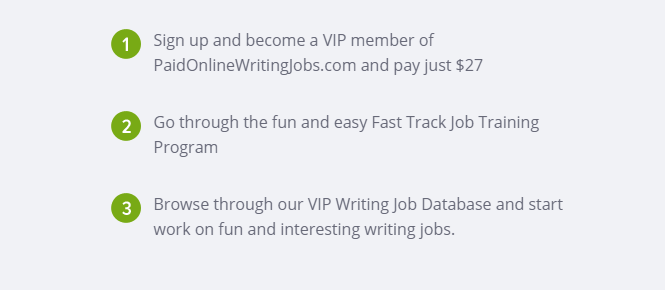 However, after reviewing a bunch of sites like this, I know that Paid Online Writing Jobs is looking to scam you.
Paid Social Media Jobs, Take Surveys For Cash, Paid To Send Email, are just a few examples where they promise you a bunch of jobs, high pays, easy work, and a lot more benefits to attract you inside.
Then, once you get inside, you're going to get some simple training in your hands, a few PDFs, and a bunch of links to other legitimate sites where you can do these jobs if you are lucky to get any.
You see, Paid Online Writing Jobs is just an intermediary between you and those websites. Now here's the problem. All these sites are free to join.
You don't need to pay anyone to get an online job. So that raises the next question.
Why They Charge You For These Jobs?
The answer is simple. To make themselves look like a legitimate service, Paid Online Writing Jobs is going to provide you with training on how to become a freelancer. They call this program Fast Track Job Training Program.
But in reality, it's just a bunch of general information about freelancing jobs.
Nothing that you can't find for free on YouTube or Google.
Also, the website is going to give you access to their "database" where you can find jobs. However, this database is just going to redirect you to sites like oDesk and Upwork. So basically, they are merely acting as an intermediary.
In other words, they will charge you for jobs that are free all over the net, which is not right.

Lastly, to justify the price you're going to pay, they give you access to some VIP job board where you can post jobs and get hired. But in reality, this section is full of requests of people who have fallen into the trap.
No one is going to hire you from there because no one is even looking there at all.
In my opinion, you don't need to pay for these jobs. Paid Online Writing Jobs is a fake service and a scam that is going to rob you for $27 if you agree to work with them.
How Paid Online Writing Jobs Really Works
This program is selling via the ClickBank marketplace. Like most of the products that come from ClickBank, Paid Online Writing Jobs is created to make money for the owner.
It works as a marketing funnel designed to sell you a few info-products like books and generic videos. The information you're going to get in return for your money is almost useless.
You see, $27 is just an entrance fee. Once you pay the price, they are going to offer you a few more programs that are going to turbocharge your earnings somehow.
But in reality, these are too just a bunch of PDFs that have little to no value. In other words, they are looking to make more and more money off you with every chance they get.
In the end, the only people that are going to make money with this program are the creator and affiliates that promote this site. Besides, that's how I got my hands on this site. Some shady spammer has sent me an affiliate link to check it out.
How about you? How did you land on it?
Paid Online Writing Jobs Scam Warning Signs
To back up my claims within this Paid Online Writing Jobs review, let me show you some more scam warning signs you need to be aware of.
1.) They'll Charge You For Free Jobs
What do you think, would a legitimate platform charge you to get some freelance writing jobs? I don't think so too. As you know, online writing jobs are free all over the net. These guys will charge you $27 to get access to those jobs. There's simply no justification for this, at least not in my mind.
2.) Online Writing Jobs are Not a Get-Rich-Quick Scheme
You can make some money by writing, editing, proofreading, etc. But it's unreasonable to expect that you're going to get rich by doing so. These jobs are not the best choice to make money online. You'll need a lot of experience before you can land something that'll pay you a lot. As a newbie, you may bank a few dollars here and there. That's all.
3.) It's a Copy-Paste Scam (Paid Social Media Jobs)
As I've mentioned earlier in this review, Paid Online Writing Jobs is a copied version of another scam called Paid Social Media Jobs. The story is almost the same.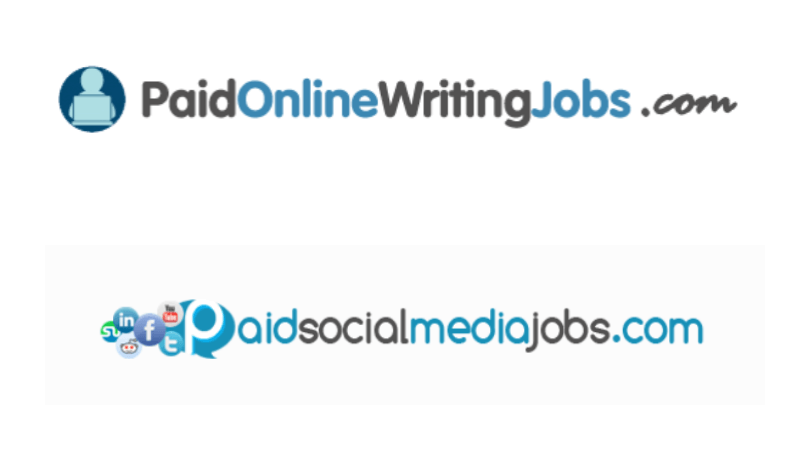 You're invited to take jobs that are supposed to make you rich. Then, they'll charge you for access and give you some books about freelancing and links to sites where you need to compete for these jobs with pros.
4.) Upsells
If all that's not enough, as every other ClickBank product, Paid Online Writing Jobs comes with a set of upsells. The entry fee to the funnel is $27. Then, there's a few upsells that will cost you a few hundreds. And all you're going to get in return for your cash are books and resources about freelancing.
Is Paid Online Writing Jobs a Scam or Legit?
If you ask me if Paid Online Writing Jobs is a scam? My answer is, yes, it's a scam that has nothing to do with helping you to make money online.
They use a lot of dirty tricks to convince you that their platform is a real deal.
But in reality, it's just an old scam.
The main point of this scam is to make you pay. They are after your money. And to do so, they will pull your nose and tell you everything you want to hear about making money online. Then, once they have you, they'll ask you for more and more cash.
The only reason why one can say that Paid Online Writing Jobs might be something legitimate is that you're going to get some resources in return for your cash.
However, these are not going to be nearly enough to start making money as an online writer. Just like many other scams, these guys have to throw in something in return for your cash.
In any case, guys, I don't recommend Paid Online Jobs for, in my eyes, it's a scam designed to rip you off. The only good thing about this program is that maybe you can get your money back. The program comes with a 60-days money-back guarantee.
Where to Find Paid Online Writing Jobs for Free?
If you are interested in giving these jobs a chance but without having to pay someone to show you the way, these sites are much better options than Paid Online Writing Jobs.
Those are top recommended websites where you get to reach out to find writing jobs for free. However, if you are a newbie, keep in mind that it's going to take you a lot to get paid for these jobs.
You see, all of the sites mentioned above are more or less looking for professionals. You need to either have a skillset and something to back it up. Or you need to be willing to spend some time grinding to get your name out there.
Do not trust sites like Paid Online Writing Jobs that these jobs are easy, and you can be highly paid for little work.
Freelancing is a profession that, like every other job, requires a lot of time, work, and effort to make some money and hopefully live off your work.
How to Write a Blog and Make Money?
There's something ten times better than Paid Online Writing Jobs. If you don't know yet, blogging is the best way to express yourself and to make some money while exercising your writing skills.
While freelancers are dependant on other people for gigs, and of course, cash. Bloggers are true freelancers.
You can start a blog about anything you want. And I mean that. You see, whatever your passion is, you can turn it into a blog. If you follow some secrets that I'll show you, you can put any price you want on your words.
The secret is that there's no competition in blogging, only creation. Meaning, the more content you create, the more you'll get paid.
It's a simple equation, right?
However, unlike the Paid Online Writing Jobs website, I'm not going to lie to you that you can do it with little work and in record time. There's a lot of work involved.
Here's one of my posts that talk about how to write a blog for FREE and make money.
Thank you for reading my Paid Online Writing Jobs review. I hope I have helped you to find all you were looking for. If you have any questions about this program or anything else, feel free to leave them in the comment box below.
Before I let you go, let me tell you how you can start an online income for REAL!
The program that I recommend has everything you need to get started online with zero costs and nothing with getting rich by tomorrow.
Wealthy Affiliate has been and still is the best online platform for making money online.
These guys are helping thousands of regular people like you and me to make money online every day.
Make sure to check it out!
CLICK HERE TO DISCOVER THE BEST WAY TO EARN AN INCOME ONLINE >>
If you need any help or you have a question, feel free to contact me.
All the best, Ivan. Founder, and CEO @freeaffiliatemarketingbusiness.com