Welcome to this Re-KaChing review. Wondering can you make money with Fulton's and Bari's software? Or maybe you're thinking the Re-KaChing system is a scam? Well, I purchased the system. Here's what I think about it.
If you take a look at the sales page, these guys are selling you this system like it the solution for all your financial worries. I reviewed one of their product earlier this year (Quick Fire Commissions) that came out with a lot of hype, but in the end, it didn't live up to expectations.
Will Re-KaChing do better? Let's see.
You see, these guys are good marketers, hands down. But the Re-KaChing system is not the making money miracle that you've been waiting for. You see, the push-button software is just a marketing trick.
Yes, there is software included.
However, you'll have to do a lot of work instead of pushing a few buttons. They do offer you a full setup. But more about it later.
In this Re-KaChing review, you're going to learn more about what it is, how it works, how much could it potentially cost you, whether or not could you make money with it, and more.
Shall we?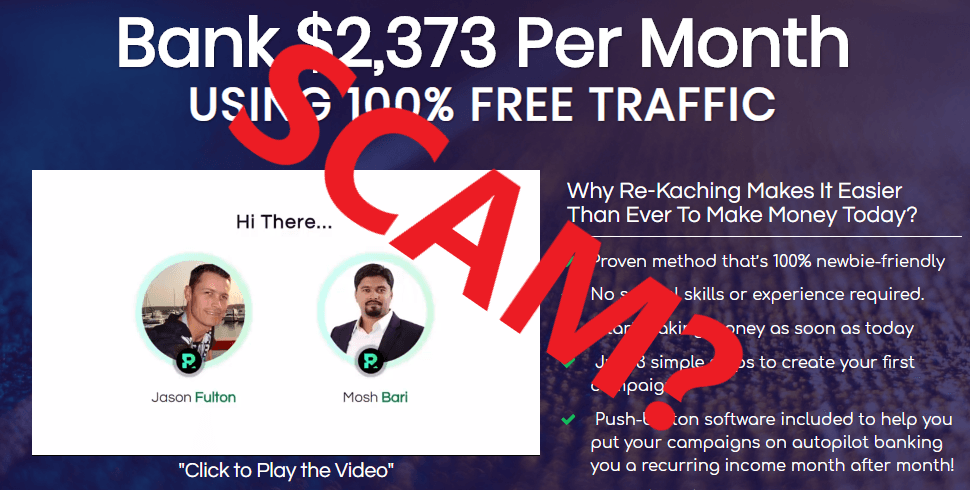 Re-Kaching Review – Product Overview
Product Name: Re-KaChing
Product Type: Instagram Account Management
Owner: Jason Fulton & Mosh Bari
Price: $12,94 + UPSELLS
Rating: 1.5/5
Quick Summary: Re-KaChing is allegedly a method for banking 100's per day with 100% free traffic. But if you put the sales page on the side, you're going to get training where they explain how to manage other people's Instagram accounts. The method is almost legitimate. I say almost because they recommend using software to do so. Instagram hates automatization software and they ban accounts that use the. That said, this is not the best business, but it could work.
THE BEST WAY TO MAKE MONEY ONLINE IN 2023 >>
What is Re-KaChing?
Jason Fulton and Mosh Bari call Re-KaChing a brand new method for making a passive income with just a few clicks of your mouse. It's a push-button software that can help you bank $2000 per month using 100% free Internet traffic.
It has nothing to do with affiliate marketing, websites, eCommerce, or anything like that.
And, believe it or not, it's true, at least partially.
These guys claim that this system is 100% newbie-friendly. Moreover, they say you don't need any previous skills or knowledge to make it work. The system is simple and works with less than 30 minutes of setup time. Everything is fully automatized and ready to make you money on autopilot.
How much of the sales page do you think is actually true?
In my experience, 90% of the information from the sales page is 'get-rich-quick' BS. Don't believe the hype they're making. Generally speaking, it's all marketing. I'll explain this in more detail by the end of this Re-KaChing review.
On the other hand, there is software that can help you make money.
However, it's nothing like you've read on the sales page. There are no hundreds of dollars here as soon as you start or by the end of the day. The system might work, but it'll take time and effort.
As I've said, I purchased Re-Kaching so I can give you an honest review.
Re-Kaching is a system for managing other people's Instagram accounts.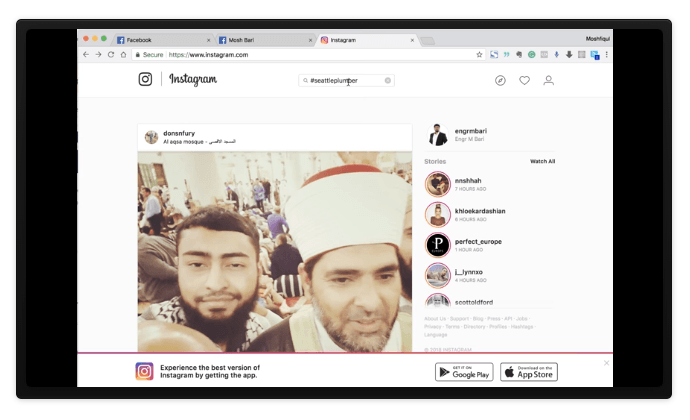 Yes, you've read it right.
The software helps you to manage Instagram accounts all from one dashboard, making it easier to maintain dozens of Instagram accounts at once.
Let me explain the system in more detail.
How Re-KaChing Works?
According to Fulton and Bari, the Re-KaChing system works in three simple steps. They are:
Follow the step-by-step training
Let the push-button Software run your campaigns
Sit back and wait for the money

Understand that these steps are marketing designed to make it look effortless.
Here is how it actually works.
First, you'll be welcomed with a couple of videos where Jason and Mosh are reciting everything you've read on the sales page once again.
Do you know what wise people say?  'repetition is the mother of skill.' 🙂
In a nutshell, to make this work, you'll need to reach out to people and ask them to let you manage their Instagram account. The goal of the Re-KaChing method is to find an Instagram account that has a solid following and potential to grow.
Four videos explain this process in more details. Thought the material is detailed, Mosh Bari is not the best teacher. I've been losing him a lot during the training.
Anyway, the main point is to manage their social interaction and help them grow their following for a small monthly fee (around $30). That way, the owners of account can stay focused on their career and personal life. And you can have a customer.
In other words, you'll be offering an Instagram account management service. Many people offer this kind of service. You can find them all over the sites like Fiverr or Upwork.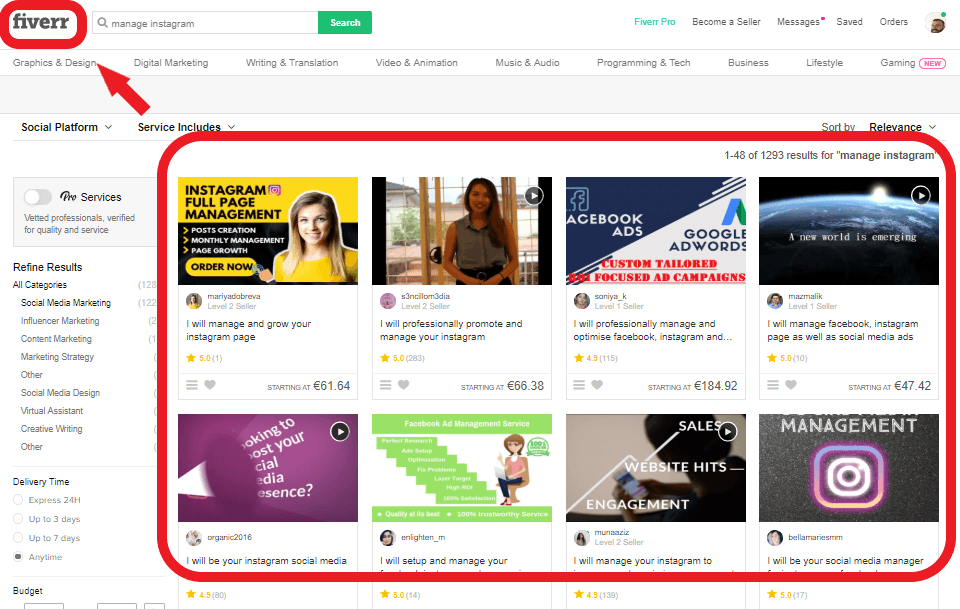 Second, after you manage to get a couple of 'customers,' the Re-KaChing software will help you to put all your 'clients' in one basket. From there, you can manage all accounts and activities at once and put the operations on autopilot.
Speaking of which, here is an interesting article that explains the Instagram automatization process in more detail.
In theory, the business model Bari and Fulton are selling here is legit and working.
Finding new clients and managing a few accounts at once shouldn't be difficult to do manually. However, once you start getting more and more clients, you'll need to use the software to do the work instead of you.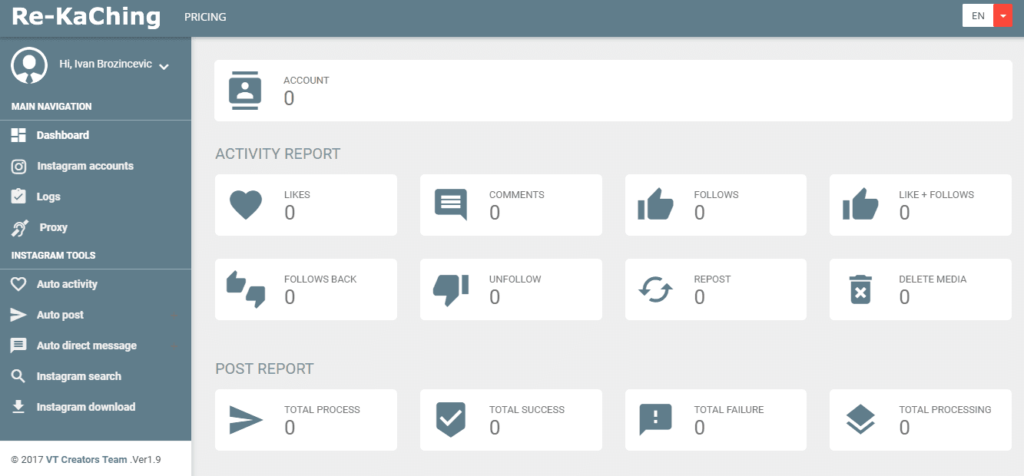 Now here, the problem.
According to my research, Instagram has a strict policy when it comes to using bots and software to manage an account. This kind of activity can result in shutting down an Instagram account. It means that, if they catch you, you're going to lose the client (money) and the person who has bought your service will lose their account.
Therefore, once again, Re-KaChing system might work, but for how long?
What's Inside Re-KaChing?
Once you get access to the main dashboard, you'll find one case study and a set of instructions on how this system works.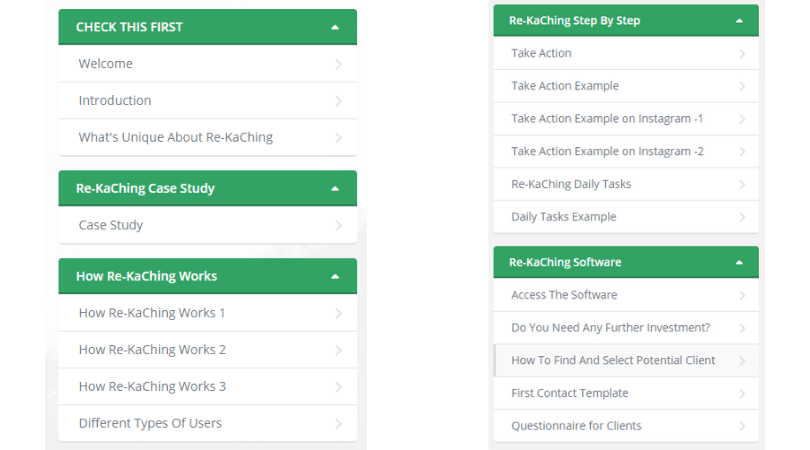 Then, there is a set of videos that explain the process in a step-by-step manner. You'll get access to the software itself, and a couple of bonuses and upgrades.
What's the Price of Re-KaChing?
The price of Re-KaChing is only $12.94. According to the sales page, this is an early-bird discounted price. The original price is $97.
According to Jason Fulton, the price of the system will go up with every new purchase. However, I think that this is only a marketing trick. I believe that the price will stay at $12.94.
Is There a Refund?
Yes, there's 30-day money-back guarantee on this WarriorPlus offer.
However, to be eligible for a refund, you'll need to take action with the system first. Otherwise, you'll have problems to get your money back.
Re-KaChing One-Time-Offers (Upsells)
In addition to a small entrance fee, the system comes with a set of four OTO's! The upsells are not mandatory. And you can decline them to proceed to the members' area.
If you decline each OTO, you'll activate the discount as shown below.
DFY Campaigns $37 ($17):  a set of done-for-you campaigns that can help you get up and running without figuring it out yourself.
Re-KaChing Secrets $47 ($27): advanced tactics to take all campaigns to the next level.
Re-KaChing 100% Hands-Free $47 ($27): put the system on complete autopilot.
License Rights $97 ($47): re-sell the Re-Kaching and keep the 100% profits.
Who is Re-KaChing for?
This system could be for people who are looking for something other than classic online money-making methods like affiliate marketing or eCommerce.
It is for those who are interested in managing other people Instagram accounts and earning a passive income of doing the same.

Can You Make Money With Re-KaChing?
In theory, you can make money by managing Instagram accounts. As I've said, some people offer this service on the internet to make money. So once again, yes, the Re-KaChing method could help you to earn some online cash.
My concern though is the way you'll be doing it.
If you violate Instagram's Terms of Use, which are very strict, you'll be risking to lose everything.
In my opinion, I wouldn't be so sure that this is going to work as advertised. It's a method that's not 100% proven to work, it's shaky and it requires a lot of work. Guys have included software to help you manage multiple accounts. But then again, if Instagram finds about it, you could lose the whole operation.
Worst of all, people whose accounts you'll be managing for money will lose too. Honestly, I don't think that the Re-Kaching method is the best way to make money online.
Re-KaChing Warning Signs
When it comes to digital products, as per usual, the sales page is frequently misleading and has little to do with the merchandise behind.
Therefore, I want to point your focus of attention onto some unrealistic claims and marketing tricks you shouldn't be taking seriously.
1.) It's Unlikely You'll Be Making Money As Soon As Today
Guys like Fulton and Bari are experienced online marketers, so they know how to sell products like the Re-KaChing.
In other words, they are quite capable of creating hype around the product. They are telling you that you can start making money by the end of the day with this one-of-a-kind system, and things like that to get you excited about the product.
However, understand that that's merely a marketing trick. Making money the first day is impossible if you are a beginner. The only way how you can make money that fast is if you buy all those OTO's and let the guys do the work for you.
2.) It's Not Newbie Friendly & It Takes Work
You see, I'm not a newbie. I know a thing or two about make-money-online systems.
But because the sale page influenced me, I expected to push a few buttons and make money with this one. However, once I've got access to Re-KaChing system, I was overwhelmed with new information. It was clear to me that it's not as effortless as they claim.
To make this system work, you'll have to devote at least a couple of hours every day for several days. Nothing works on a push of a button. Everything requires time and effort.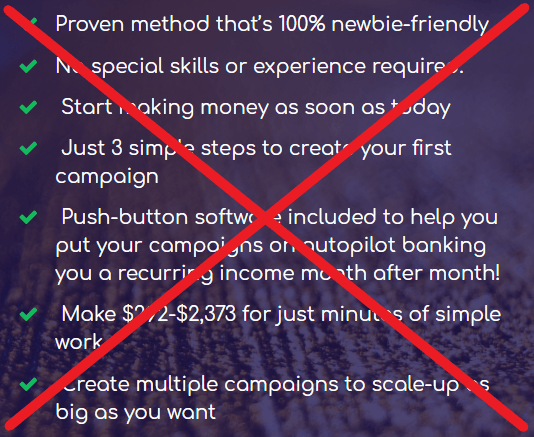 3.) $12.95 Can Turn Into a Lot More if You're Not Careful
The small price tag of only $12.95 is just an entrance fee to the sales funnel.
Once/if you pay the price to get in, you'll go through a set of one time offers. These OTO's can quickly raise the price tag. And that's something which is not disclosed on the Re-KaChing sales page.
As I've said, these two are excellent marketers. They do everything with a purpose. Therefore, think twice.
4.) There's Nothing New or Secret About This Method
There's one image in this Re-KaChing review where you can see people offering the social management account service on Fiverr. There's nothing new or secret about this earning opportunity.
Also, many people had automatized the process, so it's old news.
Is Re-KaChing a Scam?
Technically, a scam is an attempt to obtain money without giving anything in return.
There's nothing scammy here. If you ever buy this product from Fulton-Bari production, you'll get a legit training on how to make money online. Guys will show you a working method for making money by managing Instagram accounts.
Also, if you are not interested in doing this all by yourself, you can take some of those upsells. Guys have done this already. They can help you to get the system up and running fast, and hopefully, making some money as well.
My verdict is that Re-KaChing is not a scam. However, it's not the best thing you'll ever see.
THE BEST WAY TO MAKE MONEY ONLINE IN 2023 >>
Do I Recommend Re-KaChing?
If anyone reading this article has a wish to pursue a career in Instagram management, then go for it. You can learn a thing or two from Re-KaChing. As I've said, people are using this method to make some cash, and the training is legit.
On the other hand, I think that this method is not a long term business solution. It could help you to make some money, but it won't last.
Moreover, you'll be using software to do so. The usage of software and bots to manage an Instagram account is not approved by Instagram's terms of use. So I wouldn't be too excited about it.
To those of you who are earnest about making money online should take this information seriously.
Unlike many other reviewers out there who are promoting this system to make a commission, I'm not affiliated with the offer and I do not recommend this system.
How to Start an Affiliate Marketing Business?
Thanks for coming to the end of this Re-KaChing review. It shows that you are a serious person who takes every step with the most attention.
If you are interested in learning how to start an affiliate marketing business and make money online under your conditions, I have a great alternative to those money-sucking offers.
This process is proved by thousands of online marketers all over the globe. You are looking at the one right now.
Wealthy Affiliate is, in my experience, the best affiliate marketing training course on the internet.
These guys are teaching people how to start an online business and super-successful affiliate marketer every single day! Traffic training included!
THE BEST WAY TO MAKE MONEY ONLINE IN 2023 >>