Hi, and welcome to my Texting Factory review.
Many people right now are looking for a job online especially work from home jobs, so that they can have more flexibility, independence, and most of all freedom.
That is what you're searching for on the web, but upon your research, you find Texting Factory, where they say that you can work as a chat operator and earn an average of 300 USD weekly, which is only minutes away!
It sounds good, though, because you can now pay your bills and everything, but the question is, is Texting Factory legit? Can you really earn $300 per week? Let's find out!
Throughout my Texting Factory review, you can rest assured that you will get an honest and unbiased review from me.
In this review, we will try to answer all your questions. It should give you a clear understanding of the Texting Factory and see if it is worth your money.
Texting Factory – Overview
Product Type: Texting Factory
Owner: Webtech Interactive Media LTD
Price: Free
Recommended?: Read my review and find out
Overview: Texting Factory is a website that hires chat operators to answer casual messages on a fantasy-based text network, also known as "online flirting."
As you can see on their website, it says that you can earn $300 – $400 per week.
Sounds great, right? You can now pay your bills and everything with that earnings.
However, I found some reports that they are stealing your personal information and not just that they will also deactivate your account and not pay you.
That is not good.
That is why in this review, we are going to find out why and how Texting Factory works so that you will know more about what kind of company you're joining in.
My #1 recommendation is a top affiliate marketing course that helps to build a successful online business from scratch! I used this exact system to go from $0 to earning $100's per day! Learn more below!
THE BEST WAY TO MAKE MONEY ONLINE IN 2022 >>
What is Texting Factory?
Like I said earlier, Texting Factory is a website where they will hire people to become a chat operator to answer casual messages on a fantasy-based text network, known as online flirting, and earn between $300 – $400 per week.
The website was established in 2009, and Web Tech Interactive Media Ltd owns them and is located in La Salanene Complex, Ground Floor, Vaea Street, Saleufi, Apia, Samoa.
Webtech Interactive Media provides website creation and management services, search engine optimization, and Social Media Management.
How Does Texting Factory Work?
Your job as a chat operator is simple because all you have to do is with other people through text messages.
There will be different topics for each customer, and the site will assign you different roles, depending on what the customer wants.
There will be no phone calls, videos, and meet-ups as your identity will not be known by the customers due to anonymous chat only, and you will be assumed to be the person the customer is texting to.
You will get different conversations with each client as some want to talk about their life, work, culture, weather, relationships, and more.
Texting Factory is relatively strict because your messages must be written as per their instructions.
They are also looking for a fluent English person, grammar, message, and calls to action.
The call to action can be something like asking if they want to see more pictures.
The longer you keep them engaged, the more they pay and earn.
But before you start as a chat operator, you have to go 2 to 3 hours of training to get familiar with the system.
If you have any problem, you can contact Texting Factory if you need help.
Once the training is complete, that is where you will start to get paid.
How To Join Texting Factory?
To apply for this company you need to be 18 years, and above and like I said earlier you need to be fluent in English, and also you must have a PC or laptop with a stable internet connection.
Now to apply, when you click the apply button, you will go to the next section where you are going to fill out a small form that includes your name, email, and a short explanation that said "Your motivation for applying for this job."
Once you are done filling up and submitting the registration form, you will receive an email from them with information about the next steps in the application process.
You will get a confirmation link from Texting Factory to confirm your email address in that email.
Once you click the link, it will take you to a page where you will answer some questions.
Most questions are of adult nature, and you must answer those questions to get qualified.
After that, a coach will contact you within 48 hours for an interview.
There you'll also be asked to spend 2 to 3 hours for training, which includes reading and assessments.
You'll be taking a typing test that will take 45 minutes to an hour is required, and they will also ask you various questions.
The purpose of this typing test is to assess your written fluency, understanding of context, grammar, and more.
You will also get your first 50 messages which you will have to reply it within 24 hours.
Your response will be graded, and if you pass the test, that is the time that you'll be hired.
How Much You Will Earn With Texting Factory?
As it says on their website, as a chat operator, you can earn around $300 – $400 per week, and you can earn that by answering casual or adult text messages on a fantasy-based text network.
However, there are some discrepancies here.
You see, Texting Factory claims that you can make $10 – $12 per hour in their job posting.
However, on Trustpilot, one person says that if you worked 10 hours a day for 6 days, you could earn $100 a week.
Here's what he said:
"$100 per week from handling 1,000 messages per week, which takes 6 days a week, and working 10 hours a day for 6 days.
Simply put, Textingfactory and all other text operating companies are not good companies to work for.
For they all involve making operators work hard for chump change, and they will ban your account to profit more and cut their labor cost.
So, just find a better job that pays you a decent wage, and don't waste your time working 50-60 hours a week at Text Factory for a measly $100 folks."
Not just that, another source claim that I found in Trustpilot said that he got a message from her couch saying that he needed to send 770 messages per week to earn $30.47, which means you can earn $4.35 per day by sending over 110 messages.
This means that you need to send at least 10,000 messages per week to earn $300 on the Texting factory, which is crazy.
How Will Texting Factory Pay You?
Texting Factory will pay you through Bitsafe.
Now, I don't know much about Bitsafe, but one user says that Bitsafe is owned by the same people who owned Texting Factory.
For me, I feel much safer using PayPal, but that's not an option here since they will pay you through Bitsafe.
Also, it should be noted that a lot of these policies and procedures change without prior notice, so they may be slightly different at the time of this review.
Who Is Texting Factory For?
Texting Factory is for everyone who wants to earn some money by working as a chat operator and has extra time on their hands.
You can work when and where you want, but with a low per-message payout rate.
If you want to earn more, you'll need many hours to make decent money.
Of course, the conversations are not entirely innocent. Messages will become explicit, so you must be comfortable with them.
It's also for someone who is okay to share some personal information online, which is a risk, in my opinion.
Texting Factory Red Flags
Fake Testimonials
On their website, the is a testimonial section, and there you will see Steven, Sophia, and Isabella, and each of them has good things to say about Texting Factory and how they like working for them.
However, Steven, Sophia, and Isabella are not real as those you see are stock images used by many websites.
See the image below:
Again ass you can see, those people on the testimonials are not real.
Most websites use this kind of strategy to make you believe that they are real, but it isn't, and that is why you need to be very careful about what you join and always do your research before you join in.
This will make them hard to believe if this website is legit or not because of the fake testimonial.
Limited Contact Information
On the contact section, you can see that the company is part of Webtech Interactive Media LTD, and the only contact information available is an email address.
So if you have any problems, you have to send them an email.
Their parent company doesn't shed any light on this.
Not just that, there is no information on their site as to who owns Texting Factory.
This is another big red flag from this company, making it hard to believe if they are legit.
Suspicious Looking Parent Company
As you already know, Texting Factory's parent company is WebTech Interactive.
There are no contacts or emails that can be found on their website, and the only thing you can find is a contact where you have to put your name, email, and message and then submit, and that's it.
Also, on their website are no terms of service or privacy policy.
Privacy policies are a legal requirement, so it would be odd for a legit business not to have one.
Not just that, there are no Facebook page links to their website.
So how can we tell if people are using this website?
To be clear, I'm pointing out these red flags to you so that you will be aware of what you're joining with.
A Lot Of Negative Reviews
On the Trustpilot website, you will see there are a lot of negative reviews about Texting Factory.
Almost 70% of them didn't like what they had experienced about this company.
Most complaints here that you see say that Texting Factory are scams, and some of them say that they will take all your information like ID and passport details, and after that, they will disable your account.
See the image below:
However, it is hard to say if those complaints are real or fake, and not just that it is also hard to see if those people who made the complaints are real.
You see, most people who take time from their day to write a review do it because they are either upset about something or happy.
But again, most Texting Factory chat operators are unhappy, and even though if those complaints are fake or not, I can't recommend this one to you.
Is Texting Factory A Scam?
I can't say if Texting Factory is a scam or a legit company to join because of the red flags that we have found.
Because as you can see, it appears to be a scam on the surface, but when I further dug into Texting Factory, it became appears that they are legit.
However, I still don't recommend this one to you because of our complaints on Trustpilot, and I don't want you to experience what they have experienced.
As you can see from the complaints above, most of them said that they would take all your information and after that, they would disable your account.
Not just that, some users of them received payment from them for the first few weeks, and then they stopped getting paid afterward.
Moreover, many users complained about the site's support system as they could not get any response back.
That is why I don't recommend this company to you.
What I Like About Texting Factory
It is free to join
It is available in all countries across the world
Your identity will be anonymous
You can work anytime you want
No special requirements or qualifications
What I Don't Like About Texting Factory
The minimum payout threshold is high
A lot of negative reviews
Limited contact information
Suspicious looking parent company
Fake testimonials
The texting factory does not pay you through PayPal.
It has a low rating from customers.
It mainly supports adult and erotic chats.
Reports that they will deactivate your account once you give them all your information
Final Words and HONEST Recommendation
Now you know what Texting Factory is and why I don't recommend this company to you.
There are a lot of people who want to make money online, especially work from home, so that you can watch over your family while working.
Texting Factory sounds like a good opportunity, but yet again, my biggest concern about this company is that sharing your personal information with them that you're not familiar with is a big NO to me.
And we don't know what will happen to your information once it's shared.
The other issue of this company is the low rate per message, which might be okay if you get thousands of messages every week, but if not, you may have to supplement with another side hustle.
If you are looking for a way to make money online to work from home, you have come to the right place.
I recommend you to check my number 1 recommendation below, and there you will see how to build a business of your own.
Thank you for taking the time to read my Texting Factory review.
If you have any questions? Feel free to leave a comment in the comment section below!
How To Start A Legitimate Affiliate Marketing Business?
If you're looking for ways and means to start a legitimate affiliate marketing business to earn an income online, you should check out my top-rated program first.
This program has nothing to do with spamming and using shady techniques for making money online.
On the other hand, it has everything to do with the best way to make money online that I personally use every day to make passive income from my sites.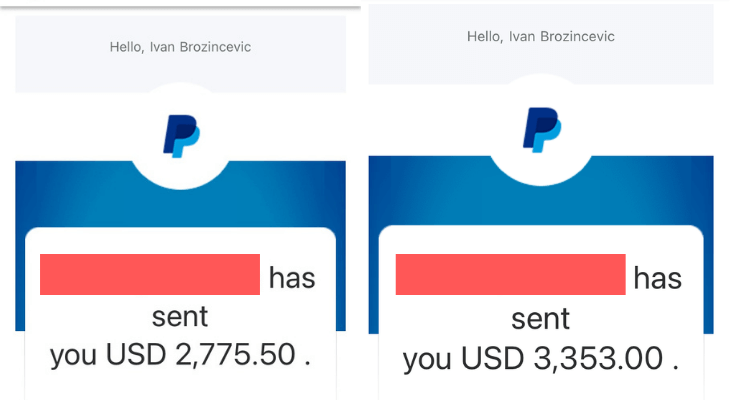 I've been doing this for a few years, and I highly recommend you give it a try.
To learn more, click the button below!
THE BEST WAY TO MAKE MONEY ONLINE IN 2022 >>
And don't forget to share this review with your friends and family!
All the best, Alex. contributor @freeaffiliatemarketingbusiness.com