Welcome to The Commission Code review.
You've probably heard about a system that could generate you $1,266.75 per day from ClickBank working 5 to 10 minutes per day. Moreover, all you have to do is click your mouse 14 times, and you can make money instantly!
I've heard about it too, and I wanted to know:
What is it about?
How does it work?
Can it make you money instantly?
How much does it cost?
Is it a scam or legit?
And more!
Truth be told, those claims made by the unknown owner are an apparent sign that The Commission Code is a scam program that lures newbies into thinking and believing that making money online is a result of, well, laziness.
I also discovered that the testimonials are fake as well, which confirms that it is a scam.
That said, things are not looking good right from the start. However, since the back-end product has some value, we will hold the verdict until the end of The Commission Code review.
Keep reading to discover the truth!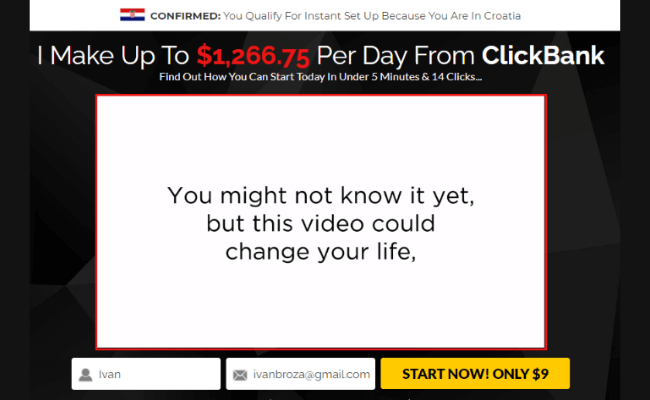 The Commission Code Review – Overview
Product Type: DFY Affiliate Marketing
Product Owner: William (fake name)
Product Price: $9 for 14 days, then $47/monthly + hidden upsells and costs
Money-Back Guarantee: 60 Days ClickBank Guarantee
Recommended?: NO! SCAM ALERT! See the summary below…
Quick Summary: The Commission Code is a DFY system for making money online with affiliate marketing. I've bought the product, and I can confidently say that this is not going to work as advertised.
You're lead to believe that this system is 100% DFY, makes commissions instantly, and could earn you $1000's per day quickly.
In reality, the real product inside the members' area is not remotely close to what's been said on the sales page.
In my opinion, the Commission Code is a scam. The back-end product has some value, as you get a few training videos in exchange for your money.
But the whole system is geared toward helping the unknown person behind it to make money by selling GetResponse autoresponder and solo ad traffic packages.
On top of that, the unknown owner is using fake testimonials to show proof that this system works, which speaks for itself.
The bottom line is, this system is not going to help you to earn commissions instantly and is not 100% DFY.
If you're tired of schemes and scams, you should check out my top recommended program below I use to earn a consistent passive income online!
THE BEST WAY TO MAKE MONEY ONLINE IN 2022 >>
What is The Commission Code?
The Commission Code is advertised as a DFY make-money-online opportunity that will make you $1000's from ClickBank instantly.
To earn this money, you don't need to do anything as all the essential things like products, websites, traffic, and emails are done for you with this system.
Sounds like a great opportunity, right? And a cheap one as well. This program is selling via ClickBank for only $9 for the first 14 days, and then, you need to pay a monthly recurring fee of $47.
This offer was created by William, who used to live in debt and had tons of problems over his head. One day, a friend of his showed him this "secret" method for earning an income online.
William tried it, and in no time, it worked for him as well. Soon after, the commission code was born.
But who is William? And how can you be sure this is not a scam?
Well, aside from the lack of information about William, there are a few more things that I have noticed about this offer that lead me to think it is a scam.
For example, The Commission Code testimonials are fake (I'll show you proof later in the review).
Related: Click Wealth System Review
How Does The Commission Code Work?
You can use The Commission Code to make money via affiliate marketing. For nine bucks ($47/monthly), you will get access to two done-for-you sales funnels, hosting, and email swipes.
On top of that, you get a short video training where William leads you through the process of making money online using these resources.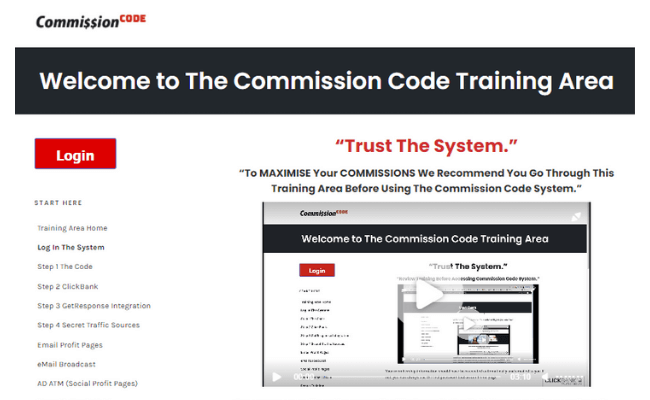 Honestly, for the price you pay, you get very little in return. I appreciate the DFY funnels and emails, but you need more to make money with this.
You see, this program could be a good solution if you don't want to waste time creating sales funnels and writing emails. But apart from those two, in my opinion, this system is not worth the time and money, and it is a scam.
The main goal of those two funnels is to promote The Commission Code program. So essentially, you'll be making the unknown owner of this program an even richer person.
And you will have to spend more and more money to set up the system and get traffic.
Let me show you what I mean.
Setting Up The System
To earn an income using this system, you need to buy a GetResponse autoresponder and integrate it into those two DFY funnels to collect leads.
This is going to cost you at least $15 per month. But at least you will get 45 email swipes that you can send to your visitors using the autoresponder.
FYI, the unknown owner of this program makes money each time someone buys GetResponse through his link.
The two DFY funnels that you're getting with The Commission code are predesigned and ready with squeeze pages for lead generation. In other words, you don't need to design anything at all.
All you have to do is send traffic and hope it will work.
Getting Traffic To Your Funnels
Once you set up the funnels and the autoresponder, William gives you a few traffic solutions within the Commission Code members area.
These links are also affiliated links, which means, the owner is going to earn a commission each time he sells a traffic package.
I hope you're starting to get the picture here. Who is going to make money here? You or William?
Nevertheless, you can choose from the following providers:
TrafficForMe.com (SoloAd marketplace)

The MLM Traffic Center

(SoloAd marketplace)

Wayne Crowe (private SoloAd vendor)
Udimi

(SoloAd marketplace)
When it comes to solo ads, first of all, you need to be prepared to spend a lot of money on testing. Not all solo ads are good. The worst thing about them is that you have no idea where these clicks are coming from.
And as a newbie, you are risking a lot with paid traffic.
On the other hand, the good thing about solo ads is that you can get instant results. In other words, once you purchase 500, you will receive all 500 in the next few days.
This way, you can know immediately whether or not The Commission Code is going to work or not.
Will The Commission Code Make You Money Instantly?
Truth be told, it's unlikely that you will be making money instantly with The Commission Code. If you're a newbie, you probably won't make any money at all because of the lack of experience.
On the other hand, an experienced marketer who has dealt with solo ads before could find a way to earn an income with this offer.
However, the system doesn't allow you freedom of choice when it comes to products you will be promoting, which is not sustainable in the long run.
You see, you must promote The Commission Code because the whole system has been designed that way, and that's a big problem.
I've reviewed over 300 systems and programs so far, and I noticed one thing about these DFY schemes.
They don't last longer than a year. In other words, as soon as people realize that they've been scammed into spending 100's of dollars on autoresponder and traffic, without getting any results, they will share negative reviews.
And as soon as this starts to happen, the owner of The Commission Code will remove the product from ClickBank.
This means that you will lose an entire business operation in a matter of minutes and all your efforts (and money!) are going to be wasted.
It could work in the short term, but it is not a long-term business solution.
In my opinion, The Commission Code is a scam where you're helping the unknown owner to make money. He will earn a commission for each GetResponse membership and solo ad package he sells using this system.
On top of that, he makes money each time someone manages to make sales with this system too.
It's a win-win situation for him, and once he earns enough, he will remove the product. It's happened 100's of times before with other similar (almost identical) products.
Related: One-Click Payday Review
How Much Does The Commission Code Cost?
In this section of the commission code review, I'll walk you through all the expenses that you will bump into while trying to make this work.
And believe me, there are going to be some serious expenses!
First of all, the program itself is going to cost you $9 for the 14-day trial.
And as per usual, the offer comes with a few upsells as well.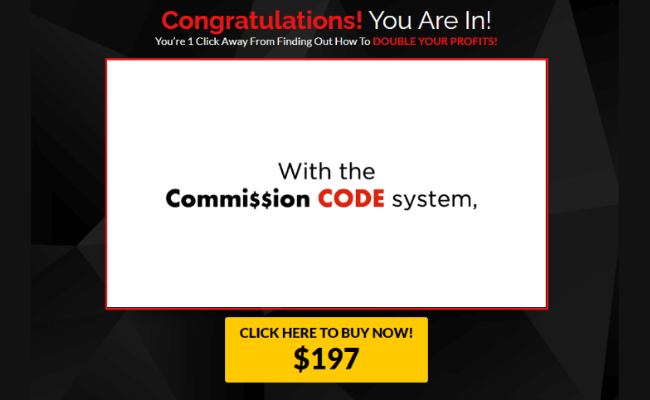 The Commission Code PRO – $147
The Commission AD ATM – $196
The Commission Code Traffic – $246
Then, to apply the system, you will have to spend money on the following:
The Commission Code membership – $47 per month
GetResponse – $15 per month (costs keep rising as you grow your list).
Solo Ads – at least $300 for testing and possibly more after.
I know that it may sound like a perfect opportunity. I mean, they promote it as a solution for making $1000's per day instantly working only five minutes daily and whatnot. I wish this is true.
But as you can see, I'm not here to BS you. This system is going to cost you some serious money!
I've had my fair share of experience with these DFY ClickBank programs and my experience is mainly negative. I'm not saying that The Commission Code is a 100% scam, but it's an unethical product designed to make money for the owner primarily.
The good news is that you can get your money back from ClickBank during the first 60 days.
Is The Commission Code a Scam or Legit?
Take it as you want it, but in my opinion, The Commission Code is a scam. It's a corrupt system that tricks you into believing that you can make money online with minimal effort.
In other words, the whole sales pitch is full of BS and lies!
As soon as you land on the page, you can read "I Make Up To $1,266.75 Per Day From ClickBank. Find Out How You Can Start Today In Under 5 Minutes & 14 Clicks."
And then, William says how you don't need more than 10 minutes per day to make up to $30,000 per month.
If he's soo successful, why can't he share his real name and proof that he is who he claims to be?
All these claims that come from William come with no proof whatsoever. I'm not counting those commission screenshots because there's a chance that those are fake.
And the reason to believe this is that the owner was willing to use fake testimonials to sell you this program.
As you can see from the screenshot below, those people who appear in The Commission Code video have been paid to give a fake testimonial.
I saw them doing the same for many products all over the ClickBank!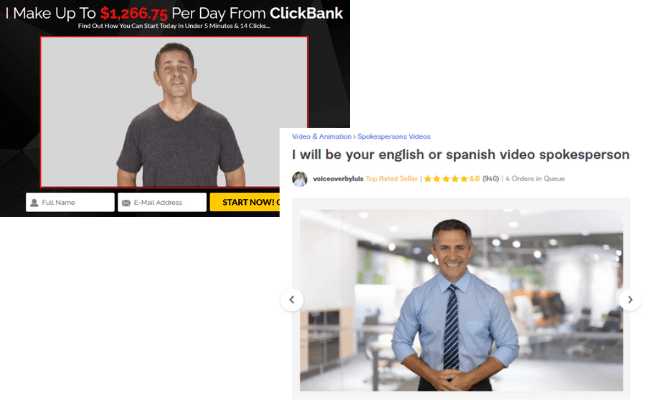 Is it a scam or legit when you use fake testimonials? In my opinion, it is a scam! Why would you have to use fake ones if this system is that good?
It makes zero sense to me.
On top of that, the whole system inside The Commission Code was cleverly designed to make you spend your hard-earned money on tools and traffic.
In other words, the unknown owner is making commissions each time a desperate newbie takes his advice and buys those tools.
Since there's no legitimate proof that this system is working for its customers, the owner is not honest, and testimonials are fake, I have nothing else to think but, it is a scam.
The only reasons to say that The Commission Code is a legitimate product is the ClickBank money-back guarantee and the fact that the back-end product contains some value. But that's all.
In my opinion, this is not worth time and trouble, and most importantly, it's not worth money!
Related: Perpetual Income 365 Review
What I Like About The Commission Code
ClickBank Money-Back Guarantee
Product Has Some Value
What I Don't Like About The Commission Code
Owner Hides His Identity
Testimonials Are Fake
Makes Money Instantly is BS
Work Only 10 Mins Per Day is BS
Comes With $100's In Hidden Costs
Designed To Make Owner Richer
Conclusion and HONEST Way To Make Money Online
That's it, guys. Thanks for reading The Commission Code review. As you can see, this is not my recommendation.
I hate to burst your bubble, but this product is best for William or whoever is the person behind this cleverly designed get-rich-quick scam.
If you're looking to start a successful online business and earn an income online, you could try my #1 recommendation.
I've personally used this platform, their training tools, and coaching to start an income, and so far, I have made a few $1000's from my websites.
But it didn't happen overnight, and I had to work a lot to get where I am right now.
What I'm trying to say is, my #1 recommendation is not a get-rich-quick scam, and it works for people who are willing to put a lot of effort and time into building a business from the ground up.
Moreover, this platform teaches how to create a long-term business online, so you don't have to worry about losing all your income if the owners decide to shut down the program.
My #1 recommendation is in the business of helping people to create their own online success for 15 years!
You can read my experience by clicking the button below!
THE BEST WAY TO MAKE MONEY ONLINE IN 2022 >>
And don't forget to share this post with your friends and family!
All the best, Ivan. Founder, and CEO @freeaffiliatemarketingbusiness.com