So you would want to earn a side income by promoting one of the top affiliate programs out there.
That's awesome!
You might be new to WA, or maybe you're already a member who is looking for more info about WA's affiliate program.
In any case, you're in the right place to get all the details about WA's affiliate program so that you can make a wise decision.
I've been through WA Affiliate Bootcamp, tested it, and experienced some excellent results that I want to share with you in today post.
Before we move on, you need to know that I'm still a member of Wealthy Affiliate. However, that does not impact my review.
I'm sincere here.
Meaning, you're going to get both good and bad. And there's plenty of both!
So without any further ado, let's start this Wealthy Affiliate Bootcamp review already!
What is Wealthy Affiliate Bootcamp?
In a nutshell, Wealthy Affiliate Bootcamp is a WA's affiliate program.
It's a part of WA platform that contains 70 lessons specifically designed to show you how to build a website in a make-money-online niche.
By the way, MMO (make-money-online) is one of the toughest niches out there.
Way back in the early days, you could break through quickly. But today, there is more and more competition, which makes success much harder, but not impossible!
That said, I want to point you to an important fact you need to consider before going any further.
Bootcamp VS Online Entrepreneur Certification
My advice for all new members of the platform is to choose the Online Entrepreneur Certification (OEC) first.
Bootcamp is the second part of the WA education platform, right after the OEC.
OEC is the core training where you can learn how to build an income-producing website in any niche you want.
It's a better option because you can choose the less competitive niche and start earning much sooner.
What's more, with OEC, you're shown how to turn your passion or a hobby into a marketing website.
This is the main point of Wealthy Affiliate in the first place.
You get 50 lessons and an experience that can be replicated in any niche later on.
In other words, you can build as many niche sites you want to earn an income from multiple sources.
However, if you don't have any ideas, or you don't have any passions or hobbies that you would want to tackle and turn into a successful business, then Wealthy Affiliate Bootcamp is a great way to go!
You'll be shown how to build a site using the same principles from OEC to promote Wealthy Affiliate itself.
In other words, you get a chance to promote and earn from one of the top affiliate programs on the internet.
If interested, keep reading this review for more juicy details.
I'm letting everything go!
How Does Wealthy Affiliate Bootcamp Work?
It's straightforward. You need to build a website and promote WA platform to other people through your Bootcamp site.
The system is based on content creation, affiliate marketing, and revenue sharing.
Once you create an initial framework for your Bootcamp site, your task is to drive internet traffic within the MMO (make-money-online) niche to your offer and share your link to Wealthy Affiliate.
In simple words, you're promoting the products and service that teaches about making money online to people who are looking for the same.
Each time you manage to refer someone to WA and that person decided to become a Premium member, you earn a commission.
By the way, WA has got one of the best commissions structures out there. (I'll share details in the next section).
This system itself is explained in a step-by-step manner during 70 lessons of Wealthy Affiliate Bootcamp.
Kyle, one of the owners and creators of WA, is going to show you how to build your Bootcamp site from scratch.
Furthermore, you'll be learning how to target your future audience, drive it to your site, help them solve problems, and offer them a solution in the form of WA platform and all its cool perks.
Before we move on with this Wealthy Affiliate Bootcamp review, I have to shed light on a topic that most people talk about in negative context.
Many people say that WA Bootcamp teaches people to trash talk the competition to promote WA instead.
However, that's not true.
Yes, a lot of people take this route because it's the best way to help people to avoid time and money wasters and to start something that's proven to work over and over again for 15 years.
But that's just a half of the story.
WA's Bootcamp is specially designed to help you to become an expert in affiliate marketing, share your knowledge about this line of business, and help people who are looking for information.
I can't imagine this niche without so many marketing experts that have been "raised" through WA Bootcamp.
That's the truth no one is talking about.
Wealthy Affiliate Bootcamp Training Videos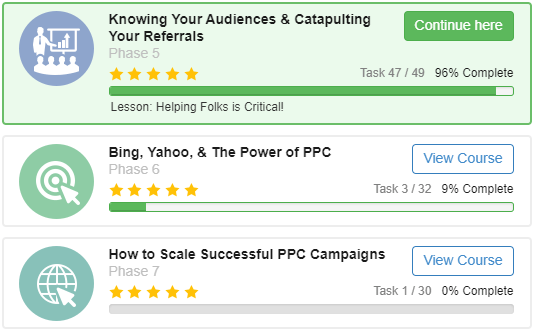 Phase 1 — Getting Your Business Rolling
You'll learn how to get started, choose your direction, and build your website.
By the end of the first phase of Wealthy Affiliate Bootcamp, you'll learn how to create thoughtful and insightful reviews and blog posts that are going to be the core of your business.
Phase 2 — Content, Keywords, and Conversion
The second phase of Wealthy Affiliate Boot Camp focuses on creating content. The core of your future website is going to be well researched and readable content.
You'll learn how to find profitable keywords that will help you create content that ranks on search engines.
Moreover, Kyle will show you how to make your content to convert after you get rankings.
Phase 3 — Giving Your Site Social Value
In addition to leveraging traffic from search engines, Kyle is going to show you how to induce your readers to share your content on social media.
Moreover, he'll point you to the right channels and show you which ones to avoid.
This is going to lead to more traffic overall in your Wealthy Affiliate campaign.
Phase 4 — Get Visual. Get Aesthetic. Get a Brand Through Media
Kyle is going to teach you how to create both images and videos, as well.
You'll learn how to incorporate them into your website correctly. Moreover, he will show you how to design a logo and much more.
By the end of this phase, you'll learn how to use Pinterest to get more traffic based on images you'll be creating.
Phase 5 — Knowing Your Audiences & Catapulting Your Referrals
As a result of all four stages, you should have a steady stream of traffic coming to your website. Now, at this point, you'll learn how to get personal with your audience.
The whole point of affiliate marketing is to refer your visitors to a useful product or service.
But before you can try to make money, you'll have to learn how to help your audience.
Kyle is going to show you how to invite them to check out your offer and help them to purchase if they are interested.
Phase 6 — Bing, Yahoo & The Power of PPC
Now, here you're going to learn all about the power of PPC. Some marketers charge massive amounts for the stuff that is handed over to you in this course at Wealthy Affiliate.
So far, you've learned how to get free traffic to your website.
At this phase of Wealthy Affiliate Boot Camp, you'll tap into the world of a paid advertisement.
Kyle is going to teach you how to start with Bing and Yahoo in small bite-size pieces properly.
Phase 7 — How To Scale Successful PPC Campaign
After PPC lessons with 'little brothers,' it's time to learn how to do the same using Google Adwords.
This stage is a final module of Wealthy Affiliate Boot Camp, where Kyle is going to teach you how to scale your business even more.
Affiliate Bootcamp training course has helped many Wealthy Affiliate's students to skyrocket their business.
If you need an example of what you can learn from those two guys, look around, you won't have to look far away. ?
Wealthy Affiliate Bootcamp Commission Structure
You need to be a Premium member to learn from Wealthy Affiliate Bootcamp and to be able to earn a full commission.
All members, both Starter and Premium, have access to their unique affiliate link, which associates them to WA, and which is used to promote WA.
The commission percentage for Premium members is a staggering 50%!
However, even if you're not a Premium member, but only a Starter (Free), you can still earn from your WA promotions.
In this case, your commission is 50% less.
Here's the deal.
Monthly membership costs $49 per month, which means that your commission is recurring as long as your referral stays a Premium member.
This is awesome because you can earn $100+ per Premium signup.

As you can see, WA converts very well by itself, which is another excellent news for those who are looking for a sure way to earn an income online.
Let me give you an example.
Let's say you're a Premium member who earns a full 50%, and you manage to refer 500 people to WA in one month.
Now, looking at the average conversion rate of 12%, it would be logical to expect that about 60 people will accept the offer and become Premium members.
Given the fact that the average retention rate is around four months, and the membership is recurring, you could earn approximately $5.000 per month.
However, you need to understand that this is just a projection.
Your results with Wealthy Affiliate Bootcamp depend on your ability to follow the training and the amount of time and work you can put into your Bootcamp site.
Many people get this wrong and start to expect the results before they give what they have to do.
All I can say is that WA affiliate program pays off, and it's proven by 100's and 1000's of marketers around the world, including myself.
I'll share my experience and results with the Wealthy Affiliate Bootcamp by the end of this review.
What's Good About Wealthy Affiliate Bootcamp?
Beginner-Friendly Training Program
One of the best things about WA Bootcamp is the training itself. Many people are not tech-savvy and have problems to understand how affiliate marketing works.
Therefore, the training is oriented toward those people first.
This means that anyone can start in one of the toughest niches out there and succeed as long as you follow the training to the letter and do your part of the deal.
15 Years of Experience in the MMO Niche
One more awesome thing about Wealthy Affiliate Bootcamp is that you'll be learning from a guy who has 15 years of experience within the MMO niche.
If you add Carson's (Kyle's business partner) experience to it, you get 30 years of knowledge served on a silver platter.
When I met Wealthy Affiliate for the first time, this information was one of the main reasons why I've decided to stay and learn from these guys.
If you want to succeed in this business, you need the best mentors, and those two are one of the best choices out there.
Easy Replicable to Any Other Niche
Many people think that Wealthy Affiliate Bootcamp is teaching only about promoting WA itself. This is true, but only partially.
Yes, you're shown how to promote WA and earn an income by becoming an affiliate for the company.
But you're also getting the knowledge that you can replicate in any other niche you want. The method stays the same, only the subject of your website changes.
Generous Commission Structure
One more reason why WA Bootcamp is one of the best affiliate programs out there is the commission structure. The whole thing has been designed to benefit everyone equally, fifty-fifty.
What's even better, if your referrals don't take the Premium right away, you can still earn a $1 commission once they set up their profile.
These small commissions add up quickly once you start getting more and more referrals per day.
And once your referrals take Premium membership, your commissions keep rising and rising.
You can look, but I doubt that you'll find a better-converting program or more generous commission structure anywhere else.
High Earning Potential
Many people start with affiliate marketing with a thought that they will make lots of money, which is not far away from being real if you stick to the business for as long as you have to.
However, the problem is that most offers out there don't have the earning potential that could turn into a full-time income.
Luckily, Wealthy Affiliate Bootcamp does.
A lot of people have taken this opportunity and managed to turn it into a lot more than a full-time income.
But as you're about to see, it's not as easy as it may sound.
What's Wrong With Wealthy Affiliate Bootcamp?
It Takes Long to See the Results
Affiliate marketing model that's shown within Wealthy Affiliate Bootcamp is based on free traffic from search engines.
This naturally means that you'll have to wait and wait and wait…and wait for a few months to start seeing your first results.
The reason?
Search engines are slow by default. You have to earn the trust first, then the authority, and then you'll start getting traffic and with it, first sales and commissions.
A lot of people are looking for fast ways to earn an income online. And if you are the one, then WA Bootcamp is not going to be for you.
My Experience With Wealthy Affiliate Bootcamp
Alright now, let me use this last part of my Wealthy Affiliate Bootcamp review to brag a little bit.
I started my Bootcamp site a year ago. It took me almost a full year to start generating the first income.
From the very start, I was aware that this is going to work, so I made a firm decision to keep working on my site until it starts to produce desired results.
And guess what?
It did.
Not only that it started to produce results as promised during the training, but my traffic and income keep growing with each new article that I add to my blog.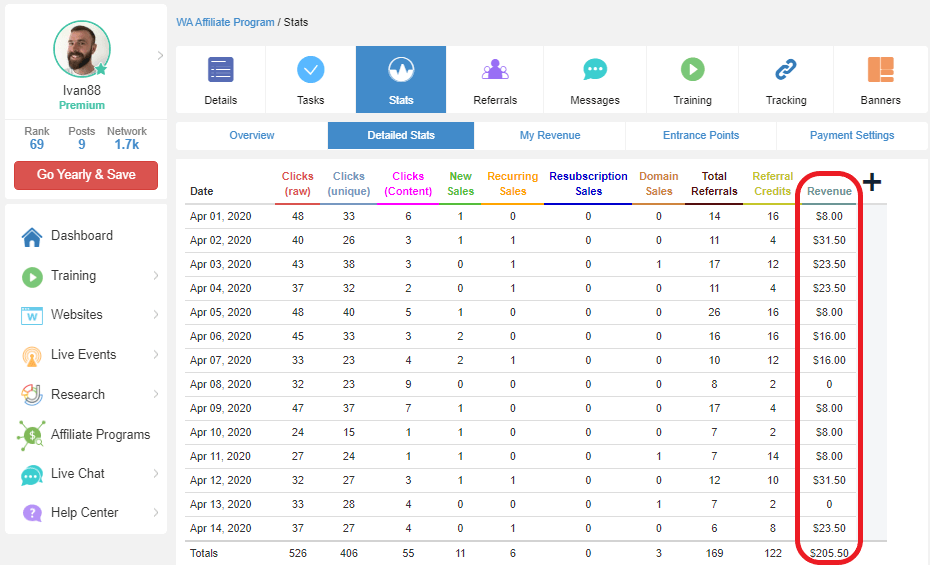 But it was not easy, no.
It took me 200 posts and a lot o hard work during the last year to accomplish these results.
My point with this article is to show you that Wealthy Affiliate Bootcamp works.
But it works only if you are willing to work on it.
That said, I hope this review was helpful.
If you have any questions about WA, feel free to talk to me below in the comments section.
If you are interested in starting today, you can read my Wealthy Affiliate review.
Or you can click the button below and start your Affiliate Bootcamp site today!
Test-Drive Wealthy Affiliate Today