Welcome to my xPress Funnels review. This is another exciting make-money with ecom program that sounds a bit too good to be the truth. Wondering whether it delivers as promised?
Well, do you know the old one if it sounds too good to be the truth?
As soon as you land on the sales page, you can read that xPress Funnels is some super software that creates an ecom store in 60 seconds. On top of it, it says that you will probably start making your first commissions as soon as tonight.
Hmmm…
In all my experience reviewing products such as this one, I ended up disappointed to learn that most of them are nothing but overhyped marketing sales pages. In other words, you get some simple software similar to Shopify, short video training on how to use it, and that's all.
All those claims from the sales page fall into the water. And it seems like the same case is with xPress Funnels.
By the way, congratulations on researching before getting into things headfirst. I know it's hard to trust people on the net these days. But if you are looking for something real, check out this genuine way to make money with affiliate marketing.
Within this xPress Funnels review, I'll show you what it is about. Also, I'll explain how the whole thing works. I'll show you the full price of the entire thing, and give my take on whether it is a scam or legit way to make thousands per day. Shall we begin?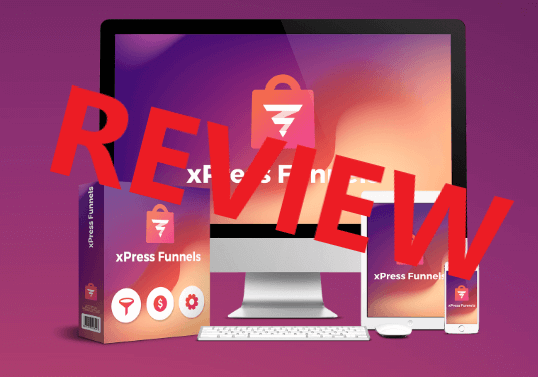 xPress Funnels – Overview
Product Type: eCom Store Builder
Owner: Glyn Kosky
Price: $37 + UPSELLS
Rating: 2.5/5
Recommended?: No
Quick Summary: xPress Funnels is yet another overhyped sales page, and quite frankly, it all sounds too good compared to the real deal.
In reality, you will get a simple drag-and-drop ecom store builder, and that would be all I'm afraid. In my opinion, it fails to deliver the promises from the sales page because the training on the most important aspect of your business, and that is traffic generation, is extremely short and inadequate.
Also, the program is followed by six upsells, which is quite honestly, too much for anyone's taste.
This is nothing unusual when it comes to products from Glynn Kosky's workshop. He has created dozens of these "magic" one-click software that are supposed to make $1000's on a push of a button and yet, there is zero evidence these systems work at all!
I'm not saying that xPress Funnels is a scam or anything like that. I'm just saying that I personally don't see ways how this overhyped product can help you to achieve those promises from the sales page.
If you're looking for a LEGITIMATE TRAINING for making money online, click the button below to discover this proven training platform I use to earn a consistent passive income online!
THE BEST WAY TO MAKE MONEY ONLINE IN 2023 >>
What is xPress Funnels?
The owner of claims that xPress Funnels is a newbie-friendly breakthrough cloud-based app that creates DFY ecom funnels in 60 seconds. According to his words, you can start making money by the end of the day.
However, Glyn Kosky is a well-known name when it comes to overhyping the products he creates, so I would advise taking those claims with a grain of salt, if not with a whole boulder.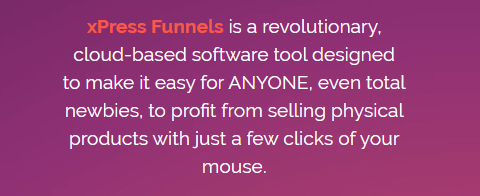 Now, if you put the sales page on the side, you will see that xPress Funnels is a simple drag-and-drop ecom funnel builder. There's nothing new, ground-breaking, or revolutionary about it. The software is much similar to others of it's kind.
In other words, it helps to create sales funnels and ecom stores. So what's the trick then?
Well, eCommerce is indeed booming lately thanks to the excellent work of the people from Shopify and other platforms where you can build your own store.
However, most people find it quite frustrating to start an ecom business, especially if you are a beginner with zero experience with this stuff.
That's why many marketers and serial product creators are working on magic solutions such as xPress Funnels. Now don't get me wrong, this software might be a quicker solution to get your store up and running, but are they better?
Based on my experience with these overhyped WarriorPlus products, they aren't even close to what's been advertised.
Let Me Show You How To Make Money With Affiliate Marketing for Free! Click Here!
How Does xPress Funnels Work?
The whole thing should work very simple and should help you to create an ecom store with matching sales funnels in a matter of minutes. That explains the name xPress Funnels.
The program helps to sell products from AliExpress, Amazon, and eBay. Inside the program, you can find a few short videos that explain how the process works in more detail.
In a nutshell, you will have to follow a few simple steps.
Build Your eCom Funnel
Add Products from AliExpress, Amazon, or eBay
Add You PayPal Account and Launch Your eCom Funnel
Get Traffic and Make Sales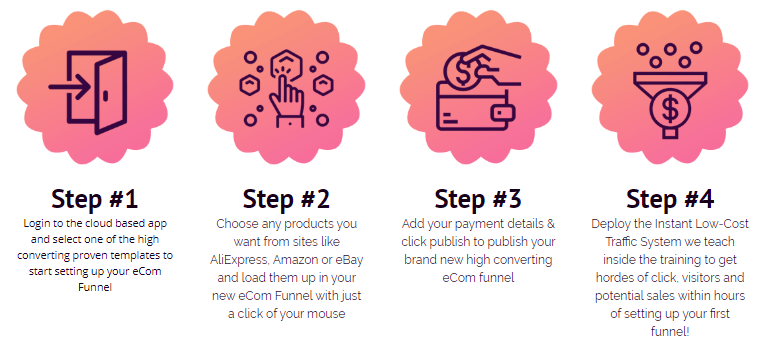 The Most Critical Part is Missing!
In theory, xPress Funnels looks like an easy way to start making money with eCom, right? Well, you would be surprised how hard it is to finalize the last and the most critical step.
You see, 99% of the products found on WarriorPlus and ClickBank are half-baked. In other words, they fail to teach you how to get traffic. If you don't know how to get people to visit your funnel, your business is going to fail in 100% of the cases.
According to my research, xPress Funnel comes with a short training on traffic generation.
However, 7 minutes of training on how to share your links on social media is not even close to what is otherwise a mammoth task. If you are not an expert in getting people to visit your offer, you have two options.
You can learn techniques such as SEO on your own, or you can pay someone to send you visitors, also known as PPC. The latter is highly risky, and you could end in a severe loss if you don't know what you're doing.
On the bright side, if you manage to get some traffic to your funnels, xPress Funnels might work.
However, in my opinion, it's an overhyped sales funnel that is designed to sell you a lot of junk so that the owner can make more money off you. I'll show you what I mean in a few moments.
My #1 Recommended MMO Program – Chose Products, Build Site, Get Free Traffic, Make Money!
Can You Make Money With xPress Funnels?
Will you make money as soon as tonight? No!
You see, xPress Funnels is not going to be your magic solution for making money online. The truth is that the sales page is designed to sell as many copies as possible so that the owner can make as much money as possible.
Will you make money at all? Maybe.
If you learn how to get a decent money amount of visitors to your funnels, you should start making money. But keep in mind that getting people to visit your site in a sea of offers is not an easy task. It takes hours and hours of sitting by the computer to get a few first clicks. To make money, you need thousands and thousands.
There is another solution to this problem. xPress Funnels comes with a set of upsells, which I'll show you in a few seconds.
One of those upsells is a part of the program that sells separately, and it shows how to pay for traffic using Google and Facebook ads. If you have enough money to do so, you could make money with this offer.
Keep in mind that I didn't test this part of xPress Funnels, but in theory, it should work.
So the final answer to this question is, yes, there's a slight possibility that xPress Funnels could help its users to earn an income online.
However, based on my experience with products like this, the chances are very slim. Moreover, I haven't seen a single testimonial from current users of xPress Funnels that could show some amazing results.
I'm guessing there are no, which is very suspicious…
How Much Does xPress Funnels Cost?
This is the part of my review on which you should pay the utmost attention. You see, like every other overhyped make-money-online program out there, xPress Funnels sells for a low fee of only $37.
However, what you don't know is that those $37 will provide you with software and short video instructions.
As explained under the previous headline, if you want to make it work, you'll need to invest a lot of your hard-earned cash. And you need to keep in mind that the profits are never a sure thing, no matter how much money you invest in your business.
Upsells
In my opinion, xPress Funnels is an overhyped sales page that's designed to lead you through a set of upsells. Below is the full price of the whole thing.
Done-For-You Funnels $67
Unlimited Version $67
XPress Profit Multiplier Funnels $67
XPress Funnels Automated Traffic Flow $147
License Right $297
Agency Rights
You can see that the whole program is chopped into a few smaller pieces. However, it could have easily been put together into one program under a fixed price.
This way, you are being pulled by your nose into spending more and more of your hard-earned cash without even knowing why.
But hey, it's how marketing works these days. Some people think that upsells are the way to make more money.
I'm aware of a much better business model based on full transparency and honesty that lasts much longer and, therefore, generates more money in the long run. Click the link below to learn more.
Start With Affiliate Marketing for $0! No Upsells! Real Program, Real People, Real Earnings!
What I Like About xPress Funnels
After reviewing tons of online scams and half-baked courses, it's become tough to find a few good things about programs like xPress Funnels. However, this one is a bit better.
There are a few things that I've discovered quite alright.
Cheap and Simple to Use
The software itself works, and it's straightforward to use just as it has been advertised. You can get a decent tool for building sales funnels for a fixed price.
For comparison, some leaders of the industry, such as Shopify, are charging 100's per month to develop and keep access to your ecom store. That said, xPress Funnels is a relatively cheap solution.
Based on the Legitimate Business Model
eCommerce is getting more and more popular, and many people are hoping on the train. There is indeed a lot of money here. Therefore, eCom is one of the best make-money-online opportunities to be a part of.
However, I don't want you to take this wrong. Just because it's profitable, it doesn't mean that it's easy.
30-Day Money-Back Guarantee
Just like many other WarriorPlus offers, xPress Funnels comes with the option of a refund. If you are not satisfied with the product during the first thirty days after the purchase, you can ask for your money back.
What I Don't Like About xPress Funnels
I'm not a big fan of sales funnels such as xPress Funnels. They usually tell you how you can start making money effortlessly and with a few minutes of work so that the owner could sell more copies.
Therefore, they put the wrong ideas into your mind instead of helping you to understand the real picture. Here's what I don't like about it.
Misleading and Overhyped Sales Page
As you probably know already, the sales page is jam-packed with claims that have nothing to do with making money online. The Owner, Glyn Kosky, did a great job making you believe that this might be your ultimate solution for all your financial worries.
He claims that xPress Funnels is going to help you to make money as soon as tonight, or that it will triple your sales and many other things that have nothing to do with real life.
Those are all fake claims designed to generate more sales.
No Testimonials From Real-Life Users
While writing this review, I noticed that xPress Funnels has a few testimonials. However, the problem is that those testimonials come from other vendors that work closely with Glyn Kosky.
You can find their reviews on Google as well. Those are the guys who give a ton of bonuses to get you to buy xPress Funnels and many other untested and unreliable systems from WarriorPlus marketplace.
Therefore, they are fake. If this was something so good, then I believe there should be some real-life testimonials. Unfortunately, there aren't any, which is a big red flag in my book.
The Training is Not Complete
As I've explained earlier, the software works. You can get a decent sales funnel builder that will help you to start an eCommerce business. However, the part of the training which is supposed to help you to make money is unbelievably short.
You will need to either buy an upsell or learn how to generate traffic on your own. Otherwise, if you don't get traffic, you will not make any sales.
It Comes With Expensive Upsells
The full price of the system is $645! And if you take a closer look at xPress Funnels sales funnel, you'll understand that a lot, if not all of those upsells are needed to make this software work.
I've had a chance to review a few products from Glynn and this is something he always does.
He pulls newbies inside with these unrealistic and misleading sales pages and with a low price tag. But as soon as you give him your credit card, he starts upselling like crazy!
For example, you can take a look at DFY Profit Funnels, which is basically a copy-pasted version of xPress Funnels. Then, there's 10X Profit Sites, which is practically the same thing, just rehashed.
To some people out there, xPress Funnels is a scam because of this. That said, let's jump to the last section of my review where I share my views on this topic.
Is xPress Funnels a Scam or Legit?
Whenever I review a program like xPress Funnels, I end up with divided opinions. I could call it a scam because of the fake and misleading claims and all those upsells that are not disclosed unless you spend $37 to check it out.
It's an unethical sales funnel that costs a lot more!
On the other hand, you will get a decent tool for building eCommerce business as well as the instructions for setting up the same. It's based on a legitimate business model that's proven to work, but it's not as easy as it sounds.
Also, the refund policy is in place, which gives you kind of a reassurance that there are no risks involved.
So is xPress Funnels a scam or legit? Well, I'll leave that one to you. You have enough details in this review to make a wise decision whether to go for it or not.
In my opinion, it's very close to being labelled as a scam that tricks newbies into thinking that you can make money using some uber software that magically does all the work for you.
But you're free to decide for yourself…
Here's How I Quit My Dead-End Job and Started an Online Business. Learn More!
Do I Recommend xPress Funnels?
You should know that I don't recommend programs like xPress Funnels for several reasons. You can end up spending a lot of money on an overhyped funnel builder and a half-baked training program on building an eCommerce store.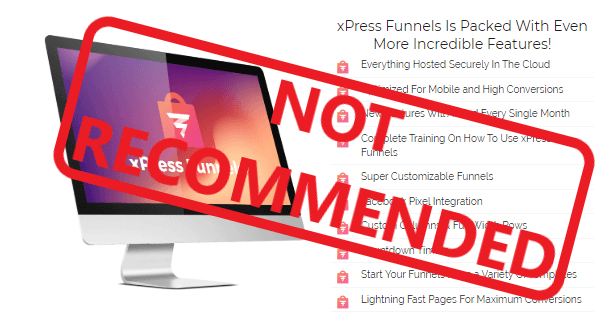 The worst thing about it is that you have zero guarantees that this system works. There aren't any testimonials or anything that could prove those claims from the sales page.
xPress Funnels might not be an outright scam, but it's not far away from being one. In my opinion, it's not worth all that hassle, only to find out that your bank account is lighter for a couple of hundreds.
Once again, it's not recommended.
Here's How I Make Money Online! 
Thanks for reading my xPress Funnels review. I hope I have helped you to learn more about what it is and how does it work and to answer your question, whether it is a scam or legit. If you have any more questions about the program or maybe you can offer an experience, feel free to leave them in the comment box below.
Before I let you go, let me tell you how I make money online with affiliate marketing with the help of REAL people. The training that I recommend has everything you need to get started online with zero costs and nothing to do with getting rich by tomorrow.
Wealthy Affiliate has been and still is the best online platform for making money online. These guys can teach anyone how to become a successful affiliate marketer.
The best thing is, it's entirely safe and free to join. No BS, no upsells. 
These guys have helped thousands of regular people like you and me to make money online and even quit our 9-5's. Make sure to grab your opportunity!
THE BEST WAY TO MAKE MONEY ONLINE IN 2023 >>