Welcome to my 1-Click Blog Post review.
We've all been there. You're sitting with your laptop in your lap and trying to squeeze some words to write a fresh blog post but nothing happens.
You try and try, but no results. Eventually, you decide to quit.
This is something that every single blogger out there suffers from. It's called writer's, or in this case, blogger's block!
However, what if I tell you that there's a plugin that could help you to smash this block every single time in a matter of seconds. Would you use it?
It's called 1-Click Blog Post plugin. This plugin has been created to help all bloggers out there to find content ideas in one click! That's right, it literally works in just one click.
Now, those of you who read my reviews often, you know that I rarely get excited about these plugins because in most cases, I find them to be a scam or simply not worth it.
However, with this 1-Click Blog Post review, I want to show you that there are exceptions to this rule. I will show you what this plugin can do, how it does it, and more!
Follow me!
1-Click Blog Post Review – Overview
Product Type: Content Creation (WP Plugin)
Product Price: $27 + UPSELLS
Product Owner: Ankur Shukla
Money-Back Guarantee: 30-Days
Recommended?: Yes
Overview: 1-Click Blog Post is a WP plugin created by Ankur Shukla. The plugin is designed to help you to get blog content in just a few clicks. It does so by transcribing a YouTube audio to textual form.
I personally find this plugin to be helpful in times when you need content ideas fast. I would not recommend using it for the sole purpose of publishing YouTube transcripts on your site. Instead, select from millions of high-quality videos to get your blog posts written and then use that as a base to create your own version.
That's the brief overview of 1-Click Blog Post plugin. For detailed info, keep reading my review…
And one more thing before we begin.
To discover how I went from $0 to earning $100's per day, make sure to click the button below and check out my #1 recommendation!
THE BEST WAY TO MAKE MONEY ONLINE IN 2023 >>
What Is 1-Click Blog Post?
1-Click Blog Post is a WordPress plugin that creates fresh content using YouTube videos. What it does is it takes the audio of the video and creates a transcript which you can then use as fresh content for your blog.
It's that simple.
Moreover, the plugin literally works with one click. Okay, there are a few clicks here and there, but what I want to say is that it is extremely simple to use.
All you have to do is copy and paste YouTube video to 1-Click Blog Post plugin and click "get content" button.
In a matter of a few seconds, you'll have content ready for publishing, editing, or whatever else you want to do with it.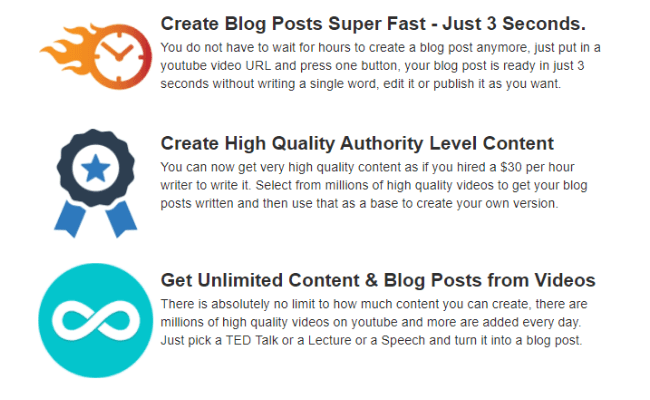 However, I was trying to figure out whether this plugin is ethical or not before I wrote this review. I like the idea of fast content, but on the other hand, it practically "steals" other people's content.
In the end, I don't see why this plugin couldn't be used as an idea generator or content kick-starter.
I personally will not use it to simply generate content and publish it on my site. But if you, for example, need some fresh ideas to kick-start new blog posts, I would definitely recommend this plugin.
How Does 1-Click Blog Post Work?
To get a piece of fresh content ready for publishing, all you have to do is find a YouTube video that you like and think would do great in textual form. Then, you simply copy and paste the YouTube link to 1-Click Blog Post plugin and you'll have fresh content in less than 3 seconds.
Here's a breakdown of how 1-Click Blog Post works:
Download and install the 1 Click Blog Post plugin to your WordPress site.
Create a new WordPress post.
Copy any YouTube video URL and paste it into the box.
The content is extracted and added to your article.
Edit the content or publish it as it is.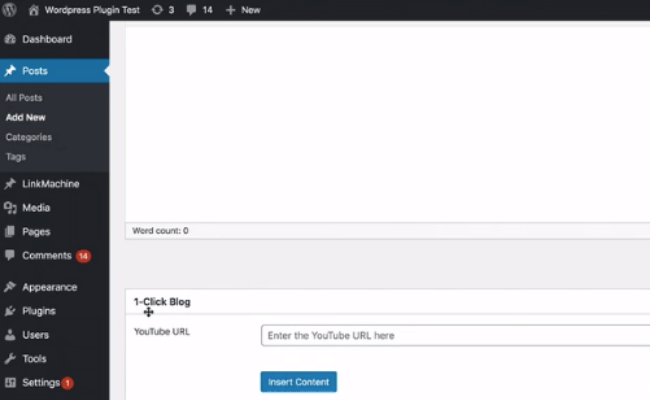 In search of better words, I would say that 1-Click Blog Post is designed to "borrow" other people's content and allow you to use it as you own.
On one hand, the idea is brilliant, right? I mean, why would you waste hours by the computer typing a unique, original content that is going to reach #1 place in Google when you can use a video transcript?
By the way, I prefer to write my own content because that's the ONLY way to get to the top of the Search Engines like Google, Bing and Yahoo. Content spinners or whatever this plugin is, are really a bad idea.
Speaking of which, on the other hand, 1-Click Blog Post plugin could get you in trouble. I know it doesn't work exactly the same way as content spinners, but still, it produces automated content and search engines hate it!
Also, you have to make sure that the video you are going to use for your blog post is 100% flawless. What do I mean by this?
Well, there are very few videos on the internet that do not contain words like "hmmm," "like that is like, you know," and other phrases that belong only in spoken language.
Basically, you will have to edit the post for hours and hours to make it perfect because only perfect posts will get to top positions in search engines.
So the bottom line is, despite the fact 1-Click Blog Post sounds like a great idea, it's not really.
Don't get me wrong, it's a good way to get some content ideas and foundation, but don't get it mixed up. It's not going to liberate you from creating, editing, SEO-ing your own content.
If you're interested in learning more about how it works, feel free to check out this 1-Click Blog Post review and demo:
Is 1-Click Blog Post a Scam?
Before we move on with this review, I just want to clear the air by saying that 1-Click Blog Post is not a scam. It's a useful plugin that could help create new pieces of blog content.
I wouldn't recommend you to simply copy and paste the link and publish the transcript as it is.
In my opinion, the purpose of this WordPress plugin is to help you to generate ideas for blogs. Use it for that, then edit the content to make it unique, and make sure to follow proper SEO techniques.
Who Is 1-Click Blog Post For?
1-Click Blog Post plugin is for anyone looking to have a useful content tool at hand whenever you stumble upon a creative block. It could help to break it down quickly and give you a lot of great ideas for your blog in a matter of minutes.
That said, here are a few groups that could make use of this WP plugin:
bloggers
content creators
freelancers
content marketers
website owners
publishers
1-Click Blog Post Price & Upsells
You can choose from three different licences:
Single Site Licence $12 per month
Multi-Site Licence $24 per year
Unlimited Sites Licence + Cloud Edition $27 one time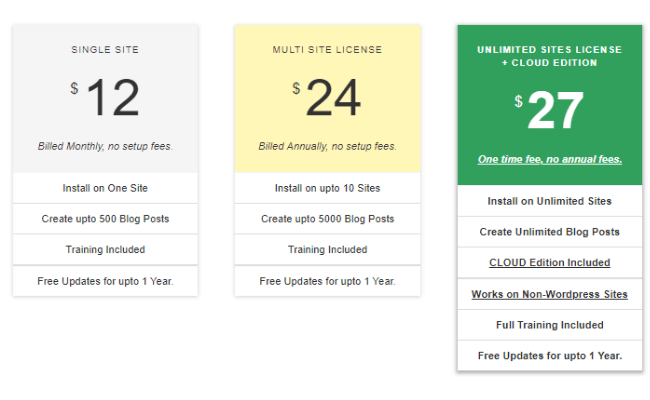 It's clear that the owner, Ankur Shukla has decided to play with prices. The last version is the one you'll get if you ever decide to buy 1-Click Blog Post plugin.
And if you do so, here are some of the upsells that are going to be offered to you as soon as you join.
Pro version OTO: $47
Headliner OTO: $37
FotoFinder OTO $37
Tag Machine OTO $37
Developers OTO: $47
What I Like About 1-Click Blog Post 
Creates Blog Posts Super Fast
Get Unlimited Content From Videos
Simple To Use
Cloud Version Included
30 Days Money Back Guarantee
Low Front-Eng Price
What I Don't Like About The Plugin
Might Fall Into Grey Hat SEO Category
Blog Posts Still Require Manual Editing Before Publishing
Unexpected Upsells Within the Members' Area
1-Click Blog Post Review – Conclusion
There you have it. We have come to the end of 1-Click Blog Post review. In conclusion, I find this plugin to be a very useful tool for getting CONTENT IDEAS.
See, I would not use it for the sole purpose of generating a video transcript and then publishing it as it is. In my opinion, that would be a bad idea and a waste of time and money.
On the other hand, 1-Click Blog Post plugin could help you to generate content and then use it as a base for your own unique blog post.
For example, if you want to write about improving your golf swing on your golfing site, but just can't get your creative juices flowing, you can use this plugin to get some cool ideas using YouTube videos.
Then, you can use the transcript that you get as a base for your UNIQUE blog post.
That would be a proper use of this plugin.
In any case, I hope this blog post was useful. Thanks for reading my 1-Click Blog Post review. Let me know if you have any questions in the comments section below!
Bonus – How To Write Blog Posts and Make Money
If you're on the hunt for the best ways to make money online and blogging has come to your mind, I would want to recommend you one last thing while you're here.
As you can see, I own my own blog 🙂 And I make money from this blog as well.
So here's the deal. If you want to learn how to write blog posts and make money from your blog, make sure to click the button below and learn more!
Using this proven system, I went from $0 to earning $100's per day!
>> Check Out My #1 Recommendation Here <<