Welcome to my 100 Million Academy review for 2022.
By the looks of it, 100 Million Academy is a platform that offers various services such as community, training programs webinars, coaching, and more, designed to increase your income.
Some of these coaches and mentors inside this platform seem to be guys like Neil Patel, Jordan Belford, Jim Kwik, Billy Gene, Dave Meltzer, Adrian and Anthony Morrison, Matt Morgan and many many many other pretty much familiar faces.
Quite an interesting team they have gathered over there. I wonder whether they are really working for this site…or this is just one clever way to advertise.
See, you can never be sure these days. Scams are everywhere and come in every conceivable form. Moreover, they use every single trick in the book to scam people. So is 100 Million Academy a scam? Or is it a legitimate marketing academy?
You've come to the right place to find answers. You can start by reading my 100 Million Academy review to discover what it is about, how it works, how much it costs, and lastly, to learn whether it is a scam or a legitimate website.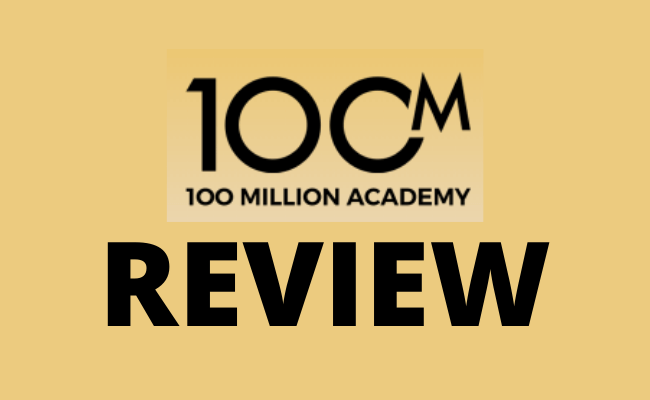 100 Million Academy Review – Overview
Product Type: Banner Ads Network
Product Price: $100/monthly or $720/yearly
Product Owner: Joel Marion, Dan Fleyshman, Cody Sperber
Money-Back Guarantee: Unavailable
Recommended?: No
Overview: 100 Million Academy is an online platform that hosts a series of courses in categories like digital marketing, business, brain performance, etc. Also, it's a community where you can get access to some of the top experts in these areas like Neil Patel, Billy Gene, Jim Kwik, Jordan Belford, and more.
However, the problem is that these courses are very basic and are mostly designed to lead you toward more expensive offers from respected experts.
In my opinion, 100 Million Academy is a clever sales funnel designed to promote digital marketing courses. I don't see any real-life value in this platform and I don't recommend it.
If you are tired of scams and bogus websites, MLMs and pyramid schemes, check out a 100% legitimate way to make money online below I used to go from $0 to earning four-figure passive income online!
THE BEST WAY TO MAKE MONEY ONLINE IN 2023 >>
What Is 1oo Million Academy?
100 Million Academy is a collection of 20+ courses created by legendary digital marketers and 9-figure online entrepreneurs such as Billy Gene, Neil Patel, Jake Paul, Anthony Morrison, etc.
As a member of this platform, you'll get direct access to these "gurus" where you can ask them questions. Also, you'll get access to courses, lessons, webinars, community and more all for only $100 per month.
Seems like a great deal right? But is this a real deal? Or is 100 Million Academy just another clever internet scam?
In my opinion, it's a bit strange to see all these "gurus" gathered in one place. Allegedly, as a member of 100MA, you can access their courses, live classes, and coaching where you can learn stuff like:
sales and closing (Jordan Belford)
email marketing (Joel Marion)
social media marketing (Billy Gene)
affiliate marketing (Neil Patel)
brain improvement (Jim Kwik)
taxes and business (Marcus Lemonis)
branding in business (Dan Fleyshman)
and more.
But the funny thing is that I've never seen any of these "gurus" talking about 100 Million Academy on their website, social media accounts, YouTube channels, etc. And this platform reminds me of Four Percent Group which features some of the same names you can find here.
The creators of this platform claim that, as a member, you can learn all these tactical and practical skills to improve your income and get maximum results in minimum time. I don't know about you, but when I hear those claims, I start thinking of a scam.
Speaking of whom, let's see who stands behind the platform, shall we?
Who Owns 100 Million Academy?
Joel Marion is one of the owners of 100 Million Academy. He's the guy who talks in the video that you can watch on the official website. Dan Fleyshman and Cody Sperber are his partners in business and co-owners of the company.
I have to be honest and say that I've never heard of these guys before and I'm involved in this world for over three years now.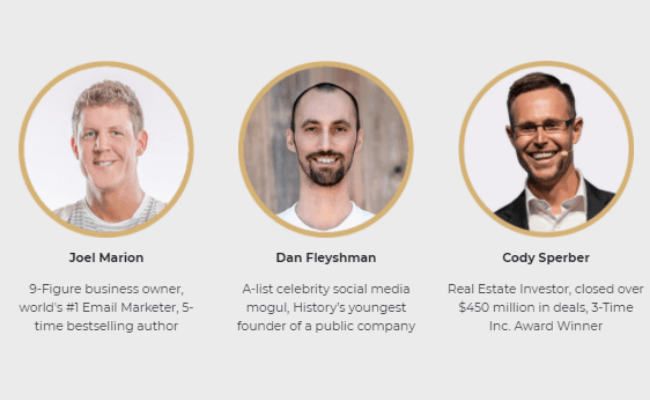 The problem with that video that I've mentioned is that it starts with a story about the Covid-19 pandemic and how people are losing their jobs. It's obvious that Joel Marion plays on this terrible situation to get more customers.
This is a bit unethical, in my opinion.
How Does 100 Million Academy Work?
The idea behind the 100 Million Academy is to give you access to 20+ courses about various business topics such as digital marketing, email marketing, taxes, brain improvement, etc. You're free to choose any topic that you wish to learn about and commit to it.
Sounds simple. So what is the catch?
The catch is, I presume, that you have to pay $100 per month to get and keep access to these courses. However, the problem is that each of these courses has more offers down the road. So there's a possibility that this could cost you a lot more.
This is just an assumption of mine, but I think that 100 Million Academy is just one big funnel designed to sell you these upsells down the road. See, each time you spend more money, owners of this platform will earn money.
It's called affiliate marketing and even I use this business model on my site to make money. For example, I recommend digital courses and earn a commission each time someone makes a purchase through my links.
Unlike 100 Million Academy, my website is full of free information and I don't charge you any fee to get access to these courses. I review them and help you to make a wise decision before you make up your own mind.
See, I'm well aware of how all those "gurus" that are allegedly members of 100MA do their business. They all have these free webinars and courses that you can join. But you never really learn anything from these courses. They just use them to upsell you more and more expensive offers down the road.
This could eventually, and probably will leave you mentally, emotionally, and financially drained.
How Much Does 100 Million Academy Cost?
It's hard to really say how much 100 Million Academy could cost you down the road. According to the official information, you have to pay $100 per month or $730 per year to get access to the platform, community and all those courses.
But as I was saying in the previous section of my review, there's a huge possibility that all those courses are just introduction programs for more expensive courses sold by those "gurus."
Just think about it, will you? If you were, for example, Billy Gene or Neil Patel, would you just give your courses like that to be shared on some platform that called itself 100 Million Academy? Or would you use this platform to attract customers to your sales system?
I think the answer is pretty much obvious.
In my opinion, all these gurus use 100 Million Academy as a way of promoting themselves. And the owners of the platform are charging you $100 per month to be promoted and they earn commissions each time you get sold to one of those "gurus."
I've reviewed 100's marketing funnels on this blog to know better.
In any case, if you ever join 100 Million Academy, be prepared to be brainwashed, marketed, and sold!
What Do You Get With 100 Million Academy?
So as I was saying earlier in my 100 Million Academy review, for $100 per month, you basically will get access to the community where you can ask questions, 20+ training courses, and more.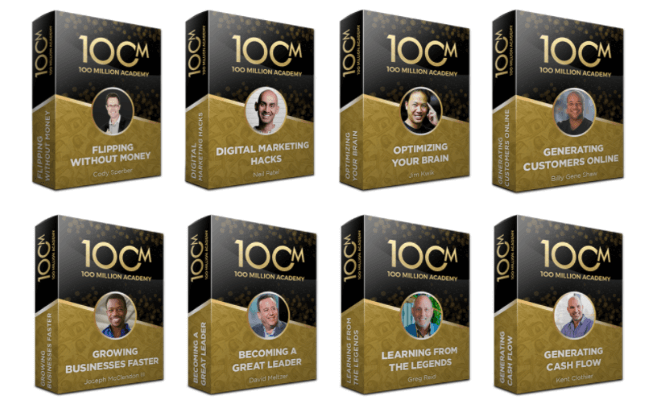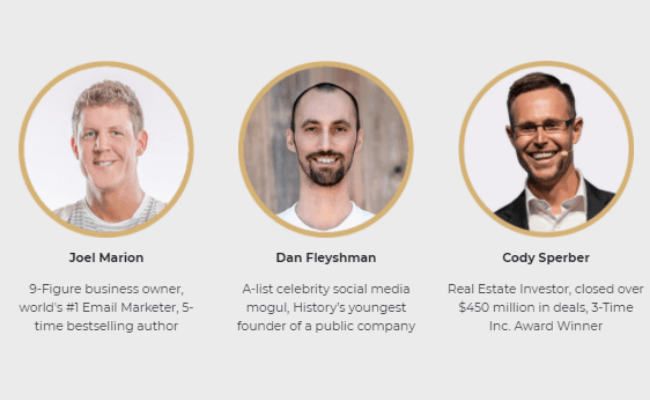 Here's an overview of the content and features of this offer:
Twice-a-month Live Training to get help and ask your questions
Learn skills to increase your ability to create more income
Network online and in-person with the world's top entrepreneurs
Instant access to 20+ verticals in the training library
Discounts on software, events and more
Get your 100 Million metal membership Black Card
Who Is 100 Million Academy For?
100 Million Academy is for anyone, literally. Since the platform hosts a series of courses on different topics, there's really no perfect customer here. I would say that it is for entrepreneurs in general.
According to the official website, 100MA is for anyone who wants to:
Get help from legendary entrepreneurs
Do business with other 100M members
Stop wasting time, start getting results
Find potential funders, partners & clients
Use educational expense as a tax write-off
Learn real skills to increase your income
What I Like About It
Here are some of the things that I like about 100 Million Academy.
Seems you get a lot of value for $100 per month
At first glance, I thought the 100 Million Academy is a step-by-step training course that will teach you how to make money online. But then, I realized that is not even close to it. It's basically a collection of various courses that you can study to improve your skills and income (hopefully).
The price is ok when you consider the "value" you get with this offer, so yeah, that's something I like about this offer.
A lot of "experts" appear on the platform
Another thing that I like about 100 Million Academy is the quality of their "guru" portfolio. Some of those guys are not my favourite, like Jordan Belford (been in jail for stock market fraud), but some of them are really good guys like Neil Patel, Jim Kwik, and Billy Gene.
So as a member, you can get access to their courses and possibly even communicate with them too.
What I Don't Like About It
On the other hand, here's what I don't like about 100 Million Academy.
Designed to funnel you to "guru" offers
When you take a look at it from the bird's eye perspective, it's easy to notice that 100 Million Academy is nothing but on huge sales funnel designed to direct you to courses that will eventually cost you some money if you want to really learn from those "gurus."
So when you think about it, this really benefits the owners the most because they probably earn commissions for recommending all those courses inside the platform.
$100 per month is still a lot of money for an offer like this
100 Million Academy is not the most expensive offer on the internet, and you do get some value. However, when you think about it, $100 per month is a lot of money for most people. And what you get? You get a few basic courses that could and probably will cost you more money down the road.
Some of those "gurus" have shady pasts and even criminal record
As I said in the previous section of my 100 Million Academy review, some of those gurus from the list have shady past and some of them even have a criminal record!
For example, Jordan Belford ended up in jail for scamming people into buying penny stocks! His movie might the funny, and he might have good closing skills, but the guy is a crook! A convicted felony!
Also, a lot of other names from the list like the Morisson brothers, Jake Paul, etc., have a lot of labels to their names. Some called them charlatans, some say they are scammers.
Thre's no free trial or money-back guarantee
If you're going to be paying $100 per month to get access to 100 Millionaire Academy, wouldn't you agree that it would be nice to get at least a few days of a free trial before you shell out the cash? A money-back guarantee would also be nice, right?
Well, the bad thing is, you'll not get any of those two. In my opinion, this is not good for business.
Most of the content is available in the public domain 
Neil Patel shares a lot of his content for free on his site and YouTube. Billy Gene has recently decided to retire from digital marketing and is giving away all his courses for free. Many other "gurus" from the list offer a lot of content for free in the public domain.
So it really makes no sense to pay $100 per month to get access to this content. Sure, you do get access to some community inside 100 Millionaire Academy. But still, I don't see why would I pay for this.
Is 100 Million Academy A Scam?
In my opinion, 100 Million Academy is not a scam. For $100's per month, you will get access to legitimate content that has a slight value after all. It's not something that could change your life around, but it's legitimate.
However, the fact that this offer seems to be nothing but a big sales funnel is a bit scammy indeed. It's just cleverly disguised into a platform where you can "improve your income" by getting access to some of the most "brilliant" minds in this industry.
What do you think? Is 100 Million Academy a scam or legit? Do you have experience with this platform? Feel free to share your comments in the section below this review.
Do I Recommend 100 Million Academy?
I don't recommend 100 Million Academy to my readers. In my opinion, this offer is best for the owners and those "gurus" who use this platform as a marketing channel to upsell you their paid courses for which owners probably earn huge commissions.
Another reason why I don't recommend this offer is that there's no condensed education inside or a step-by-step actionable course that could help you to start a legitimate online business and make money online.
How I Make Money Online
If you're interested in starting your own online business and make money online, I would recommend taking the affiliate marketing route.
Affiliate marketing is a relatively simple business model that requires no previous skills nor big financial investments. It's the most beginner-friendlies business model that I was able to find over the last three years.
With affiliate marketing, you're basically promoting other people's products through a website like this and earn commissions each time you make a sale.
It's the same business model that the owners of 100 Million Academy use to earn additional income from their site.
However, with my #1 recommendation, you can learn how to turn your passion into profits and promote any products that you wish.
To learn more about my #1 recommendation that helped me to go from $0 to earning $100's per day, click the button below!
THE BEST WAY TO MAKE MONEY ONLINE IN 2023 >>