Welcome to my 1st Page Ranker review.
Getting your site on the top of Google and other search engines, including YouTube, is not rocket science.
Many people are turned off by words like SEO, backlinks, competition, and such.
But I know from experience that it's not that hard to master these skills and get your content at the top! It just takes a bit of time and effort combined with a proven system.
According to the sales pitch, this program exposes some 'dirty little secrets' that Google doesn't want you to exploit for sales and profits. Moreover, this system is going to get you high ranking on Google and YouTube in just three clicks!
It sounds incredible, but what is 1st Page Ranker exactly? I mean, it's hard to believe that you can get 1st-page rankings in just a few clicks, right?
Within this 1st Page Ranker review, I'll show you what it is about, how it works, what you get with it, whether it is a scam or legit, and more!
Shall we begin?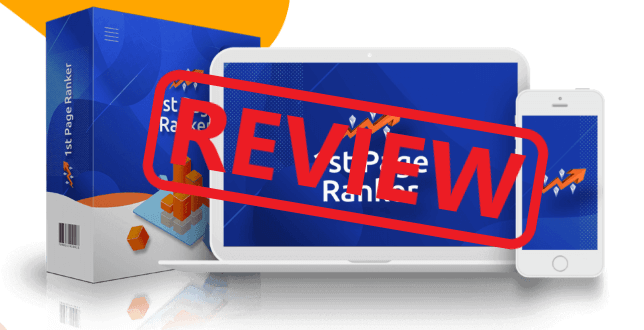 1st Page Ranker Review -Overview
Product Type: Software
Product Owner: Ali G.
Product Price: $27 + UPSELLS
Money-Back Guarantee: 30-Days (questionable)
Recommended?: Scam Alert! See Below…
Quick Summary: 1st Page Ranker is allegedly is the fastest and easiest way to own the top of Google and YouTube and flood your business with targeted traffic and sales.
But in my opinion, this is an overhyped product that promises too much too fast.
The truth is, it's not going to help you rank your content naturally and thus to achieve long-term success with search engines, which I'll explain later in this 1st Page Ranker review.
In short, 1st Page Ranker is designed to create automated content by rebranding other people's videos.
However, Google, YouTube, and other search engines don't like automated content and frequently change their algorithms to prevent people from using software like this.
Getting high rankings is almost effortless if you follow some established lines of work and in my opinion, 1st Page Ranker is not one of them. Not recommended!
My #1 Recommendation is a step-by-step program for raking posts on the 1st page of Google and YouTube naturally. This system has helped me to go from $0 to earning $100's per day!
>> Check Out My #1 Recommendation Here <<
What is 1st Pager Ranker About?
As we have established, 1st Page Ranker is a software that helps to "exploit" YouTube Live option to rank videos on the top of the search engines.
This system does not require, according to the creator, and tedious SEO legwork. You can get a high ranking in just three clicks and many other things that seem quite impossible.
According to the creator, this software exploits little know loophole for YouTube Live events. And you don't need to create videos.
The software legally hijacks any video and its traffic, and all you need to do is direct that traffic where you want it.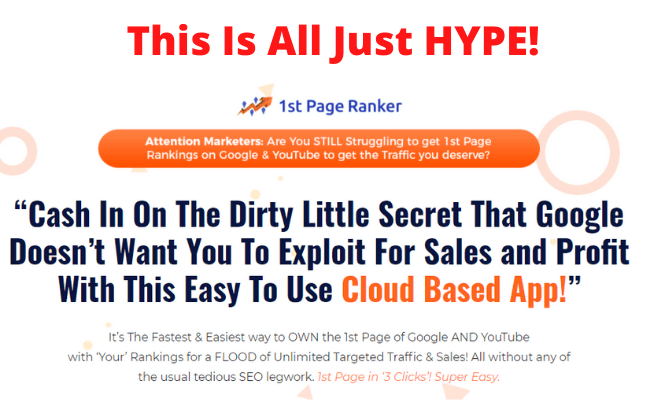 The truth is that this software might work. However, I wouldn't be too excited about this method. You can indeed get tons of traffic this way. But the sales page promises a bit too much.
They talk about the kind of traffic that fattens your bank account but doesn't take forever to materialize. In other words, they are selling a dream with 1st Page Ranker.
I've seen this so many times with software like BuzzPress, EPIC Funnels and many others. You could even say that these apps are a scam because they never work as advertised.
Organic traffic from search engines always takes some time. YouTube is a bit faster than Google.
But the bottom line is, it takes a lot of time to get rankings.
In my opinion, and based on the first impressions, 1st Page RAnker is nothing special and I doubt that this app is going to make you money fast. However, let's finish this 1st Page Ranker review first before passing any judgement.
How Does 1st Page Ranker Work?
Since the sales page doesn't reveal too much about the software, I had to dig a bit deeper to find out the truth about how it really works.
I'm guessing that you, too, don't believe that 1st Page Ranker works in just three clicks as it's been promised.
By the way, those steps are:
Add Your YouTube Account
Create Your Live Event
Rank on 1st Page of Both Google and YouTube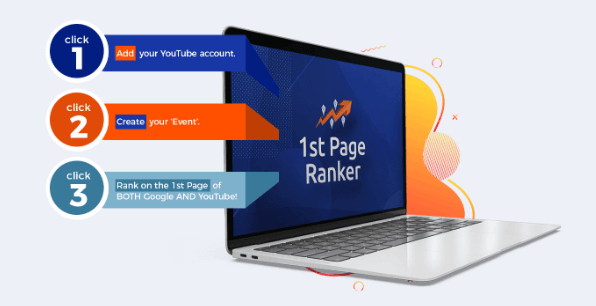 In more detail, you can use 1st Page Ranker software to rebrand any video you choose legally.
Then, you need to customize the video description to send the traffic where you want it.
After you customize the live event, you need to play it, and you'll get first page rankings.
That's the theory, at least.
And if the theory is correct, you could use this software to get instant rankings.
But then again, since I own a YouTube channel, I know for a fact that you can get top positions on both YouTube and Google even without this software.
YouTube competition is not vast, and therefore, your video has high chances to rank on top as soon as you start your channel.
Also, Google loves videos, and it gives them top rankings no matter how young or old your channel is.
Therefore, I don't see how this software is so unique.
But let's give it a benefit of doubt and continue with 1st Page Ranker review to uncover the rest of the picture.
1st Page Ranker Price and Upsells
At the moment of writing this 1st Page Ranker review, you can find this offer on WarriorPlus for $27 one time.
However, that's only the front-end price. The offer comes with a few expensive upsells too.
Upsells
Pro Upgrade – $497 One Time or $297 Yearly or $37 Monthly
Click Rebrander – $47
AIO Videos & SEO Suite – $67
Expert Training – $147
Reseller Licence – $197 for 250 Licences or $247 for Unlimited Licences
The bad thing about the price is that you'll probably have to take some of those upsells.
The software itself is probably not going to be enough on its own.
That's how these guys normally do business.
You get invited with a low price and overhyped sales page to spend 20-30 dollars, only to learn that you need to take the PRO version.
What I Like About 1st Page Ranker
Since I know that getting the top positions is more than possible with a little effort and time, I find nothing good about 1st Page Ranker.
I have enough experience with SEO to know that these magic solutions usually last as long as the hype before Google and YouTube smack them down and change the algorithm again.
Maybe the only good thing about it is that you can get a refund within the first 30 days.
But good luck with that too. Most likely, the vendors will try to stop you.
In other words, the 30-days money-back guarantee is just an empty sentence.
What I Don't Like About 1st Page Ranker
Expensive Upsells 
1st Page Ranker comes for a low price. However, as soon as you pay for it, you'll enter a sales funnel where they force you to buy turbo expensive upsells.
The fact that these are not disclosed and hidden is a severe scam warning sign.
It shows that the owners are not honest about the price and are looking to make the most of you since you're already in.
Overhyped Sales Page 
1st Page Ranker sales page is full of promises like making an absolute fortune with this software, three clicks to instant results, and other BS that is misleading and overhyped for a reason to make as many sales as possible.
These are not to be taken seriously!
Automated Traffic Is a Bad Idea
The fact that you're going to use software to drive automated traffic to your business is disturbing, at least.
It's a known fact that Google and other search engines are strict about automation and are always on the hunt for offenders.
In other words, as soon as they notice this, the algorithms change, and down goes your traffic with it.
A Lot Of Fake Reviews 
Maybe you've noticed, but affiliates write most 1st Page Ranker reviews out there.
These guys have never used the software and are making positive fake reviews to make money with affiliate marketing.
Is 1st Page Ranker a Scam or Legit?
No, 1st Page Ranker is not a scam. Those of you who buy this software will get something in return for your money.
I'm not so sure that this software is going to live up to the promises and hype created by the owners.
But you get a tool that publishes Live Events on YouTube and drives (questionable) traffic to your business.
As I've said earlier in this 1st Page Ranker review, I don't like expensive, and worst of all, hidden upsells.
Also, automated traffic only sounds good.
However, in reality, it's not a long-term solution for getting customers to your business.
Do I Recommend This Software?
No, I don't recommend it. In my opinion, 1st Page Ranker is an overhyped software that will last as long as the hype.
I have enough experience with Google and YouTube to know better than that.
If you want to create a long-term business relationship with search engines, the best way is to create content on your own.
You can run a single YouTube channel or a blog and talk about anything you like.
There are trillions of niches out there, and people are looking for other genuine people who can help them with their knowledge.
Google and YouTube LOVE those who follow this formula and reward them with tons of free traffic.
Besides, SEO and other skills that you need to know to succeed with search engines, are not so hard as the owners of 1st Page Ranker and other gurus out there claim.
It takes some time to grasp the knowledge, but once you do, you don't need any software and other gimmicks like that.
Thanks for reading my 1st Page Ranker review.
How To Rank Posts on 1st Page For Real
Ranking your content on the 1st page of Google does not require help from software.
To get your content on the first page of search engines, all you have to do is create a high-quality and helpful content that your users will love to read or watch.
Also, you need to learn a few simple SEO skills to make sure your content gets noticed by search engines.
That's practically it, guys!
If you follow the line of grey and black hat methods, you won't find long-lasting success.
Below is my top recommended program that teaches beginners and advanced marketers how to dominate search engines without using shady software.
You can learn how to transform your ideas into profits using 100% legitimate methods that search engines LOVE!
Make sure to check it out!
THE BEST WAY TO MAKE MONEY ONLINE IN 2023 >>
If you need any help or you have a question, feel free to share them in the comment box below.
And don't forget to share this post with your friends and family!
All the best, Ivan. Founder, and CEO @freeaffiliatemarketingbusiness.com