Welcome to my Amazing Selling Machine review.
It's been a long time since Amazon has released their FBA program way back in 2006.
Fourteen years later and it's still alive.
But does it still as vital as before? Can you make something out of it?
Amazing Selling Machine is an FBA (Fulfillment by Amazon) training program that has the potential to help you to start your business with Amazon, or to improve your existing business and get more customers.
The FBA has been launched over a decade ago.
In the meantime, some people have said that FBA and ASM are dead.
I want to help you to find the truth.
With this Amazon Selling Machine review, I want to help you learn more about what it is, how it works, and, most importantly, is it worth the investment!
After all, $5K is a lot of money, wouldn't you agree?
Let's dig in!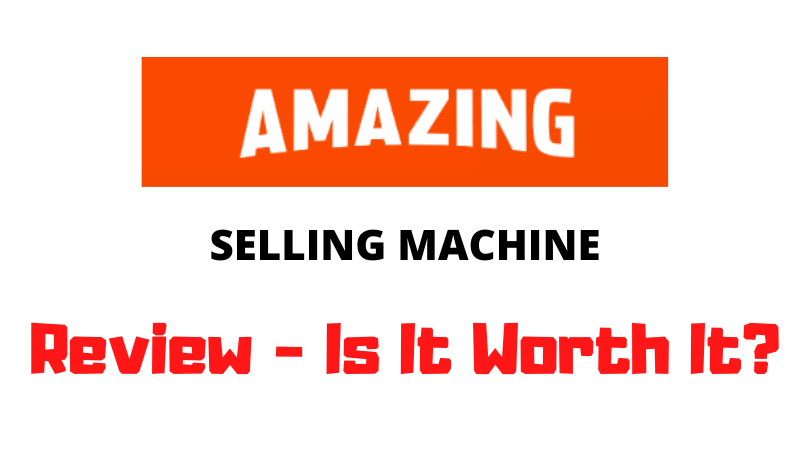 Amazing Selling Machine Review
Amazing Selling Machine (ASM) is a complete step-by-step eCommerce program that walks you through every part of starting, growing, running, and scaling a business leveraging the power of one of the world's largest online retailers
Amazon is growing at an incredible rate over the last few years.
Much of that success is directly tied with people who have joined and started their business with FBA.
Those people are the reason for Amazon's expansion.
Now, there are very few training programs that could help to leverage this business.
And the Amazing Selling Machine is one of them. It was initially created in 2013, and ever since, it's continuously been updated and modified to fit the latest trends.
The latest version is called ASM 11.
Guys have spent the past year testing strategies, figuring out what's working, and putting together a brand new complete step-by-step program to help you build your business with Amazon.
And with this Amazing Selling Machine review, I'll help you to see whether or not it is worth it.
Related: What is Product Launch Formula? – Unbiased Review 
Who Owns the Company?
Jason Katzenback and Matt Clark own Amazon Selling Machine. They own the company called Amazing.com, and ASM is one of their products.
These guys have been in the industry for a long time and are a couple of experts on FBA.
What is FBA?
Amazing Profit Machine is all about Fulfillment by Amazon. FBA is a program launched way back in 2006 by Jeff Bezos and his giant company.
In a nutshell, it's a system that allows you to sell your products on Amazon without having to stock, pick, pack, and ship your merchandise.
All you need to do is become a partner and send your goods to Amazon's nearest distribution centre.
The rest is on them, which includes a customer service too!
The program allows the product owner to sell their products easily using the largest online marketplace, and Amazon to grow more. It's one-hand washes another principle.
I'll show you more in the next sections of my Amazing Selling Machine review. Let me show you the price first.
Amazing Selling Machine Price
Before I show you the content of the Amazing Selling Machine, let's go over the price of this training course.
ASM is not your ordinary training course, and it comes with a spicy price tag.
The program is selling for $4.997 one time payment.
If you don't want to pay one time, you can split it into six monthly instalments of $997.
The latter is $985 more expensive but convenient.
CLICK HERE TO DISCOVER THE BEST WAY TO EARN AN INCOME ONLINE >>
Is There a Refund?
A great thing about ASM is their 30-days money-back guarantee.
You can give it a try, and if you think it's not for you, they will refund you the full amount. Great stuff!
Another cool thing about the Amazing Selling Machine is its 6-Month Buy-Back Promise.
In other words, you can try the course for six months. If you don't feel like it's going to work, ASM is going to buy you out.
They will refund you the price you paid for the course and $5000 worth of inventory.
How It Works
To help you understand it better, let me explain how Amazing Selling Machine works in practice.
The training is comprehensive, and it covers every single detail of the process of building your business with Amazon.
But you need a short explanation, right?
The core of the program is to help you scale your existing business, or if you've never done this before, to start your first one.
The end product is, of course, a successful business operation on Amazon.
Every successful business starts with the right product. Trying to sell something that doesn't sell is a one-way ticket to failure.
Therefore, guys have included a tool called Profit Miner to help you find the hottest products on Amazon.
And as you're about to see in my Amazing Selling Machine review, that's only the first step out of many.
Once you have a product, the next natural step is to find the supplier and ordering your inventory.
With this course, you can learn how to pick the best supplier to get the highest profit margin.
Building your brand and your page is the next step of the ASM. And it completes the process of preparation.
Now, if everything is done correctly, it's the time to launch the whole thing and start working on marketing, traffic, and scaling your business.
Like every other system, FBA requires a lot of fine-tuning, tweaking, and perfecting the system until you get the best formula.
ASM is here to show you the right way to do everything, but it's on you to make it work.
And that's how FBA and Amazing Selling Machine work.
Once again, it's a comprehensive program. It may take you even more than eight weeks to connect all the nuts and bolts.
The next part of my Amazing Selling Machine review shows the content of the course, so let's jump in and take a look.
Related: What is Ecom Success Academy? – An Honest Review
What's Inside?
Amazing Selling Machine comes with four components that are designed to help you build or grow your business.
Each of those components is critical for success with this program.
The 8-Week Online Webclass
The ASM Mentor Program
Lifetime Platinum Access
The Private Resource Vault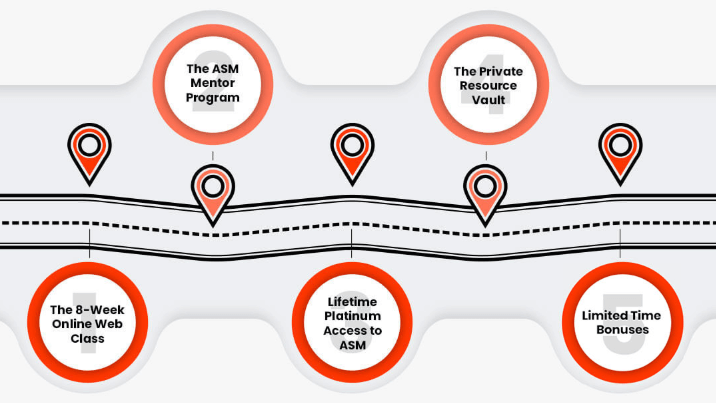 The owners have spent the last year updating the training to make sure ASM is keeping pace with the industry.
The content of the program is divided into eight modules and contains 153 lessons.
Mike McClary, Rich Henderson, and Dan Ashburn are the mentors.
Here's the content in more detail.
Welcome Module
Module #1 – Finding the Perfect Product
Module #2 – Evaluating Suppliers and Samples
Module #3 – Ordering Your Inventory and Creating Your Brand
Module #4 – Building Your Brand Assets
Module #5 – The Perfect Product Page
Module #6 – The Perfect Product Launch
Module #7 – Advanced Marketing and Traffic Tools
Module #8 – Taking Your Business to the Next Level
Welcome Module
The ASM Membership Dashboard
The ASM Community
How To Earn Your Progress Badges
ASM Mentor Program
Success Principles
The 7-figure Foundation Principles
Different Ways To Structure Your Physical Product Business
Which Amazon Marketplace To Start With
Seller Central Overview And Requirements
Setting Up Payoneer Or World First
Seller Central Account Critical Guidelines
Seller Central Documentation
Seller Central Setup Walkthrough
Seller Central Review/Suspension Scenarios
Module #1 – Finding the Perfect Product
Dominate Your Competition By Building A Real Brand
The 7 Elements Of A Red Hot Profitable Product Opportunity
Which Categories To Choose For Maximum Result And Those To Avoid For Your Products
What Products To Avoid For Your First Profitable Product
The Perfect Product Selection System
What The ASM Criteria Are And Why They Are So Important To Your Success
What Tools Should You Use To Achieve The Fastest And Most Profitable Results
Proving Product Viability With Competing Products
Speeding Up The Product Selection Process
Stretching The ASM Criteria
Alternative Search Method
Patent Search
Module #2 – Evaluating Suppliers and Samples
Understanding Amazon's Fees
Product Tuning
Simple Product Sourcing
Creating A Professional Online Presence
Finding And Contacting Suppliers With Our Proven Templates
Calculating The True Cost Of A Product
Calculating Final Profit Numbers For Your Focused Opportunity List
Getting Samples For Your Top Opportunity
Module #3 – Ordering Your Inventory and Creating Your Brand
The Samples Have Arrived! Now What?
Choosing The Best Supplier And Getting The Highest Profit Margin
Getting Ready For Your First Inventory Order
The ASM Brand Name Creation Process
Creating Your Powerful Brand Logo
Purchasing Your UPC
Quick Start Product Listing
Designing Your Product Packaging
The Power Of Package Inserts
How Much Inventory Should You Order?
Shipping By Air Or By Sea
The "Secrets" Of Placing Your First Inventory Order
What Happens After You Order Your Inventory
Module #4 – Building Your Brand Assets
Building a Foundation for Success
Creating Your Domain Email Account
Creating Your Brand Website
Creating Your Brand Facebook Page
Using Facebook Messenger to Build a Subscriber List
Setting up Manychat For Success
Important ManyChat Features
Building a Subscriber List For Launch
Using Facebook Ads to Get Subscribers
Get More Reviews On Autopilot With ManyChat
Adding Content to Facebook and Instagram page
Registering Your Brand Name Across All Social Media Sites
Module 4 Wrap-Up and Action Items Recap
Module #5 – The Perfect Product Page
How To Craft The Perfect Amazon Listing To Crush Your Competitors
Strategic Keyword Research For Top Amazon Rankings
How To Craft The Best Title To Gain Traffic And Conversion
Bullet Points That Sell
How To Create A Compelling Product Description That Steals Sales From Your Competitors
Product Images That Attract And Convert
Product Pricing For Profit
Creating Your Complete Listing
How To Craft The Perfect Customer Emails For Engagement And Reviews
Taking Advantage Of Downtime
Module #6 – The Perfect Product Launch
The Amazon Launch Process
Planning for Success
Tracking the Data to Inform Decisions
Introduction to Amazon Sponsored Product Advertising
Structuring Campaigns for Success
Using Samurai Seller
Getting Your Initial Reviews
Creating Promotional Coupon Codes
Distribute Coupon Codes to Subscriber List
Optimizing Price Against Rank and Sales
Sustaining Rank Profitably
Running Out of Inventory and Reordering
Module #7 – Advanced Marketing and Traffic Tools
The Raving Fan Customer Service System
Optimizing Traffic and Conversions
Building and Utilizing Your Performance Checklist
Amazon Ads Optimization
Relaunching When You Have Lost Rank or Run Out of Inventory
How To Split Test Improvement To Maximize Conversion
Amazon Coupons
Amazon Promotions
When to Launch Your Next Product
The Power of Product Variations
Choosing Your Next Product to Launch
Launching Your Next Product
The Benefits of Brand Registry
The 3 Ways to Grow Your Business
Building a Team To Run Your Business
Growing Your Business for Cash Flow or Cash Out
Module #8 – Taking Your Business to the Next Level
Using Facebook Retargeting To Get Reviews
Using Instagram to Boost Traffic, Sales and Reviews
Automating ManyChat Promotion Campaigns
Building an Email List with ManyChat
Advanced ManyChat Campaigns s
Using Google Ads to Get Subscribers and Sales
Dominating with YouTube Ads
Working with Influencers To Launch Products and Drive Sales
Related: Residual Cash Formula Review – A Scam or Legit?
Amazing Selling Machine PROS
Comprehensive Training Material
ASM training material is extensive! I mean, these guys really take good care to cover everything that's involved in getting started with FBA.
The training contains over 150 lessons.
Experts host those lessons, and it's one of the best training courses out there.
Mentoring Program Available
Together with comprehensive education, the purchaser of the Amazing Selling Machine gets access to the Mentor Program and Resource Vault.
These guys are elite Amazon sellers, and they will help you in any way they can to succeed with the program.
The Private Resource Vault is a collection of tools and resources that they use to build their own Amazon businesses.
The guys have estimated the value of this component alone to be $10,000.
Help & Community At Your Hand
I liked the fact that Amazing Selling Machine owners and creators have taken care that you get the most help.
To get access to mentors, and get answers to your problem, all you have to do is post a question in the community.
Success Stories
ASM has a lot of testimonials and positive feedback from people who have tried and succeeded with the program.
Of course, this is not a guarantee of any kind. But it's great to see that the content of the training works.
6-Month Buy-Back Promise
Their guarantees are out of this world.
You can try the Amazing Selling Machine for 30 days and get a refund if you don't like it.
Even better, you can implement the course for six months, and if you don't achieve any significant results, you're covered with Buy-Out Promise.
Honestly, this alone sounds too good to be the truth, and yet, it's really like that.
What I Don't Like About It
The Price is Spicy
The only thing I don't like about the Amazing Selling Machine is the price tag.
It's not a big deal, but $5K is not for everyone's budget. It falls into the category of exclusive training programs.
That said, it's not available to the general public and people on a tight budget.
Nonetheless, those $5000 might be the best investment you've ever made.
So as the last matter of this Amazing Selling Machine review, let's talk about it some more.
Related: How To Start With the Affiliate Marketing Business
Is Amazing Selling Machine Worth It?
Well, it really depends on you and your current situation in life.
In my opinion, the Amazing Selling Machine is more than worth it.
Yes, it's expensive. Not everyone can afford a program that's worth $5000.
However, you'll get what you pay for and more!
The best thing about the program is the fact that it's risk-free. You have six months to put it all together and start profit.
If not, the company will buy your business, and you're walking out without a scratch on your bank account.
In my opinion, ASM is the most comprehensive training course out there.
Guys have spent the last seven years perfecting each module, trying to keep up with one of the fastest-growing industries on the planet.
They've got every part of the business covered!
Another thing that justifies the price tag is their Mentor Program and the Private Resource Vault.
You see, to succeed in any business, the best is to find a mentor and copy-his success.
Those two features of the Amazing Selling Machine are precisely that!
So, when I draw the line, I think ASM is more than worth it.
But only if you are serious about it. Your success depends on your situation, your time, your diligence, and your budget.
The program is worth $5000, but you need to be aware that it's only a cost of education.
FBA requires a decent budget, and it's something you need to really think about.
Amazing Selling Machine Review – Conclusion
At the end of my Amazing Selling Machine review, I want to say that I recommend this course.
ASM is a comprehensive and high-quality program for creating an FBA business.
The thing that blew me away was the 6-month buy-back promise. This really shows something, right?
However, if you think that ASM is a bit expensive and risky for your taste, make sure to click the button below.
My #1 recommendation is a highly recommended program by top experts in the digital marketing industry.
And it's much less expensive than Amazin Selling Machine.
CLICK HERE TO DISCOVER THE BEST WAY TO EARN AN INCOME ONLINE >>
If you need any help or you have a question, feel free to contact me.
All the best, Ivan. Founder, and CEO @freeaffiliatemarketingbusiness.com