Welcome to my Autoresponder Alchemy review. 
One of the best ways to increase your conversions is by starting an autoresponder campaign. Many marketers have reported a significant increase in conversion rates after implementing this simple yet effective strategy.
But starting a successful email marketing campaign is not an easy thing to do. The best way to do it would be to follow the advice of someone who is very successful at it.
So today, I want to share my review of the Autoresponder Alchemy with you to help you to learn more about this training course. Most importantly, we all want to know whether this program is a scam or a legitimate course by Terry Dean, right?
In this Autoresponder Alchemy review, I will help you to find out the truth. So without further ado, let's get started!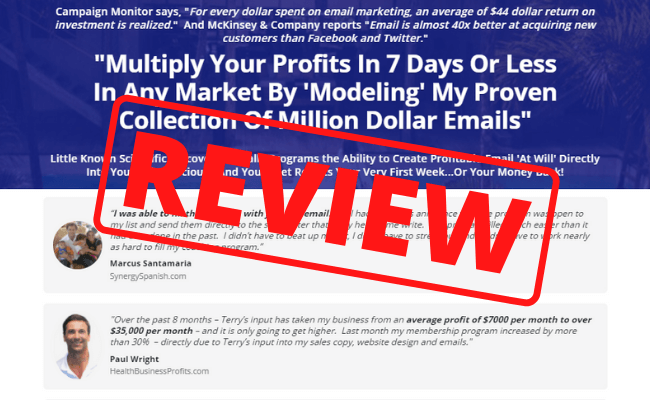 Autoresponder Alchemy Review -Overview
Product Type: Email Marketing
Product Price: $179 one-time or $99 two times
Product Owner: Terry Dean
Money-Back Guarantee: 30-days
Recommended?: See Below…
Quick Overview: Autoresponder Alchemy is an email marketing training course created by Terry Dean. With this course, Terry shows how to improve your campaigns to get the maximum results using his proven strategies, templates, etc.
In other words, it's a legitimate email marketing course. In my opinion, this course deals with advanced strategies, which is why I don't recommend it to beginners.
If you are interested in making money online, check out a 100% legitimate training program that I used to go from $0 to earning four-figure (and rising!) passive income online!
THE BEST WAY TO MAKE MONEY ONLINE IN 2023 >>
What Is Autoresponder Alchemy?
With Terry Dean's course, you will not learn how to set up a business from scratch, find products, get traffic, etc. Autoresponder Alchemy is a course focused on one thing: increasing your email conversion rates.
The course consists of six training modules where you can learn how to apply some of Terry's most successful methods for increasing the open rates, click rates and ultimately the conversion rates and sales.
According to the official sales page, a lot of people have reported success with this program. However, there are a lot of scams these days that use fake proof to make you buy.
So is Autoresponder Alchemy a scam too? That is what we're going to find out with the rest of my review.
Who Is Terry Dean?
Terry Dean claims to be a million-dollar internet lifestyle coach, author, and entrepreneur. Allegedly, Terry has trained thousands of entrepreneurs on how to succeed with email marketing since 1996.
To be completely honest with you, I've never heard of Terry Dean before bumping into the Autoresponder Alchemy course.
According to some of the information from the sales page, Terry was a broke bloke who has had enough of his old life. He discovered email marketing and since then, Terry has made millions of dollars with his campaigns.
Terry sold his original company in 2004 and took 18 months off before starting MyMarketingCoach, LLC in 2006.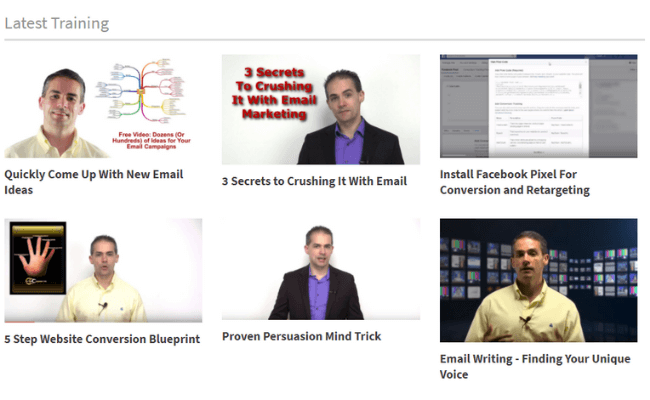 Later on, Terry designed the Autoresponder Alchemy training course and even owns a YouTube channel with which I'm not impressed at all. By the time of writing this review, his channel counts less than 1K subscribers!
I mean, I'm not as half as successful as Terry and I have more subscribers.
But enough about Terry. The bottom line is, Terry Dean is a real email marketing "guru", which gives me hope that this course might be legitimate after all.
Related: The Infinity Project Review
How Does Autoresponder Alchemy Work?
Autoresponder Alchemy is broken down into six training modules. Each module takes you through one stage of email marketing. The ultimate goal should be an increase in your campaign's numbers.
Below is the overview of the dashboard and each training module as well.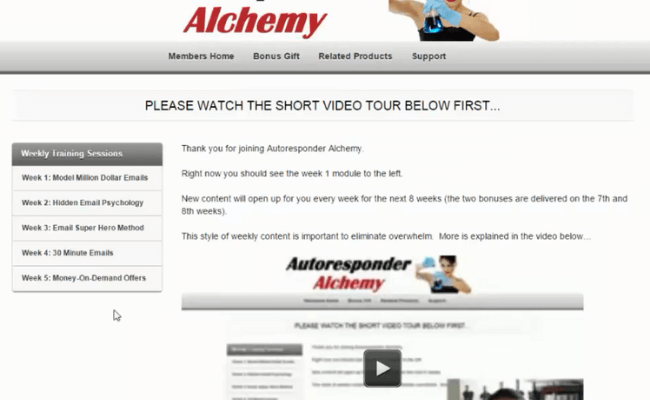 Week 1 – Model My Million Dollar Emails
The first thing that you can learn from Terry's course is how to model his emails that made millions so far. In other words, you will be getting access to templates that you can use as your own.
Another thing that you can learn from this section of Autoresponder Alchemy is how to actually use an autoresponder if you don't know how to do so. You can skip this part if you have experience.
Furthermore, Terry talks about creating your own emails as well. But he recommends using his templates. Another topic is the increase in your CTR, which is very useful information.
Week 2 – Hidden Email Psychology
According to many email marketers, emotions trigger actions. In this section of the Autoresponder Alchemy course, Terry is going to lead you through the psychology of email marketing and how to use emotional triggers to increase your conversions.
For example, he shows how and where to insert these triggers. Moreover, you can learn how to use this method to increase your conversion rate, identify your audience, and more.
Week 3 – Email Super Hero Method
Module three continues to talk about more or less similar topics as the previous module. In more detail, Terry shows how to create and leverage a brand using his proven methods.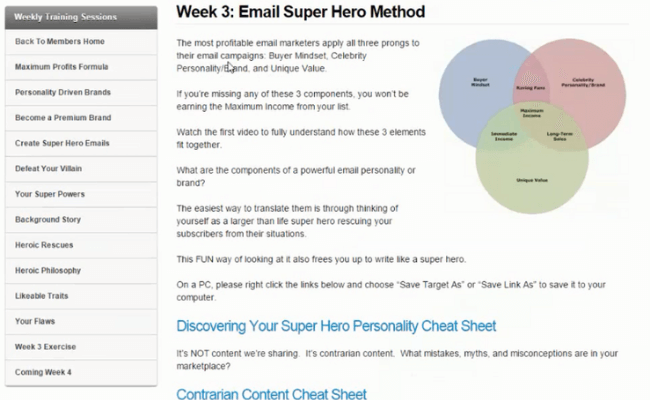 Another interesting topic in this module is about identifying different types of buyers. This is information that could help to maximize conversions even more. All in all, a lot of useful info.
Week 4 – 30 Minute Emails
In this module of Autoresponder Alchemy, Terry talks about increasing your overall efficiency.
There are several techniques that he uses to grab your readers attention and thus, improve your click-through-rates, which is extremely important for the success of your campaigns.
Week 5 – Money-On-Demand Offers
Like with every other form of digital marketing, once you start getting traffic or in this case, once people start reading your emails, the key idea is to start sending offers to make money.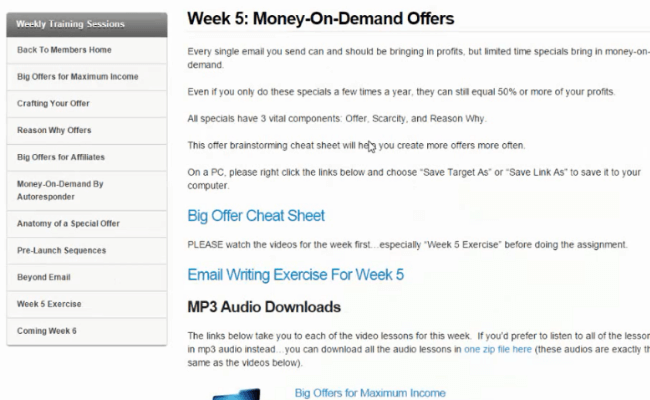 During this module of Autoresponder Alchemy, you can learn how to monetize your list by offering one-time offers, product launches, affiliate marketing and more.
Week 6 – Advanced Email Strategies
At the end of the course, Terry Deal shows how to maximize your email marketing campaigns using advanced email strategies. For example, he talks about customer segmentation, interests and other metrics that will help you to retarget your list to improve your results.
All in all, Autoresponder Alchemy does not seem like a scam to me. Based on the content, I would say that it is a legit email marketing course – but let's leave this for the later section of this review.
Related: 1K A Day Fast Track Review
Who Is Autoresponder Alchemy For?
Autoresponder Alchemy is for digital marketers who are looking for strategies and methods for improving their email marketing campaigns.
Since Terry Dean does not include any other information in this course, that's basically the only group of people who can benefit from this course. For example, it would be useless to someone who is just getting started with digital marketing.
In my opinion, Autoresponder Alchemy is best for advanced email marketers. Terry talks a lot about advanced methods and is using email marketing jargon that only advanced marketers could understand.
Although beginners in email marketing could benefit from this course in some ways.
How Much Does Autoresponder Alchemy Cost?
When it comes to the price of Autoresponder Alchemy, you can buy it for $179 one time. Or you can choose the second option that allows you to pay for this course with two separate monthly instalments of $99.
Compared to some other courses out there, this one is relatively cheap.
The good thing about Terry Dean's course is that it is backed up with a 100% money-back guarantee. Terry gives you 30 days to test his methods and if you don't get any results, he will give you your money back.
What Do You Get With Terry Dean's Course?
As mentioned earlier in this Autoresponder Alchemy review, you will get access to six weeks (modules) of training where you can learn how to implement Terry Dean's advanced email marketing strategies.
On top of that, all members of Terry's course are getting access to a few bonuses such as:
email templates
list building course
funnels course
Is Autoresponder Alchemy a Scam?
I admit. When I first saw Terry's course, I was sure that it is a scam. It had that weird vibe that I'm used to seeing all the time. However, after further inspection, I conclude that Autoresponder Alchemy is not a scam.
I did a lot of research before writing this review to make sure that I give you the most accurate information and to dig out some red flags. But when it comes to Terry Dean's course, I didn't find any.
In other words, Terry Dean and his training course are 100% legitimate.
If you ever go for the Autoresponder Alchemy course, you will get a chance to use proven strategies for improving your email marketing efforts. And if they don't work for you, Terry is willing to refund you your investment fully.
Related: Copy My Email System Review
What I Like About Autoresponder Alchemy
Terry Dean is a real person
Email Marketing is a legit method
Suitable for advanced marketers
Relatively affordable course
30-day refund policy
Valuable bonuses
What I Don't Like About Terry's Course
It's narrow and does not teach the basics
Not the best course for beginners
Testimonials can't be verified
Seem a bit outdated (course, not the method)
Overhyped sales page
Autoresponder Alchemy Review – Conclusion
All in all, Autoresponder Alchemy is a decent email marketing training course. Terry Dean seems knowledgable in this area, he is straightforward and does not beat around the bush.
In other words, he promised to help you to improve your email marketing campaigns and he does a good job at it.
In my opinion, the course is a bit overhyped and I feel like beginners in email marketing will have troubles understanding all the information that is provided inside Terry's course.
So do I recommend this one? Yes. I would recommend it, but only to advanced marketers.
If you're just getting started or have the interest to learn about email marketing, I would suggest free YouTube videos first and Terry Dean's course second.
Thanks for reading my Autoresponder Alchemy review. What do you think about it? Have you had any experience with this one? Do you feel like it's a scam? Feel free to leave your comments below!
How I Make Money With Affiliate Marketing
There are over 50 ways to make money online. In my experience, the best method for making money online is affiliate marketing. Why?
Firstly, affiliate marketing is an extremely beginner-friendly method. Secondly, you can market any products you want. Thirdly, it's straightforward and fun. Fourthly, it's a low-cost method.
And lastly, I went from $0 to earning $100's per day with affiliate marketing in one year using this PROVEN SYSTEM below!
THE BEST WAY TO MAKE MONEY ONLINE IN 2023 >>